Harry Brook: "When we're out there, we feel like we're superhuman"
NICK FRIEND: The 24-year-old is riding the crest of a wave after a remarkable start to his England career, with four Test hundreds and a World Cup winner's medal already under his belt; now, he has partnered as an ambassador for Major League Baseball
For all the Test hundreds, Harry Brook can't look past a World Cup winner's medal as his highlight of a quite remarkable start to his international career.
An Ashes victory would run it close, but the feeling, he says, of sitting in the changing rooms at the MCG as a T20 world champion is so far unrivalled – that team success chosen over a staggering personal introduction to Test cricket, which has so far produced four hundreds, each astounding for the fluency of its stroke-play.
He ended the winter – run out without facing by Joe Root – with a Test average marginally under 81, with 20 sixes and 101 fours in 10 innings. It has been a freakish beginning, a long way from a humbler start to his England experience, when his returns during a T20I series in the Caribbean last January were somewhat modest.
"It's been good – a good year," he said, underplaying it all somewhat as he spoke in association with Major League Baseball, with whom he now has a commercial partnership. That tie-up – as part of which he will sport the MLB logo on his bat – is perhaps as clear a sign as any of the depth to his early achievements. The United States' premier baseball league doesn't need much external marketing nor any old ambassador, so it speaks to how Brook's style has captured the imagination in recent months.
"I never thought I'd be saying I was a World Cup winner," he said, "or having four Test hundreds also. I'm very lucky to have come into this Test side, the way we're trying to play, the positive brand of cricket we're trying to play to entertain the crowd.
"It suits my game more than any, really. Also, to have started my Test career in Pakistan, having played a lot of my cricket last year out there as well, gave me a lot of confidence going out there having faced all their bowlers and having batted on all them pitches. I've been fairly lucky in that respect.
"I never like saying any cricket's easy – nothing's easy. It can soon bite you in the arse if you say something like that."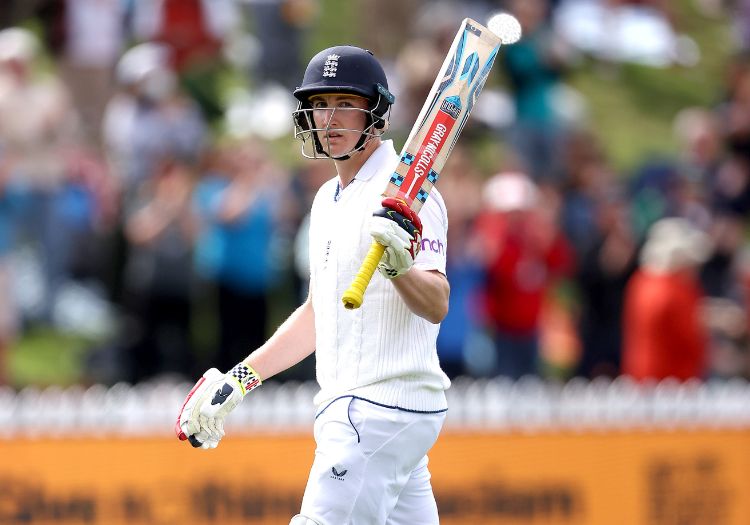 Harry Brook has enjoyed a remarkable introduction to international cricket (Phil Walter/Getty Images)
His next test of that mantra will come in the Indian Premier League, where Sunrisers Hyderabad dispensed with £1.3million of their auction purse to seal his signature for their middle order. Some of Brook's most significant performances have come in the Pakistan Super League, but he calls the IPL "the best franchise in the world" and a long-time aspiration.
That experience will be sweetened still by a star-studded coaching line-up of Brian Lara – "I used to love watching him when I was younger" – as head coach, as well as Muttiah Muralitharan and Dale Steyn on his backroom staff. As for the burden of playing with a pricetag on his head? "I hadn't even thought about it yet, to be honest."
To some degree, that is simply because of how busy he's been. Brook withdrew from the PSL but travelled home from the New Zealand Tests via Florida for his introduction to baseball, a sport which – by his own admission – he had never watched before touching down in the USA and joining up with the St Louis Cardinals for a day's spring training.
"I didn't know any of the rules," he said. "That's why I enjoyed it so much. I went out there and learned so much about the game, and experienced how they went about the stuff, and the training and the game. It was remarkable how much training they do before a game. I think we've got it fairly easy in the training department in cricket.
"We got there at half past seven – they had a game at one o'clock, and they were all in the gym, with a five-hour training session before the game. It was ridiculous. We're rocking up at the minute in Test cricket about an hour before the game, so the amount of training and technology and analysis they go into is remarkable."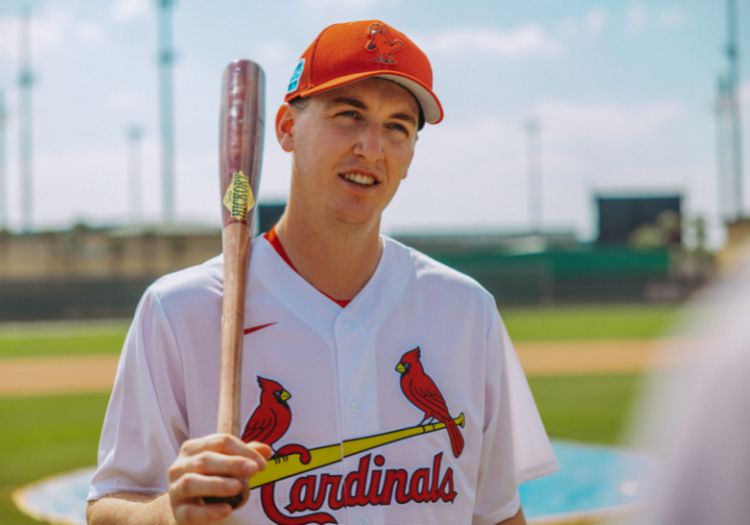 Brook has partnered with MLB Europe and trained for a day with St Louis Cardinals
The self-confessed batting geek in Brook allowed him to take specifics from the experience, focusing on the need for strong foundations. "It is similar to a golf swing at the end," he explained. "Your rotation of your hips and trying to use them for power and the legs too.
"The lads there were stacked, they were massive and they were saying all the power comes from the legs. If I was going to practise anything from there, it would be getting a stronger base and using my legs a bit more for power when I'm trying to hit in cricket.
"I think the basics are very similar, but there's a lot of different things going on. In cricket, I've got quite high hands when I'm batting.
"In baseball, they wanted me to get them above my head nearly, so it's quite hard to try and do that. It was a good challenge."
Any home runs?
"I was hitting into the wind."
The next T20 World Cup is being co-hosted by the United States, so Brook may well be back across the Atlantic before long. This summer also sees the start of Major League Cricket, a franchise T20 competition with a degree of IPL backing, though it overlaps with the back-end of the T20 Blast and comes right in the middle of the English summer, which is likely to both restrict English involvement this year but also perhaps threaten it going forward. This winter, several county pros took part in the US Open, a totally separate T20 tournament in the US but another indication of the game's growing interest.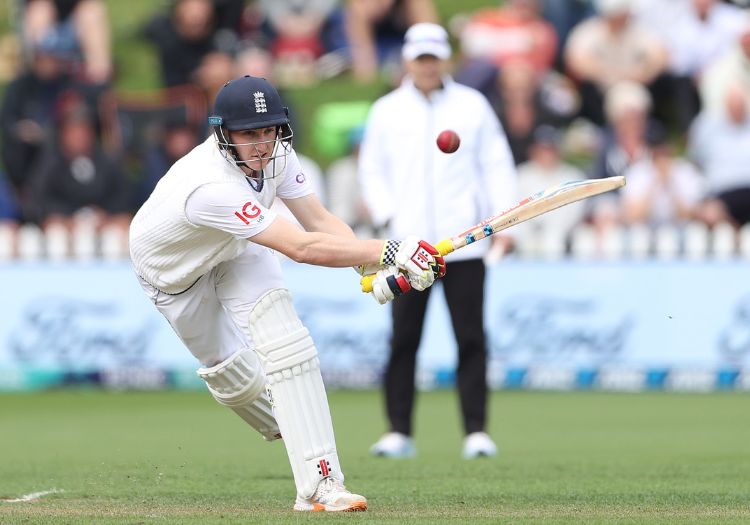 Brook classes the T20 World Cup win over the winter as his highlight so far of international cricket (Cameron Spencer/Getty Images)
That Brook is part of any of this can, in some ways, be traced back to punching a table after a dismissal in his latter teenage years. He was hot-headed then, and he broke his hand. It was "a bit of a turning point" that forced a realisation of the need to cool down and grow up. "So ever since then," he added, "I've just sat back down whenever I've got out, I just sat down, put my bat and stuff away and cracked on.
"I've worked on that side of the game massively. I think, to be a successful cricketer for a long period of time, you've got to be level-headed; if you're up and down and all over the place, the game will swallow you up. So obviously enjoy the good moments, but there could always be a bad moment around the corner. So don't get too high, or too low."
That perspective meant that he quickly got over his Wellington runout and has helped him to find the perfect tempo for the approach championed by Ben Stokes and Brendon McCullum.
"I don't feel like I'm leading at all, I'm just following orders," he said. "Stokesy is leading at the minute. The way he's going out and playing his cricket is so good to watch. And it's not like we're just going out and slogging, there is method behind the madness.
"Obviously, we're scoring at a quick rate, but I don't feel like I'm going to get out, I feel like I've been pumped up with so much confidence going out before I feel like I can do anything. And when we're out there we feel like we're superhuman.
"Stokesy's definitely leading from the front. There's been a few dodgy dismissals but if the captain's getting out in funky ways as well then it doesn't really matter, does it?"
St. Louis Cardinals will play Chicago Cubs in the MLB World Tour: London Series 2023 on June 24 – 25 at London Stadium. Tickets are available now at ticketmaster.co.uk/mlb
---
Related Topics
Please ensure all fields are completed before submitting your comment!