What is going wrong at Southern Brave and Manchester Originals' home advantage: The Men's Hundred in focus
KIERAN PARMLEY - ANALYSIS: Should Brave be worried? After all, they have the best squad in the competition and any issues will fix themselves and player quality will shine above any lingering problems, right?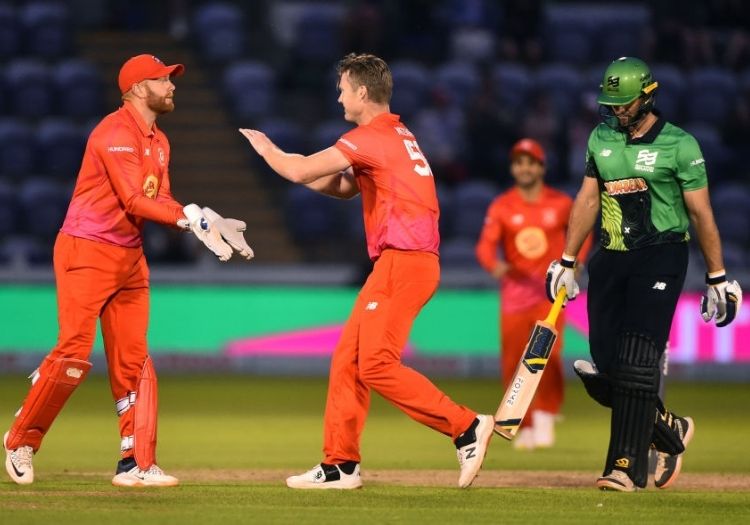 Southern Brave drafted the best squad in the competition in October 2019, the same held true after the 2021 mini-redraft, and it is still the case now even after David Warner, Marcus Stoinis and Andre Russell dropped out.
Quinton de Kock, Devon Conway and Colin de Grandhomme might not be like-for-like in quality but relative to replacements recruited by the rest of the league the are more than adequate.
So why are they 0 for 2, beaten comfortably by Trent Rockets and Welsh Fire in their opening two encounters?
Should they be worried? After all, they have the best squad in the competition and any issues will fix themselves and player quality will shine above any lingering problems, right?
Two losses for any side in a high-variance sport such as limited overs cricket wouldn't be a worry for some teams who will often go on winless stretches despite making correct decisions throughout those games. Southern Brave aren't one of those teams, however.
They aren't maximising the potential of the playing squad they so successfully drafted. The backroom staff - led by three-time IPL winning coach Mahela Jayawardene but no doubt influenced by others - have made some strange calls in their two games to date.
George Garton, recently called up to the ODI squad off the back of an exceptional Blast campaign, lasted just one game before he was dropped. His left-arm angle and potency with the new ball no doubt pleased the England selectors, yet he wasn't to be seen in the Southern Brave lineup in Cardiff.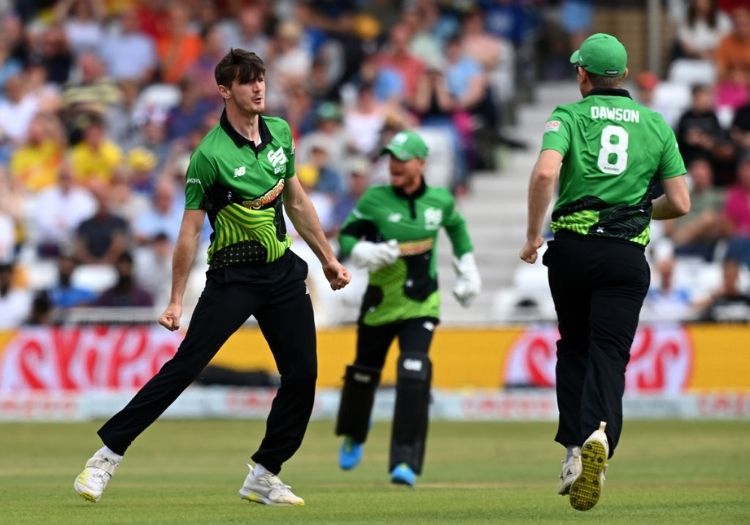 George Garton was dropped after the first match
Instead they opted for left-arm spinner Danny Briggs to open the bowling in his place, perhaps an overcorrection after their matchup mayhem against Trent Rockets. Would using Garton's ability up front to chase the early wickets of Jonny Bairstow and Tom Banton, the best opening pairing in the tournament, be a better tactic? I guess we'll never know, but the fact Banton (34 off 23), Bairstow (72 off 39) and then Ben Duckett (53 off 34) combined to propel Welsh Fire to a score of 165 suggested so.
The use of Alex Davies so far has also been an interesting one, his short but sweet 21 from 12 in the powerplay against Trent Rockets was one of the small positives from their opening game and yet he was deployed at No.5 in their batting lineup on Tuesday, behind Colin de Grandhomme: a different role requiring a completely different skillset.
Delray Rawlins, another player who was quickly ousted after Sunday's loss, has been a regular in such a role for the past couple of years at Sussex and while his returns have been volatile his talent and experience in the role deserved more than the single appearance he was given to make his mark.
The in-out nature of selection is not new under Jayawardene's leadership; talented Indian batter Ishan Kishan has received similar treatment at Mumbai Indians. Whether or not they will right their wrongs will certainly have an impact on whether they can make a resurgence and push for a top-three spot.
Captain James Vince of Southern Brave
As well as the misuse of talent, a lack of balance in the Southern Brave side has also hampered their potential.
On Saturday, Southern Brave made the mistake of going into a game with two left-arm finger spinners in their XI, an error they somewhat corrected on Tuesday by bringing in Jake Lintott for Liam Dawson.
On that day, however, they managed to go one better, another mismatch of matchups required fourth change Colin de Grandhomme to bowl 10 deliveries. They were rightfully punished, with 26 runs coming from those 10 balls. Requiring a sixth bowler so often, and with limited ability, will only reduce Brave's ability to control games with the ball in the future.
On the batting front they are slightly too top heavy, with James Vince, de Kock, Davies and Conway all preferring to open the batting. A bold move might be to drop one of them and allow a batter more suited to a middle-order role - such as Rawlins - to take over, even if they are a lesser name.
Alternatively, moving Davies to be a powerplay specialist alongside De Kock would be a better use of his ability without impacting the type of innings Vince and Conway play, breaking up their left and right-handed batters to avoid another matchup mishap to occur as it did against Joe Root's off spin on Saturday.
Another factor was the batting depth, with Chris Jordan listed at No.7. Jordan is a handy batter but definitely one spot high and requiring any sort of meaningful contribution from him spells trouble for any side. The two bowlers removed from the XI, Dawson and Garton, are also a vital part of allowing Southern Brave to play with freedom with the bat.
Dawson has regularly played as a primary batter in the PSL and Garton's all-round ability as a left-hand batter who can play cameos down the order is an added bonus.
It wasn't just bowling ability they were losing by making those changes against Welsh Fire; either batter could've potentially helped them over the line when needing 29 from 15 balls.
Southern Brave are making vital errors when trying to trim their talented squad into a successful XI. It will be interesting to see how quickly they recognise those errors and correct them, it might just be a little too late.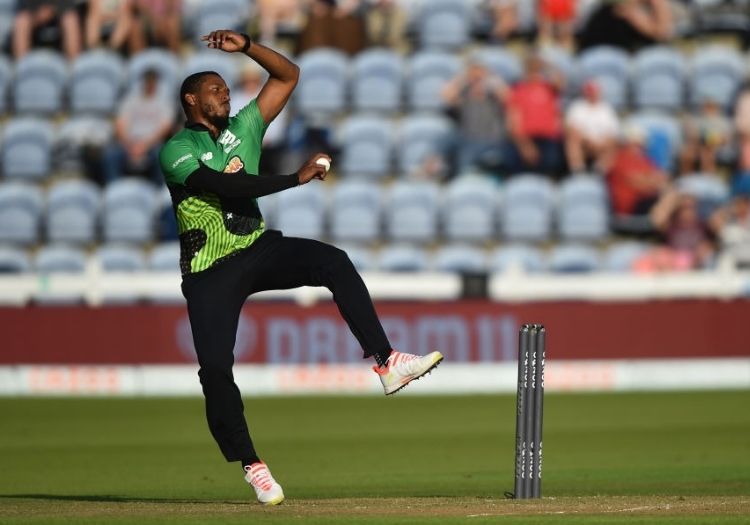 Chris Jordan in action
Originals making the most of home knowledge
Just minutes after Manchester Originals registered a comfortable victory on Sunday night, chasing down an 88-run target in just 73 balls, Ben Stokes took to Twitter to voice his opinion on the spectacle.
"What a horrific wicket at Old Trafford," he wrote. There's no doubt the competition organisers weren't too happy either, a low scoring affair on an Old Trafford pitch turning square probably wasn't what they were looking for when they announced a new competition aimed at bringing in new fans to the sport, but there was one group of stakeholders who were no doubt pleased by what had unfolded before them: the Manchester Originals thinktank.
For the last few years this tactic is something Lancashire have, at times, deployed at Old Trafford in the T20 Blast. Pitches have perhaps not been quite as favourable to spin as it was on Sunday but add in the larger boundary dimensions, particularly square, and it's been enough to give them a serious competitive advantage.
Such a successful strategy has no doubt had an impact on the planning around the Manchester squad, with Lancashire duo Matt Parkinson and Tom Harley leading the spin attack alongside wildcard pick Calvin Harrison. They combined to bowl 59 of the 84 balls Birmingham Phoenix managed to survive and returned figures of 6 for 49, Parkinson's 4 for 9 the standout.
Despite such a dominant display the current Originals squad is pretty average in standard terms, relative to the rest of The Hundred field, as their loss to Oval Invincibles in their opening fixture showed.
They have flaws but their considerable home advantage, and a group of players who know how to exploit it, could make up for that.
Taking advantage of the things you can control, such as home conditions, and as a result winning all of your home games (while avoiding the rain - which of course Manchester 'failed' to do on Wednesday) should leave sides needing one, possibly two wins away from home to sneak into the top three.
This is something Chennai Super Kings and Guyana Amazon Warriors have been able to execute in the IPL and CPL in recent years. Once in the finals, the beauty of variance in limited overs cricket can be in your favour, Manchester Originals just may prove that theory correct throughout the rest of The Hundred campaign.
Visit The Hundred Hub: News, stats, analysis, features
The Hundred
|
Southern Brave
|
Manchester Originals
|
1Banner
|
Please ensure all fields are completed before submitting your comment!