Max Waller, a different kind of leg-spinner
SAM DALLING: The Somerset man is closing in on Alfonso Thomas as the county's leading wicket-taker in T20 cricket, and there is plenty more to Waller than meets the eye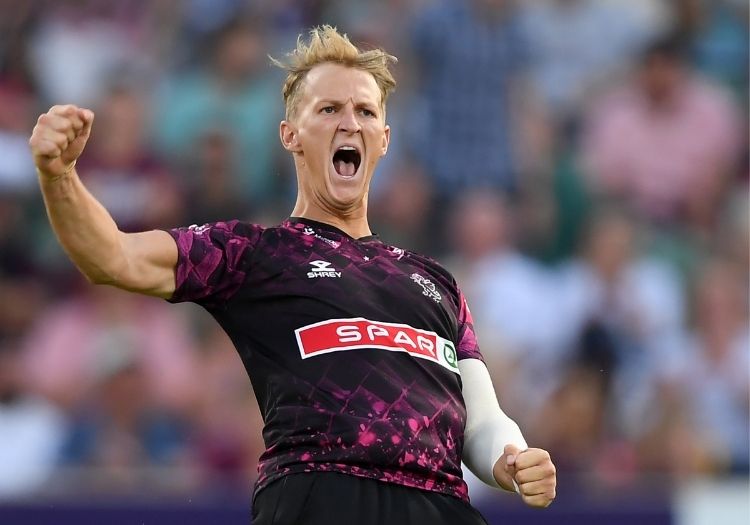 "I don't bowl a huge number of leggies anymore." A frank revelation from one who makes a living ostensibly as a wrist-spinner. The explanation? "I just don't think they're as potentially dangerous."
The words are those of Somerset's Max Waller. It's difficult to take umbrage: only 14 men in English have more than his 121 wickets in English domestic T20 since its 2003 inception. Quite conceivably, he will finish his career in the top 10; Chris Wood and Mitchell Claydon currently occupy joint-ninth spot with 130. "I bowl about 40 per cent googlies, 40 per cent back-spinners and 20 per cent something else – knuckle balls and leg spinners," he continues. "Balls that are hitting the stumps are your most threatening deliveries. Look at Imran Tahir and Rashid Khan: they bowl very quickly, with a high proportion of googlies. They look to hit either the stumps and pads as much as possible."
Cast your mind's back to the early 2000s, where most feared the format would bring nightmares for spinners. It has transpired quite differently. Seven of the top ten T20i wicket-takers are slow bowlers, while in English cricket no one has more victims than Warwickshire's Danny Briggs (172). Nottinghamshire's Samit Patel (165) runs him a close second.
Waller may never catch that pair of left-armers but he does have another mantle in his sights: Somerset's leading T20 marksman Alfonso Thomas. Six wickets will see him top a man regarded as one of the finest death bowlers the English game has ever seen. Could Waller have imagined that back in 2009? "Absolutely not. Never," he tells The Cricketer.
"I was just buzzing to be in the same team as Marcus Trescothick and Justin Langer who I'd watched on TV growing up. It was very surreal. I've played with Alfonso and know how good he is in the format. I guess it's just credit to my longevity in the game which is part and parcel of it. I still need a few wickets yet to overtake him but if I can do it this summer I'll be very proud."
Longevity is important but it is just a mixer. The strong stuff is skill, and variety has long since been king of the spirits. But while some talk of having a dozen deliveries in their repertoire, Waller feels they are being economical with the truth. "I think that's a bit of a bluff to be honest," he says, laughing. "I don't think you can bowl 13 or 14 different balls in four overs! There are variations in pace and of course you use the crease differently. You could say they are different deliveries but out of the hand you cannot really bowl that many with unbelievable control.
"You probably stick to four or five. I've got about five different balls I bowl throughout the 24 balls but obviously I'm changing my position on the crease, the lines I'm bowling, the pace – all those things. Having good variations to deceive batters is crucial."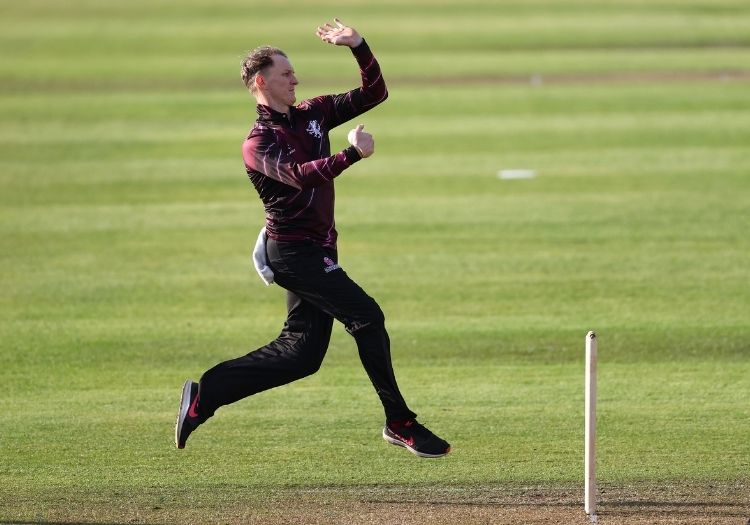 Max Waller has taken 121 wickets in the T20 Blast
Born in Salisbury, Waller attended Millfield School. His side was formidable: West Indies opener Kieran Powell, World T20 winner Craig Kieswetter, Adam Wheater, Rory Hamilton-Brown and Tom Maynard all amongst his teammates.
His Somerset bow came in May 2009, a List A clash against Kent at Canterbury. South African Wayne Parnell was his first professional victim. Ten days on Waller impressed with 3 for 17 on T20 debut against Glamorgan.
Ten appearances that year brought ten wickets and Waller was part of the side suffered an agonising loss in the final to Sussex. That marked the start of a period of unorthodox, trophy-free quasi-domination for Somerset, who made Finals Day in each of the next three years. They lost a further two finals, with Waller not featuring, although he was part of the XI beaten by Hampshire in 2012 semi-final.
"That side was phenomenal," he recalls fondly, the mind wandering back to a team with a healthy smattering of stardust. Langer, Trescothick, Kieswetter, Thomas, Jos Buttler, Murali Kartik, Kieron Pollard, Albie Morkel and Kevin O'Brien all played their part.
"And you're forgetting Zander de Bruyn," he chimes in. "He was a fantastic all-round player. Looking back at the teamsheet it's unbelievable we didn't end up winning a trophy, although Hampshire were a very good side at the time too. We had so much depth, so much experience. And we played in the Champions League which was priceless – I'm gutted that's not still going as it was a fantastic competition.
"I was used to winning games of cricket with Millfield and that just carried on into my professional career. It's why you play and was great to be part of. I wish I'd played in a couple more of those finals' days. I missed out and didn't really force my way in. I'd love to have been a bigger part of it but hopefully we can replicate that in the next couple of years."

Langer was skipper during Waller's debut season, and, as an Australian, was a strong champion of leg-spin. Waller featured in four County Championship games that year but in the decade since has added just three more appearances. His current contract is white-ball only.
"I think at age 33 that ship has sailed," he acknowledges, asked whether he still harbours aspirations of playing first-class cricket. "There's not much chance of it happening now. JL backed me which was really good at the time, but I was probably a little bit young and not as effective.
"After that we signed overseas spinners and that stunted my opportunities. I played quite a bit of second team red-ball cricket and did alright, but never really forced my way into first team. The wickets were very good at Taunton back then so playing one overseas spinner was the way to go."
And after having his path blocked by the likes of Kartik, Abdur Rehman, Piyush Chawla, George Dockrell and Ajantha Mendis, a pair of local talents came to the fore. "Once the wickets started to turn, we had Jack (Leach) and Dom (Bess) so there was never really an opportunity. It was just the situation and timing. I'd love to have played more red-ball cricket but it didn't work out that way.
"With Jack doing so well, I knew I wouldn't get much of an opportunity. So, I decided to focus my time and energy on white-ball cricket which is what I've done fairly well over a long period of time."
Waller is one of a new wave of allrounders. True, he has a second team double-century to his name, but his second string is not batting. He has been required in less than a quarter of his 132 T20 games, facing just 122 balls.
He is though, an exceptional fielder. Many a good judge rate him amongst the best. No one has affected more his 88 dismissals for Somerset (78 catches and 10 run outs). Only James Hildreth running him close. Only eight men have been involved in more wickets in the field in domestic T20, and six of them were wicket-keepers.
"90 per cent of fielding is about loving it and wanting the ball to come to you," he says. "I've had that engrained in me from a young age and I always wanted to field in key positions. I keep working hard, pushing myself, taking those catches in practice so that you know in a game you can get to certain balls that you don't think you'd potentially be able to get to.
"When I first came onto the staff I was twelfth man quite a lot and took some catches in the deep. Brian Rose – director of cricket at the time – wrote an article saying: 'Max has a great head on his shoulders.' But I was just taking catches at long-on. It's what I did all the time."
There is a famous one-handed grab at deep midwicket in a high-scoring T20 clash against Middlesex at Taunton in 2019. AB de Villiers the victim with the Sky cameras watching on. Waller believes he has taken better. "That one was instinctive: they either stick or they don't. Everyone speaks about it because it was AB. They atmosphere when I took the catch was electric, and that's why I love fielding. But the game didn't go the way we nor did it go the way I'd liked it to have done with the ball."
"I took a better catch at Hampshire though. It was windy, the lights weren't very good and the ball was coming over my shoulder. I ended up taking it near the boundary having started at mid-off. I understand they are a bit harder to take, so that was more pleasing for me personally."
Away from the field, Waller was a source of light entertainment during the lockdowns, putting out a series of videos of him finding inventive ways to begin the tea making process. That led to several local schools taking up the #teabagchallenge.
"They're all real," he insists, asked about his ability to doctor footage. "They're all legit. I'm not that technically sound so I could even edit them if I wanted to." A pause. And then a confession. "They aren't all #OneTakeWaller – they are a few takes some of them. Sometimes I left the camera rolling, I think the longest was about 25 minutes but don't tell anyone that!"
Waller is a good example of how to use social media well. He's aware of the pitfalls and makes sure to avoid them. "It's about being smart with it. If you get it wrong and don't do it smartly, it can be a really detriment to you – as we've seen over the last week or so. But it can be a real positive if you use it to help promote and support you rather than the other way around as other people have done recently…or not so recently. Being clever with it is the way to go."
The promotion he refers to is of his artwork, his portraits increasingly turning heads. "We used to spend some holidays when I was a child in rural northern France. There wasn't too much to do other than playing cricket with my brother and mum was a really good artist. That's where it started."
But like for many with a hidden talent, life got in the way and it sat dormant for years. "In lockdown I drew my fiancé's parents' pet and gave it to them. They suggested I should start selling them so I put a few on social media and I was getting commissions. The price was gradually driven up as demand increases but it's definitely a side hustle for now."
He has since graduated to homo-sapiens, recently selling a series of portraits of teammate Leach, while Somerset commissioned him to create a one-off piece to mark Trescothick's recent departure after three decades on the Taunton staff.
"That was pretty surreal. I didn't want to get anything wrong so every time I sat down to draw the perfectionist in me kicked in. I don't want to speak too much about Tres as everyone knows his impact over such a long period of time: that's why he's got half the ground named after him, to be fair! But I felt very proud to be asked to do that. It was nice to be able to give something back to him, after all he has helped me a lot over the years, especially at the start."
There is a therapeutic element to Wallers art too, albeit one that leaves him in a quandary. "I'm a very busy, fast-paced person so it's quite nice to just chill out for a couple of hours. It does take some time away from the golf though. If I had the choice between the two, I'd definitely go and play. But even when I'm playing golf I'm with cricket lads, so it's nice to get away completely and take my mind off of things. Drawing is tough to get into but once I'm going I can sit down four five hours easily."
And he joins a gaggle of cricketing artists, Jim Troughton – batting coach at Somerset, Carl Hopkinson, Michael Carberry and most famously Jack Russell all known to dabble. "It seems to be fielders doesn't it? Jim and Michael were very good fielders, Carl is England's fielding coach and Jack was a great wicketkeeper. Fielding is a bit of an art form…can Chris Taylor draw?!"
In time, Waller intends to contact Russell to his brains about the transition from cricketer to artist. But that is for the future: first and foremost he has the upcoming Blast with Somerset, and then a stint with Southern Brave in The Hundred.
His preparations have been somewhat unusual this year. For a start he has for more than a decade now spent the winter in Cape Town playing club cricket and working on his plus-two handicap. "It was a bit frustrating not being able to get out there," he says. "I love Cape Town: it's a bit of a second home to me now. But actually even with Covid we've been able to train together and it's been a rare winter where everyone is around. Usually a lot of the guys are away."
And with the opening nine weeks of the season devoted to red-ball cricket, Waller has been restricted to club cricket on Saturday's with St Just. "It's been a long start for the summer," he admits, "although it has been brilliant down in Cornwall. They look after me like royalty. But seeing a lot of cricket being played but not playing myself is obviously a bit frustrating. I'm used it is now but there's lots of team stuff going on and you're not part of it – that's still tough.
"On the plus side though, the fixture list being a bit different this year means the season is extended for me. It used to be four or five weeks. So that's quite nice."
Somerset fell just short of quarter-final qualification last summer, losing to local rivals Gloucestershire off the last ball of the game. A win would have sent them through. The current team is very different to the one that Waller first came into but he feels the raw ingredients are there. "There's a very different make-up to our side now so I don't think you can compare generations. Back then we used to bully teams playing on really good wickets. You can't compete with people like Kiesy, Buttler, Pollard from a ball striking point of view.
Waller is seen as one of the best fielders on the county circuit
"Our way of winning games of cricket now is slightly different but as long as you know what works for you as a team, there's no reason you can't be successful. It's about knowing your formula."
Last year Somerset used the tournament to blood youngsters, the likes of Tom Lammonby, Ollie Sale, Lewis Goldsworthy, Eddie Byrom, Ben Green, George Bartlett and Will Smeed all featuring. "Experience is crucial in T20 cricket. Dan Christian speaks about it all the time: 'Old guys win stuff'. That Chennai Super Kings IPL team had Shane Watson and MS Dhoni, guys who have experienced every situation and are good under pressure. Those older sides generally come out on top in T20 tournaments.
"Yes, we were a little bit short last year but we also lost some close games. If you come out on the right side of those results you fly through the competition. We just need to get better in certain areas. Alfonso Thomas' death bowling a decade ago was super crucial. He was fantastic and we need some of that. With guys stepping up, knowing their roles and performing, there's no reason we can't be as successful as back then."
To date Waller has made exactly 200 professional appearances, all of them coming for Somerset. But he has spoken openly about his desire to test himself abroad, coming closest when signed by Quetta Gladiators of the Pakistan Super League in 2019.
He replaced Sunil Narine, although his services were not called upon as his team claimed the title. Even so, he recalls rubbing shoulders with the likes of Shane Watson, Dwayne Bravo and Fawad Ahmed who was "really helpful to chat to" with fondness.
"We were basically the first overseas cricketers to play in Pakistan since the 2009 attack on the Sri Lankan team bus. They were really grateful that guys from overseas were coming over and we were really well looked after: bomb-proof buses, security escorts, snipers on the roof. It was hectic stuff but very exciting.
"We knew they'd take over the top precautionary measures, so it was expected but still a bit daunting at times. At the same time, it was exciting. We had presidential security – like if Donald Trump or Boris Johnson visited. Real high-end stuff. Very cool."
And he is hopeful playing for the Brave will be beneficial in more ways than one. "It's brilliant to be involved in the first year of a new competition. With The Hundred being on the BBC, hopefully that will bring in a new audience. That's the idea of it anyway.
"Playing in the top venue against the best players in the world is what you want to be involved in as a cricketer, and maybe this can bring some opportunities to perform in different conditions, against different opposition and in different parts of the world. That's what I still aspire to do.
"And training with guys from other counties will have his benefits too. Linking up with them will help me learn and, when I come back to Somerset, I'll have more idea how people like James Vince and Liam Dawson out!"
And with that Waller was off, most likely to practise his wrong-un.
T20 Blast
|
Somerset
|
Features
|
County Cricket
|
1Banner
|
Please ensure all fields are completed before submitting your comment!