Leaving Edgbaston, having coffee with Yuvraj Singh, and caring for loved ones with Covid-19: A year in the life of Jim Troughton
SAM DALLING: Break-ups are never easy but having navigated a tricky period – including a spell playing nurse to his parents - new doors have opened for the former Warwickshire coach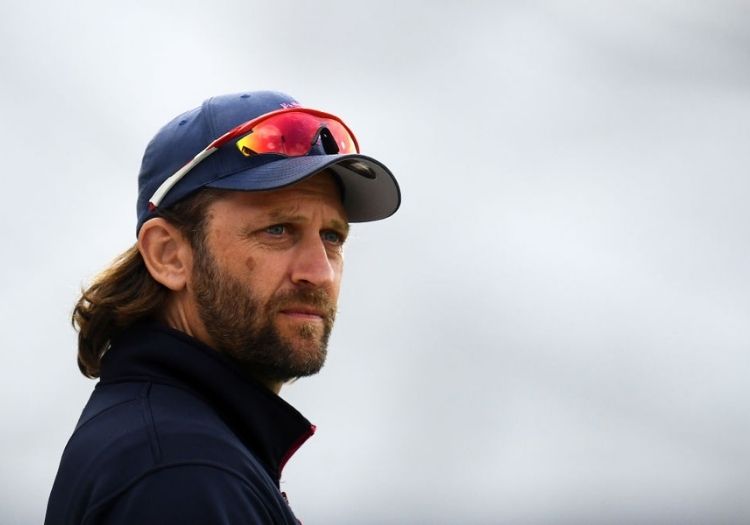 If ever there was a year for transformation, 2021 is it. And even by the pandemic's strange standards, Jim Troughton has had a bizarre time.

At the start of October, he was still Warwickshire head coach, but a post-season inquest determined it was time for a 30-year association with the club to draw to a close.

Break-ups are never easy but having navigated a tricky period – including a spell playing nurse to his parents - new doors have opened. A flourishing art career, a return to the playing field and a pair of fresh coaching challenges.

First, he joined Somerset as fixed-term batting coach, and now he has taken on an assistant's role with Trent Rockets women in the The Hundred. He cannot wait to get going. "Mick Newell approached me a while back about my availability and I said I wanted to get out of my comfort zone and work in a new environment," he tells The Cricketer.

"The women's game is growing fast: it is on the edge of becoming much, much bigger. The real winner in The Hundred is that both the women and men play on the same day at the same venue. That's really important as it brings everyone under the same umbrella. Hopefully the Rockets will treat the experience as one giant club."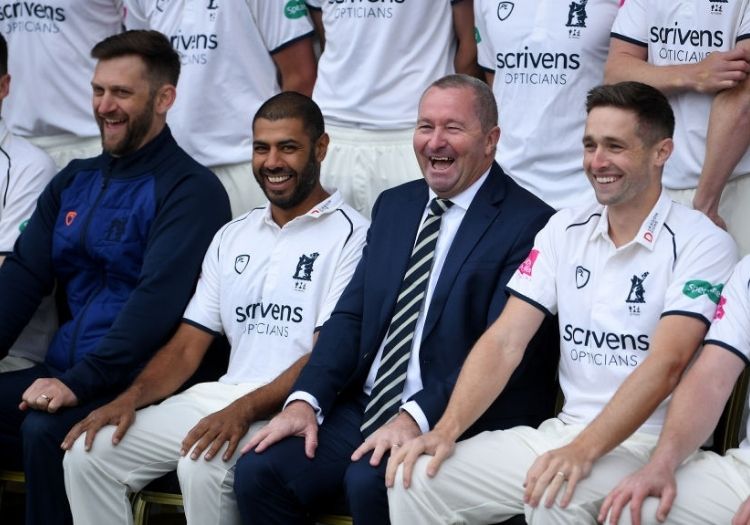 Jim Troughton (L) with Jeetan Patel, Paul Farbrace, and Chris Woakes as head coach of Warwickshire in 2019

Troughton will work under the watchful eye of head coach Salliann Briggs who, as well as previously coaching Loughborough Lightning, has spent several seasons working with Hobart Hurricanes in the Women's Big Bash.

"Salliann and I did an ECB post Level Four [coaching programme] together a few years ago so I got to know her a bit then. She was keen to work with people she hadn't worked with before and we had a chat about how she sees things going. She's got so much experience working in women's cricket and I'm looking forward to being part of her team and learning in that environment. It will hopefully make me more rounded as a coach.

"We've got Katherine Brunt and Nat Sciver as the England stars.

"They aren't going to know me and our paths have never crossed so that is going to be a really good challenge. It is a double whammy in terms of excitement: working with a new squad in a new environment, and also in a new competition where everyone is a little unsure how the dynamics to are going to pan out."

Troughton's fresh starts have helped heal the inevitable wounds of his Warwickshire departure. His four-season stint leading the county began strongly, the Bears making the 2017 T20 Blast Final before securing a return to Division One of the County Championship in 2018.
But a frustrating two years followed, the ignominy of instant relegation avoided only by Nottinghamshire's almost comical red-ball decline. They then went winless in the Bob Willis Trophy, leaving them with just three first-class victories in two seasons.

Much can be explained by a raft of senior players moving on: Jonathan Trott, Tim Ambrose, Ian Bell and Jeetan Patel all retiring in recent seasons. Experienced duo Keith Barker and Chris Wright now play elsewhere.

"Transition is a fundamental part of English domestic cricket," Troughton explains. "And it will always be a difficult period. It is not something you can manage too quickly either because there isn't really a transfer market or the money to change teams overnight.

"Time passes, people age and transition happens. Managing that can be a rocky road – you will have good and bad days. It's about trying to build the younger players and make sure they are getting a taste of 1st XI cricket. That's part and parcel of how you transition a club."
And there is hope that under Will Rhodes, the youngest current county captain, assisted by Tim Bresnan and Danny Briggs – both shrewd acquisitions in the past 12 months – the good times can return. They are making good progress, and will play in Division 1 of the County Championship's second stage.

"I'll watch that group of players closely to see how they develop," Troughton says. "I've seen some of them come through the ranks and grow. I'm very fond of them and think they're going to flourish. It is good to see them playing well: that's no surprise to me. Hopefully they can keep building and developing."

There is no bitterness surrounding Troughton's Edgbaston departure. Pain, yes, and plenty of it, but that is subsiding and the toughest part – going back – is already done. In only his second week at Somerset, Troughton travelled to the Edgbaston Community Sports Ground for a 2nd XI game. It brought closure.

"With everything that happened I didn't have the opportunity to speak to the guys, so it was good to catch up with a lot of them. I'm good mates with Westy (Ian Westwood) who is their 2nd XI coach - we played together and are both former Warwickshire captains – and so it wasn't too odd for me. I hope it wasn't too odd for them. It was always going to happen and at least I got to say a proper goodbye."

Troughton pauses and continues reflectively: "I first walked through the gates at Edgbaston when I was 11. I'm 42 now. That's a long period to be associated with the club. But when you become head coach there's always likely to be a time when you have to move on. Whether that's to another job or because your services are no longer required, that time will come.

"It's someone else's time now. It's the same when you retire: cricket moves on quite quickly. That's the way it is supposed to be. You have your chance and then you move on. Now I'm really excited to see what I can do elsewhere."
One positive from Troughton's cricketing freedom was the time to focus on his art. It has always been a form of relaxation for him, whether it be by drawing caricatures of teammates on stretching mats when he broke into the first-team, or illustrating each game of the 2008 promotion-winning season to raise funds for the PCA.

His latest return to the easel came while a Bear, when he was asked to provide the cover art for the sequel of the children's book The Legend of Morvidus: The Bear, the Bat and the Ragged Staff. He had been involved in the original back in 2015.

"You know Issy Wong?" he begins. "Well, her Mum, Rachel, called me in the first lockdown and said 'you've got nothing else to do so do you want to do another one?!'

"I ended up doing a couple."

That re-ignited the fire and Troughton now deals in commissions, most recently designing the packaging for a new brand of bean for ex-Surrey quick-turned-barista Tim Linley's Coffee on the Crescent.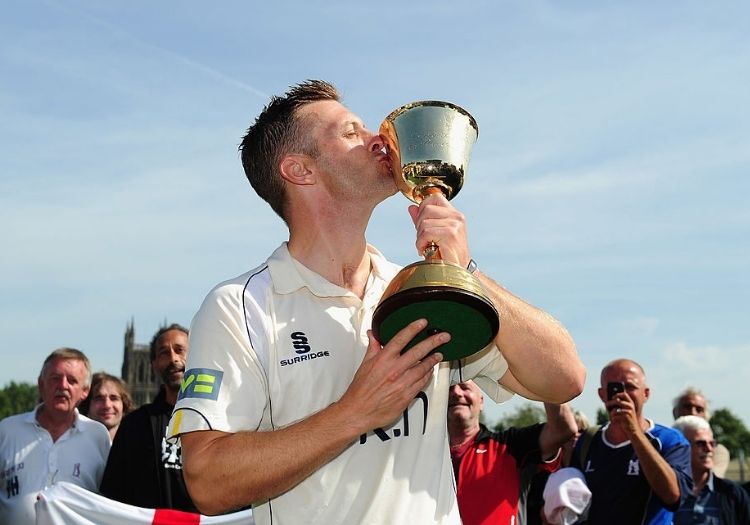 Troughton with the County Championship trophy in 2012

"I had a bit of time on my hands in November and December so I used it wisely! It's therapeutic and good fun to do. I believe they call it a side hustle. I'm not sure I'm talented enough to make it a main hustle but it's good to keep me ticking over."

And he has also promised to take on Max Waller, Somerset's artist in residence, in a drawing competition over the summer. "I tell you what, he is very impressive, Max. It looks like he could be different level if I am honest. Blimey – I will bring the pencils down with me."

After a difficult few months, 2021 was meant to bring brighter things. Alas, that did not turn out to be the case: Troughton's parents both caught Covid-19 and he spent January nursing them back to health.

"Jeez, that was an eye-opener," he recalls "You think 'right 2021 is going to be different' and then you spend the first month in full mask and gloves looking after your parents. Luckily they've recovered now."

What came next though was both unexpected and wonderful in equal measures: a trip to the sub-continent for the quite barmy, could-only-happen-in-India, Road Safety World Series. Troughton was part of the England Legends alongside Kevin Pietersen, Chris Tremlett, Owais Shah and Monty Panesar.
"Let's not beat around the bush, I was a late inclusion," he admits, laughing. "Something tells me I wasn't top of the list originally but a few dropped out and Ace [Shah] called me asking if I fancied it. That was about 7pm on the Thursday night and by 6.30am on the Saturday I was leaving Heathrow having been tested, got a visa and had a diphtheria injection."

Troughton played a trio of games, starting with a duck against South Africa before making 18 [v Sri Lanka] and 22 [v West Indies]. His motivation was simple: "I wanted to do it so my kids could see me play - they were too young to remember my career."

A career that included six ODI appearances for England, and a pair of County Championship crowns.

"And I also wanted to avoid making a fool of myself which I did so I'm happy. I was pretty nervous though. I literally hadn't put a pair of pads on since Jack Brooks got me out against Yorkshire at Edgbaston in June 2014.

"It was incredible," he continues. "Tino [Best] was trying to kill everyone as usual, and a lot of the Sri Lankan and Indian sides had only just retired. I felt very privileged to be having coffee with Yuvraj [Singh] while Brian Lara is playing pool 10 yards away. You went to the gym and Virender Sehwag is there or Jonty [Rhodes] is stretching in the pool. Very surreal - bonkers, it really was - but nice to catch up with a few players I had played alongside and against over the years."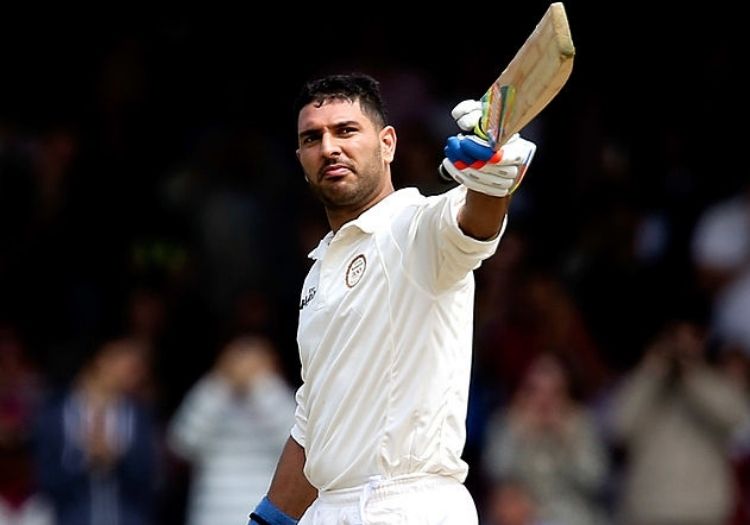 Troughton shared a coffee with Yuvraj Singh during the Road Safety World Series in India

Injury curtailed his involvement.

"It was the tournament of the hamstring. We were all together in a bio-secure hotel and often at breakfast you'd see a couple of people hobbling around. It was always the hamstrings going and I joined a long list!"

By the time he returned home, Troughton had landed his Somerset role, having taken Andy Hurry's call. The pair worked together previously during Hurry's time as England Under-19 coach, meaning minimal due diligence was required. And Troughton was eager to return to Taunton where he has found memories of epic tussles and being sprayed with vodka by a super soaker.

"No that wasn't a County Championship match! But I love watching the members there running to try and get the best seats behind the bowlers' arm when the gates open."

His position straddles all senior sides, although primarily he is working with the more junior players in support of Greg Kennis on 2nd XI matchdays. It is a role that Marcus Trescothick previously occupied but was unable to fulfil owing to the cancellation of non-first team cricket last year. "It can be quite difficult as a 2nd XI coach to run the game and work with the players during it," Troughton explains. "I help Greg in whatever way I can and I also Jason Kerr if he needs me."

As it stands, Troughton will be a free agent again come September. But this time, having been through it all before, that does not faze him.

"If you'd said in the dark days of October to Christmas, and then looking after my parents in January, that I would have come out of retirement, played in India, illustrated a coffee and managed to get a couple of roles to expand my coaching experiences, well…I wouldn't have believed you! We will see what the future brings."
Warwickshire
|
Features
|
County Cricket
|
1Banner
|
Please ensure all fields are completed before submitting your comment!