Alastair Cook, David Gower and Mark Butcher eviscerate England after 4-0 Ashes defeat
Three former England Test captains weigh in on the humiliating defeat to Australia in the fifth Test in Hobart and reflect on what changes are required to deliver a brighter future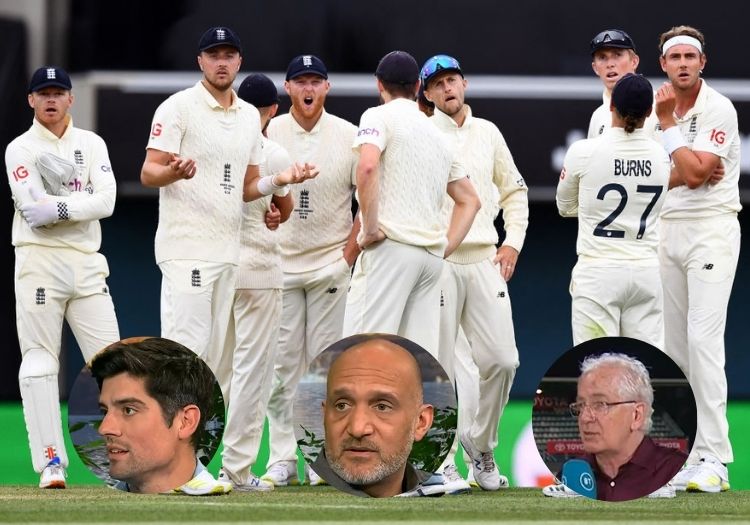 A trio of ex-England captains have taken aim at the performances that accompanied the 4-0 Ashes series defeat to Australia and are demanding real change to return the team to the summit of Test cricket again.
Joe Root's side capped off a torrid tour by losing all 10 second-innings wickets for 56 on either side of the second interval on day three of the fifth Test in Hobart.
It came after Australia set them 271 to win following Mark Wood's career-best 6 for 37. A 68-run opening stand provided brief hope before a dramatic and embarrassing collapse consistent with England's Test form in recent years.
Though the urn was already gone and the draw in Sydney had ended the hosts' hopes of a third whitewash in six home series, this 146-run defeat, accompanied with some abject dismissals, only adds to the ignominy.
Stationed in the BT Sport studio, England's leading Test run-scorer Alastair Cook led the calls for an overhaul of the leadership structure around the team, ahead of director of cricket Ashley Giles' report into the series.
"I would be surprised if England go to the West Indies (in March) with the same structure in place," he said. "I'm not saying Joe Root won't be captain I just can't see how you can't make changes.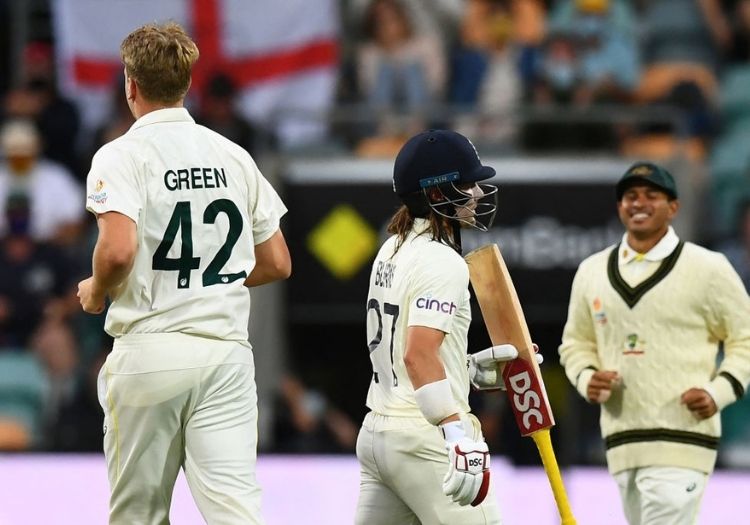 Once opener Rory Burns departed, the writing was on the wall (William West/AFP/Getty Images)
"We've had the same coaches and leadership in that group of players in the last 18 months and I haven't seen any improvement.
"What has been going on behind the scenes? You have to ask questions of Graham Thorpe the batting coach, or what has been going on? What has been happening? That is what I want to know. I can't see an improvement in any of the players.
"If you have the same leadership group and they lose in the West Indies then their position is untenable so there will be changes and there has to be."
"That (collapse) was tough viewing and it has to be our rock bottom," added Cook, skipper between 2010 and 2017. "There cannot be a worse place to get bowled out in an hour-and-a-half.
"You get bowled out in a session once or twice in your career. You see a batting line-up devoid of all confidence and belief.
"Once you lose one or two wickets no one is stepping up and stopping that slide. Talk all you want but until people grab this team by the scruff of the neck and move it forward themselves I can't see them changing."
Being skittled out for 124 was the sixth time in the series England had failed to reach the modest threshold of 200. Indeed, since the start of 2019, they've only reached 300 on nine occasions away from home.
Mark Butcher, sitting alongside Cook, was similarly infuriated by the performance which he described as "pathetic".
"That was ghastly, it really was," said the ex-Surrey batter, who captained England in one Test in 1999.
"I don't blame the bowlers for coming out and having a swish, the game is done. They've done their job in this Test and this series in terms of having to bowl on the next day and the next day and the next day.
"They haven't been able to give them enough rest and that is the epitome of how the tour has gone. It was pretty pathetic in the end.
He added: "It is difficult to make an assessment that doesn't involve a bit of emotion. But that was a really tough watch. The Ashes is a comparison between the way they do things over there, and the way we do things over here. At the moment the way we do things has been trashed hasn't it?"
Speaking from Hobart, David Gower focused on the structure behind the scenes which has seen Eoin Morgan's white-ball team given preferential treatment in terms of selection and the scheduling of the domestic calendar, particularly in recent years.
Though that policy helped deliver the 2019 World Cup on home soil, a shift in priorities is being demanded.
"It has been horribly obvious for people watching from a distance that Eoin Morgan has everything he wants with the white-ball team," explained Gower. "Yes, we won the World Cup and everyone loved that moment at Lord's two years ago.
"But poor Joe Root, and I have genuine sympathy for him, finds him with people who aren't available because they're in the IPL. What good is that for English Test cricket?
"This is the oldest, most important form of the game. We need to defend it, we need an England team playing it well and is not languishing at the foot, barely even the foot, of the World Test Championship.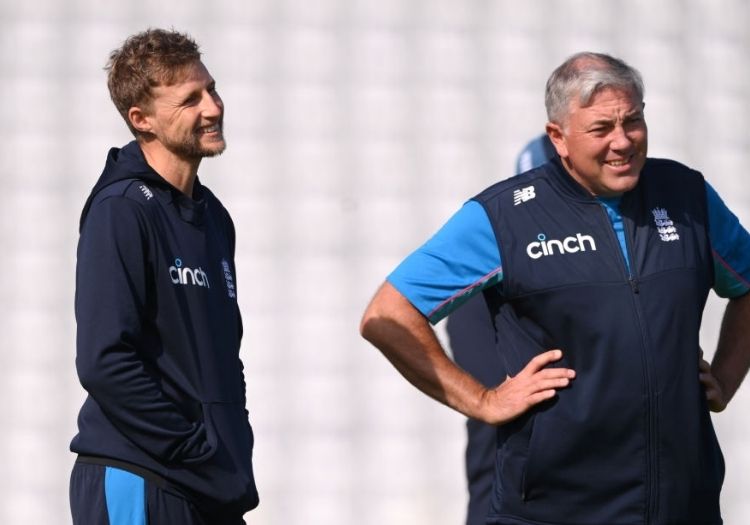 What now for Joe Root and Chris Silverwood (Stu Forster/Getty Images)
"You need a big kick-up somewhere. You look at personnel for sure and there will be people fearing for their position in the side, but you also have to consider who else there is to take over?"
Gower had an ill-fated spell in charge of England in the 80s, losing 18 of his 32 Tests at the helm that included operating underneath a selection panel headed by chair Peter May.
Ed Smith's exit as chief selector last saw Chris Silverwood given the responsibility for choosing the team alongside his duties as head coach. Combining the roles confuses matters, according to Gower.
"I don't think it works to have a coach who picks the team, coach a team, advise the captain, talk to people who are down, pick them all up again, because when it comes home to roost you're in charge of a team who has lost 4-0," he added.
Our coverage of the Ashes is brought to you in association with Cricket 22
RELATED LINKS (APP OPENS IN EXTERNAL WINDOW)
England have no hiding place but the ECB may still find a way of ignoring the obvious
PLAYER RATINGS: Travis Head, Australia's bowlers and Mark Wood shine in Hobart
Ashes Timeline - 5th Test, day 3: As it happened
Please ensure all fields are completed before submitting your comment!