Isa Guha, the face of BBC cricket's new era: "I love what I do and trying to bring out all the stories from the game"
SAM MORSHEAD: The England World Cup winner will anchor the return of international cricket to the Beeb this weekend when Eoin Morgan's men face Pakistan in the second T20I at Emirates Old Trafford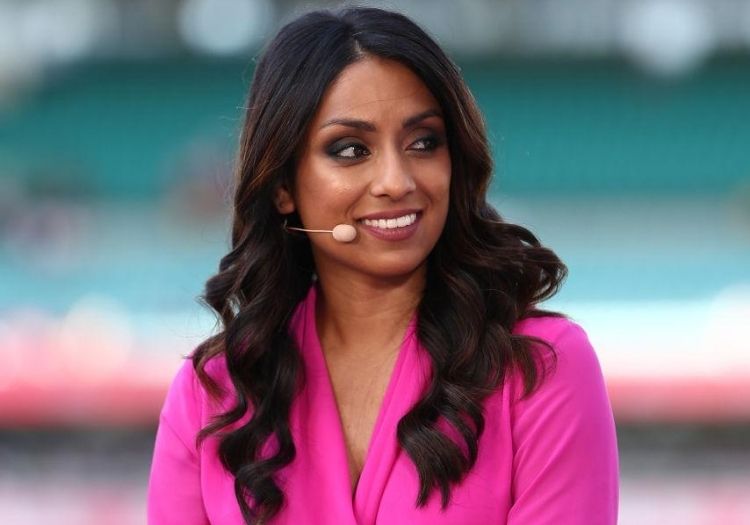 It was 1999 when the BBC last carried live coverage of international cricket across the United Kingdom. 
Of the three anchors and 26 commentators on its roster for the World Cup that year, three were black. Four were from South Asia. None were female. 
This Sunday (August 29), when the game returns to the national broadcaster's airwaves, the first face viewers will see is that of a 35-year-old British Indian woman. The sport is changing, and Isa Guha is at its forefront.
Guha was 14 years old when cricket was last seen live on terrestrial screens nationwide - to placate the pedants, it should be acknowledged that a one-day international between Ireland and England made its way onto BBC Northern Ireland in 2006.
She had been on her first overseas cricket tour two years earlier, to South Africa as part of a boys' team, and was just two years away from her international debut. A career in front of the cameras had never occurred to her.
Now, though, she finds herself as one of the most prominent presenters on the circuit, hopscotching between gigs in India, Australia, the Caribbean, and back home, her rise as fast as it has been inspirational.
And so to Sunday afternoon at Emirates Old Trafford, where England face Pakistan in a T20I - a fixture which might ordinarily blur into cricket's relentless calendar.
"It feels a bit surreal at times, to be honest," Guha tells The Cricketer. The rain is falling in Southampton, where she is fronting the highlights team for the Test matches, and she has time to spare.
"I guess there will be a different feel to [live broadcasts on the BBC] because it will be something relatively new, and a chance to get our version of cricket broadcasts over to the traditionalists but also a new audience as well."
Ah, the fabled new audience: an ECB buzzphrase for some months now. Mums, children, and ethnic minorities? Cricket interested but uninclined to attend matches? Likely consumers of The Hundred?
Guha has been vocal in her support of the governing body's attempts to attract fresh fans - in a Twitter post last October she suggested that "cricket will not exist in this country in years to come if we do not try something to engage kids and people outside of our cricket bubble" - but that does not mean anyone tuning in to BBC One on Sunday will be met with a total about-face when it comes to cricket broadcasting tradition.
"I think it's important to have a point of difference, absolutely, but you've also got to make sure you're not steering too far away from what the cricket lovers enjoy as well. It's about finding that balancing act," she says.
"I've been really lucky to work around the world. Knowing the audiences in India, in Australia, and then in the Caribbean… it's about using that experience to formulate something that's going to work for UK audiences.
"Every country that you go to likes taking in sport in a different way. It's about merging it all together in your head and creating something that's going to be fun and entertaining.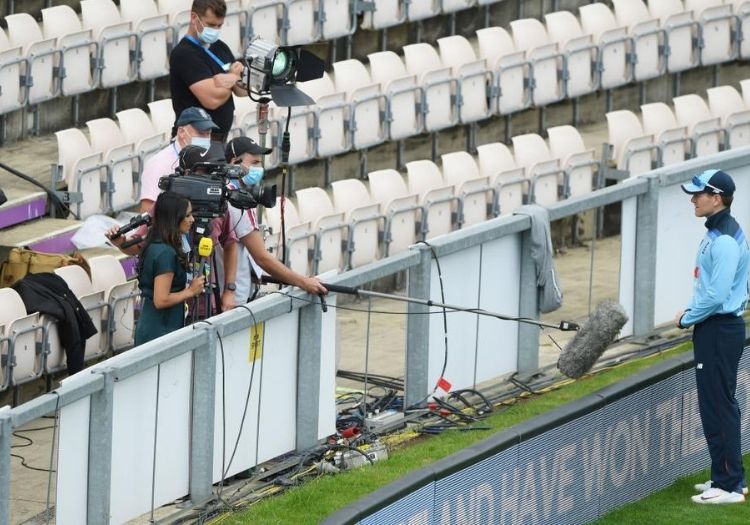 Isa Guha has led the BBC's highlights of the international summer
For Guha, that means taking the energetic, "really to-the-point" commentary preferred by Indians, sprinkling in the "banter-led" approach of Australian TV, adding the "different sort of humour" enjoyed by Brits, and bridging it all together with statistical analysis.
"The modern generation are heading in that direction, looking at everything a lot more strategically," she says. 
It is a mighty tough ask to do all that in a handful of 20-minute slots before, during and after the match. And Guha understands that her style will not be to everyone's liking.
Still, it is undeniable that women like Guha - those who have made it to the heart of cricket broadcasting, and sports journalism in general - have had to wade against oppressive waters to do so. Sometimes a trickle, sometimes a storm, disparaging comments about female presenters and commentators remain far too widespread.
"Everyone receives some sort of abuse and you have to recognise that presenting and commentary is subjective, and not everyone is going to enjoy what you do," Guha says.
"All you can do is be true to yourself. You take every comment with a pinch of salt.
"The more you can be yourself the better it is, and people appreciate that so much more. I do bring my personality to commentary and whatever I do but I have always been a bit of a chameleon. I like to think I can fit into a lot of different environments - that's how I've always lived my life - and that's the same in commentary and broadcast environments."
She cites more than a dozen inspirations for her broadcasting career, mainly among those with whom she has worked - Mark Howard, Ian Ward, Gaurav Kapur, Alison Mitchell, Matt Smith, and of course, Richie Benaud. "Obviously everyone talks about Richie when you first get into broadcasting."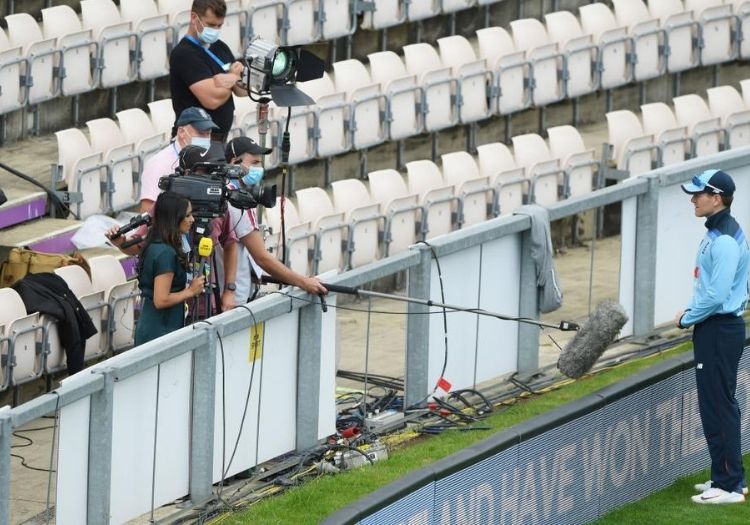 Former teammate Ebony Rainford-Brent has been a familiar figure in the commentary box
Variety seems to be key to Guha. That doesn't necessarily have to be diversity of appearance, experience, or even gender.
"I have a real appreciation for everyone because everyone brings something different," she says. "That's what makes a really good team - having a difference in personalities, not necessarily backgrounds all the time.
"The joker, the analytical guy or girl, the person who can lead conversations… I think it's so important when it comes to a broadcast, to have all those different viewpoints. 
"While commentary is very subjective I do enjoy listening to all the different voices."
As for her own voice, Guha admits to still learning. She will watch as much live cricket as is consumable in what little time she is not on our screens, but abstains from consuming too much external media - "as much as I can I like to form an opinion myself".
Recently, a clip of a radio commentary stint in her mid-20s led to self-reflection.
"I sounded so timid and unsure of myself," she says. "My voice has definitely got deeper over the years. I probably was a bit more monotone back in the day, for that lack of experience."
There is little timidity in her presentation today. Guha marshalls the collective wisdom of some of the sport's most recognisable names; her style - she says - informed by a genuine interest in others.
"I love what I do, I love the challenge of getting the best out of my guests, and trying to bring out all the stories from the game. 
"I love trying to make people feel relaxed and allowing them to feel they can say what they want to. I guess that's how I am in real life as well, I'd much rather find out about someone else."
Guha was brought up travelling. As a child she held an immigration green card to the USA and flew back and forth across the Atlantic with her father, Barun. She spent time in Kolkata with her extended family. Her England career took her to Australia, Sri Lanka, New Zealand, South Africa and the Caribbean, as well as back to India. When she hung up her boots after 113 international matches, in 2012, she adventured around Europe with her then-boyfriend Richard - a musician who knows something about touring himself. They married in 2018. 
And Guha's itchy feet don't look like cooling any time soon.
"I was in the England Women's team when I was 16 or 17 when I was going on tours with adults. I always enjoyed it," she says. 
"I loved going to new places and exploring. That's stood me in good stead as a broadcaster; I get to do something similar without having to do the training and the warm-ups."
As she talks The Cricketer through her approach to broadcasting, Guha reels off more names of those who have inspired and encouraged her: Des Lynam, Henry Blofeld, Jonathan Agnew.
"Aggers taught me - certainly in radio - that you're almost part of an orchestra in the way you go up and down with your voice. You speed up when something interesting is happening or you slow down when it's meandering along."
Mitchell aside, all of Guha's mentors are men. For a good reason.
"Growing up, I watched broadcasters and commentators on television but it was never something I aspired to be, potentially because there just weren't that many women doing the job," she says.
Guha has already become a driving force in changing that narrative. This Sunday, her story adds its latest, impressive chapter.
For unrivalled coverage of the county season, subscribe to The Cricketer and receive four issues for £15
Please ensure all fields are completed before submitting your comment!