The reinvention and reignition of Matthew Wade
SAM DALLING - EXCLUSIVE: Wade speaks with the gratitude and humility of a man at ease with himself; a man content with his lot, who has given up chasing things he does not have. And he talks with fondness about the moment it all clicked into place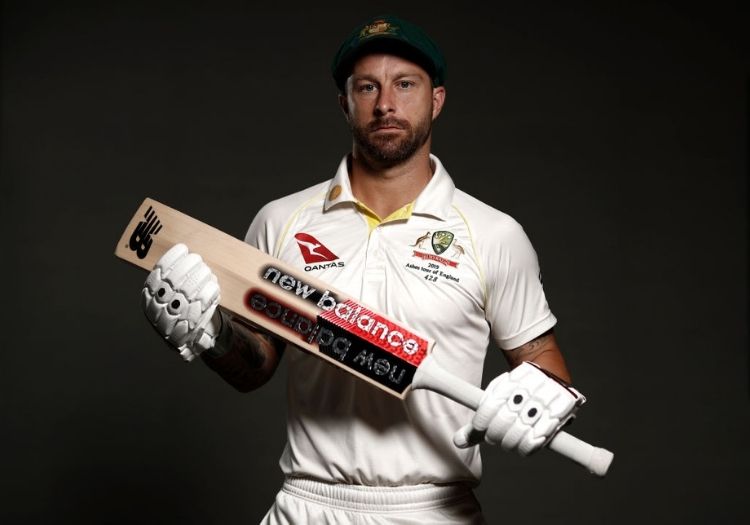 Matthew Wade is speaking frankly. "People ask me - do you look at Painey and think 'I wouldn't mind doing that?' Not for a second do I look and think I would like to be doing that again. Not even for one second."
The Australia star is not really talking about Tim Paine. 
His skipper, a lifelong friend who grew up a shuttle run down the road in Hobart, is merely a point of reference as Wade reflects on his own journey over the past three years.  
It has been a journey that saw him dumped from the Australia side before the 2017/18 summer before rising from the ashes, in the Ashes, to cement his Test spot without the wicketkeeper's gloves. 
"I do not think I would be playing cricket still if I was still in that grind of trying to play international cricket as a keeper-batsman. I would not be enjoying it enough. It would be a struggle for me. Once I gave up keeping I almost saw myself as a brand new player. It was like I re-invented myself. I don't look at myself as Matthew Wade the wicketkeeper who had played 20-odd Tests."
Wicketkeepers are a funny breed. Each is unique and together they form an alliance, born from one common denominator: when out in the middle they are all alone; nothing else matters but the red, leather dot hurtling in their direction. 
"The night a game before I would be stressed about keeping – for 10 years I did that," Wade said. "I was like 'oh I have got to keep tomorrow, I hope I don't fuck it up'. You have so many things you are thinking about when you are down in your squat, hundreds of them. Your mind is ticking all the time. I was absolutely toast by the end of the Test.
"I was so laser focused. I had to be on it every single ball. You lose perspective of where you even are. I was so driven to do the job and make sure I was not mucking up that I barely even looked outside of the pitch. Once I gave it up the game went so much more quickly. Now I can stand at mid-off look around the crowd, field a couple of balls, shine it for the boys – I take it all in. I never ever did that as a keeper. Now I can chill out, it is great."
Wade was a relative latecomer to the keepers' union. 
Growing up, Paine was the heir apparent to Tasmania's incumbent Sean Clingeleffer but during his mid-teens the David Boon Academy was short in the area, and Wade put his hand up.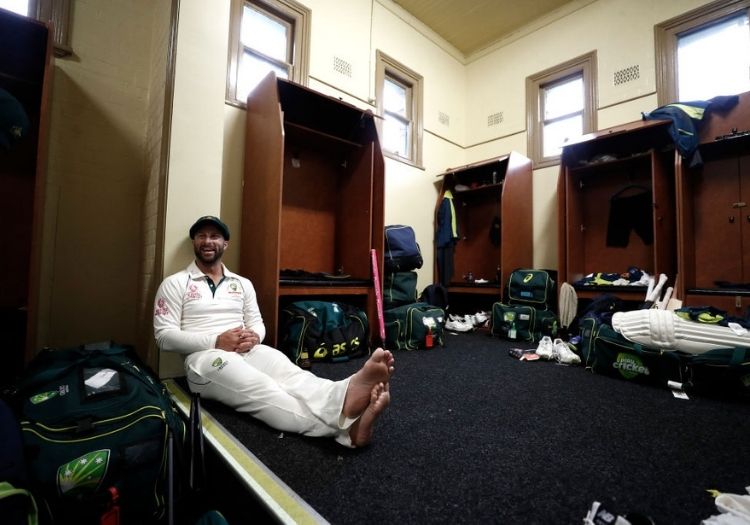 Matthew Wade has enjoyed a renaissance in the Australia side
From there he began working with highly-regarded state coach Tim Coyle, himself a former gloveman.
A few years later he faced a choice: stay at Tasmania and bat, or head to Victoria and keep. He elected to twist, his sights set on higher honours. 
"I could have stayed at Tasmania and played as a batter. They offered me the opportunity to bat at three in one-day cricket but I left because I wanted to see if I could play for Australia as a wicketkeeper. Gilchrist was coming towards the end of his career and Brad Haddin was 30 when he debuted. So I knew that I had five years to get good at keeping and then had a chance to play for Australia."
It was the right call. Four seasons after his first-class bow he replaced Haddin. A lesser man might have thrown in the towel but Haddin was not done, wrestling his spot back 12 Tests later.
When Haddin had to pull out of the 2015 Ashes early, Peter Nevil took over but Wade returned in white-ball cricket during that tour of England and was eventually restored to the Test line-up in late 2016 against South Africa.  
The idea of giving up the gloves was already a seed in Wade's head but nothing came of it. 
"I held onto it for years because one I was I was getting picked. There were times throughout my career when I thought seriously about giving it up. Sometimes I think maybe I should have done it as I might played a few more Tests for Australia.
"I was up and down a bit with my batting, my keeping was up and down a bit and mentally I was just up and down. It was a bit of a struggle mentally for me to keep it up. I probably held onto it a bit longer than I should have but at that stage I was playing for Australia. It is very hard to walk away."
When Wade and wife Julia made the switch to Tasmania in 2017 he was a regular for Australia in all formats.  
The international calendar is a brutal one and the couple would get a few precious weeks together between tours before Wade had to jet off gain, leaving his wife and young baby behind. 
Their families were in Hobart and the time had come to head home. 
"We would get home from an international trip,  go back to Melbourne from the airport, wander around for a couple of weeks – we had no family down there – and then I would be driving back to the airport to go on another trip. If I was to keep jetting off, I wanted Julia to be around family.  I wanted to be around my friends and family when I was around as well.  We wanted to go back home."
Then he beings chuckling: "It worked really well until I got dropped after three months and found myself back in Hobart full-time. But it is easily one of the better life decisions I made. Melbourne was perfect from when I was 19 to when I was nearly 30. It is a really great city and I would not change that time for one second. I loved it. I loved living in Melbourne and I loved playing cricket for Victoria, but I had been captain for a long time and it had all started to wear a bit thin. At that stage in my life I probably needed to freshen it up."
With his love for the game fading, Wade's attention began to turn to the future.  
"When I got dropped by Australia again I thought it was time to start transitioning out of the game," he admitted. "I had fallen out of love with training and being around the boys all the time. I was renovating our place down there and ringing my mate maybe 10 times a day saying 'what do I do here?' I realised if I wanted to do a bit more of this stuff after cricket I needed to skill up." 
And so he did just that, although not before notching up a more-than-respectable 654 runs Sheffield Shield runs at 43.6 in his first year back in Hobart (2017/18). 
That winter he spent the off-season as a carpenter's apprentice. Stepping back from the game turned out to be just the tonic. 
"Luckily I started the apprenticeship on my own house –  I worked there for about nine or 10 months which was cool. Everything just lined up. At the start of it, our coach Adam Griffith said I only needed to train two times a week: for a professional cricketer that is unheard of. 
"I was doing two main sessions a week with the team and the rest of the time I would go do a 5am session with my boss before work. That was all I was doing. I was loving those two sessions and being around the boys again. I really appreciated going to training.  
"I think that was what led to the big turnaround in my game. I relaxed and realised cricket could be a one, two, three-year thing. I got to a stage where it did not worry me if it stopped tomorrow. I enjoyed every day."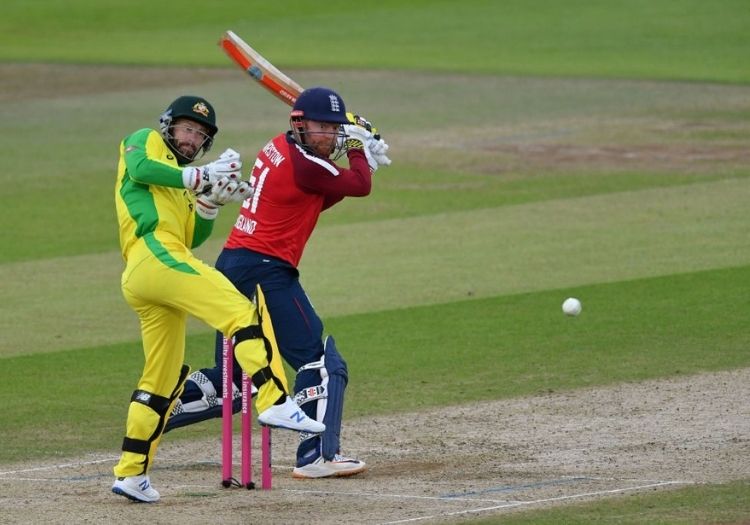 Wade in action against England
Then summer came and the fruits of his labour were both juicy and plentiful. He racked up a stellar 1,021 Sheffield Shield runs at 60.05. 
He had been touted to return to international cricket the previous year and those numbers took the  "will he, won't he" saga to a new level. 
Such media attention, while flattering, can be tricky for a player. 
One false, frustrated move can burn bridges. Wade played the questions with a perfectly straight bat every time, waiting patiently for his moment. 
And then it came: he was at the Bellerive Oval turning out for Tasmania when he got wind that he would be selected for the 'A' tour that preceded the Ashes. 
But with his second daughter due imminently, only Julia's swift intervention prevented the moment passing. 
"I was pretty adamant at the time that I would not go if asked. I was thinking I had played enough A and international cricket that they know what I can do.  My mentality was that if I was in the Ashes squad great, but if not I am staying at home for the winter. 
"I had just got out and an email came through to my coach with the subject 'Players of interest for the Australia A trip'. I just shut my eyes and was thinking this is the last thing I wanted!
"I snuck off around the back of the box and rang Julia. I told her that I was going to speak to Cracker (Trevor Hohns) who was a few boxes down and tell him not to bother selecting me as I wasn't going. She said 'I will ring the hospital and find out if there is a possibility of having her earlier'. I was like 'okay but I would prefer to just leave it. I do not want you to have to do that'. We had to do a similar thing for my first daughter before I played a Shield final so I thought it would be easier to just stay at home. 
"She got it all lined up and rang me back that afternoon. She said 'I want you to do it, I do not want you to live with the regret if they pick someone else and you are sitting at home watching. You have worked so hard to get back and I do not want them to have any excuses not to pick you again'." 
"We had Goldie in Melbourne and I snuck off three days later. I did not see them again until after the second Ashes Test a few months later. Julia worked two businesses and had two young kids to look after while I was jetting across the world playing cricket. All credit has to go to her.  To think if I had walked back 50 metres to tell Cracker I was not going on the A tour, who knows if I would even be playing cricket now."
Fortunately Wade made that call to his wife. He ended up playing his first Ashes series, making two hundreds, and has retained his spot in the top order since.
He speaks with the gratitude and humility of a man at ease with himself; a man content with his lot, who has given up chasing things he does not have. And he talks with fondness about the moment it all clicked into place. 
"I can remember the moment vividly. I was on 70 or 80-odd at the time and the crowd are buzzing in that big stand at Edgbaston. I am playing in an Ashes. I never thought I would play for Australia again and I am playing in an Ashes. I had a big grin on my face and was thinking it is all worth it.
"I had worked so hard to get back to the Australian team. So many times in professional cricket people say enjoy yourself, and at the time, in that moment, I got that calm. I am very, very lucky and grateful that I am at the stage now where I have the things that I really chased at a young age. It is kind of like I can relax this time around and just let myself play."
His Ashes debut did not go without a hitch though. Trapped lbw by Chris Woakes for a single in the first innings, he admits it was a mental test. All those hours spent batting, all those sacrifices: would they go out the window at the first sign of danger with the crowd baying for blood? 
"I had done what I have done for two-and-a-half years and been really successful. Then I have gone into my first hit of my international comeback and got my board blown off in the first ten minutes. That is when I got tested. Am I going to change or am I going to stick to what I know works?
"Over the next two days I kept drilling into myself that I knew what worked. I knew that if I continued to bat the way I had been doing over a two year period, I would be successful. To get the rewards in the second inning was a relief I suppose but it was something that really confirmed to me that I was doing the right things. I am proud with how I dealt with that."
Wade is speaking ahead of the home summer against India. He has come up against them twice before but never on home soil.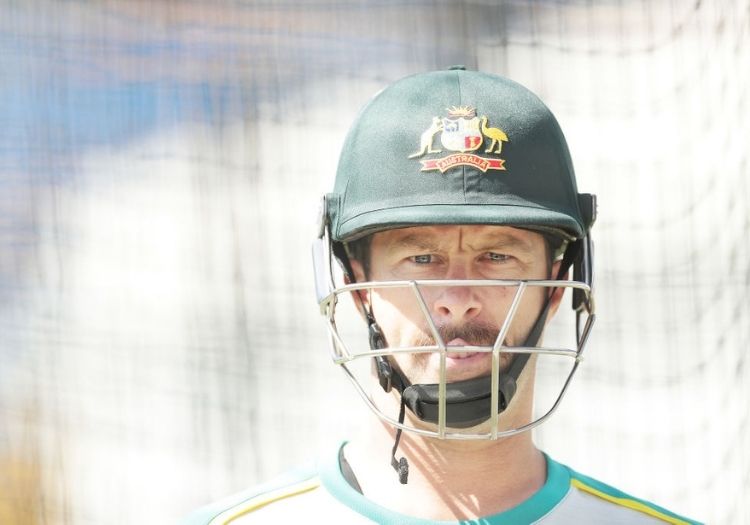 The wicketkeeper-batsman is preparing to face India
First comes the one-day stuff, and in all likelihood he will play and keep in the T20s: "It is a very different beast. I just go out, watch the ball and catch it. It is just a muscle memory thing. I could potentially not catch a ball for two months and go out and do it in a game a feel fine."
Then, all being well, the Test series will get under way in Adelaide with the hosts keen to wrestle back the Border-Gavaskar Trophy which they surrendered two years ago. 
Australian cricket is in a very different place now: back on top of the world and with a batting line-up virtually unrecognisable from India's previous tour. 
But since the start of the Ashes selection has been consistent and in the last five Tests the top seven has been unchanged. Wade believes that familiarity has bred content. 
"Always this time of the year there is always talk about selection but I think every player in the team is really comfortable. We have almost kept the same squad together since the Ashes series. It has been a real team experience for everyone. Everyone understands their role in the team. When all the noise goes outside we are all pretty relaxed. JL, Painey and the selectors have backed that squad to get the job done nine times out of ten so we haven't had too many changes. That makes a huge difference at international level."
Marnus Labuschagne featured once in the series defeat two years ago but is now firmly established.  
His last 15 innings have seen him pass 50 a remarkable 10 times, making it to 100 on three occasions. 
And his endearing character was revealed to the world during Amazon's recent fly-on-the-wall documentary. What you see is what you get, according to Wade. 
"With Marnus what you see on that documentary is exactly what he is like. He and Steve Smith are the only two I have played with who are jumping out of their skin to get out there straight away - they almost want wickets so they can go out and bat. There are not too many like that. That is probably why they are the best players of the world. 
"Marnus loves the game of cricket. His life is either cricket, fitness or speaking to his wife. That is what he loves to do. You go and have a game of coffee with him and an hour and a half goes by and you have been speaking about batting for pretty much all of it. He is just that kind of character.  We checked into this hotel and the first thing he looked at is the team room to see if there was room to play cricket inside! That is just him."
That documentary also saw much discussion about the line between banter and abuse. 
Wade himself has earned a reputation as a feisty competitor, and in the past has been sighted gnarling away at the opposition. 
But the sense is that those days are gone, the soldier like manner replaced by laughter and self-deprecation. 
Wade spoke earlier in the year about his desire to avoid getting dragged into a war of words Virat Kohli's men. Would he stick to that? 
"You can say you are not going to engage like I have but there will always be a few bits and pieces that happen within a Test series – people getting a bit narky when everyone is a bit edgy and results are on the line. 
"I just think you have got to be careful,  especially against India.  Virat plays it really well. The way he goes about it on the ground; he is aggressive, he is theatrical and if you engage too much the other players all jump on the back of that and they all go as a team. If we can somehow leave it – which is hard to do especially for me – and find a way to let go then I think it will be better for us performance wise. They really feed off of that energy. I will do my best mate but no promises!"
Now that he has found his feet at the very top level, Wade would like to be around for a while.
But whenever it eventually draws to a close he will walk away content. 
"In the end it is just a game of cricket. If  ends tomorrow I feel that I have given what I have got in the tank to play for Australia. Playing cricket for Australia is an amazing thing. It is a great achievement for any player but it isn't the end of your world if it doesn't go your way. That gives you a real calm when you go out to play. You are not so worried about expectation – you are not thinking "if I don't go well here, what is going to happen" – it's just you know, live in the moment. Enjoy every moment."
Gift a subscription to The Cricketer this Christmas and choose your free gift (a £20 John Lewis gift card or copy of Bob Willis: A Cricketer & A Gentleman). Subscribe here
Please ensure all fields are completed before submitting your comment!