Cricket on screen: The game's best (and worst) moments in film and TV
HUW TURBERVILL: With social distancing encouraging us all to spend more time on the sofa, we revisit a magazine feature from late 2017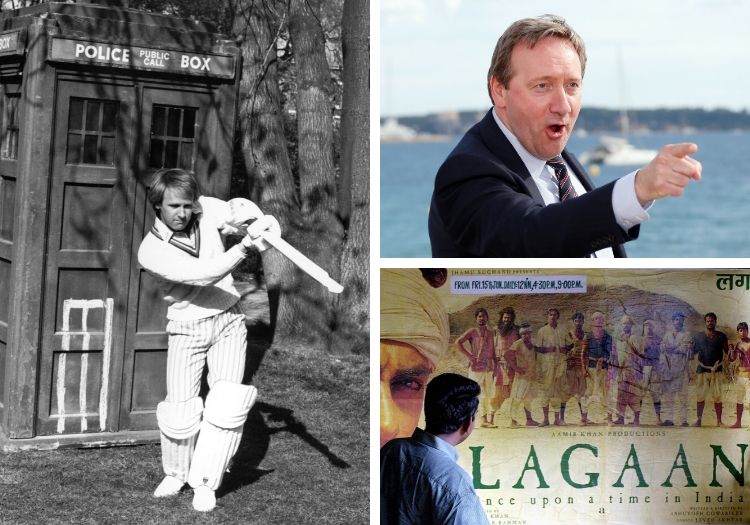 Cricket is back in cinemas, thanks to a fleeting appearance at the beginning of Breathe. The film tells the story of Robin Cavendish, who, with the help of his wife Diana, battles to lead a normal life despite contracting polio. To illustrate how he was active before becoming ill, he is shown at a cricket match hitting a straight six into the tea tent.
If you search 'Andrew Garfield and cricket' you can find an extraordinary clip on YouTube of him and his The Amazing Spider-Man 2 co-star Jamie Foxx playing cricket in India. Garfield attended Ashtead's City of London Freemen's School. I believe he can play. Nothing in the Breathe trailer disputes this, although the director, Andy Serkis, elects for an extreme close‑up and snatched clip. 
It is a common technique. It is notoriously difficult to authenticate cricket on the big or small screen, as we discover below. The game is technically difficult to imitate, and cricket fans are a knowledgeable bunch, and can spot if something is not quite right a mile off. A couple of petty comments, though. In Breathe, the bowler's run-up is ludicrously long. He starts on the boundary. Even Bob Willis did not begin there! And the pitch is distinctly green, although I suppose it is the 1950s...
Not included in this feature are enjoyable documentaries like Fire in Babylon (about the great West Indies sides of the 1980s) and Out of the Ashes (about the remarkable rise of cricket in Afghanistan)… both of which came out in 2010; and From the Ashes (2011, about Botham's Ashes in 1981) and Death of a Gentleman (2015, Test cricket's struggle to stay relevant). I have also omitted the recent hagiographies on MS Dhoni (The Untold Story, 2016) and Sachin Tendulkar (A Billion Dreams, 2017), and Hansie: A True Story (2008, on Cronje).
Has there been a definitive cricket film?
The Bodyline mini-series – flaws and all – perhaps has come closest. And the lovely Lagaan. It is a wonder something featuring the game did not emerge out of Hollywood Cricket Club, with Boris Karloff, David Niven, Basil Rathbone and Errol Flynn all wielding the willow in the Los Angeles heat. Perhaps a gripping film could one day be made about the Basil D'Oliveira Affair, though. Screenwriter Ronald Harwood told Test Match Special in the summer that he has written a screenplay about him, but it has never been produced. It could be a bit like Twelve Angry Men, but set in the Lord's committee dining room rather than a courtroom, although not sure who the Robert Cummings character (Henry Fonda) would be, though…
But enough about the ones that have not been made. Here are the ones that have – ranked for authenticity and enjoyment…
The films
1) Lagaan (2001)
A charming, must-see film that sees a poor Indian village fight back against their British colonial oppressors by taking them on at cricket in 1893. The British Raj is levying a crippling tax (a lagaan) on the villagers and they beg for relief. Captain Russell (Paul Blackthorne) challenges them to a match, but they have never played. If they win, they will pay nothing for three years. If they lose, they will pay treble.
A wonderful, climactic three-day match is swung by the discovery of a Murali-like doosra bowler Kachra (Aditya Lakhia). There is even a fielder deliberately dropping catches after being paid off (by the dastardly British). This is the best translation of cricket to screen ever – and the most evangelical. The scenes where the villagers learn the rules and discover their natural talents are touching and funny. Oscar-nominated and watched by one billion, apparently it was also a hit in France.
2) The Final Test (1953)
Depicts a fictitious Ashes Test at The Oval. Jack Warner (of Dixon of Dock Green fame) plays Sam Palmer, an old hand making his final appearance for England. Denis Compton (who can act), Len Hutton (who cannot), Godfrey Evans and Alec Bedser make cameos.
Terence Rattigan's engaging screenplay offers a solid defence to the accusation that cricket is boring. "That's the point. The measure of the vast superiority of cricket over any other game is that it steadfastly refuses to cater for the boorish craving for excitement. To go to cricket to be thrilled is as stupid as to go to a Chekhov play on search of melodrama."
Director Anthony Asquith used real footage from England games, so this has to be the most authentic of all – although Warner tries to demonstrate a hook using a poker, but actually plays a cut. Lagaan is No.1, though, as it is more fun. This was one of Harold Wilson's favourite films.
3) Wondrous Oblivion (2003)
Set in South London in the 1960s (some scenes were filmed at Merchant Taylors' School, Northwood) a young boy played by Sam Smith is taught to play the game by a Jamaican called Dennis (Delroy Lindo).
Phil Simmons coached him for the role. "I was very impressed by the way Delroy tried to do it good rather than just look good," said Simmons. Cricket offers a pleasant backdrop to the film's main themes – racial tension in the 1960s, love and a boy's adolescence.
4) Playing Away (1986)
The Brixton Conquistadors, a team of British West Indians managed by Norman Beaton, play a 40-over match in a fictitious sleepy Suffolk village called Sneddington. Dodgy cricket scenes (some of the worst featuring Neil Morrissey) act as an allegory for racial and class tensions in Margaret Thatcher's Britain.
Directed by Horace Ové, we see the wicketkeeper and slips standing far too close to a fast bowler. Beaton plays a check drive and the balls flies over the sightscreen as if it has been hit by Chris Gayle. Oh dear.
5) The Crying Game (1992)
American Forest Whitaker pretends – abysmally – to be a purveyor of googlies. No, really. "When you shoot me," he says, "remember you're getting rid of a sh*t-hot bowler."
The inauthentic cricket scenes were filmed on Blackheath Common in winter, the players bussed in from North Maidenhead CC. Director Neil Jordan sent one direction only, which was to stop shivering and "think warm" because it was meant to be in summer.
The filming took two days for about 20 seconds of cricket. Extra Chris Ewers took a 'worldie' in the covers but to his dismay, it never made the final cut. Jordan won an Oscar for it – probably more for that twist than the cricket. 
The TV series
1) Bodyline (1984)
David Frith says he could write about the factual inaccuracies in this dramatisation of the Bodyline series of 1932/33. That may be so, but people of a certain age used to lap this up when it was shown several times on the BBC in the 1980s, despite the anti-Pom sentiment.
Hugo Weaving makes a fine Douglas Jardine ("Welcome to the land of the barbarian," he tells Pelham Warner), and the painted backdrops of The Oval and Adelaide work well, although the cricket scenes are stylised, and variable in quality. Les Ames stands up to Harold Larwood, for instance. They really should have hired someone who knew his cricket to advise on these scenes.
2) Outside Edge (1994)
An entire sitcom based around cricket. It was popular too – watched by 12 million. Self‑important village captain Roger Dervish (Robert Daws) and his long-suffering wife Miriam (Brenda Blethyn) are brilliant creations. Daws can hold a bat and the cricket scenes cut the mustard. Paul Eddington had played Dervish in the pilot, although John Cleese had originally been lined up. The cast had a week's practice at Alf Gover's cricket school in Wandsworth.
3) Inspector Lynley (2003)
In 'Playing for the Ashes', the eponymous policeman investigates the death of England batsman Kenneth Warner (played by Mark Anthony Brighton). They use footage of Chris Lewis batting for England, with new commentary from Christopher Martin-Jenkins. An enjoyable yarn that features match-fixing in a first-class twist.
To really split hairs, we see an England player wear a Vodafone logo on his shirt, and then a Tetley's Bitter one. I know, I should get out more…
4) Inspector Morse (1989)
'Deceived by Flight' features The Clarets XI playing their annual reunion match in Oxford. Sergeant Lewis poses as a college porter and is roped in to play. Morse claims not to like cricket – "I don't so much follow it as flee it" – but clearly has a collection of Almanacks in his flat earlier in the series.
Lewis' bowling looks reasonable on a green pitch that suggests this was filmed out of season. The concept of Gentleman and Players died in 1962, but seems alive and well here. "Never known a porter who can bat… they can block," says the antagonistic Vince Cranston, played by Nicky Henson. 
5) Doctor Who (1982)
Peter Davison's fifth Doctor wore a cricket costume and showed his skills in the two-part adventure, 'Black Orchid'. He looks an adequate seamer but could use his front arm more, but is a slogger with the bat. The director Ron Jones errs, though, allowing the umpire to signal a wide when a four is struck.
There's a nice line in it where the Doctor is called 'The Master'. He is horrified, thinking it is a reference to his bearded nemesis, until the admirer explains he meant WG Grace (although of course he should have said Jack Hobbs).
6) Ever Decreasing Circles (1984)
If you are prepared to believe that Peter Egan's Paul is very good at cricket (he clearly is not, despite the claim that "he played at Lord's, against county bowling") then you can enjoy this more. The depiction of Martin (Richard Briers) as the type of club captain who does everything (informing players of selection by postcard, hanging up linseed-oiled stumps in his kitchen) and Penelope Wilton's cricket widow, Ann, is fun.
You (may also) have been watching
Another Country (1984) – Cricket as a backdrop to schoolboy shenanigans at Eton College in 1926.
Dad's Army (1970) – Fred Trueman made a cameo appearance in 'The Test', the 10th episode of the fourth series. The ARP Wardens have challenged Captain Mainwaring's platoon to a cricket match – and have recruited a ringer, EC Egan (played by Fiery Fred). Alas after one thunderously quick delivery he injures his shoulder, and Sergeant Wilson is the batting hero (81 not out) as the Home Guard chase down their target with one wicket to spare.
Fawlty Towers (1975 and 1979) – The Major loves cricket – as he scans the evening papers he declares: "D'Oliveira scored a hundred!" In another episode he announces "Hampshire won!" to which Basil replies: "Did it? Isn't that good? How splendid." The Major also takes a woman to see India. At The Oval. But best not to go beyond that, for anyone who has seen that scene…
Gentlemen and Players (1988–89) – This was an ITV drama that concerned the struggles and intrigues involving two business rivals, Bo Beaufort and Mike Savage. It was set against a backdrop of high finance, country homes and cricket. The Guardian called it "Dallas in Hampshire".
Hope and Glory (1987) – A grandfather teaches his grandson leg-spin. Guardian film critic Derek Malcolm called the cricket scene, directed by John Boorman, "goodish". Simon Hughes' father, Peter, was cricket adviser.
I Know How Many Runs You Scored Last Summer (2008) – A rather-amusing-sounding Australian slasher flick featuring a serial killer who uses bats, stumps, a spiked box and a wicketkeeping glove. 
Kingdom (2008) – Stephen Fry is a cricket fan so no surprise an episode of this drama about his solicitor character featured the game. Filmed at a damp-looking venue in Norfolk, Fry umpires, and John Thomson (playing a cricket captain called Nigel Pearson, who is refusing to honour sponsorship contracts made with local companies) makes a feeble attempt to keep out fast-ish bowling. Thanks to careful camera work, editing and framing, the cricket looks authentic enough.
Liberty Heights (1999) – A group of businessmen in Baltimore talk cricket. "What is it with that game? It makes no sense. How many players do you need there? What do they use, a mallet or something?" 
Midsomer Murders (2017) – Had an episode called 'Last Man Out' about 10-overs-a-side village teams and match-fixing/spot-fixing. When star cricketer Leo Henderson dies during a tournament, the investigation draws Barnaby into a dangerous game with a surprise visitor from his past.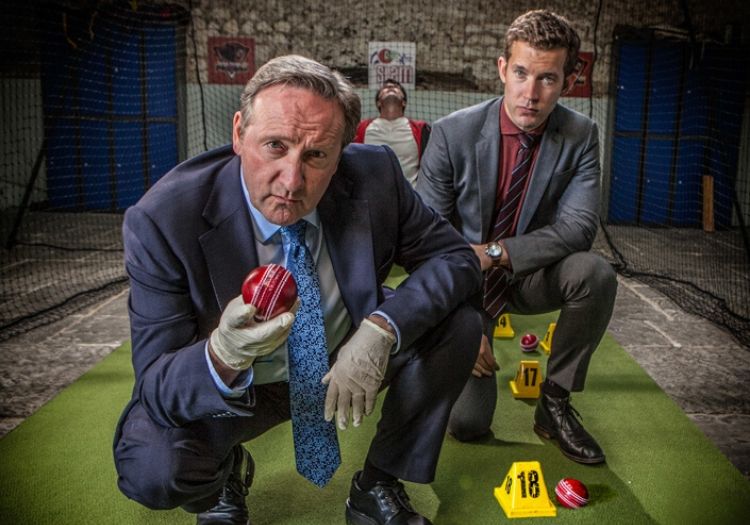 A 2017 episode of Midsomer Murders saw John Barnaby meet the world of spot-fixing
Neighbours (1994) – Mike Whitney pops up to bowl his left-arm quicks in Ramsay Street.
P'Tang, Yang, Kipperbang (1982) – A rather sweet film, with cricket sequences featuring a specially scripted commentary by John Arlott.
Rowan and Martin's Laugh-In (1968‑73) – Peter Sellers tries to explain cricket to "Princess‑of-Ditz" Goldie Hawn.
Seducing Dr Lewis (2003) – A poor Canadian island, St Marie-La-Mauderne, hopes to open a plastics factory but they need a resident doctor. A cricket-loving medic appropriately called Chris Lewis arrives and the islanders try to convince him they love the game (even though they know nothing about it). So far, so good – except that Lewis does not seem to know much either. The reviewer in this magazine pointed out that Lewis claims a batsman hit on the helmet by a bouncer should be out lbw.
Slumdog Millionaire (2008) – The smash hit tells the tale of a boy from the slums in India who triumphs on Who Wants To Be A Millionaire? One of the final questions is: Which cricketer has scored the most first-class centuries? (Answer: Jack Hobbs, 197 – although of course some say it was 199!)
The Beach (2000) – Keaty (Paterson Joseph) explains his beloved game to his sceptical friends, and they play cricket on the sand.
The Big Lebowski (1998) – Sees a hoodlum brandishing a bat, although the film's creators, the Coen brothers, apparently initially referred to as a 'paddle'.
The Dish (2000) – The boffins practise cricket on the satellite dish (apparently this is not allowed for health and safety reasons, but the producers did it anyhow).
The Go-Between (1971) – Features a cricket scene from a village match between the gentry and the commoners. Harold Pinter adapted, superbly, the novel by LP Hartley, balancing the past with the present. Leo Colston (Dominic Guard) catches the protagonist Ted Burgess (Alan Bates) in the outfield. According to Michael Henderson, this "a visual metaphor for the real 'catching out' of Burgess."
The Lady Vanishes (1938) – Charters and Caldicott are on a train travelling across Europe and want to discover the cricket score in the Hitchcock thriller. Charters says: "How can you possibly be in England, sir, and not know the Test score?" The cricket obsessives enjoyed further cameos in Night Train to Munich (the climax takes place in the members' enclosure at Old Trafford) and Millions Like Us.
The Madness of King George (1994) – George III (Nigel Hawthorne) gatecrashes a children's cricket match.
The Young Ones (1982-84) – Punk Vyvyan (Adrian Edmondson) uses a bat to beat sense into his housemates.
This Is Spın̈al Tap (1984) – The band's manager, Ian Faith (played by Tony Hendra), carries a bat wherever he goes. "It's a kind of totemistic thing, you know?" he says as he is shown smashing a table and a television up. "It's come in useful on a couple of situations. In the topsy-turvy world of heavy rock, having a solid piece of wood in your hands is quite useful."
Vertical Limit (2000) – A brother and sister visit K2 in the Himalayas and discover a local village match. 
P.S... What about the James Bond film that so nearly featured cricket? The deleted pre-credits sequence (available on YouTube) of Casino Royale (2006) sees Daniel Craig's new Bond kill a spy in a cricket pavilion in Lahore (although it was actually filmed at Eton). We see two balls bowled, one is hooked nicely into the crowd off a left-arm quick, the other sees stumps castled (a bit of a non-shot there… maybe it was the No.11 batting). The film was directed by New Zealander Martin Campbell… not sure why he cut the cricket…
This story originally appeared in a 2017 issue of The Cricketer. Click here to subscribe
Please ensure all fields are completed before submitting your comment!