Aussie cricketer Eliza Bartlett's extraordinary solo journey from Italy to Aberdeen... entirely on foot
SAM MORSHEAD: It is an extraordinary undertaking which has put Bartlett through mental and physical strain for five full months. What makes this remarkable feat of human endurance superhuman, however, is the fact she suffers from type one diabetes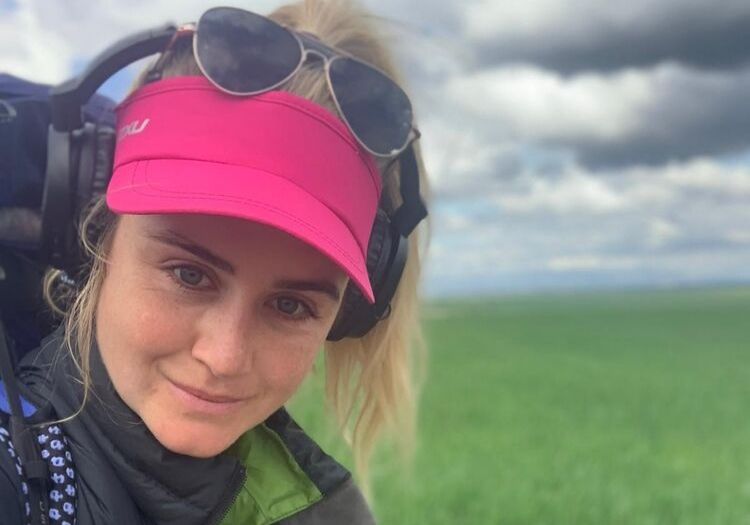 Australian grade cricketer Eliza Bartlett's pre-season training schedule has been a little unconventional.
While her teammates at Sturt Cricket Club in Adelaide have netted and undergone basic fitness tests prior to their opening fixture on Sunday, their captain has been putting her body through near-constant torture on the other side of the world.
On Wednesday, 27-year-old Bartlett will arrive at Royal Aberdeen Golf Club at the end of a 4,300km journey which she has completed entirely on foot.
The wicketkeeper-batter began her epic quest in southern Italy in April, and has since hiked through continental Europe and across the United Kingdom, all the while raising money in the battle against diabetes.
It is an extraordinary undertaking which has put Bartlett through mental and physical strain for five full months. What makes this remarkable feat of human endurance superhuman, however, is the fact she suffers from type one diabetes herself - an illness without a cure which requires constant supervision and treatment.
"I couldn't get much more exhausted. My feet are just hanging on. I can feel a few muscles. I'm hoping I don't get any stress fractures. Every step at the moment is difficult but with the end near it's a lot easier," Bartlett tells The Cricketer.
"The majority of it is mental. My illness has given me a lot of resilience and motivation to do things like this. Living with a 24-hour condition, which you're always thinking about, is motivation to get me to the end."
Bartlett was diagnosed with diabetes at the age of nine and has lived with its realities for most of her life.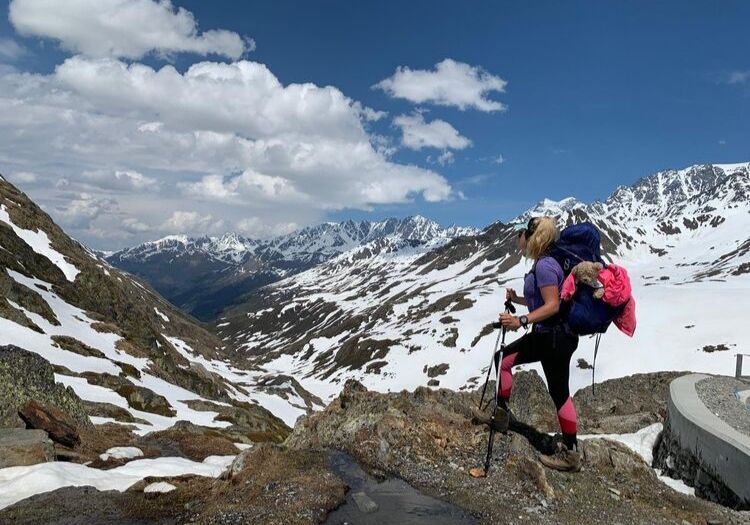 Eliza Bartlett is close to completing an epic 4,300km walk
That means three injections of insulin per day, brushes with death, and constant monitoring of both the food she is eating - she is only allowed to consume a certain grammage of carbohydrate in every 24-hour period - and the exertion she is putting on her body.
"I remember the day I was diagnosed so clearly. Instantly I was like 'okay, I can deal with this'. The first question I asked was 'can I still play sport?' 
"My doctor said yes, I said 'great'. I don't know how, looking back, I was able to think like that.
"I had to give myself injections as a nine-year-old. You're made to grow up when you're injecting stuff that one little drop that you can have can kill you, and I'm a nine-year-old drawing it up and injecting it three times a day.
"I shared a room with a little, two-year-old boy who had cystic fibrosis. I didn't know what it was at the time but I read up about it and thought 'well, if I've got a condition that I do everything I can, I can live a pretty normal and healthy life as long as possible'. That was a motivator for me from that age to prove everyone wrong."
Proving everyone wrong has not stopped at being happy and active - in addition to captaining her club, Bartlett is the administrator for the women's section, a prolific golfer and a registered mental nurse. She has used her diabetes not as a reason to despair but as motivation to succeed.
In a letter to her illness, posted to her website, Bartlett writes: "Despite my hate for you, I have always believed you are the best thing that has happened to me. You have made me stronger, more determined and incredibly resilient. You have made me push myself to limits just to show others and prove to myself I can achieve anything despite every attempt you make to stop me. I love that you have made me who I am today. Inspired me to challenge myself, follow my dreams and feel grateful every day I am alive and living an amazing life with such loving family and friends! 
"We will continue this loving, yet toxic relationship for now, but don't ever forget, I will always be fighting hard to break up with you, and raising money that goes towards the best research in the world that will leave you as a distant memory."
Managing type one diabetes costs a lot of money, and Bartlett has spent tens of thousands of dollars on her own health and wellbeing down the years.
That is a major driver in her walk across Europe: fundraising for the Juvenile Diabetes Research Foundation. She has so far received donations of more than $57,000 for her current challenge.
Six years ago, she raised $25,000 after walking from the Adelaide Oval to the MCG. 
"I was walking over 30km a day for 20 days straight and couldn't stand at times but I managed to get to the end," Bartlett says, though that plays down the extent of the injuries she sustained - torn tendons, infected blisters and stress fractures which left her in hospital within the first week.
"I'm in pain now but I remember how much pain I was in back then and I still did it. From that, I know I can put my body through a fair bit and still make it."
For six months, she has hauled a 22kg backpack on her shoulders (half the weight being made up by medical supplies). Her back and legs are weary and weak. Still - and The Cricketer points out to her the madness of all this - she has selected herself to play, and keep wicket, against Northern Districts in the SACA Premier League this weekend.
"I fly home on Friday, I have a friend's wedding on Saturday and I play cricket on Sunday, so there's not much time. I've not had the best pre-season leading into round one," she says.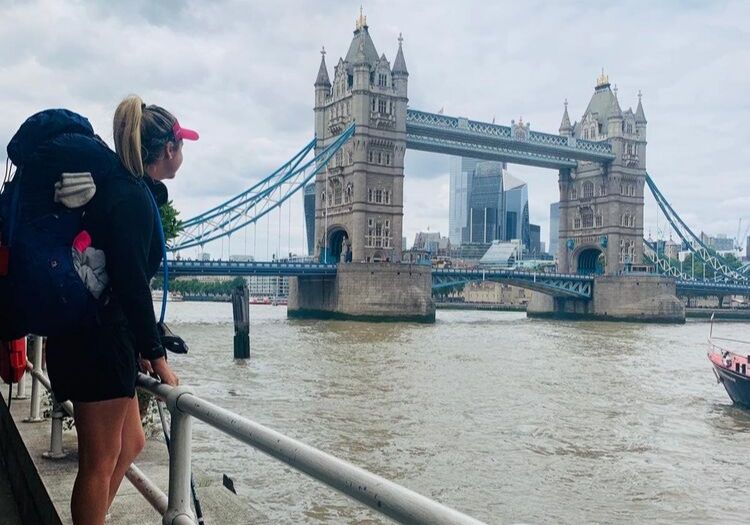 Bartlett has trekked from southern Italy to Aberdeen
"I didn't want to miss a round of cricket so I left a few days after we won the grand final and I'll be back in time for round one. 
"(Her teammates) know I'm pretty mad. A few of them said I wouldn't play and the rest said 'of course she's going to play'. I don't think I've missed a game in about 10 years."
There will be quite the story to be told in the Sturt pavilion this weekend.
Bartlett has travelled through Italian foothills, into historic Rome, across snow-covered Switzerland, past picturesque Lake Geneva, across rural France and up the UK, pitstopping at a handful of cricket venues.
Bartlett attended Australia Women's emphatic takedown of Fortress Chelmsford, and then the men's first victory at Edgbaston in a generation. She witnessed the Miracle of Headingley and Steve Smith's double century at Old Trafford.
And then on to Scotland, with every day that has passed bringing her one step closer to the finishing line.
Bartlett's step count must be phenomenal.
She is averaging between 30 and 38km per day, with at least six hours per day spent on her feet. Routinely she has been walking for between 10 and 13.
No wonder she is exhausted. When we speak, Bartlett has just topped 4,000km - that was all she was meant to walk in total, before detours and getting lost got in the way. In the end she'll complete an extra 300km.
"I've just tried to stay positive and not go downhill too quickly," she says.
"From the scenery to the cricket to the people, everything has been incredible."
Bartlett is linked up to two monitors and an insulin pump - technology which is crucial when she is travelling solo and putting her body through the wringer.
"There were times between the ages of 18 and 20 where I was having really low blood sugars when I was sleeping, for no reason, and I would slip into a coma. Luckily I was living at home with my parents and they would find me but it's pretty scary," she says
"I've travelled a lot on my own, so if I was in a hotel room on my own or if my family weren't home then who knows. There are quite a lot of people who do end up dying.
"It's a huge struggle, an extra challenge because every day is so different, with the terrain, the length of the days and the weather, the stress on my body, the food even - being in Italy and having so many carbs.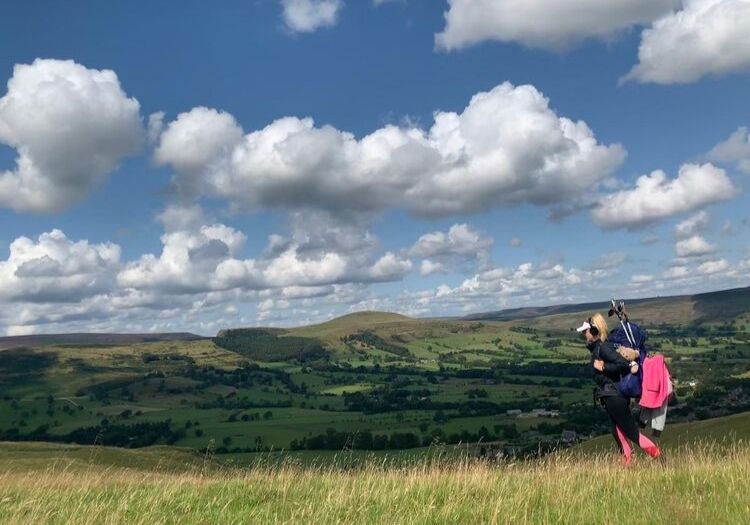 Bartlett suffers from type one diabetes
"There are days where I get no insulin and I'm not aware of it, and my blood sugars are at dangerous levels and I'm throwing up and have to stop for an hour on the side of the road. Or they can be really low so I have to stop regularly.
"I've been as careful as I can but it's such an unpredictable illness that there's nothing that you can really do; it's a bit of a guessing game half the time. You just hope that your guesses are pretty accurate."
Every morning, Bartlett messages her mum thousands of miles away "to let her know I'm alive and about to head off."
Soon, that parental worry can ease.
Soon, Bartlett will be home. And there are no plans for any more extreme treks.  
"I hate walking," she says. "I've never been a runner, I've never been a walker; I play team sports. I play golf and that's as much as I enjoy walking. Six months walking is probably enough for my life."
But still, at the end of six months on the road, and with 4,300km on the pedometer, Bartlett can find time for one more important stroll.
Her golf clubs have been shipped out from Australia to Aberdeen. 
"Got to make it in time for my tee time," she says.
Remarkable.
To make a donation to Eliza Bartlett's cause, please click here
Please ensure all fields are completed before submitting your comment!