Domestic cricket returns to Kia Oval on comforting night as Surrey win London Cup in Facebook first
NICK FRIEND: Few stadia look quite so resplendent in the evening sunlight: there is a regal quality to the way in which the dusk spreads beyond its perimeter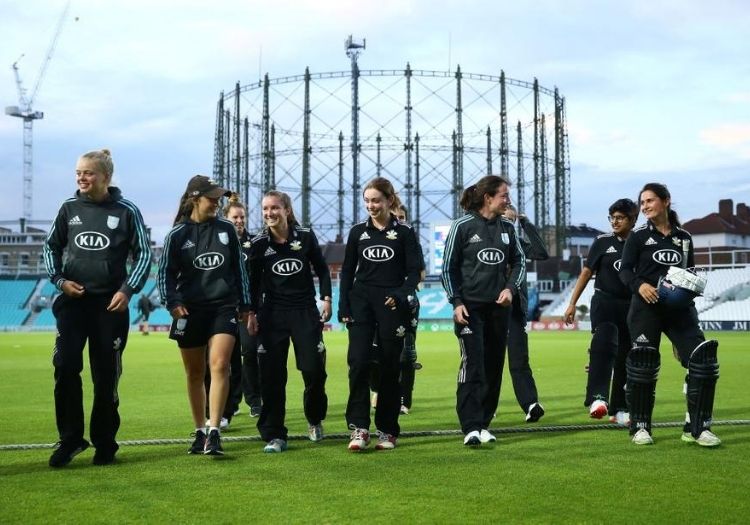 The Kia Oval was still The Kia Oval. At the end of a game between Surrey and Middlesex that improved with age, that was the takeaway: domestic cricket looked – and felt – an awful lot like the game we had left behind.
It was a reassuring kind of evening – an experience that, for the few of us in attendance, will come to mean more in the coming days. It will forever be the first game we attended after a four-month hiatus at the hands of Covid-19.
Watching England's Test series against West Indies on television, we have become conditioned to that trickling background hum, piped into our screens to provide a familiar, comforting soundtrack. But in person, there is a different purity to it all – briefly eerie and then quite calmingly serene: a silence broken only by the sounds of a city awake once more, the vehicle exhausts on the surrounding roads and the noise of bat versus ball.
And kudos to Surrey, therefore, for ensuring that this idyllic simplicity was available to soak in around the world. There were a fair few milestones to run through on a pretty glorious evening in south London: the first match of any kind at the ground in 2020, the first domestic fixture played anywhere in England since lockdown started and the world stopped, the first county clash to be broadcast on Facebook Watch.
The weather played its part; few stadia look quite so resplendent in the evening sunlight: there is a regal quality to the way in which the dusk spreads beyond its perimeter.
And what was left was the perfect setting: an opportunity for the women's game and, more widely, for cricket-starved fans.
For long periods, close to 500 people were watching the action unfold via Facebook, on a new multi-format camera system designed to boost the quality of the club's service to supporters – in a summer when it will serve more than most.
Its foundation was part of the plan for 2020 even before coronavirus broke out, but it has taken on an additional sense of pertinence now, with games to be played behind closed doors for the foreseeable future. It will still be some time before spectators return to sporting events at full capacity, though Surrey's men will host 1,000 members next week as part of the government's pilot programme in their two-day pre-season warmup match against Middlesex.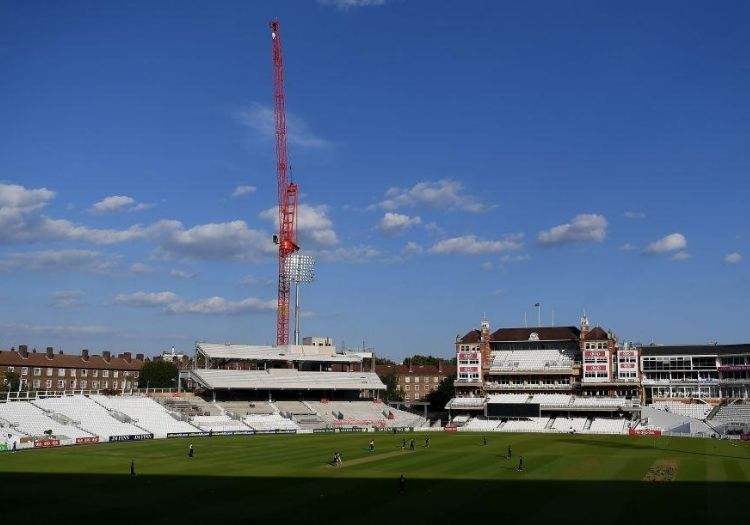 The Kia Oval looked in fine order
For everyone else, eyes will be glued to screens. Surrey's new production is led by head of communications Jon Surtees in conjunction with My Action Replay, the Bristol-based video tech company. The club have partnered with them to utilise their automated video product, live-streaming platform and social media broadcasting function, creating in the process a more innovative, watchable result.
As well as cameras behind the bowler's arm at each end, one cameraman was tasked solely with following the ball, while another was in position to pick out key moments and turn them into slow-motion replays for use on social media. Naomi Dattani, the Middlesex opening batsman, became the first player to fall victim to it – her dismissal, edging a drive behind before letting go of her bat in her swing, soon found itself in clip form rolling through social media.
A fourth camera – a GoPro – was set up in the commentary booth, with the broadcast often flashing to Mark Church and Adam Collins, who were lending their voices to the occasion. Church, one of the voices of Surrey and a viral star of recent months, will be on regular duty, while Collins' appearance was a one-off for this London Cup evening.
When the men's county campaign begins with the Bob Willis Trophy, further innovations will be incorporated to increase engagement with fans who, for the time being, have no choice but to support from afar. Every home game in the regionalised red-ball competition and T20 Blast will be available to watch free of charge, so long as they are not televised by Sky Sports. The footage will also be streamed on the club's official website for those without Facebook accounts.
In a press release ahead of the game, Surtees said: "County cricket has always had a large and dedicated online following and we're excited to be taking this to the next level.
"Although we're not able to welcome fans back to the Kia Oval tonight, hopefully this coverage will be the next best thing."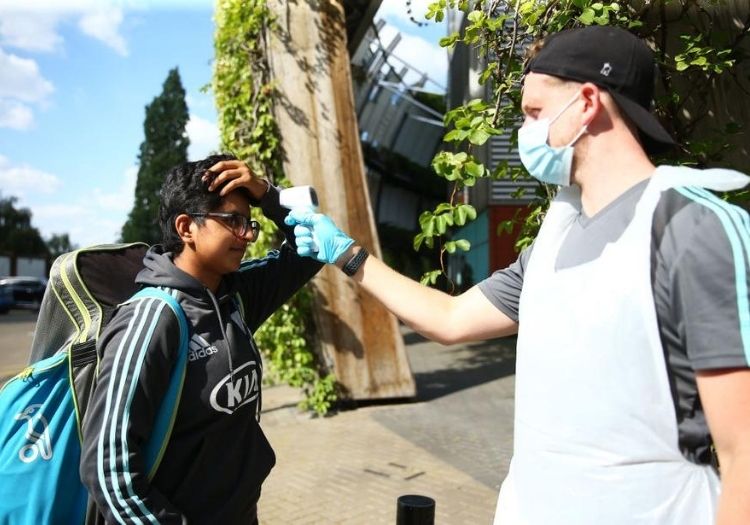 Players had their temperature checked on arrival
Staring out to the left of the 1845 Stand, an immense crane watched on, overseeing the action from its vantage point well above London's ceiling. Beneath it, the construction of the new One Oval Square Stand continues. At present, it bears some resemblance to the amphitheatres of Rome – concrete-clad but not yet fitted with its seating. Even as cricket came to a summer halt, however, work on the development has carried on.
On the field, this was an affair that grew with time; Middlesex had won all five previous encounters since the trophy was launched in 2015. Dattani and Amara Carr, two of the three players signed on summer retainer contracts by the London and East Sunrisers regional hub, both fell early, before Cordelia Griffith struck a more convincing 30, a knock that included the only six of the night, to kickstart proceedings.
In between sanitisation breaks held at five-over intervals, wickets continued to fall, and it was left to Gayatri Gole to drag her side into three figures and to a score that felt somewhat imposing, especially given the lengthy layoff since these teams last took to the field in competitive action.
That it proved to be insufficient was down in the main to a pair of cameos: Alice Capsey couldn't go on to make a match-defining contribution, but she showed enough in her innings of 17 to understand why she – as a 16-year-old – is so highly regarded.
And when all hope seemed to have been extinguished – Surrey found themselves 60 for 5 after 13 overs, it was left to Kira Chathli to unleash a sparkling array of strokes to get her side home with a ball to spare.
Amid the barren hush, a singular roar broke out as Chathli dragged the winning blow over the legside – a cry of victory from Richard Gould, the club's chief executive.
It was only a brief release of jubilation, but enough to act as a reminder of why we have missed this game. Emotion, excitement, passion. The great game is back, and it's still great.
Save 30% when you subscribe to The Cricketer's print & digital bundle. £35 for 12 issues
Please ensure all fields are completed before submitting your comment!