The Hundred: Playing conditions for dummies.... and everyone else
The Cricketer provides a quick and easy breakdown of how The Hundred will be played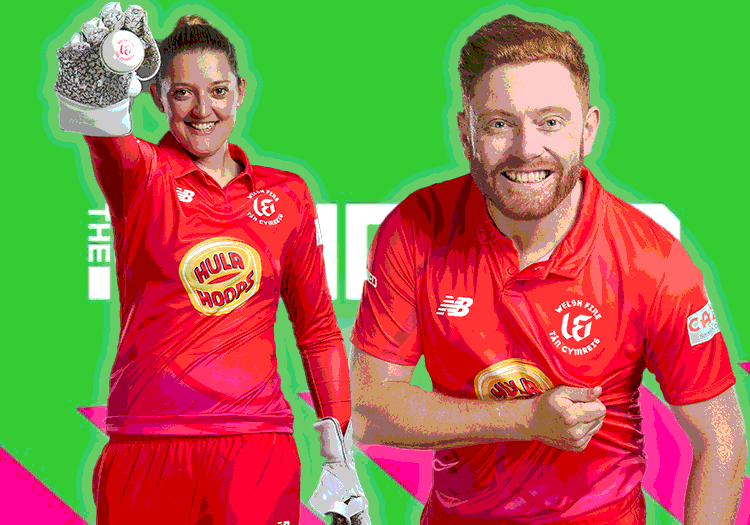 After three years of build-up, The Hundred is here. But how does it actually work, what are the rules, and does anyone understand them?
Here's The Cricketer's quick guide to the new 100-ball competition's playing conditions. There will be a test, so pay attention!
How many overs per side?
Overs, pah! Overs! What is this word of which you speak? We do not do overs here (well, not when it comes to promotion and marketing, anyway).
Because actually, The Hundred is a T20 competition. See, told you you'd need to pay attention.
The new tournament will be scored as 20 five-ball over matches, with all records being bundled together with those of T20. There'll also be separate 100-ball records opened, and T20-exclusive records will be kept but, ultimately, we could see all-time T20 records being felled by performances in The Hundred.
All that said, the ECB are adamant that overs is a concept that needs to go to bring in a new audience, and much of the focus will be on balls bowled or balls to go.
Right, so how many balls per side?
One hundred. Come on now!
Okay, and how many balls can a bowler bowl at once?
Well, the innings are divided into 20 lots of five, but - and here's the kicker - a bowler is not limited to one set of five at a time. He or she can bowl 10 balls on the bounce, if he or she (or his or her captain) so wishes.
What's the maximum number of balls per bowler.
A round 20.
Do they swap ends after each set of five?
No! As part of plans to curb each innings to a maximum of 65 minutes, ends will only be swapped every 10 deliveries.
So a bowler might bowl five from one end, then five from another?
Yes, though the analyst might get fired as a result.
How will we know when five balls have been bowled?
Fascinatingly, the umpire will hold a white card above his or her head. Yeah, me neither.
Are there concussion replacements?
There are indeed, as per existing regulations.
What about Covid replacements?
There is no mention in the playing conditions, but frankly it would be unfortunate for a player to be pinged or fail a test in the middle of a two-and-a-half-hour match.
How long is the interval between innings?
Fifteen minutes max, and no shorter than 10. Remember, this is all about squeezing into a broadcaster's primetime slot.
Ps - no drinks breaks are permitted at any point.
Does this mean they will finally be doing something to curb slow over rates?
You betcha, and it's actually quite progressive. Forget fines or points deductions, if captains can't get their bowlers firing quickly enough, they will be docked a player outside the inner fielding ring - not in a sinbin sense, but one more fielder will have to stay in the 30-yard circle. At the death, that could be the difference between victory and defeat.
I bet they're still finding ways to have a break for adverts, though?
Well, sort of. Each fielding team is entitled to a strategic timeout, lasting two minutes, in each innings. It is not mandatory, however, so selling ad space into it might be a little perilous for broadcasters. If teams don't take it, those two minutes get added to their extra time at the end of the innings - so if you're behind the 'over rate' (are we allowed to call it over rate?) you might as well not use the timeout and avoid a penalty.
In what seems to be a quite arbitrary decision, strategic timeouts cannot be taken during the first 25 balls/five overs/powerplay of any given innings.
Aha, so the powerplay lives on?
Naturally. The first 25 balls of every innings will see fielding restrictions imposed - with only two players outside the inner circle.
How many 'overs' make a match?
It's funny, isn't it… the playing conditions have to speak in overs to satisfy the laws of the game but when you watch all this on telly it'll all be in balls. So: a minimum of five overs (25 balls) must be bowled to the team batting second to constitute a result, unless a result has been achieved earlier. Basically, F5 is the shortest format we might get. Talk about giving cricket a refresh!
And what happens if it rains?
Well, all those folk experiencing cricket for the first time will get to experience Duckworth Lewis Stern for the first time. The DLS Method (who are strangely not one of the acts booked to perform at venues across the country during the competition) has had its algorithm tweaked for the tournament.
Okay, here's one I bet you don't know… what happens when teams are level on points in the group stage?
You can't catch me out. The following tiebreakers come into play:
Number one - net run rate
B - Average points per match
Point the third - balls per wicket
Fourthly - the drawing of lots
Yeah.
And when matches are tied? What happens then?
If it's in the group stage, both teams get a point.
And if it's in the knockout rounds?
Suuuuuppppeeeerrrrr ooooovvveeee…. Crap. Sorry. Suuuuupppppeeerrrr fffiiiiiiivvvveeee!!!!
And in English?
There'll be a 'Super Five' - almost identical to a super over except a ball shorter and it's not allowed to be called an over. The team which was batting second in the match proper will bat first, and have five balls to score as many runs as possible. If they lose two wickets, that's it.
And if that's tied?
They go to a second 'Super Five', though this time the side which batted first in the first 'Super Five' and second in the original match will bat second.
And if that's tied?
The team with the higher group-stage ranking either progresses (in the Eliminator) or wins the whole thing (in the Final, obvs).
Any other notable changes I should be aware of?
Oh yes. Batsmen/batters cannot cross. Well, they can, there's not a forcefield in place, but if the two players at the crease cross in the process of one being caught out, the not out player must return to his or her original end.
The third umpire will keep an eye on front-foot no balls - a very popular introduction to international cricket recently - and notify the standing umpire in the event of an infraction. A no ball will cost the bowling team two runs rather than one, with a free hit applying the following delivery (free hits won't be given for no balls for height from bouncers). The field can't change but can retreat 15 yards from previous positions for the free hit.
In line with T20 playing conditions, batters have 60 seconds rather than two minutes to get to the crease to avoid being timed out and, and this is in the playing conditions for both The Hundred and the T20 Blast, they "are expected to jog to the wicket".
Please ensure all fields are completed before submitting your comment!