Kate Cross: "It's going to be so weird not playing for Manchester"
Cross was picked up by Northern Superchargers in the Hundred draft, meaning a move across the Pennines for the Manchester-born seamer
England seamer Kate Cross has admitted that her move from Manchester Originals to Northern Superchargers feels like "quite a big move".
Cross, Manchester-born and in her teenage years part of Lancashire's academy, was picked up by Originals' local rivals in Thursday's Hundred draft.
It was widely expected that one of the teams would test Manchester's resolve when it came to Cross and their ability to use a right-to-match option to retain their former captain.
But when Superchargers came calling at £31,250 – the top price bracket in the women's tournament – Originals stayed quiet, and Cross was no longer theirs.
"It's just such a big thing to get my head around," she told her No Balls podcast, which she co-hosts with former England teammate Alex Hartley, who herself was retained by Welsh Fire, "the fact that I won't be playing in the environment that I've grown up playing in.
"For a long time, all my cricket has been in one environment, one club, one place. And then I'm just over the Pennines! It's going to be weird playing against Manchester; it's going to be so weird not playing for Manchester."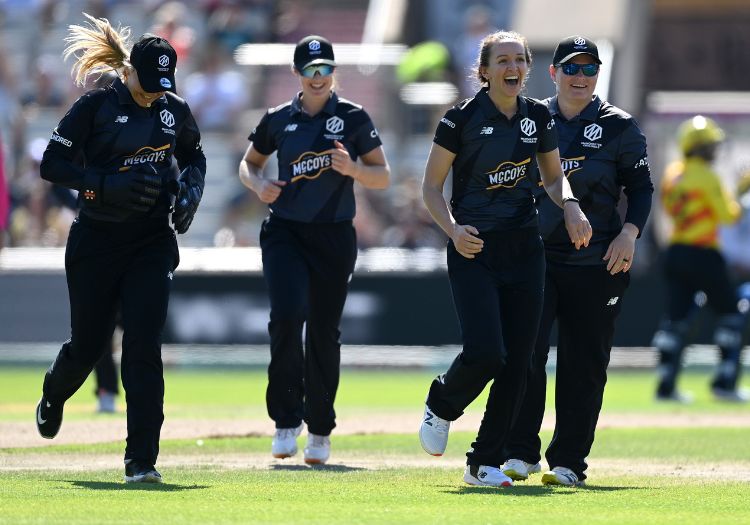 Cross moved from Manchester Originals to Northern Superchargers in the inaugural draft (Gareth Copley/Getty Images)
She added: "I didn't look at the money at all. I wasn't bothered about that. But I knew I wasn't playing for Manchester, and I'd been picked up by their rivals, the Superchargers, who are based in Yorkshire. For a Lancashire girl, it's quite a big move."
Cross has since jokingly tweeted: "Might be a good time to say I never really meant all those things I said about Yorkshire." In the regional setup, she still plays for Thunder, the Lancashire-affiliated club, and her move – as much as becoming a draft talking point – is a surprising twist for the brand continuity of Originals and Cross, particularly with Superchargers losing Laura Wolvaardt, the leading run-scorer in the 2022 tournament, to Manchester.
"I think there is going to be a bit of a shakeup, which will be really good and positive for the competition," said women's Hundred lead Beth Barrett-Wild ahead of the draft.
"But I think there is a strong enough element of that continuity because we know that we've started to see fan allegiances based on players. It's hopefully going to give us that continuity and the competitive balance that we're aspiring for."
---
Related Topics
Please ensure all fields are completed before submitting your comment!