Drama at Chelmsford as Western Storm edge past Sunrisers
Storm's last-wicket pair of Alex Griffiths and debutant Sophia Smale – needing three off the final ball – snatched an incredible victory as the throw from Mady Villiers at long-on sailed over the head of despairing wicketkeeper Scarlett Hughes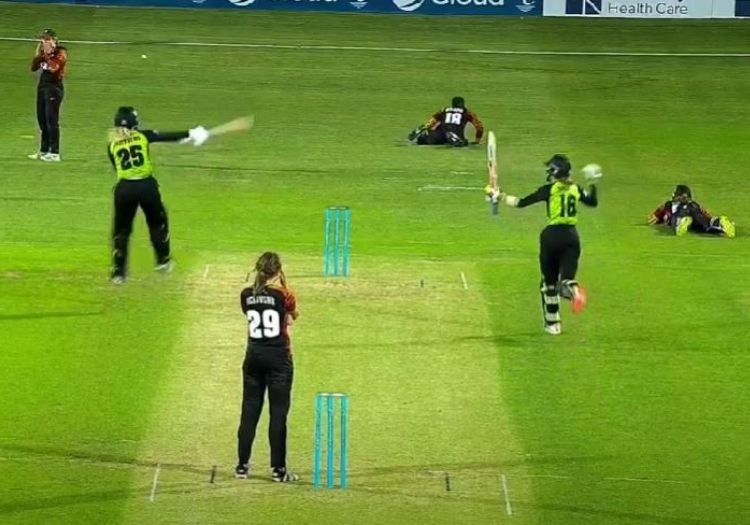 Chelmsford: Sunrisers 160-5, Western Storm 164-9 - Western Storm won by one wicket
Teenager Grace Scrivens' heroics with bat and ball proved fruitless as a last-gasp overthrow handed Western Storm a dramatic victory in their Charlotte Edwards Cup tie at Chelmsford.
The 18-year-old struck her maiden Sunrisers half-century with 56 from 42 balls, anchoring her side's total of 160 for 5 – their highest since the tournament launched last year.
Scrivens' off-spin then appeared to have wrecked the Storm reply as she dismissed Danielle Gibson and England captain Heather Knight within the space of three deliveries, finishing with figures of 4 for 33.
Yet Storm's last-wicket pair of Alex Griffiths and debutant Sophia Smale – needing three off the final ball – snatched an incredible victory as the throw from Mady Villiers at long-on sailed over the head of despairing wicketkeeper Scarlett Hughes and away to the fence.
Sunrisers, who had looked sluggish in their previous powerplay against South East Stars, quickly set about the Storm attack after being put in as Scrivens and Cordelia Griffith cruised to a 50 partnership from just 26 balls.
Scrivens struck Lauren Filer for four consecutive boundaries, while Griffith's crisp offside drives took her to 26 before she fell victim to a shambolic run out for the second time in as many games.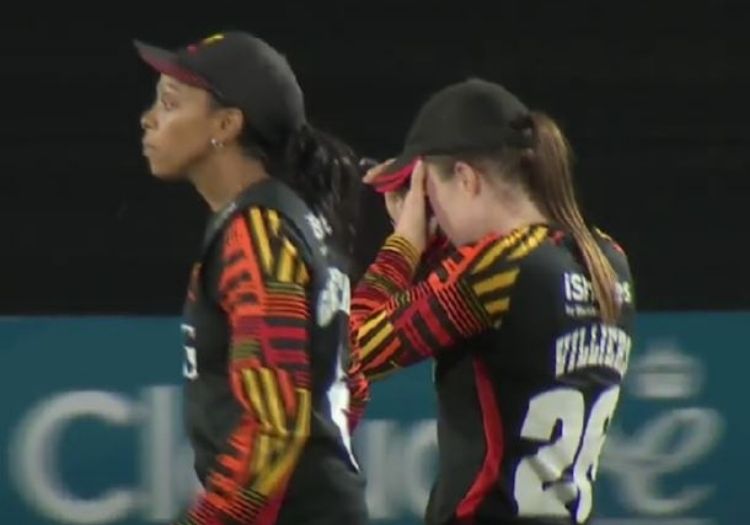 Mady Villiers reflects on defeat [screengrab/Sunrisers]
This time, Griffith stumbled at the non-striker's end while her partner drove towards mid-off and called for a single, leaving her stranded as the throw reached wicketkeeper Nat Wraith.
A wily spell of 1 for 22 by Knight, including the wicket of Villiers for 11, helped to check the flow of runs, but Scrivens advanced to her half-century from 35 balls and found a capable ally in Jo Gardner (28 not out).
Having survived a stumping chance off Griffiths (1-25), Scrivens eventually fell after giving the same bowler the charge, but Kelly Castle (14) helped to ensure Sunrisers posted a competitive total.
Storm sent Knight in at the top of the order, but she lost two partners almost immediately as Georgia Hennessy was caught down the leg side off Naomi Dattani, and skipper Sophie Luff hoisted Scrivens straight to mid-off.
Abtaha Maqsood's first ball brought Sunrisers a third wicket, with Fran Wilson stumped after missing the leg-spinner's flighted delivery, but Danielle Gibson's powerful hitting, with 27 from 20, kept the visitors in contention.
She and Knight added 41 in five overs – only for Scrivens to deal Storm a double blow as Gibson holed out to deep midwicket before Knight, trying to work the ball on the leg side, was bowled for 27.
Wraith's belligerent 27 from 16 threatened to tilt the contest back in Storm's favour – but, when she was stumped dancing down the track to Scrivens, it looked as if Sunrisers were home and dry.
However, Katie George's 34 kept the contest alive and Griffiths, with an unbeaten 25 from 13, won it from Scrivens' final delivery, with the help of that wild throw.
---
Related Topics
Please ensure all fields are completed before submitting your comment!