Tymal tornado downs Dunkley as Sussex swarm to victory over Surrey in the Quarantine Cup
Mills decimated the Surrey attack, surpassing Dunkley's first-innings 47 with a ridiculous 14 balls to spare. It was, as Daniel Norcross noted on commentary, the equivalent of chasing down the required runs in just 23 overs in a 50-over game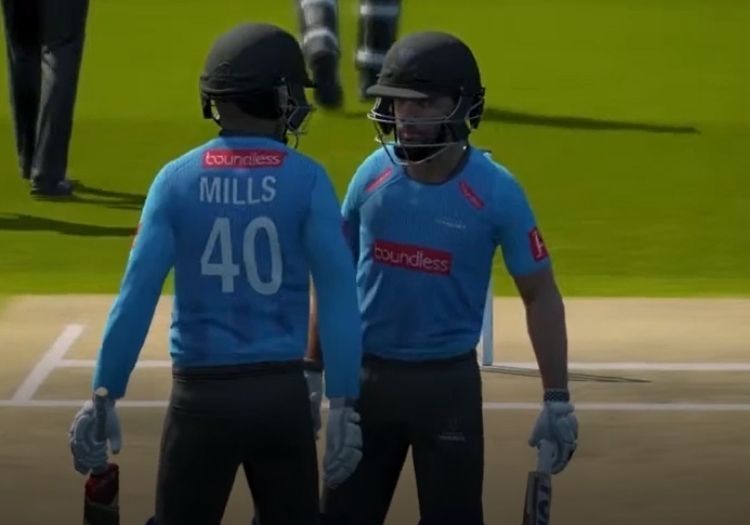 Quarantine Cup: Watch all the matches on demand!
The Oval: Surrey 47-3, Sussex 51-2 - Sussex won by 3 wickets
Tymal Mills' explosive approach to the Quarantine Cup saw his Sussex side make a potentially tricky target look positively pathetic as they inflicted on Sophia Dunkley and Surrey a second defeat in the competition.
Mills, who smashed 69 in his opening match of the tournament against Kent, continued to implement the gameplan which served him so well at The Oval.
Spamming the aggressive shot button, he decimated the Surrey attack, surpassing Dunkley's first-innings 47 with a ridiculous 14 balls to spare. It was, as Daniel Norcross noted on commentary, the equivalent of chasing down the required runs in just 23 overs in a 50-over game.
It was a harsh blow for Surrey, who made considerable improvements on their desperate opening-night showing against Leicestershire, during which they were bowled out for just 21.
Despite persisting with the ill-advised selection approach of leaving out Sam Curran, Tom Curran, Jason Roy, Amar Virdi, Hashim Amla, Rikki Clarke and a host of other big names, the hosts accumulated what had typically been a competitive score over the course of the Quarantine Cup season so far.
But it proved to be about as much of a match for Mills and his mighty Sussex batting line-up as the coronavirus is for a tub of Tesco bleach.
Phil Salt, this time not choosing to pull a middle-stump yorker, clattered his way to a bull-in-a-china-shop style 28 from just 9 balls, and Ravi Bopara picked up where he left off in the first match of the season with a six-ball 17 not out, as the Sharks rampaged their way to another win and maximum points at the top of group two.
Having won the toss, it made sense for Mills to insert Surrey, given Dunkley's struggles in her first outing in the Quarantine Cup. But this time she showed much more gumption at the wicket.
Mark Stoneman cracked the first maximum of the day down the ground off Mills' digital self and, having made friends with opening partner Will Jacks after he was sold down the river with an abominable run out in the loss to Leicestershire, put on 13 for the first wicket.
Stoneman departed, however, after trying to back-foot drive Rashid Khan and ended up spooning a catch back in the bowler's direction. After Khan bizarrely decided to sprint in the direction of midwicket, Ben Brown showed incredible legspeed to cover 22 yards in less than a second to make the grab.
Jacks and Ben Foakes looked to rebuild and took the score onto 24 before another calamitous run out did for Jacks, who attempted to take on a bye to Brown when the keeper was less than 15 feet from the stumps.
Jamie Smith's spritely 12 from four deliveries ensured momentum was not altogether lost, however, and with Foakes adding an unbeaten 11 Dunkley had a total of some substance to defend.
It proved to be as much use as an umbrella in a hurricane.
Mills and his Sussex batsmen took the target to pieces with the methodical madness of a cartoon arch villain.
Gareth Batty was treated like a rag doll by Salt, who took 28 from the first over of the reply, and Surrey simply could not find a route back into the contest.

Salt hit sixes straight down the ground and twice through midwicket to leave Batty squirming.
Though eventually he was out, attempting a ludicrous switch hit, there was no let-up from Sussex - Mills rubbing salt in Surrey's wounds by sending himself in to finish the job at No.4 (he ended up not facing a ball as Bopara wrapped up the game with yet another maximum).
Dunkley was understandably frustrated.
"I thought I put a decent score on the board which set us up well but we didn't have a good bowling day," she said.
"We tried to put too much pressure on at the start and Sussex got off to a flyer. It's something we'll have to think about tonight and sort out from tomorrow."
Dunkley must now win her two remaining matches and hope other results go her way to stand a chance of qualifying from group two.
"Maybe a change in team will be good for the next game," she said. "We haven't seen some of our big guns so we'll have to bring them out tomorrow.
"We're going to work on it overnight and come up with a stronger line-up."
To remind ourselves of happier times, The Cricketer is offering a £20.19 subscription to celebrate England's World Cup victory. Visit www.thecricketer.com/celebrate to claim!
Quarantine Cup
|
News
|
Please ensure all fields are completed before submitting your comment!