Rampant Glamorgan batsmen make sizzling start to Quarantine Cup campaign as Leicestershire are put to the sword
The MCG crowd - the match having been controversially switched from Grace Road mid-pandemic - were entranced by the power-hitting of David Lloyd, who bashed 28 in nine balls as Glammy passed Leicestershire's 51 for 4 with ease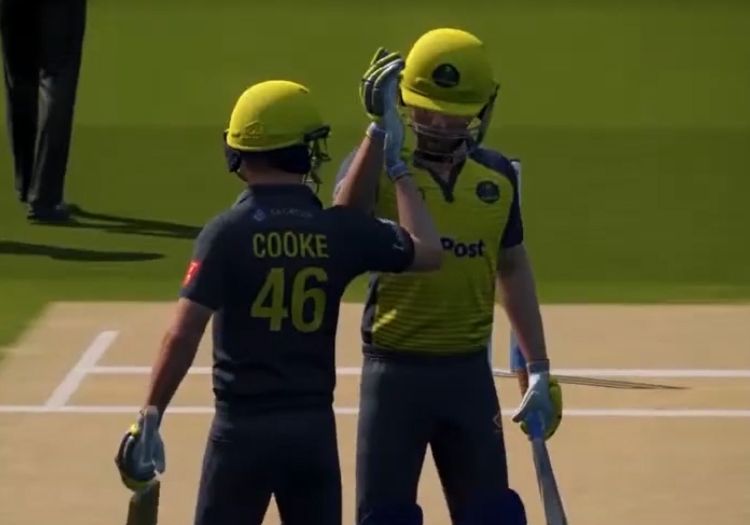 Quarantine Cup: Watch all the matches on demand!
MCG: Leicestershire 51-4, Glamorgan 52-1 - Glamorgan won by four wickets
Glamorgan got their Quarantine Cup campaign off to a rollocking start as they walloped Leicestershire by four wickets to suggest that they may be a force to be reckoned with in this tournament.
Manned by teenage seamer Roman Walker at the controls, the Welsh outfit were in devastating form as they chased down a sizable target with 10 balls to spare.
The MCG crowd - the match having been controversially switched from Grace Road mid-pandemic - were entranced by the power-hitting of David Lloyd, who bashed 28 in nine balls as Glammy passed Leicestershire's 51 for 4 with ease.
After a modest opening over, Azad set his batsmen loose on the Glamorgan bowlers. Janneman Malan produced a simply ridiculous in-to-out drive over extra cover which the host broadcasters claimed to sail 125 metres, while Mark Cosgrove followed that up with a booming straight drive for six for a comparably meagre 110 metres.
Before their opponents could take the game away from them, however, Glamorgan fought back.
Malan totally mistimed a back-foot punch and picked out mid-on and, after hitting his first ball over the ropes, while Arron Lilley perished to his second delivery - finding deep backward square leg with an almighty blow which likely would have been six at the majority of venues around the Cricket19 world.
Cosgrove stood alone in keeping the innings ticking, but when he edged off for 25 from 13 deliveries, Leicestershire found themselves in danger of failing to bat out their overs.
Indeed, the Foxes should have been all out when Marnus Labuschange had Harry Dearden clearly stumped at the death, only for a presumably pickled third umpire use DRS to inexplicably check for a catch, spending what seemed like half-an-hour on a negative shot of the batsman as he searched for an invisible and inconsequential edge with Dearden several feet out of his ground.
Still, Leicestershire's 51 was not undefendable. All they needed was a miserly start. Instead they threw a benefit for the opposition.
David Lloyd flicked Calum Parkinson for six over square leg, then hammered him over extra cover, as Glamorgan ate into the target like a particularly hungry toddler. The Welshmen were over halfway there after just one over.
Azad turned to Dieter Klein in an effort to stem the tide but the seamer was duly dispatched over the legside for six more by Lloyd. The only way Glamorgan looked likely to be stopped was via an extraordinary self-combustion and though they tried - Lloyd run out trying to take an ambitious bye to the keeper - a cataclysmic collapse didn't materialise.
When Bily Root lofted Tom Taylor over cover for four, victory - and an impressive one at that - was Glamorgan's.
Walker said afterwards: "I was slow to start, Hassan got off to a good start, however we managed to claw it back with the bat.
"I wasn't confident at all. I haven't been able to hit one off the square in two weeks and all of a sudden, playing an online game when it mattered, I pulled it out of the bag.
"I'm just hoping it's not an early peak.
"If I'm not as good as I was today again, hopefully that goes in my favour as the others will think I'm better than I am."
To remind ourselves of happier times, The Cricketer is offering a £20.19 subscription to celebrate England's World Cup victory. Click here to claim!
Quarantine Cup
|
News
|
Please ensure all fields are completed before submitting your comment!