Glamorgan into Quarantine Cup final after edging past Gloucestershire by single run
Roman Walker's Glamorgan side will have a chance of Quarantine Cup glory after beating Gloucestershire by a single run in a tense semi-final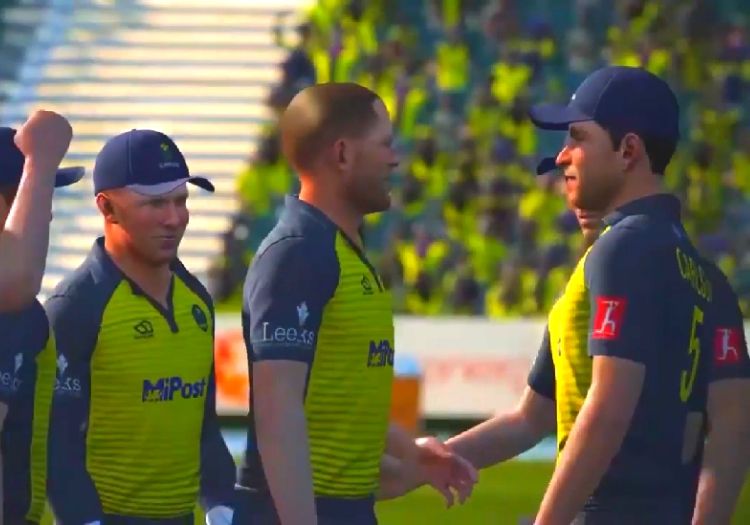 Quarantine Cup: Watch all the matches on demand!
Adelaide Oval: Glamorgan 49-4, Gloucestershire 48-4 - Glamorgan won by 1 run
Where better to take in the drama of a virtual semi-final than from the Virtual Adelaide Oval itself: a field of dreams and also, for Gloucestershire, of nightmares – the setting for the most agonising defeat of this inaugural Quarantine Cup in the game that mattered most.
It had all started so well; after winning the toss and electing to chase – the knockout game's hardest art, so they say – David Lloyd was dismissed by the first delivery of the match. David Payne found a rare hint of white-ball movement to trap the Glamorgan opener seemingly on the heel as he attempted a somewhat audacious flail through the off-side.
Perhaps, however, that was all part of Roman Walker's plan here. The fingers in charge of his county's fortunes have only improved by the match – a fine wine of sorts, maturing as gradually he learnt the rules and the buttons; victories have followed. His crowning glory came last time out in a must-win clash with Tymal Mills' Sussex.
Mills has been the force to be reckoned with thus far – immensely competent, and that is lavish praise in the context of the tournament. Yet, Walker took him down with a solid, committed strategy – whisper it quietly, but it almost looked as though he had spent some time thinking about it. Lockdown does the strangest things…
And here, having lost Lloyd as early as physically – or virtually – possible, he summoned Marnus Labuschagne, the recently adopted Prince of Wales. The Australian could only watch on in horror, however, as Chris Cooke – still in the first over – became the second computerised Glammy batsman to go. He lost his leg-stump to an attempted cover drive. Payne was causing carnage – 2 for 7 from his solitary over.
But then, cometh the hour, cameth Billy Root. Jerome Taylor was dispatched for a 127-yard six over long-off, while Labuschagne added a sense of tranquility to the carnival chaos of Five5. Qais Ahmad was his next victim, hammering the Afghan leg-spinner over midwicket.
The Australian, though, was the next man to fall, slapping Benny Howell straight at point – he had used up eight balls for his four. That void was soon filled by Dan Douthwaite, the young allrounder whacking 12 off his first three deliveries, including an almighty hit over extra cover, before perishing to his fourth ball. Bright and breezy – a valuable contribution, all things considered, as Glamorgan continued to tip-toe their way through a cagey semi-final.
It was enough to take the Welsh side to 49 for 4 from their five overs, with Root unbeaten on 24.
In reply, Gloucestershire got off to the best possible start; Miles Hammond hammered Marchant de Lange's first ball for six – at 93.3mph, no less. Two balls later, he was dropped by the fielder on the boundary, out towards where he had nailed his previous boundary. Glamorgan were ragged, Gloucestershire in charge. There was to be no second life, however; Hammond picked out Kiran Carlson and the Welsh county were off and running – the virtual screams of the make-believe players enough to know what the prospect of fake silverware means to Walker's twiddling thumbs.
From then on, Glamorgan were excellent: there was a familiar cohesion to Walker's plans – short or full, never in between. Even when Che Pujara upper-cut for six to bring the equation almost to a run a ball, there was little panic. And when George Hankins found himself run out by almost half the length of the pitch, the pressure of chasing appeared to be playing its part.
Graham Wagg then bounced out James Bracey to leave Glamorgan on a team hat-trick and Gloucestershire in danger of subsiding, before they were dealt a huge fillip in the shape of four needless overthrows.
Two overs remaining, 18 to win. A final place at stake; the tension mildly palpable. Six balls later, Douthwaite's over had cost just three runs. The equation was simple: six deliveries, 15 runs. Lukas Carey the bowler, Howell and Pujara the batsmen. Bets firmly hedged. And then, Kaboom. Pujara over extra cover for a maximum. Carey under pressure, Walker's fingers trickling with sweaty concern. Nine off five. Eight off four. Another boundary. Four off three. Jack Russell, Mark Alleyne, W.G. Grace – legends all in danger of being usurped. Four off two. A single into the off-side. A buzzard. Two off one. Absolute scenes. Carey to Howell. One ball. A Quarantine Cup final awaits the winner. For the loser, nowt.
Full outside off-stump. A swing. A miss. An attempted bye. The stumps thrown down. In the valleys, Glammy fans leaping in joyful merriment. In Bristol, silence. For Roman Walker, the next stop is the final.
Is it Glamorgan's year? It just might be. A win by one run.
Save 30% when you subscribe to The Cricketer's print & digital bundle. £35 for 12 issues
Quarantine Cup
|
News
|
Please ensure all fields are completed before submitting your comment!