It was the bat of the 1980s, and while cheaper replacements have superseded it, it battles on. The great craftsman speaks to Huw Turbervill, and Sir Ian Botham and Graham Gooch pay tribute
If it works for him, maybe it will work for me…
How many club players must have thought that, after seeing Sir Ian Botham give the Australians – as Basil Fawlty might say – "a damn good thrashing" in 1981.
We all know what happened in that Headingley Test, the iconic figure of Beefy having more fun than any of us could dream of as he bashed 149, clad in his England creams, with the iconic three Lions under the crown on his sweater. His bat also had a simple, iconic logo: three black stumps, the insignia of Duncan Fearnley.
The batmaker, a former Worcestershire player, surely could not have believed his luck. Bat sales went through the roof. My cricket teacher had one, prompting me to copy him. I bought a Magnum. It was too heavy but it looked good, with its green and black stickers.
Just as I chronicled how Slazenger were huge at various stages in my last 'bat special', most notably perhaps the 1960s and 1990s, Fearnley ruled the 1980s. 
Apart from Botham his most notable users included Viv Richards (with his 'VR'), Allan Border (the 'AB'), Glenn Turner (the GT1000, named after speeding to that figure in first-class runs for the season by the end of May of 1973), Martin Crowe and Graham Gooch.
Like Slazenger, they are still going, but nothing like to the same extent. So what happened?
Fearnley was born in Pudsey, Yorkshire, 80 years ago last April. A left-handed bat, he played for England Schoolboys, but failed to graduate beyond Yorkshire 2nds.
Like so many others over the years, he had to leave the white rose county, and he found a home for life in Worcestershire. He enjoyed modest success personally, averaging 20 in 97 first-class matches from 1962–68, with just the one century, 112 against Derbyshire at Kidderminster in 1966 (uncovered wickets are always a factor when looking at the stats of this era, though). He did play 22 times in the 1964 Championship-winning side, making four half-centuries, but only three times in the team that retained the title the following year.
In 1969 he went to Lincolnshire to play in the Minor Counties, then returned to New Road to be captain of Worcestershire 2nds in 1972, having played two List A matches for the 1sts the season before.
Perhaps realising he was never going to be a superstar, during the winters he made bats to supplement his income. It was in the genes: his father was a woodwork teacher and his grandfather a cabinet maker who worked alongside the grandfather of Ray Illingworth.
Fearnley gained an apprenticeship with batmakers Fred Clough and Les Ward in Drighlington, Bradford; the latter was Len Hutton's personal batmaker at Gradidge, which merged with Slazenger.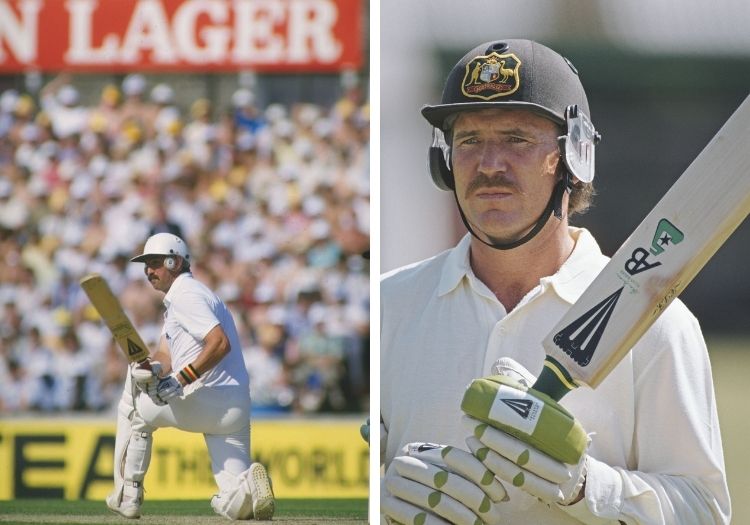 (Left) Graham Gooch during his innings of 196 in the sixth Ashes Test at the Oval, August 1985; (right) Allan Border in 1989, with his AB bat and double-knuckle gloves
After his father gave him the tools, Fearnley then made his own brand of bats, Tudor Rose, before changing the name to Fearnley of Farsley. 
After that came the black wickets: the first time a logo like that was used to replace ink stampings. It was enlarged in 1975, resembling the one still used today.
In 1968 he opened a shop in Sansome Place, Worcester. "I gathered some equipment together and that way I could make bats in the winter and play in the summer," he told The Cricketer. "Me and a few friends used them and that's how it started. By the time Worcestershire didn't extend my contract I knew if I got stuck in then there was no stopping me." He employed a skilled and loyal team, including Steve Harris. "He has been with us since he was 18 and has worked for us for nearly 40 years."
John Snow was one of the first stars to use one. "I was at a party with Ray Illingworth and I had the first copy of the black stumps logo in my top pocket," said Fearnley. "John, who was a bit of a character, said: 'If you stick it on the back of my bat, I'll use it'. The next time he walked out in a Test he slung his bat over his shoulder so everyone could see the design. It was a brilliant feeling. After that my wife cut out the first 4,000 by hand and I stuck it on everything."
Earning a reputation as the 'Rolls-Royce' of bats, other stars joined up, including Pears legend Basil D'Oliveira, Dennis Amiss, Sunil Gavaskar, Clive Lloyd, Kepler Wessels, Allan Lamb, Wasim Akram, Ravi Shastri, Bev Congdon and Graeme Pollock – the latter using the heaviest model they made, 3lb 6oz, with a long, thin handle.
In the mid-70s David Steele refused to use any other, even putting out an SOS in national newspapers when his favourite went missing.
Later on there was also Chris Broad scoring three Ashes centuries in 1986/87, and Worcestershire run machine Graeme Hick, who had his own 405 model in honour of his epic knock at Taunton in 1988.
The company was innovative too. They introduced a Polyplastic nitro-varnish coating which was called 'Polyflex Plus'. And in April 1977 they launched the world's first 'holey' bat called the Run Reaper, used by Gavaskar and Bob Willis. Airflow through the face was meant to increase its potency, but it was banned as it left indentations on the ball.
Botham was Fearnley's most famous client, however, signed up when he was an MCC Young Cricketer. His initial deal only gave him £150 a year, but an unlimited number of handcrafted bats, and he was happy. 
"Duncan made the best bats I have ever used," Botham told The Cricketer. "He was the best bat-maker of his time. He actually pioneered bat-making. He came to the conclusion that if you dry the wood a little more than normal you get bigger bulk. Then don't hammer it with the press, just do it lightly, and fibreglass the front – and they were magnificent."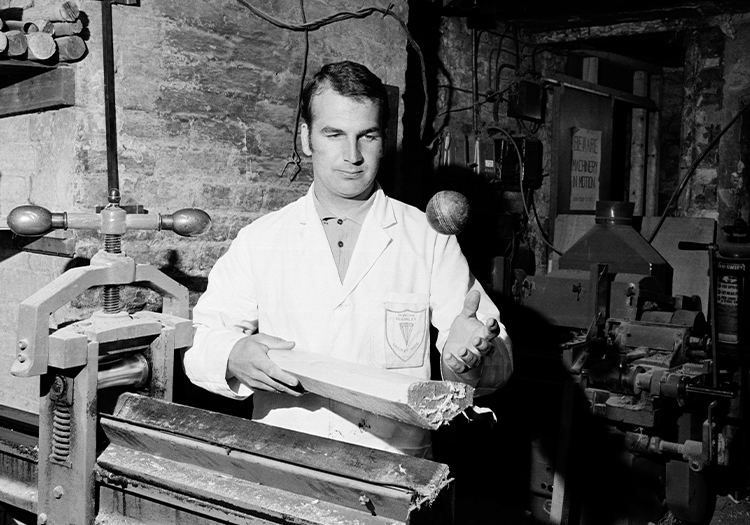 Duncan Fearnley tests a cleft of wood in his workshop in about 1971
After his heroics at Leeds in 1981, Botham borrowed Gooch's bat at Old Trafford to score 118. Gooch said he gave it to his friend because it was too light for him. "It was definitely there, and not Headingley as is often reported," Gooch told The Cricketer.
Botham joked he wasn't giving it back, and it was eventually raffled by The Sun for charity. 
Soon after Botham debuted the Magnum, which at that time did not have the concave back – that came the following year. 
Things were going well for the company at this time, and Sansome Place was refurbished. Visitors would see the stars' bats in glass cases next to a pastel painting of their former owners.
Simon Hughes recalls a champagne breakfast tour given to the Middlesex team in September 1982. "Phil Edmonds took an unfinished bat with no stickers down from the shelf and asked if he could use it for a bit of fun later that day at New Road. He made 92 with it, and Duncan put it in a display case."
In the summer of 1982 Botham signed a five-year deal, and launched the new 'Attack' with red labels: he made 208 against India at The Oval with it.
He then became the generous one that winter, lending Border one of his at Melbourne. The Australian took his side within four runs of a famous win with it, making an unbeaten 62 in the second innings.
In 1985 Botham claimed he wanted a special heavyweight bat to take on the Aussies – he struck 60 with it that week, back at Leeds.
After his brutal 138 at Brisbane in November 1986, he then signed a long-term contract 12 months later. Fearnley calls him "the most loyal man ever".
There are conflicting reports about how heavy Botham's bats were, however. Simon Wilde, in his book Ian Botham: The Power and the Glory, says: "Until 1979 [they were] 2lb 6oz then [he switched to 2lb 8oz]." Yet Fearnley recalled that when Hutton picked up one of Botham's bats "he said it was the nearest he'd come to holding a railway sleeper".
Tony Greig tried to get Botham to join St Peter but he stuck by Fearnley, expressing gratitude that he had not ditched him when he was convicted of cannabis possession in 1986. 
Their close relationship was a factor in him opting for Worcestershire, where Fearnley was by now chairman, in 1986, after Botham's painful divorce from Somerset. Worcestershire also signed Graham Dilley and two County Championships, two Sunday Leagues, one Benson & Hedges Cup and one NatWest Trophy arrived in Fearnley's 12 years as chairman.
'Duncan made the best bats I used. He pioneered bat-making. They were magnificent. Sadly it's a little family business and they can't afford to pay somebody £300,000 to use a cricket bat nowadays'
Gooch used Fearnley's bats for eight years and still holds them in high regard. "I switched from Gray-Nicolls to Duncan's bats for that second successive tour to Australia in 1979/80," he told The Cricketer. "I was friends with Duncan – most cricketers were because when we went to Worcester we came across him. He was an individual batmaker, by hand. His company were on the way up. They got a lot of the top players – not that I was unhappy with Gray-Nicolls, but it was the personal touch from Duncan, and he was a friend. That sort of coincided with the bigger bat revolution. 
"I graduated to a heavier bat that suited my style – about 3lbs, which is what they are now. They look a lot different now, though, as they are pressed differently. Heavier bats don't suit everyone. I was trying to hit the ball down the ground, hook and pull a lot, I didn't have much of a cut shot… The one advantage of having a heavier bat is you don't have to middle the ball to hit it for four. If you are using a 2lb 2oz bat there's a fair chance you'll have to hit it in the sweet spot every time. If you are using a 3lbs and you hit it slightly off-centre, it may not feel quite as nice, but it still performs.
"Duncan hit on the idea of a naturally dried cleft. That is the round bit that is cut from the tree. In the old days the bowlers would drive wedges into the clefts for training, like a hammer, to split the wood, until mechanisation came along. He used to leave them for maybe eight months, rather than the modern bats, which are kiln-dried quickly. That leads to a high-performing bat that doesn't last long.
"He was experimental – he also made the bats with the holes in – the Reaper, which was banned, and lead weights in the back of it. He also made me a bat that had a thicker inside edge than outside edge. People said I used to inside edge it a lot, so I thought I'll have a huge inside edge and the ball will shoot off for four.
"I also liked his soft goods – the double-finger protection on the right hand. I remember wearing the first pair ever made, in the third Test of the 1979/80 series against Australia at the MCG, when I ran myself out for 99. 
"I had eight great years with Duncan. I didn't fall out with him. I was getting near the end of my career. Stuart Surridge were locally based in Witham (Essex) and Stuart – or 'Tiger' as we knew him – gave me the chance potentially to stay with the company when I finished playing cricket."
By the middle of the decade Fearnley was making nearly 50,000 bats a year, but in April 1987 came the first warning that the bubble was about to burst: he – perhaps rather fancifully – called for government action to halt cheap, foreign imports (maybe he hoped Cynthia Crawford, Margaret Thatcher's PA and Worcestershire fanatic, could have a word with her boss). 
"No machine can replicate knowledge of willow and feel for a bat," he told Worcester Evening News. "Factories in India and Pakistan can learn to copy workmanship – and they have done very well – but it is not the same. A cricket bat isn't a piece of furniture. It's the tool of a trade. For a top player it has to be just right and that is what we do here. Anyone can mass-produce bats for kids or to mess around with."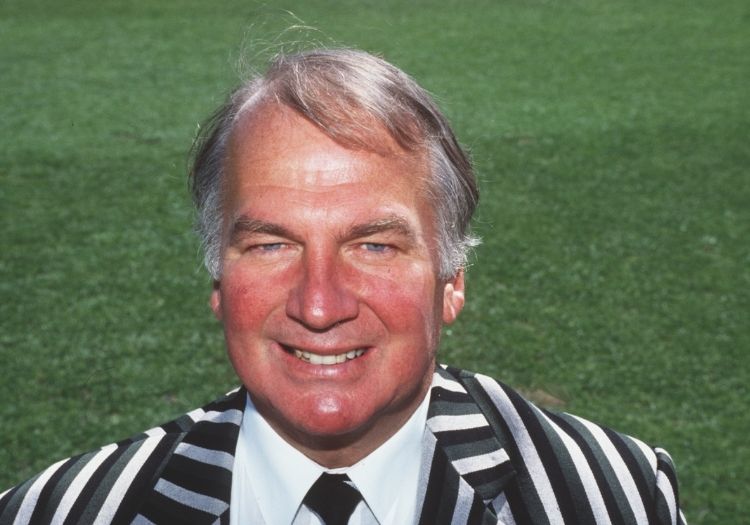 Duncan Fearnley at Worcester in 1996
The company ploughed on, bringing out a lighter version of the Magnum, the CD, in 1989. There was also the Batwing, Cobra, Atom and Sabre.
The protective equipment was also distinctive, too. The company were the first to add coloured piping around the pads, while a range of gloves pioneered the 'double knuckle'. We know these stand the test of time as Cybermen from the future were wearing them, sprayed silver of course, in the 1988 Doctor Who story Silver Nemesis.
A tie-up with sportswear firm Grampian Holdings did not take off, though, and shortly into the millennium Paul Fearnley, Duncan's son, tried to raise £1m thanks to a debenture for the new firm Fearnley Plc.
Alas they failed to roll back the years, although it is heartening to see they are still going, now making about 5,000 bats a year.
"Sadly it's a little family business and they can't afford to pay somebody £300,000 to use a cricket bat nowadays," said Botham. 
Phil Neale, who until recently was England's long-serving team manager, also used them, and kept his for slip practice to the modern team. "I still have a Fearnley which is about five or six years' old now, because they do still make them in Worcester," he told us. "I can go in and get it cleaned up. I think it's the sole Duncan Fearnley bat left on the circuit."
Has there ever been anyone who deserves the title 'Mr Bat' more than Duncan Fearnley?
"There's still the same buzz when I make a bat and see it at the end," Duncan says. "When you touch the willow it is beautiful. When you finish some bats you know you have something special in your hands. It's really amazing. The difference is now that I don't need to do it anymore. I choose to do it for people who want an individual, top-class bat. That's the fun for me and that's what we are all about now, just like when it first started."
He had a bit of a fall-out with Worcestershire in 2004, but they patched things up. He served as president from 2011–2013, and is now an honorary vice-president. 
He is obviously still a bat 'badger' as he auctioned off some of his collection last year. They included Dennis Lillee's aluminium bat, the ComBat, the one used by Hick for his 405, and one of Botham's 1981 blades.
Fearnley was also a founder member of the cricket charity Chance to Shine. He played alongside Jack Birkenshaw, Colin Milburn and Jack Hampshire for England Schools at Northampton in 1955. "We were all secondary modern boys and I felt it was vital that we kept cricket alive in state schools," he said. "When I was chairman at Worcestershire I approached Mervyn King, the chairman of the Bank of England, who went to Wolverhampton Grammar. We also got the brilliant Mark Nicholas on board. Our initial aim was to form a patron's XI who would donate £100,000 each. Mervyn said: 'That's a bit pessimistic – let's make it a million apiece!' A few chins dropped, but a decade later £53m had been raised. Overall I've been very lucky to have a life in cricket."
And cricket has been lucky to have Duncan Fearnley.
This article was published in the January edition of The Cricketer - the home of the best cricket analysis and commentary, covering the international, county, women's and amateur game