SIMON BARNES wonders how the unofficial 'England' teams who went to South Africa in the 1980s were forgiven so easily...
Letting the side down. Of all the cricketing phrases to have become part of the language, this is by far the most potent. That is because it is the way the elite operates. Perhaps all elites abide by the same principle, but if so, the British and English elites do it with supreme ruthlessness. No one who has let the side down is ever allowed to forget it.
They make a great parade of backing you to the hilt; and then when the moment is right they quietly dispose of you so that you are never seen or heard of again. They hang the mutineers from the yardarm; the captain gets a medal… before being promoted to run the navy in Tierra del Fuego.
The subaltern who embezzled the mess funds is gently commiserated with – before being invited to make a private appointment with a loaded revolver. It is better that way: no court martial, no messy scandal, nothing that could damage the elite.
They let Jeremy Thorpe off after he was accused of plotting to murder his male lover… but they never allowed him back into public life. Cricket operates in the same subtle way.
Mike Gatting leads out the 1989/90 tourists
In 1987/88 Mike Gatting was involved in an unseemly row with the Pakistani umpire Shakoor Rana. The England cricket authorities fell over themselves to offer support. The TCCB even paid each member of the touring party a £1,000 'hardship bonus' after the tour, which was a sweetly calculated up-yours gesture at Pakistan. But Gatting was sacked as England captain at the first opportunity: one whiff of a barmaid's apron and he was out.
That is the way it works; that is the way it has always worked. You let the side down and sooner or later, when it suits the elite members of the side, you will be – not punished, because there is no profit in mere punishment. You will just be got rid of. No one wants to know you any more. You are unpersoned.
Ever since the D'Oliveira Affair of 1968, England cricket was supposedly lined up against South Africa: or rather against South Africa's policy of apartheid. There were no more England tours to South Africa; South African teams no longer came to England. It was widely accepted that apartheid was immoral, and that to support South Africa was to support apartheid. Therefore, supporting South Africa was immoral. So far, so straightforward.
The National Party of South Africa believed apartheid was a valid method of running a country, and that the world would eventually accept it. They needed to convince outside nations and their own citizens that really, everything in South Africa was normal and that at heart, everybody loved them.
"The English cricketing establishment fought the war against apartheid on the wrong side. Their gratitude to those who played for the rebels has never failed"
The problem was that South Africa was banned from all forms of international sport. South Africa was therefore abnormal. South Africa decided to prove that everything was all right after all by promoting what became known as the rebel tours.
England – or rather, teams fraudulently labelled 'England' – were involved in two of them, one in 1981/82 and another in 1989/90. Those who took part were banned for three years. This was seen by the rest of the international cricket community as a strong and appropriate response.
It looked as if the rebels had seriously let the side down, so we all waited for them to be punished in the time-honoured fashion: surely, the period of banishment would be followed by the traditional cold-shouldering, the traditional hounding out of society, the traditional process of unpersoning.
But it never happened. The rebels met no such response. Quite the reverse. In fact, you could be forgiven for thinking that taking part in a rebel tour was the best possible thing to have on your CV.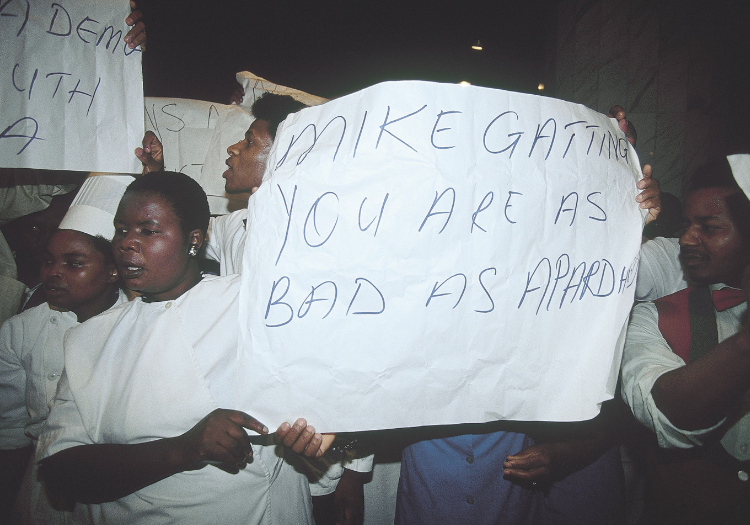 We need a little moral clarification at this point. The rebels went to South Africa to give comfort to an immoral regime, so they were wrong to go. On the other hand, if I was a gnarly old pro with maybe two good years left in me, would I have turned them down? And if I had been troubled by injuries, messed about by England's notoriously capricious selection policies, worried about money and believing I had been treated badly by the cricketing establishment, would I have said no to a pocketful of rands? I'd like to think so; but then I would, wouldn't I?
Many of the rebels I admired greatly as cricketers. The two or three I had personal dealings with, I liked as people; I just disagreed with them. I would have admired them more had they said no to South Africa, but you can't put my admiration into your current account.
The most dismaying of the rebels was Graham Gooch. He was the one member of that first South African Breweries English XI party who was approaching, rather than moving down, from his prime. He was made captain, and had to do the spokesman stuff: we are just professional cricketers trying to make a living, yeah yeah yeah.
So what did they do to him after his three-year ban had elapsed? Did they shaft him, did they freeze him out, did they just quietly forget about him? No: they recalled him as soon as they could. Eventually they made him England captain (although a lot of others had been tried first). They did so just before a tour of India (1988/89). They must have known that would make trouble, so we must assume that trouble was what they wanted. India refused to give Gooch a visa because of his rebellious past. England refused to go without him and the tour was called off.
"He was made captain, and had to do the spokesman stuff: we are just professional cricketers trying to make a living, yeah yeah yeah"
Gooch went on to lose the captaincy. He later got it back again, and that was followed by the best period in the career of a magnificent cricketer. In retirement he worked as batting coach for England. Not exactly out in the cold, then.
John Emburey was also on the first tour. He too was made captain of England; he got the job when Gatting was fired (after the first Test against West Indies in 1988), though he only lasted two matches. He then went on the second rebel tour, the only player who did the double. In retirement he coached the England A side in 1995, was considered for the post of senior manager and worked as a scout for the England team.
Mike Gatting was captain of the second rebel tour; he says his involvement was a response to his earlier shafting post-Shakoor. He went on to become president of the MCC in their bicentenary year of 2013/14, and he has been chairman of the MCC World Cricket Committee since 2017.
David Graveney was manager of the second rebel tour. He went on to become chairman of the England selection panel from 1997 to 2008, after which he was made national performance manager. In 2005 he was awarded the OBE.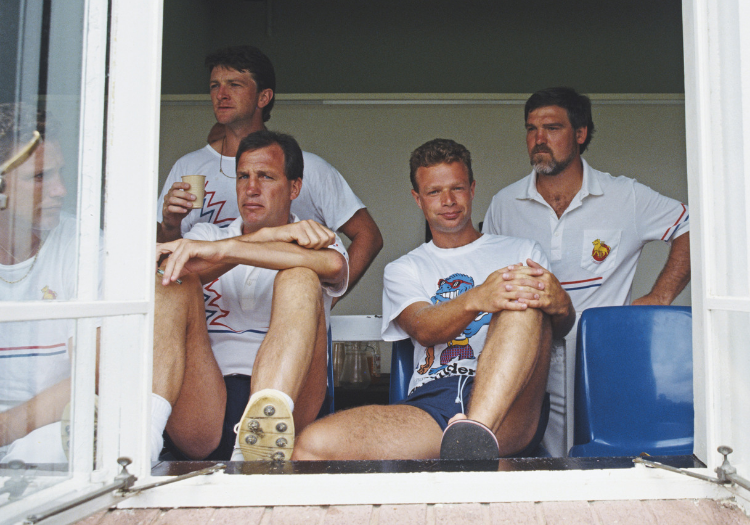 Greg Thomas, John Emburey, Paul Jarvis and Gatting wait at Kimberley
Now it is not my place or my purpose to say what should have happened to these rebels. What is interesting is what did happen – that is to say, the establishment response to their rebellion.
People who let the side down get ostracised. The rebels weren't ostracised. Therefore they didn't let the side down. In a quiet sort of way, and without ever saying so in public, it was made clear that supporting apartheid was perfectly all right.
How could it not be? The prime minister, Margaret Thatcher, used to go there on her holidays. She said: "Anyone who thinks the ANC is going to govern South Africa is living in Cloud Cuckoo Land."
Like the government, the cricketing establishment toed the same line in public and said that apartheid was a bad thing. But away from public utterances, there weree people in both who had a soft spot for the regime. So much so that taking part in a rebel tour was positive asset: a tick in the right box.
"You will just be got rid of. No one wants to know you any more. You are unpersoned"
When the end came to apartheid in the 1990s, and Nelson Mandela was elected as president in 1994, cricketing relations with South Africa could start again in a more seemly fashion. The first multi-racial South African cricket team reached England that same year.
The end of apartheid was a long and complex process, but it is generally agreed that sport played a major part: and that should be sport's great pride. Strange to look back and see how reluctant sport was to embrace the role. And even after the African National Congress and Mandela took charge of South Africa, people in English cricket who had given comfort to apartheid were given comfort by the cricketing establishment.
Letting the side down, eh? It's a strange principle on which to base your life. It implies that there is an opposition. You can only let the side down if there is an enemy. So it was that the English cricketing establishment fought the war against apartheid on the wrong side. Their gratitude to those who played for the rebels has never failed.
Had the rebels truly let the side down they would have been sent to Tierra del Fuego. Nothing of the kind took place.
Lord knows who the rebels were rebelling against, but they certainly weren't rebelling against the English cricketing establishment.
This article was published in the February edition of The Cricketer - the home of the best cricket analysis and commentary, covering the international, county, women's and amateur game
To subscribe for just £44.99 per year, click here