Ex-England captain NASSER HUSSAIN answers questions from the readers of The Cricketer about his top batsmen, vodcasts and Leeds United...
After last month's composite captain, could you describe your ultimate batsman, taking bits from your favourites please:
Brian Lara: In full flow he was a joy to watch. He was so pleasing on the eye for he had such flair. He was a magnificent player of spin. With such a high backlift, his was not an easy technique to copy. At the end of his career he jumped around a bit. We noticed in the 2000 Test series that he exposed his leg stump a bit. Craig White had some success drawing him across and yorking him. He did make a few runs against us at Antigua, though.
Sachin Tendulkar: I'd pick him to bat for my life. He ground out situations with a technique that was as close to perfection as possible. We just didn't see many chinks in his armour, and that combined with a deep hunger for runs made him irresistible. In 2001/02 we had Andrew Flintoff sending a bit of Bodyline down at him, and Ashley Giles bowling into the rough: that frustrated him in the end… although he'd scored 90!
Mark Waugh: 'Junior' made batting look so effortless; he was so pleasing on the eye. His clip through midwicket was graceful. Can you imagine how it felt coming in after him and Graham Gooch at Essex? After the Lord Mayor's show and all that. Mark used a very long blade. First he had a Symonds Super Tusker, then a Slazenger. It made me question if I should be using a longer bat, but watching Mark bat made you question everything about your own technique.
Virat Kohli: The greatest at assessing a situation. In a one-day run chase, India will win and he will be there at the end with a century to his name. The flair, the shots, the wristiness, the fast hands – combined with a sheer appetite for runs, and a competitiveness – just watch him at football practice in the morning. I also admired the way he put his ego away on the last tour here in 2018, leaving his nemesis Jimmy Anderson outside off stump. He wants to improve all the time.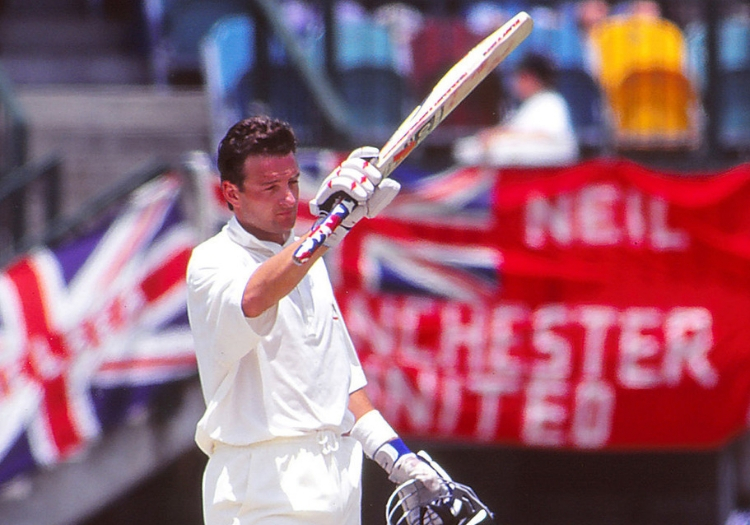 "'Junior' made batting look so effortless"
What have you been up to since the last issue?
Vodcasts, podcasts, trying to make technology like Zoom and VMix work! We are all desperate for some play but the 'watchalongs' on Sky Cricket have been enjoyable. Watching the last hour of Headingley 2019 with Joe Root and Ben Stokes, finding out what the latter was thinking, was so informative. I've also been doing lots of walking. I can only run about half an hour these days!
What cricket do you think we'll see this summer?
The England players seem to be getting ready. Joe said he was very keen. It's all up to the scientists and government, of course, but I don't think there's the dissent in cricket that there is in football, with the relegation-threatened clubs kicking off. Of course the odd England player may well not want to play. We must all make our own minds up about how much we are prepared to re-engage with society.
It sounds as if the ECB has a plan – a Test series starting on July 8, at bio-secure venues like the Ageas Bowl and Emirates Old Trafford. I think the problem will be getting the touring sides to come. They will be seeing the UK newspaper headlines in the Caribbean. The West Indies Cricket Board's task of persuading their players to come over will be tough I fear.
Do you think your team, Leeds United (or one of your two teams anyway, along with Arsenal) will get promotion then?
Yes. Whenever it is safe to start, finish this season. I know there are issues with contracts and so on, but I can't get involved with all that. Making this season null and void and denying Leeds and Liverpool would be a disgrace.
This article was published in the June edition of The Cricketer - the home of the best cricket analysis and commentary, covering the international, county, women's and amateur game
Save 30% when you subscribe to The Cricketer's print & digital bundle. £35 for 12 issues