HUW TURBERVILL: Where it would finish in a poll of all 2,387 Tests is a matter for debate, but it's certainly high up on my own personal list
Where it would finish in a poll of all 2,387 Tests is a matter for debate, but it's certainly high up on my own personal list. England versus India at Lord's in 1990 will always be recalled for captain Graham Gooch's batting – specifically his 333, but there were so many other highlights.
Allan Lamb and Robin Smith also made centuries in the first innings; Gooch's counterpart Mohammad Azharuddin and Ravi Shastri reached three figures in reply; Kapil Dev saved the follow-on in the most dramatic fashion; Gooch made another century in the second innings; a teenage Sachin Tendulkar took an extraordinary catch; and Angus Fraser bowled England to a hard-earned win on the final day. A great match by anybody's standards.
The first Test of the second Test series of the summer was 17-year-old Bombay student Tendulkar's first in England, and his eighth overall. We knew he was going to be good, but perhaps not that good.
Azharuddin gave England first use. It was not one of the finest calls in Test history. Gooch had just turned 37. His career was enjoying an Indian summer (ahem). The captaincy, which had finally and deservedly come his way, was bringing the best out of his batting. He averaged 58.72 when skipper, 35.83 when not.
Surprised by Azharuddin's generosity, he whipped his trusty three-pound Stuart Surridge Grand Prix Turbo out of his bag and smashed 333 from 485 balls, in 628 minutes, with 43 fours and three sixes. It was/is: the highest score at Lord's (surpassing Don Bradman's 254 in 1930); and the third-highest by an Englishman in Tests; and it was the sixth-highest Test score overall (it is now the 13th). Gooch was just 32 short of the then world record of 365 not out, by Sir Garfield Sobers for West Indies against Pakistan in 1957/58. It was his 15th (of 21) Tests at Lord's, where he holds the record for most runs: 2,015.
And yet it could have been so different had Kiran More, India's wicketkeeper, held a routine chance off Sanjeev Sharma when Gooch was on 36.
The coronavirus crisis scuppered my plans to interview Gooch in person. I intended to source a VHS machine and take my copy of Gooch's Indian Summer (BBC Home Video) with me and watch it with him, but I had to make do with the highlights on YouTube to prepare. Watching it now, that old schoolboy advice comes to mind – lean into the shot with your head and shoulders and your feet will follow.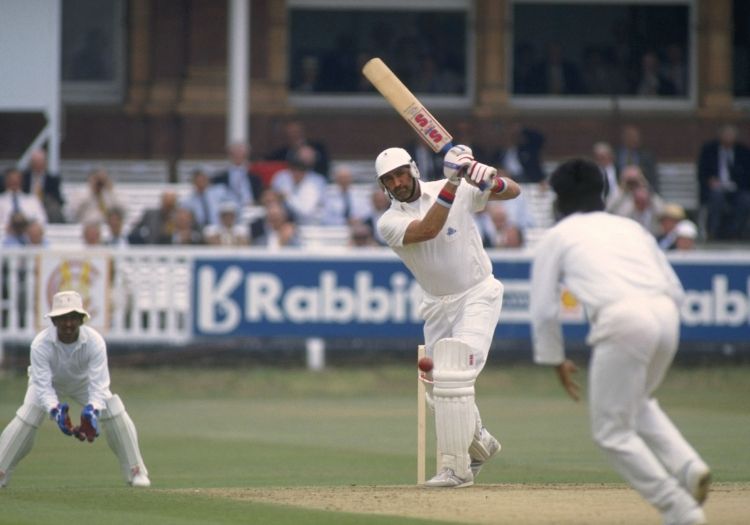 Gooch hits out
Gooch absolutely piles into his cover drives against Kapil Dev, Manoj Prabhakar and Sharma (in his second and final Test); he is also brutal against the spinners, Shastri (slow left-arm) and the leg-spinner Narendra Hirwani (playing his 11th Test, after taking 16 wickets on his debut against West Indies at Chennai).
Gooch slog-sweeps Shastri for six to reach his half‑century. "Not the kind of shot you'd expect Gooch to play in a Test at this stage of the match," says Ray Illingworth on commentary.
He plays a straight drive to go to 150 that has Dickie Bird hopping; a nurdle behind square takes him to 200; but the onslaught shows no signs of abating. There's a six off Shastri into the building works, before finally a decent ball from Prabhakar nips back to bowl him. The Indian seamers kept running in, to be fair…
I catch Gooch on his daily walk during the lockdown. Today he is doing an eight-mile round trip from Ingatestone to Brentwood, a quest to find some fresh fruit and veg at a garden shop. He is also in the gym in his house every day. Even at 66, nothing changes: it is fitness first.
"If you're going to put sides in you have to at least have them three or four down at lunch," he tells me. "If you don't bowl a side out in the day for 250, or even 280-300, you haven't won the battle.
"Azhar had a difficult decision as it was humid, but I would have batted myself. There was only slow movement on that first day. Kapil Dev was a brilliant bowler, but the back-up was not quite so good. Sharma was a typical Indian seamer at that time, skiddy, and Prabhakar had a quicker slower ball… I had a bit of luck being dropped, but didn't really think about that. Lambie [139] and Robin [100 not out] were brilliant, and David [Gower, back after a seven-Test absence] made a few [40]."
The hosts declared on 653 for 4, with Gooch and vice-captain Lamb putting on an all-wicket England v India record of 308 – although the record is now 350 (Ian Bell and Kevin Pietersen, The Oval, 2011).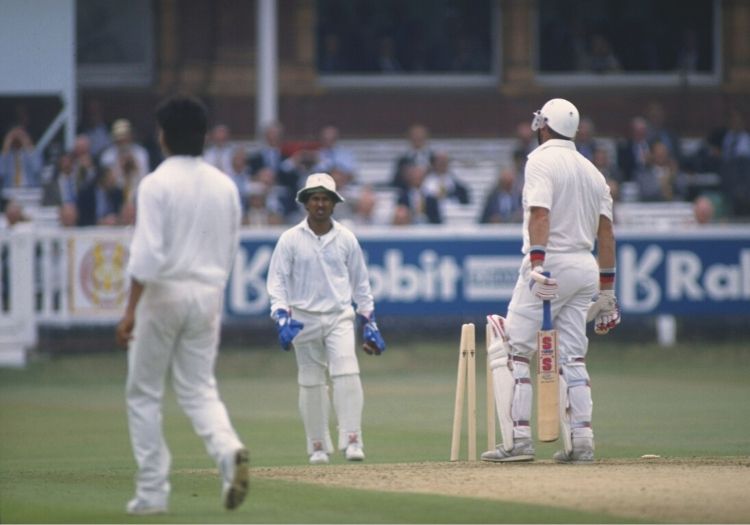 A ball finally sneaks through Gooch's defences
India replied with 454, Azharuddin making a most attractive 121 (20 fours, into three figures off only 88 balls), and Shastri 100.
My mother and I attended the fourth day, the Monday, after the rest day, and we never regretted that decision. It was sensational, watching Kapil save the follow-on by defending the first two balls of the over then striking Eddie Hemmings for four successive sixes over long-on in an entertaining, unbeaten 77. He was the first man to hit four sixes successively in a Test, and I vividly recall the India supporter next to me exclaiming: "Only Kapil Dev!"
"We wanted India to follow on as not enforcing it was not really en vogue in those days, and it's not as if the Lord's pitch breaks up," said Gooch.
"I was not a happy bunny. I caught Kapil off Fraser at second slip but Nigel Plews said he wasn't sure if it carried; he went to Dickie at square leg and I vividly recall Dickie saying, 'Nigel, I cannot help you…' I was spitting feathers!
"Eddie kept tossing the ball up to Kapil and he kept hitting it up into the building site, which shows how recently those stands were done [the Compton and Edrich stands are being replaced again now… Ed]. 
"Then the very next ball Fraser got Hirwani out and they were 199 behind! Azhar and Shastri had batted brilliantly to be fair. I was pretty pumped up when I went out to bat, though."
England did not find it any more difficult second time around, making 272 for 4 declared. Gooch scored 123 (beating Greg Chappell's previous aggregate record for a Test by 76), with Eddie Hemmings saying this was the best innings he ever witnessed. Mike Atherton made 72, and Lamb fell to a brilliant one-handed grab by Tendulkar ("as wonderful an outfield catch as Lord's has seen," said the Wisden Cricketers' Almanack).
That 123 finished off a quite extraordinary month for Gooch.  It began with 102 for Essex against the New Zealanders at Chelmsford at the very start. He then made 154 and 30 against the poor Kiwis at Edgbaston in the third Test (July 5–10); and 17 and 177 versus Lancashire at Colchester (July 21–24). Add in his 456 against India and that gave him a grand total of 936 runs at 133.71!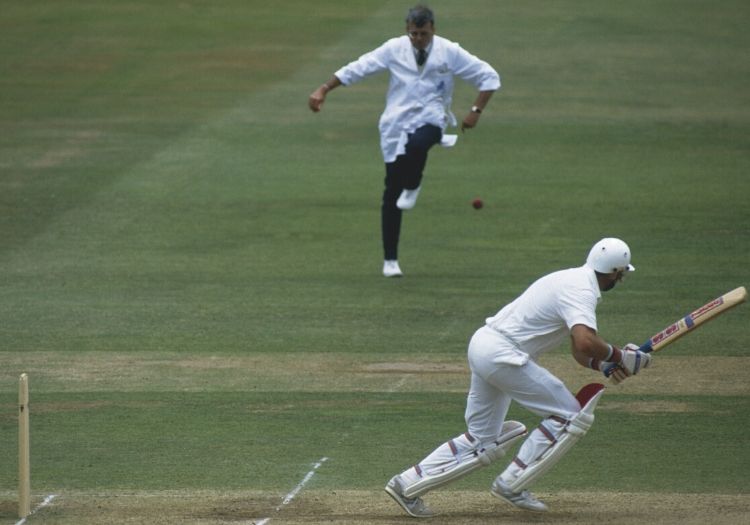 Graham Gooch catches Dickie Bird on the hop
To be fair bat reigned over ball that summer after the TCCB decided to use a ball with a smaller seam in the county game. 
Then England beat the clock to bowl India out for 224, Fraser following up his 5 for 104 in the first innings with 3 for 39.
It lifted the match aggregate to 1,603 runs, two more than the previous record for Lord's, that Test between England v Australia in 1930.
Fittingly a run-out by Gooch sealed victory, flattening the middle stump at the bowler's end to dismiss Sharma from mid-on, which made him chuckle when he recalled it. It is a wonder he could stand up. "Then Gus ribbed me by saying he should have been man of the match for his eight wickets!"
Quirkily the match report for this Test in the 1991 Almanack is on page… 333.
I also recall the day for sitting next to an Indian psychiatrist who told my mother and I all about literature in the 1890s and the 'age of decadence'; and being confronted by an old boy driving towards us on the wrong side of the road on the A12 on the way home. Happy memories.
The second and third Tests of the series at Old Trafford and The Oval were drawn, the match in Manchester memorable for Tendulkar's maiden Test century (Gooch made 116 and 7). "That was a lovely hundred by Sachin," says Gooch, occasionally pausing our chat to check his map and compass. "I was annoyed about the pitch, though. I wanted it rock hard – the kind of surface that they were preparing for Peter Martin, Phil DeFreitas and Wasim Akram at the time, but we got a dustbowl instead.
"That match saw Anil Kumble's debut, a high-scoring draw. Hirwani was a more conventional leg-spinner, loopy, with side-spin, but Kumble had a high arm and you had to play him like a medium pacer. His bounce was dangerous. He reminded me of Bhagwat Chandrasekhar, who I played against in 1979 – part of that great trio, with Bishan Bedi and Venkat (Srinivasaraghavan Venkataraghavan)."
Gooch's 85 and 88 helped England escape from a sticky situation at The Oval in the final Test, a match remembered for Gower's 157 not out. That earned him a place on the tour to Australia that winter – but that is another story altogether.
This article was published in the June edition of The Cricketer - the home of the best cricket analysis and commentary, covering the international, county, women's and amateur game
Save 30% when you subscribe to The Cricketer's print & digital bundle. £35 for 12 issues