James Anderson: The early years
HUWZAT ON WEDNESDAY: An encounter with Derek Randall set him up for bowling to Sachin Tendulkar and 20 years of fast-bowling heroics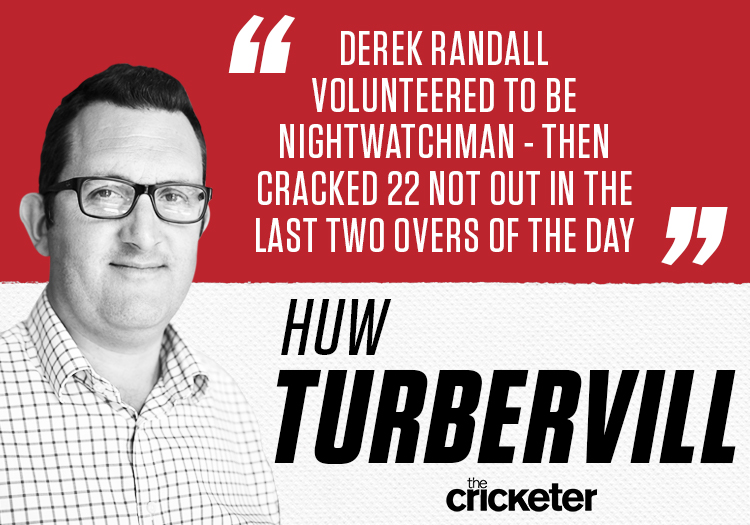 Two decades is a seriously long time to be bowling fast, right?
There was a reminder that the decidedly durable James Anderson has been at it that long this week.
A tweet from the PCA announced that he had made his professional debut 20 years ago on May 2, and his first wicket was… Suffolk opener Russell Catley, for three.
Well I'll be.
I used to play with and against Russell in Suffolk.
How fantastic – to be Jimmy's first!
With another 1,357 to follow – including Sachin Tendulkar (a record) nine times in 14 Tests.
Anderson was playing for the Lancashire Board XI in the NatWest Trophy.
The match was at the wonderful Wamil Way ground of Mildenhall CC – with USAF jets shattering the serenity from time to time no doubt.
Anderson, 17 at the time, finished with 1 for 34 off 10. It was a long way to come from Burnley for just that single wicket but it was a start.
Derek Randall, Catley's opening partner, did not succumb to him, although he made only four before he was… stumped!
Anderson didn't need to bat as his side won by four wickets with 10.4 overs to spare.
Interestingly while it was Anderson's first List A game, it was Randall's last.
The Suffolk boys don't recall a lot about it.
"I vaguely remember not having a clue which way he was swinging it," says Catley (who was caught).
His team-mates stood by the sightscreen and watched Anderson bowl, and say he was "pretty lively".
Suffolk's Chris Seal looked him up on Cricket Archive when he became famous to make sure it was really him.
Anderson was a shy lad then, but has made a great effort to become more media-friendly over the years.
He made his County Championship debut two years later, against Surrey at Old Trafford. His first wicket was Ian Ward; and in the second innings he trapped Mark Ramprakash lbw for a duck.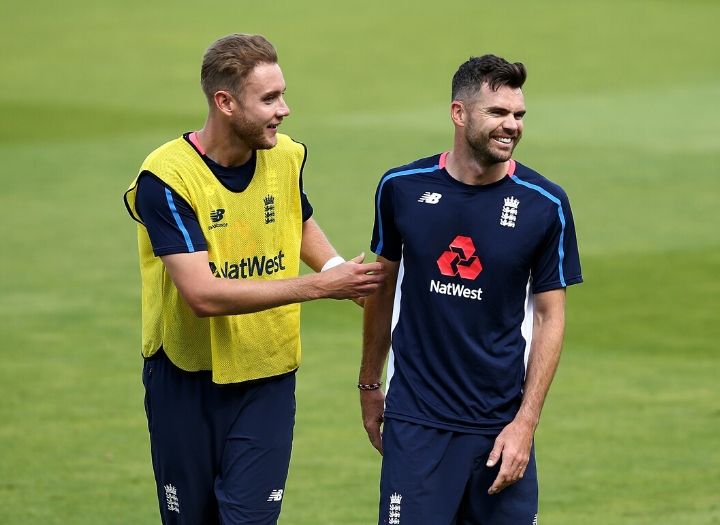 Anderson has taken 1,358 wickets in professional cricket
Then 12 months later he made his Test debut, against Zimbabwe at Lord's.
The 'Burnley Express' took his first wicket, Mark Vermeulen, and he finished with 5 for 73 – in front of his watching mum, dad and friends. Stunning.
It was a Saturday and it brings back happy memories for me as it gave me the front page of The Sunday Telegraph's sports section (see picture).
Anderson had become the first England bowler to take five wickets on his debut since Dominic Cork captured 7 for 43 against West Indies, also at Lord's, in 1995. Sir Ian Botham also did it in 1977, with 5 for 74 against Australia at Trent Bridge.
England captain Nasser Hussain had already entrusted Anderson with the crucial over against Australia at the World Cup that spring, at Port Elizabeth, 8,590 miles from Mildenhall.
Anderson was the one negative on Troy Cooley's report card as England bowling coach; the attempt to remodel his action to avoid back injuries setting him, err, back… and he missed the 2005 Ashes, watching the 'Fab Four' (Andrew Flintoff, Simon Jones, Matthew Hoggard and Steve Harmison) triumph instead. At that stage there was a danger he would become cricket's Stuart Sutcliffe… but he sure came good.
We are all praying Anderson is still bowling next summer – he turns 38 this July 30.
Of course the Suffolk lads have far more vivid memories of their years with Randall.
He was their pro, from 1994 (aged 43) to 2000, scoring eight centuries in the Minor Counties Championship.
One of cricket's greatest characters, Shakespeare could have written a play about him.
Richard Pineo recalls him turning up for one game with just a plastic supermarket bag containing a small amount of gear.
Anderson's Zimbabwe success put him - and Huw Turbervill - on the front page of the Sunday Telegraph's sport section
Within an hour the Gunn & Moore rep arrived to kit him fully out, only for him to be bowled first ball.
Randall also used to lull batsmen into a false sense of security, making them think he was an old man in the field – before running them out with yards to spare.
Paul King recalls him being inspirational to the youngsters, spending hours chatting with them, and taking jokes well: like the time he put a 'pear' in his kitbag after Randall failed to score a run in either innings of a match.
Team-mate Chris Seal remembers him volunteering to be nightwatchman, then cracking 22 not out in the last two overs of the day!
It was a two-day game at Jesmond. Northumberland made 313 and there were two overs left on day one. Skipper Phil Caley asked for volunteers, wishing to protect his star man.
The tired bowlers did not want to do it, but Randall insisted.
"Before we knew it 'Rags' kept shouting 'I'll do it, I'll ****ing do it'," recalls Seal. "He was on the field before the fielding team. Bouncer... six, Bouncer… six."
The next day he made 86 and Suffolk won by five wickets.
Well I guess when you have scored 174 against Dennis Lillee and co in the 1976/77 Centenary Test at the MCG, with Rodney Marsh chirping behind you, little is going to faze you.
Like Anderson, an extraordinary talent.
To remind ourselves of happier times we're offering a £20.19 subscription to celebrate England's World Cup win once again. Click here to claim
Please ensure all fields are completed before submitting your comment!