Is domestic cricket that far removed from the Premier League's own grand designs?
NICK HOWSON: Restructure has been the byword for the first-class game for much of the last decade. Change is never easy, but it's often for the greater good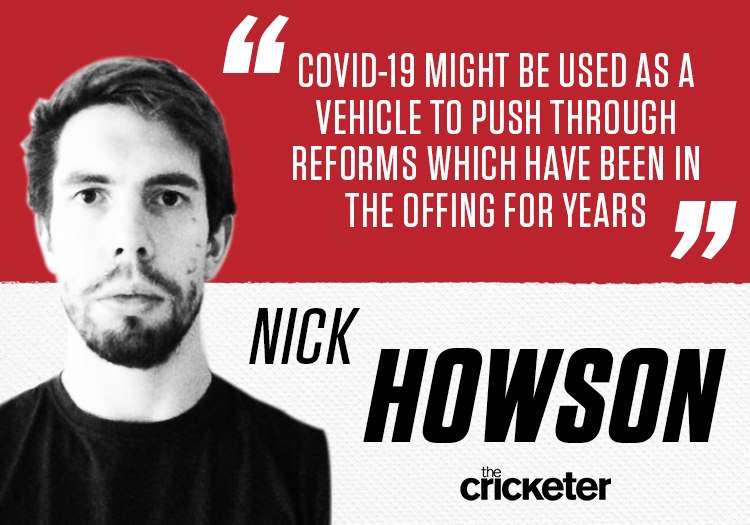 The derision was palpable. Only a form of sport which creates revenues of £6.2 billion, according to Deloitte, could want more.
Social media transformed seamlessly into the moral high horse, criticising, attacking and condemning plans by Premier League clubs to transform its foundations and make its leading cartel richer and more influential than ever before.
English football must decide whether it wishes for inevitable changes to the tapestry of the sport to be transparent, or conducted behind-closed-doors without consultation or deliberation. As Kylie Minogue sang and released just two days after Liverpool won the 1990 Division One title, better the devil you know.
It is extremely tempting to mock football's identity crisis. But there is an uncomfortable truth to the entire debate.
Domestic cricket has been having conversations over its future for many years and the subtext is startlingly similar: competition, power, money and England are at the centre. Much like with football, Covid-19 might eventually be used as a vehicle to push through reforms which have been in the offing for many years.
Colin Graves signed-off his ECB chairmanship by suggesting the 18 first-class counties could not go on playing all three formats. Such views are nothing new. Graves expressed such an opinion while at Yorkshire, while Lord MacLaurin - who headed up both the ECB and MCC - has previously proposed cutting the counties to 12. However, we remain with a magnificent 18 as we have done since 1992.
Much like with the Premier League, the split in county cricket is clear and discernible. There are those counties whose turnovers are significant, who stage regular international cricket and domestic finals and whose players supplement the national team. We all know who they are.
Others live on a financial tight-rope, rarely contest for silverware, are powerless to retain star names and can count a campaign in which they finish in the black as a success. There is nothing objectively wrong with any of the above, but they are becoming increasingly unsustainable in an era which cannot indulge flab. The Daily Telegraph has already reported that discussions over a reduction of teams is underway. How sad.
The idea of losing as many as nine counties, having a reduced, single-tier red-ball division without promotion or relegation seems unthinkable yet this is far from a new idea. For those who look at Australia's unrelenting status as one of the leading Test nations, the six-team Sheffield Shield is often heralded. A condensing of talent across half a dozen state sides has provided the Baggy Green with plenty of success, though some believe it has had the opposite effect on the competition.
"My observation – and it's always challenging when you get asked this question because you never think it's as good as it was when you played – but I genuinely believe that the standard of it is not as strong as it used to be," Tom Moody told the Sky Sports Cricket Podcast.
Colin Graves is not the only one to predict a reform of county cricket
"I say that because I remember in the 80s and the 90s the domestic competition in Australia was looked upon and admired globally as the leading domestic cricket tournament being played, and I don't hear those conversations as often as I heard them back then."
We are currently awaiting confirmation of county cricket's latest restructure. Three divisions of six with a Lord's final next October is the likely scenario. However, as has been the way with dozens of sectors across this pandemic, is this a plaster used to cover up a gun-shot wound? A soliloquy before five acts of treachery.
Much like the Premier League (proposals are only passed with a minimum majority of 14 out of 20), there is an irony that the county voting structure would require two-thirds of the turkeys to vote for Christmas.
Additionally, if crowds as seem likely, continue to be locked out of grounds come the start of next season, online streams will once again be a popular sanctuary for domestic fans. They proved to be hugely popular this term, not only due to matches being played behind closed doors but because of the quality of the service.
Many clubs have offered access via YouTube channels or websites. Only on rare occasions (Worcestershire v Somerset) were matches put out of direct sight. If counties are once again deprived of matchday income in 2021, for how much longer can the footage be available without charge?
Will county fans be rewarded for their devotion?
Counties have already begun using advertising to create a revenue stream, but there are limits. Adverts can't be displayed during local BBC radio commentary, for example. It, therefore, seems like a matter of time until paying for matches becomes the norm, with free access given to members.
And suddenly, county cricket would be saddling up next to the Premier League, whose elite clubs were treated like the devil during the back-end of last week. From this weekend, clubs will start charging fans for matches - previously free - which are not chosen for television broadcast.
County cricket does not deserve special criticism should any of these aforementioned decisions be taken. It is an inevitability of the current climate, Covid-19 notwithstanding. It merely highlights that the dilemmas major sports face are closer-knit than is immediately obvious. Mock if you must, but you're next.
For unrivalled coverage of the county season, subscribe to The Cricketer and receive 3 issues for £5
Please ensure all fields are completed before submitting your comment!