WORLD CUP MOMENTS NO.25: Adam Gilchrist walks the walk
The legendary Australian wicket-keeper gave himself out against Sri Lanka in a remarkable display of sportsmanship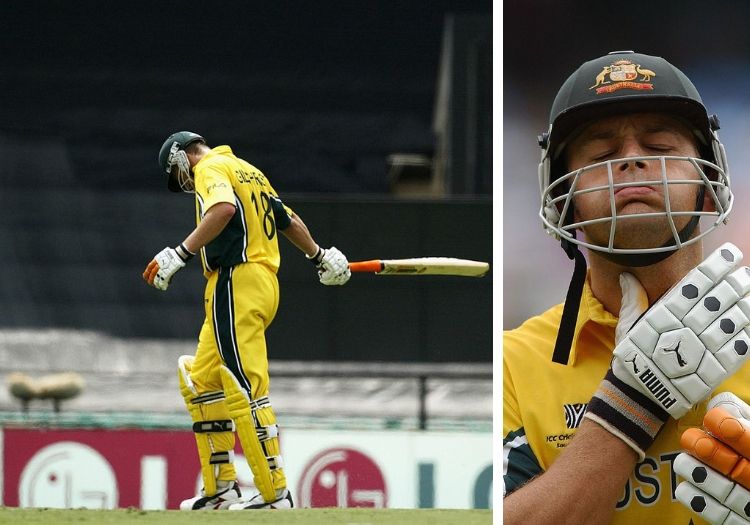 "Nevertheless, I made a decision during our innings. If we lose this game, it's not because I walked."
Despite having scored over 15,000 runs across all forms of international cricket, completed in excess of 800 dismissals behind the stumps, won the World Cup and the Ashes on three occasions each and become the first man to 100 Test sixes, there is some delightful irony that for a player who so often had the ball in his midst, Adam Gilchrist's most famous contribution to cricket came when he barely got a whisker on it at all.
Any sportsperson will tell you that losing in the semi-final of a global competition is the most heartbreaking way to suffer an untimely exit. While defeat in a final is illuminated with the achievement of having reached the pinnacle, the last four is that annoying penultimate hurdle which you never forget if you fail to evade.
And in a team sport, that feeling is shared among your comrades. With it being the one contest you dare not lose, every move is vital, not to mention scrutinised by fans and teammates alike.
A man for the big occasion, Gilchrist was just about as reliable a performer on the international stage as they come. Though he slowed down towards the twilight of his career, his contributions, when they came, remained spectacular and important in equal measure.
Already a World Cup winner thanks to victory in 1999 via arguably the most exhilarating semi-final in any sport - against South Africa at Edgbaston - the New South Wales native was well-accustomed to the pressure of such a contest.
Despite being without banned spinner Shane Warne, Australia had waltzed to the knockout stage of the 2003 World Cup thanks to nine straight wins in the competition, to book a semi-final with Sri Lanka. In the Super Six stage, the Aussies had cracked 319 for 5 against the 1996 winners, with Gilchrist hitting 99 from 88 balls.
Passage to the Wanderers final to face India or Kenya appeared to be a formality for the outstanding favourites. But arriving at the St George's Oval, Australia encountered a leveller of a slow pitch which played into Sri Lanka's hands.
Winning the toss and electing to bat, the holders started their innings with intent, hitting Asela Gunaratne out of the attack with four boundaries in the opening five overs. Chaminda Vaas was not as expensive but was still dismissed for four by Matthew Hayden.
The wiley Aravinda de Silva was thrown the ball to try and stem the flow, not to mention to take advantage of the conditions, but few could have predicted what was to follow. A loosener of a second delivery, an off-break which pitched two feet wide of leg stump, looked like easy pickings for a man of Gilchrist's ability and he duly tried to swat the ball away through deep backward square for a certain boundary.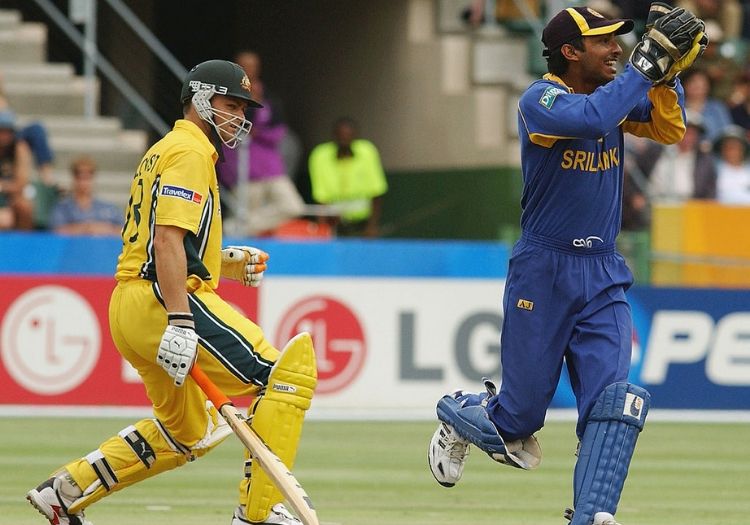 Sangakkara jumped at the opportunity to dismiss Australia's dangerman
But the delivery kept a little lower than the left-hander, on 22, was expecting, and his giant swipe ricocheted off his pad and was clutched hopefully by Kumar Sangakkara. Like any wicket-keeper sniffing a prized scalp, Sangakkara went up immediately, followed by De Silva.
Standing umpire Rudi Koertzen was unmoved amid the protests but Gilchrist made his mind up for him. The Australia opener walked back to the pavilion to leave Sri Lanka in raptures.
Though Ricky Ponting and Hayden would soon follow, an unbeaten 91 from Andrew Symonds helped Australia to 212 for 7 from their 50 overs, before Sri Lanka fell short in their pursuit of a rain-adjusted 172 to win from 38.1 overs.
But the result is largely remembered as being a footnote in relation to the events around Gilchrist's dismissal. With slow-mo replays able to highlight errors from umpires, the pre-DRS era had seen walking become an increasingly rare occurrence. Batsmen were never more than an innings away from a bad decision, and minutes from finding out if they had been a victim of an error.
Opinions were divided over Gilchrist's actions. Captain Ricky Ponting insisted he would not be asking his players to follow the gloveman's lead, while the Australian Sports Commission hailed his sportsman display of morality in such a high-octane situation.
There is little doubt that the decision wrangled with Gilchrist, not because he regretted what had transpired but due to how the Australia dressing room would receive him.
In his book Walking to Victory, Gilchrist wrote: "It was a really weird sensation to go against the grain of what 99 per cent of cricketers do these days, and what we've been doing for our whole careers."
Gilchrist would go on to win the second of his three World Cups
"Of course, the guys back in the viewing room were a bit stunned at what I'd done. Flabbergasted, really, that I'd do it in a World Cup semi. While I sat there, thinking about it and being asked about it, I kept going back to the fact that, well, at the end of the day, I had been honest with myself.
"I felt it was time that players made a stand to take back responsibility for the game. I was at ease with that. The more I thought about it, the more settled I became with what I'd done. You did it for the right reasons.
"That was on a personal level. But what about my commitment to the team? I couldn't entirely keep a lid on the negative thoughts. If we lose this game, how am I going to feel?"
Granted, technology has ensured that walking has become something of a benign act because if hotspot won't get you, ball-tracking certainly will. But it says much about the intensity of the situation and Gilchrist's foresight that the gesture remains engrained in the memories of so many.
Gilchrist played with reckless abandon throughout his whole career and redefined the role of the wicket-keeper batsman. But despite his position as a cricketing pioneer, his ethical stance is far better remembered. That, in itself, says it all.
Please ensure all fields are completed before submitting your comment!