Why I love cricket: Stephen Fry on listening to TMS in Las Vegas, checking guns into Lord's and imitating Mike Procter
STEPHEN FRY: Cricket is still – with all the science, technology, psychology and broadcasting pressure – extraordinary how bat and ball are so well balanced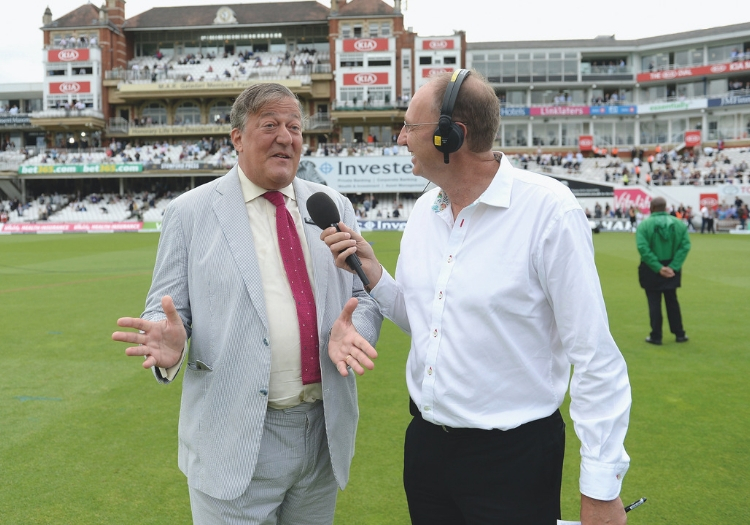 The first six and half years of my life were spent in Chesham, Buckinghamshire, where close family friends (they still are) were the Popplewells. Oliver, the father, was a fine first-class player, their sons were all more than adept from the earliest age. They had proper nets in their garden. I came back from an afternoon there and asked rather whiningly why my father didn't teach leg-break bowling in the way Mr Popplewell did. The eldest son, Nigel, was exactly the same age as me and went on to have a distinguished career for the great Somerset XI that included Ian Botham, Joel Garner and Viv Richards.
After Chesham I grew up in Norfolk, a minor county for cricket of course, but my prep school was in Gloucestershire and my hero of heroes was Mike Procter. I imitated him in every way, including bowling chest on off the wrong foot, which was a spectacularly bad idea.
My England XI would be Tom Graveney, Ken Barrington, Ted Dexter, Colin Cowdrey, John Snow, Fred Titmus, Fred Trueman, Geoff Boycott, Geoff Arnold, Derek Underwood and Alan Knott – though not in that order!
"Hugh Laurie once gave me a slip-catching cradle for Christmas. We suffered severe pain trying to catch in the chill East Anglian winds"
Sadly between the ages of about 13–17 I lost interest. Adolescence interfered, I suppose. But by the mid-'70s I was a rabid fan again. I think – as a result of my generation more than anything – the match of matches for me still has to be Headingley 1981. After the horror of the Lord's Test (although people forget it was actually drawn) and Botham's miserable pair as captain it really looked as if English cricket wouldn't be able to raise its head with pride for a generation. But then there was Headingley 2019...
I was doing a matinee at the Edinburgh Festival during that game. In the interval of my show I watched Stokes start to open his shoulders and go for it – the crew stood in the wings, earphones connected to TMS, and signalled to me as the second half got under way. I tried to concentrate on performing, but all the time I was glancing off stage to interpret their gestures. I missed Jack Leach's greatest single of all time, missed the final run, but flew off stage to the news that we'd won and flew to my dressing room to watch highlight after highlight after highlight. I am still reeling to be honest.
I get ridiculously nervous at close matches. I don't know a sporting tension like it. Rugby can make one stand on a chair and roar, and football can make one hoarse too, but for sheer nerve-jangling, fingernail-chewing, knee-jogging, buttock-clenching, heart-thumping, bowel-shattering, spine-tingling, brain-screaming nerves cricket takes the palm every time.
Lord's of course remains a uniquely magical ground. The major cricketing nations are all so worth visiting in their own right for their people, food, culture, history, landscape, music and so on that watching cricket in any of them is always a huge treat. On the hill at the SCG, the grass yellow with Castlemaine XXXX tins; sweltering under the tin roof of the Wankhede; being offered 'arse cream' at Newlands (which is how the South African accent renders ice cream)… these experiences never leave one. There again a summer afternoon under a chestnut tree watching a village game has its pleasures too.
I have listened to the game in some odd places. In Las Vegas while friends were losing their money and doing god knows what, I was holed up in my hotel room listening to TMS. Filming in Madagascar and the Amazon climbing trees and hillocks to get internet coverage that would allow me to listen… anyone who travels a lot and tries to watch knows of the nightmare of sorting out a proxy server or VPN service that might just allow access to Sky Sports. The hours (and pounds) I've spent …
I invited a seriously rich foreign friend to a box I'd obtained for a Lord's ODI. I had completely forgotten that he always goes everywhere with at least one bodyguard, so when he arrived to pick up his ticket there was an embarrassing scene at the Grace Gate, in which he was firmly told that his armed bodyguard would not be welcome a) because he was armed and b) because he didn't have a ticket.
Fortunately I did some wild phoning with Keith Bradshaw, secretary of MCC at the time, and the bodyguard checked in his gun and was allowed in. And of course my friend spent most of the match with his back to the cricket chatting to fellow guests, but the bodyguard, who was British and a huge cricket fan, gazed in blissful rapture at the match without once checking on his employer's safety or whereabouts. I took my friend William Goldman [the American screenwriter of Butch Cassidy and the Sundance Kid, Marathon Man, All the President's Men and The Princess Bride] to a Lord's match too.
He regularly took me to Knicks' basketball games and Yankees baseball games when I was in New York so I thought I should repay the compliment. Bill G loved all sport – sadly he died last year – and he instantly 'got' cricket. He would ask me for years afterwards how Graham Thorpe was doing or whether Andrew Flintoff had taken any wickets lately… but like all Americans the idea of lunch and tea rather bewildered him...
Cricket is still – with all the science, technology, psychology and broadcasting pressure – extraordinary how bat and ball are so well balanced. Just when you think batting has the ascendancy and that bowlers are in trouble, there'll be a game where 140 all out is a good score. And not just because wickets are prepared to stop flat-track bullying, although naturally there's a touch of that. The standard of fielding these days is enough to keep one watching. The commitment, professionalism, flair, individual flashes of genius – these are all greater now than ever.
"I get ridiculously nervous at close matches. I don't know a sporting tension like it"
Doing a podcast with Stuart Broad, a player I've admired since he first burst on the scene, you realise just how aware, intelligent, knowledgeable and insightful he is, and most of his fellow players are. Their understanding and respect for the game seems boundless. Podcasting with him, or Broadycasting, has deepened my admiration for the remarkable people who play the game.
'Christmas and cricket?' Well I have always wanted to go to the MCG for a Boxing Day match – an Ashes Test of course – perhaps next time I'll plan my life accordingly. Otherwise it usually comes down to the latest Wisden in the stocking. My very dear friend Hugh Laurie once gave me a slip-catching cradle (a strange wooden device, ribbed like an upturned boat) for Christmas. We erected it on a snowy lawn in Norfolk and suffered severe pain trying to catch in the chill East Anglian winds. Talking of which, a Norfolk village fielder once, in late summer, seeing the ball in the air (as he thought) out of the corner of his eye just as the batsman flashed, dived to catch it and came up with a live swallow in his hands. True story.
Why do I love cricket so much? All those variables – personality, history, time, tactics, strategy, rhythm, weather – the balance between bat and ball, the fact that every player has to bat, the individual brilliance that can turn a match around, the team effort that can throttle a side, the choices a bowler has, the horrible inescapable death of a dismissal, the disjunction between the lyrical elegance of the game seen from a distance and the brutal, fizzing, bone-jarring speed, violence and danger of it close up. So many things. I don't believe a richer, deeper pastime has ever been devised.
This article was published in the January edition of The Cricketer - the home of the best cricket analysis and commentary, covering the international, county, women's and amateur game
To remind ourselves of happier times we're offering a £20.19 subscription to celebrate England's World Cup win once again. Click here to claim
Please ensure all fields are completed before submitting your comment!