The remarkable journey of Umer Khan – plucked from obscurity and propelled to PSL prominence
NICK FRIEND: Only three players took more wickets in the 2019 Pakistan Super League than the 20-year-old left-arm spinner – a young man with an extraordinary backstory and a dream to represent his country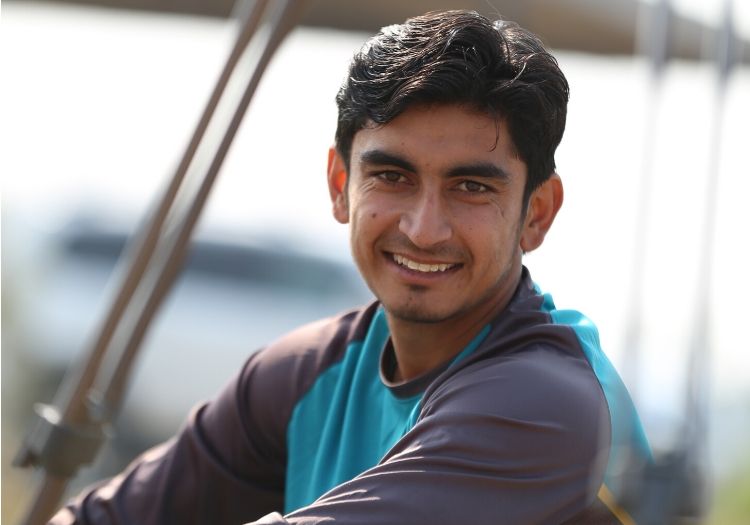 Slight in stature, but with a growing reputation, Umer Khan has a story to tell.
When he was named as the emerging player of the tournament at the conclusion of the 2019 Pakistan Super League, it was vindication. Vindication for himself, vindication for his father, vindication for a remarkable journey.
Only the international trio of Hasan Ali, Faheem Ashraf and Wahab Riaz took more wickets in last year's competition than the 20-year-old, who claimed 15 in 11 games for Karachi Kings. Only five other spinners reached double figures: Mohammad Nawaz, Sandeep Lamichhane, Shahid Afridi, Shadab Khan and Fawad Ahmed.
And then there is Khan; a diminutive left-arm spinner, brought up in the northern city of Taxila. It is a shame in a sense that this all happened outside of Pakistan, restricting the access of the national audience to a talent that, otherwise, might now be a household name.
Until then, he was a relative unknown, almost lost to the system entirely. His tale is unique; sport doesn't truly do fairytales, but this comes pretty close – the kind for which competitions like the PSL were set up.
"I was not selected for the Under-16 school cricket regional team," Khan recalls, perching on a bench and smiling as he speaks through a translator.
"My father was mad, and he said that this was not right. He decided we were leaving this country and that a travel agent would help us.
"We had planned that we would leave and that we would go to play cricket somewhere else to make a living. Then, we travelled to Peshawar, which was where these guys were who were going to figure out how we were going to go to England.
"While we were there, there was a first-class match happening, involving UBL. I knew some of the young guys who trained there, so I was playing with them outside the stadium – a couple of senior guys from UBL were batting and we were bowling to them.
"And then Nadeem Khan came and saw me."
Nadeem, the brother of former Pakistan captain Moin, was managing UBL at the time – United Bank Limited, before the team disbanded in 2018. He too enjoyed a brief international career as a left-arm spinner. He played two Tests and a pair of ODIs, dismissing Brian Lara and Desmond Haynes as his two Test scalps. His run out of Sachin Tendulkar at Eden Gardens famously sparked riots.
"Literally, Nadeem came up to me and said: 'We want to take you into UBL.' My father was also there because we were meant to be leaving. He talked to my father and he said yes."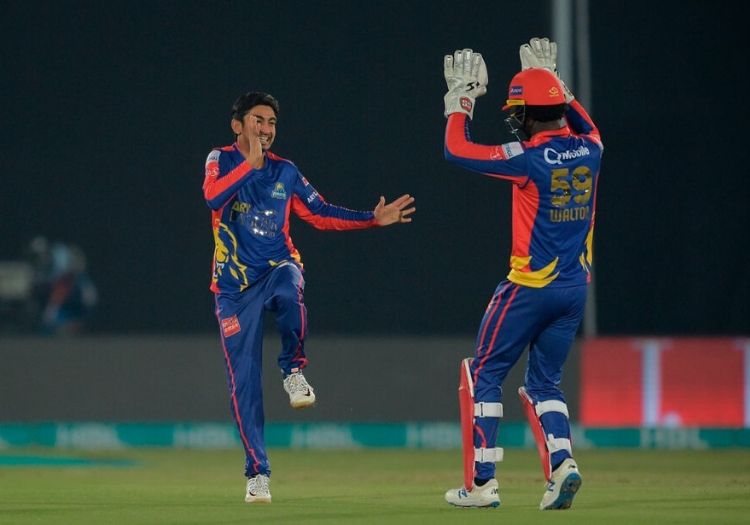 Umer Khan was spotted by former Pakistan bowler Nadeem Khan
Umer and his father were on their way out of the country, determined to fulfil their cricketing dream. And then, Nadeem changed everything.
"Everything that I am, I am because of Nadeem Khan," Umer adds. Theirs is a glorious relationship of mutual respect.
"He means everything to me. He supported me when I came to UBL. He protected me and motivated me and taught me everything. He is everything to me."
He pauses for a moment, before adding a final line and offering a chuckle. "A couple of months earlier, I had actually sent a friend request to Nadeem on Facebook," he says. It is simply an extraordinary quirk of fate, a miracle perhaps, that their paths should cross.
Umer would go on to make his debut for the now-defunct team alongside Shan Masood and Sharjeel Khan, under the captaincy of Younis Khan, an icon to any young Pakistani dreamer.
"When I arrived, he told everyone: 'What you all mean to me is what Umer means to me,'" he says. "Even though I was the youngest and the team was full of international stars, he said the relationship would be the same."
Now 50 years old, there is a gentle wisdom to Nadeem's demeanour. His face widens with pride and a hint of embarrassment even at the mention of Umer. He sees himself in the youngster. Nadeem runs an academy of his own and success stories like this are what he lives for. "I'm really proud of Umer," he gushes. "He's not just a good cricketer, but he's a very good human being.
"I always feel it's my duty to groom left-arm spinners and to give something back to cricket and to the Pakistan team.
"He's one of them that I'm training and some are really good, but he's the one I found as a 14-year-old, so I always feel very proud that he's at this stage.
"I just remember watching this little boy bowling in the nets. The nets were outside and we used to go out at the lunch break. At that time, I think he was 14 or 15. I saw him and our coach saw him; we thought he was very talented as a bowler and technically very sound.
"I spoke to Umer and then told him to call his father because he was a minor at that time. His father came and I asked him if he would give us permission to take Umer with us. We would coach him and give him a scholarship, so he could study as well at the same time."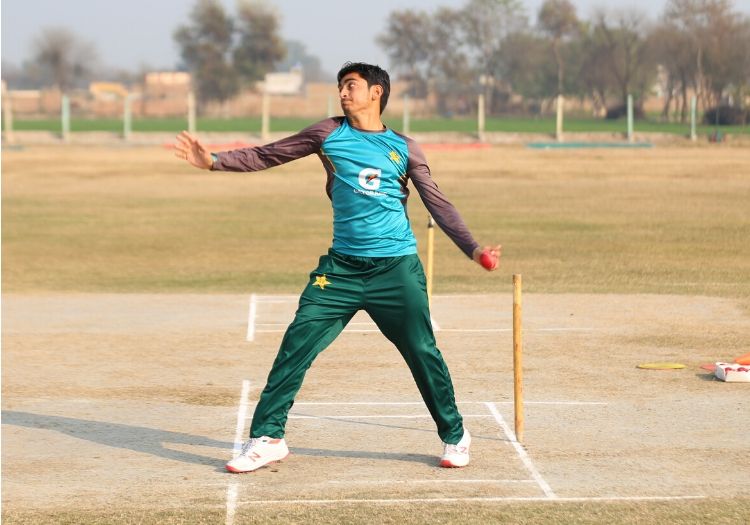 Umer Khan dismissed AB de Villiers in the 2019 Pakistan Super League
Both Umer and his father were easily convinced. It was a gateway to a pipedream. Looking back on it all is an emotional toll; of his 15 PSL wickets in 2019, one stands out. Facing Lahore Qalandars, he had AB de Villiers caught on the midwicket boundary just two balls into his second game in the tournament.
There is a rare joy to the video clip of the exact moment. His action has a balletic hopscotch to it. He flits to the crease, before leaping with a streetwise stutter, awaiting any movement from the batsman.
On this occasion, de Villiers – as so often – moved legside, preparing to mow the novice to wherever he wished. Only, Umer followed him, darting the ball in at his shins. The great South African had neither the width nor length with which to clear the ropes. As the catch was taken, Umer reeled away with an unbridled excitement.
It is a long way from home.
"One game changed my life," he reflects. "Now, people know me. It's a totally different feeling. The same people before the PSL used to say that my father and I – when we used to keep travelling in the heat to practice – were like madmen because we kept on going and kept on trying.
"But now that I'm in the PSL, they are so respectful. My father made so many sacrifices to train me and to help me. He went all in.
"There was no ground where I lived. It was a 25-minute or half-hour drive away; we used to take lifts from people. So, then we got a motorcycle; but three times we fell off. Then we got a small car. When we were poor, my dad used to work to fix punctured tires. That was his job."
Cricket is a terrific leveler, a reminder that anything is possible. In Umer Khan, a humble dreamer who never gave up on his fantasy, there lies living proof.
"The goal is simple," he adds. "I want to play for Pakistan and I want to represent the country. The ultimate goal is to work hard and become a legend.
"Dad is very happy now, but I have to play for Pakistan. Then, he'll be even more happy. That is the goal. Forever."
Images: Tareen Cricket Academy
Please ensure all fields are completed before submitting your comment!