The Moose Cup Powered By Daraz... and some of international cricket's strangest trophies
NED ECKERSLEY: With Sri Lanka and England playing for an unusual trophy, we delve into the archives to look at some of the strangest prizes that international cricket has seen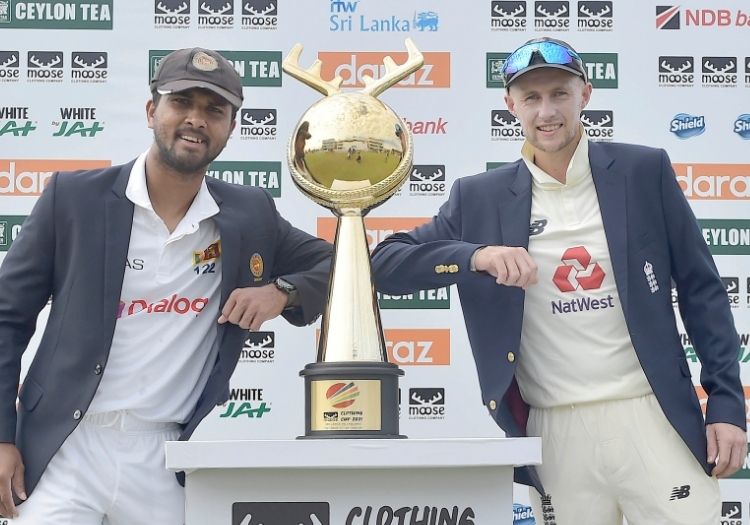 As Sri Lanka and England face off for the uniquely named Moose Cup Powered By Dawaz, we have dug up this piece from the archives, put together by Durham wicketkeeper Ned Eckersley.
With so many bilateral series in existence, the arms race for the biggest, shiniest, quirkiest silverware has been well fought over the years.
Here, we look back on six of the most unusual.
TUC T20 Cup – Pakistan v Australia, 2018
This one takes the biscuit. Whoever designed the trophy for this T20 series must have been absolutely crackers. Sarfraz Ahmed was the lucky captain to get his mitts on the biscuit-shaped cup after his team whitewashed the Aussies in the three-match series.
The food-themed trophy did leave a bitter taste in the mouth at the Pakistan Cricket Board, who were subsequently rumoured to have launched an investigation into the responsible department, with one source saying it is "planning a revamp in its marketing department". In spite of this it did not prevent another mishap in their very next series…
'Oye Hoye' Trophy – Pakistan v New Zealand, 2018
The PCB were at it again when they revealed the Oye Hoye Trophy for this Test series. Oye Hoye, in case you are wondering, is a Punjabi term used for when someone is impressed with something.
Well, with the trophy having been less than impressive, the cricket certainly made up for it with the Blackcaps winning a thrilling Test series 2-1. Be sure to keep an eye out for any more impressive silverware making its way out of the PCB offices when Sri Lanka and Bangladesh tour the UAE in the winter of 2019/20.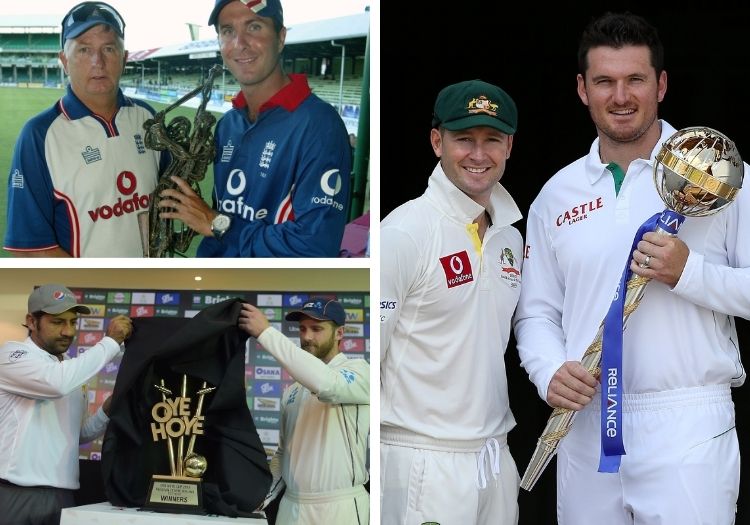 West Indies v England ODI series, 2004
With the prize for the victorious captain a trophy that resembled something out of The Lord of the Rings, it was no surprise that the seven-match one-day international series between West Indies and England ended in a 2-2 draw (with three washouts).
The trophy consisted of two intertwined figures that would not have looked out of place in one of Gunther von Hagens' Bodyworlds exhibitions – one a straining bowler and the other an exuberant batsman. But which of the lucky international cricket boards got to house the peculiar sculpture?
The Coca-Cola Cup, Sharjah, 1998
Mohammad Azharuddin looked less than impressed when he was handed the colossal replica of a Coca-Cola bottle top as India's prize for winning an ODI tri-series against Australia and New Zealand.
The last league match featured a sandstorm, and Sachin Tendulkar's whirlwind hundred to beat Australia became known as 'Desert Storm'. A Coca-Cola slogan once used in Pakistan translated to: "If you have a heart ask for more." But the event organisers opted for more conventional trophies in future years.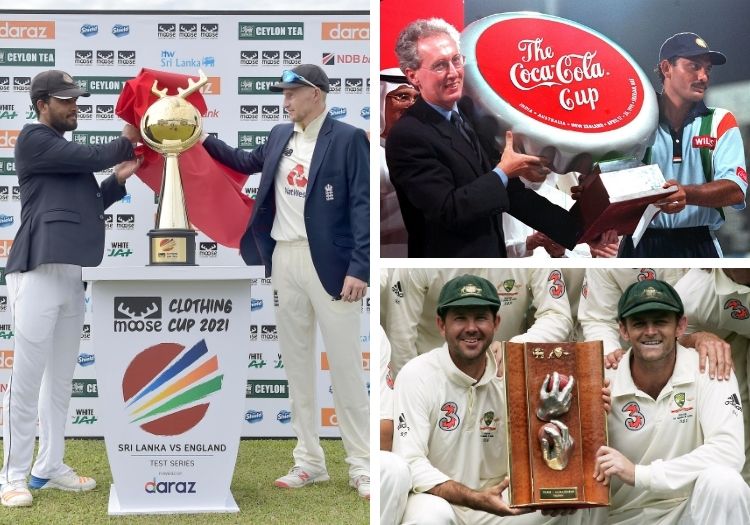 Warne–Muralitharan Trophy – established in 2007
Nothing defines cricketing excellence quite like the names Shane Warne and Muttiah Muralitharan. So the decision to name all Test series between Australia and Sri Lanka from 2007 onwards after the two of them is understandable.
What is not quite so clear is the need for the trophy to be of two, large, metallic right hands meant to depict the leggie and offie releases of cricket's two most prolific tweakers. Whatever happened to just using a small terracotta urn and filling it with ashes?
ICC Test Championship mace – established in 2003
On April 1 each year the No.1-ranked Test team receives a cash prize of $1m. But what about a trophy? Well, the victorious captain is presented with the ICC Test Championship mace, rumoured to be worth around £30,000.
The Test Championship mace gives Thor's Gríõarvölr staff a run for its money and can usually be found towering over players in the winning team photo. Later this year the ICC will turn the Test Championship into a more reciprocal league structure played over two years.
Sri Lanka v England image credit: SLC
Please ensure all fields are completed before submitting your comment!