The Cricketer and The Voice join forces in effort to address racial diversity issue in cricket
The Cricketer and The Voice newspaper will share synergy, content and ideas during the upcoming England-West Indies Test series which gets under way on Wednesday, July 8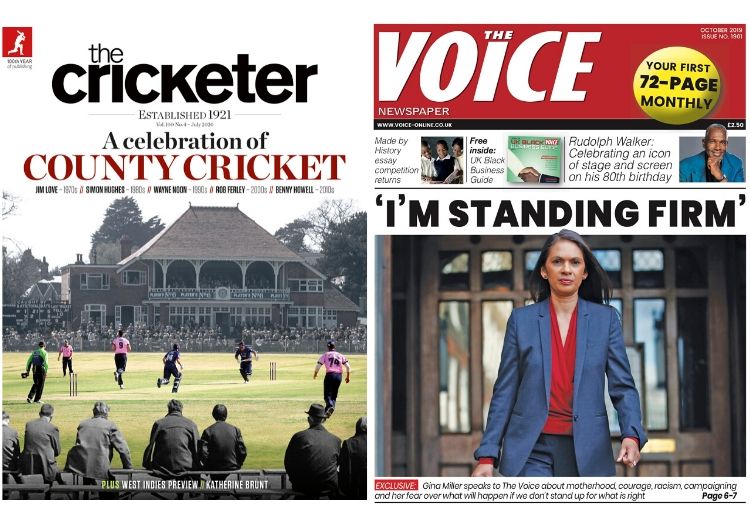 Two established and respected UK publications, with very different audiences, have come together as a positive response to the Black Lives Matter movement.
The Cricketer and The Voice newspaper will share synergy, content and ideas during the upcoming England – West Indies Test series which gets under way on Wednesday, July 8.
The Cricketer is the world's No.1 cricket magazine, which is due to celebrate its 100th birthday next year. It now also boasts one of the fastest-growing sports news websites in the UK, with a total worldwide digital reach of more than 1million cricket fans.
The Voice was founded in 1982 by Jamaican Val McCalla, who led a group of businessmen and journalists in a new and uncertain endeavour – the creation of a weekly newspaper to cater for the interests of British-born Afro-Caribbean people.
In the wake of recent global events, Covid-19 and the killing of George Floyd in the United States and subsequent global protests, there has been a call for greater unity.
The two publications have set a positive tone with their unique collaboration, which is eye catching and provides an example that others can follow.
The Voice will syndicate The Cricketer's coverage over the course of the summer, as well as collaborating on a series of podcasts and vodcasts, the first of which is released on Monday (July 6). 
Rodney Hinds, the sports editor at The Voice, said: "All credit to Sam Morshead at The Cricketer. He reached out and I felt a genuine appetite to unite and share.
"As a sports fan and professional, I have read The Cricketer for decades. Now to be able to work with the title is an exciting prospect.
"Cricket remains an integral part of our community and readership and to be able to enhance our coverage of the Test series is fantastic."
Sam Morshead, digital editor at The Cricketer, said: "The Cricketer wholly supports the racial equality principle which sits at the heart of the message that black lives matter.
"As an industry, cricket journalism can and should do more to represent our diverse community: both in terms of readership and employment opportunities.
"In teaming up with The Voice, we hope to start to address the first of these issues – giving a new audience an insight into our coverage of the England-West Indies series and beyond. We aim to learn more about how different audiences consume cricket, and what more can be done to engage them with our game.
"This is a small first step of our active plan to do our bit to address the diversity imbalance within our sport and our industry."
For comprehensive coverage of the England-West Indies Test series visit www.thecricketer.com and www.voice-online.co.uk.
Please ensure all fields are completed before submitting your comment!