T20 TEAM OF THE DECADE: Who makes the cut in our best of the 2010s XI?
XAVIER VOIGT-HILL picks a side of the decade's very finest short-format stars, from both domestic and international competitions. How many of the selections do you agree with?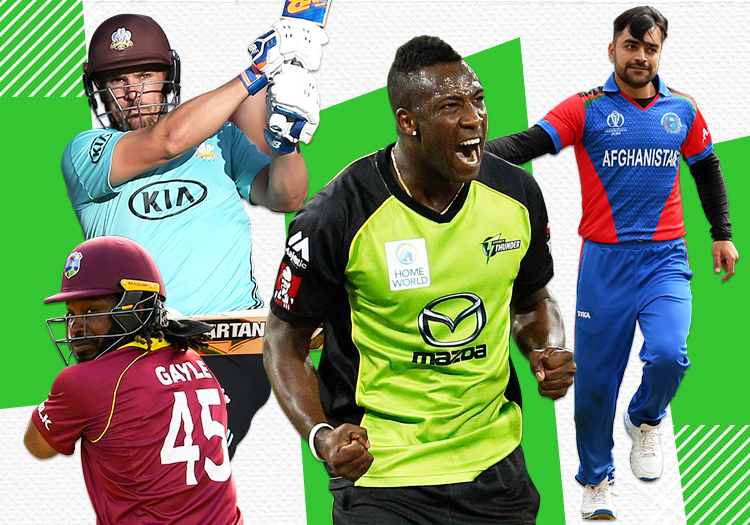 Chris Gayle
12,289 runs @ 38.40 (21 100s, 76 50s)
If a T20 league is played and Chris Gayle is not a part of it, has it even happened? The self-proclaimed 'Universe Boss' has been by far the most prolific short-form player in games, teams and runs alike, and despite reaching his fifth decade in September he appears to have no appetite to step away quite yet.
Gayle's wardrobe could double up as a fine museum of the franchise circuit, with his 46 West Indies caps since the turn of the decade joined by domestic outings in the colours of – wait for it – Western Australia, Kolkata Knight Riders, Jamaica, Royal Challengers Bangalore, Matabeleland Tuskers, Sydney Thunder, Barisal Burners, Dhaka Gladiators, Jamaica Tallawahs, Lions, Somerset, Barisal Bulls, Melbourne Renegades, Lahore Qalandars, Chittagong Vikings, Karachi Kings, St Kitts & Nevis Patriots, Rangpur Riders, Kings XI Punjab, Balkh Legends and Jozi Stars.
Even if you racked up three hot dinners a day without fail since the start of 2010, you would still be more than 1,000 short of having as many as Gayle has gobbled up T20 runs in the decade, and he finishes as the only player with almost three times as many tons in the format as any other batsman in history – David Warner and Michael Klinger are next with eight each – including 2013's world-record 175 not out and its 30-ball century
Aaron Finch (c)
8,546 runs @ 36.05 (7 100s, 58 50s)
Were it not for Gayle's near-timeless endurance, the opening partnership could easily be Australia's combination of Aaron Finch and David Warner, but Finch edges out his colleague here by virtue of his his exemplary international record.
Among batsman to have faced a minimum of 250 balls in the format since the start of 2010, Finch's strike rate of 156.5 is the fourth-best in the men's game, and his two centuries in the green and gold have each been world record totals – his 63-ball 156 against England in Southampton in 2013 held the crown for almost five years before he tallied 172 against Zimbabwe in the longest innings (76 balls) the format has ever seen.
Finch also sees off stiff competition from compatriot Chris Lynn, with whom he shares an incredibly similar Big Bash League record. The pair are currently just eight runs apart at the top of the all-time leaderboard with one century and 17 fifties each, though Lynn has a higher average (39.50 v 37.88) and strike rate (152.8 v 136.4).
However, Finch takes the lead in our side after leading the Melbourne Renegades to the 2018/19 title in addition to his international duties, and his impressive numbers overseas – including an average just shy of 150 for Surrey in 2018 – show his capabilities in a multitude of conditions.
Virat Kohli
8,070 runs @ 44.59 (5 100s, 62 50s)
Kohli has dominated the sport like no other player in recent  times – he was a comfortable first place on our countdown of the 50 best players of the 2010s – and as such it is only to be expected that he is the only player to make all three of our decade-end format XIs. 
More than half his T20 runs have come while leading Royal Challengers Bangalore in the IPL after being appointed to the role in 2011, with final appearances in 2011 and 2016, the year he collected the Orange Cap for a league-record 973 runs at 81.08, including four centuries and seven further fifties.
The 31-year-old has also lead the way on the international stage, with teammate Rohit Sharma second to his tally of 2,633 runs – averaging above 50 – in short-form contests for India in the decade. While India have not tasted victory in the T20 World Cup since the inaugural edition of 2007, Kohli has nevertheless come away with player of the series in both the 2014 and 2016 tournaments, and it would take something very special to stop him from making it a hat-trick when the tournament returns in October.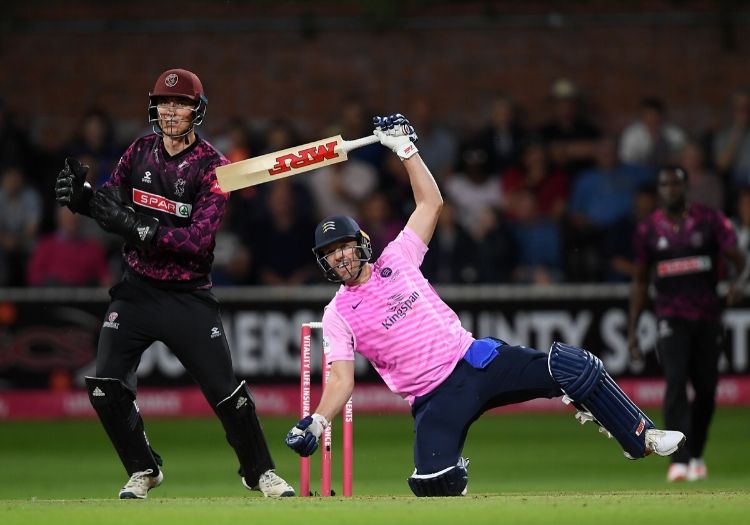 AB de Villiers continues to inspire legions of wicketkeepers with his eccentric short-form prowess
AB de Villiers
7,241 runs @ 38.52 (3 100s, 53 50s)
A prime innings of de Villiers' is easily the most thrilling batting spectacle of his generation. No bowler, fielder or even spectator was safe, and he only grew in confidence and dominance as his innings went on – between overs 14 and 20, he has struck continuously at almost two per ball continuously since 2013.
While his most impressive work for South Africa has come on the Test and 50-over stages, or while athletically leaping around the field or behind the stumps in his younger years, rumours swirling around de Villiers possibly returning to the international setup ahead of next year's T20 World Cup in Australia are tantalising for fans of all nations. Even with a body beginning to creak at the wrong side of 35, Middlesex supporters can tell you that there is more than enough left in his system after a breathtaking T20 Blast debut in 2019.
Jos Buttler (wk)
5,702 runs @ 30.49 (39 50s), 134 catches, 27 stumpings
As tempting as it might be to hand the gloves to either AB de Villiers or Brendon McCullum, both have played the vast majority of their T20 this decade as specialist batsmen. That opens the door for a solitary Englishman in our XI, with Buttler having scored all but five of his T20 half-centuries as the designated wicketkeeper, including seven in England colours.
Having debuted for Somerset at the tail end of 2009 in the Champions League competition, it was not until the county returned to home soil the following summer that he began to make his mark properly on the short form, and such was his success (striking at 160 as the county were only denied a title defence by Hampshire losing fewer wickets in the final) that he was first in an England shirt 12 months later.
An electrifying proponent of the 360-degree approach pioneered by the fellow gloveman man just one spot above him in our XI, Buttler can and will seize games like few other cricketers could even dream of, whether opening (as he usually does on Rajasthan Royals duty in the IPL) or at the death to make totals insurmountable. 
Mohammad Nabi
3,720 runs @ 22.40 (10 50s), 246 wickets @ 23.31 
Perhaps the most left-field choice in our XI, which is not exactly short on either the compelling interdisciplinary talents or stoic leadership that The General can provide.
Certainly, Nabi's could be described as a more sentimental selection than anything else – on a more analytical front, one could very easily be tempted by a Shane Watson or Glenn Maxwell to slot in at the six spot and chuck in a couple of more-than-handy overs, and Shakib Al Hasan misses out largely thanks to his ongoing suspension for breaching anti-corruption regulations.
But the Afghan veteran stacks up very admirably against his peers, with numbers through a decade of doggedly lifting his country to the upper echelons of the world game and more latterly rewarded with a suite of franchise outings, and an outstanding winning rate for the teams he has represented.
With his off-spin, for example, his career figures are akin to Ravichandran Ashwin's – 10 more wickets at a more potent strike rate, and just 0.07 per over more expensive – and his strike rate has topped 185 in between overs 14 and 20 during each of the last four years, in which he has emerged as a real force for franchises.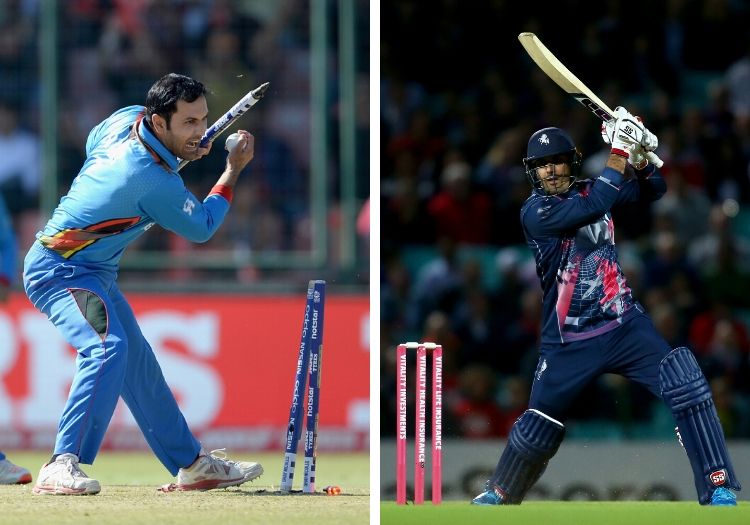 Mohammad Nabi recently retired from Test cricket after establishing himself as a go-to T20 signing
Andre Russell
5,187 runs @ 26.46 (2 100s, 17 50s), 287 wickets @ 25.57
Dre Russ is the dream vision of a T20 allrounder, capable of turning a game just as easily with devastating cameos with the bat and scorching pace with the ball. He is one of only three men to have a career strike rate above 170 – and Devdutt Padikkal and Ed Pollock above him have each played under a tenth of his 314 games – and yet his tally of wickets since his 2010 debut trails only Sunil Narine and Lasith Malinga among our XI. 
However, despite his 47 appearances in the maroon of the West Indies including World Twenty20 titles in 2012 and 2016, his international record does not reflect the ferocity of the performances that have made him one of the biggest celebrities in the global game. It is worth noting his minimal contributions to those world finals – in 2012 he neither bowled or survived a ball, and four years later it was Carlos Brathwaite making headlines after Russell picked up only one run and one wicket.
But Russell's brace of IPL player of the tournament honours in 2015 and 2019 have done more for his stature and marketability than a career of international brilliance could manage for many, and – dodgy knee permitting – there seems to be no stopping him on the franchise hamster wheel.
Kieron Pollard
9,539 runs @ 31.35 (1 100, 47 50s), 251 wickets @ 24.90
Albeit still more than 2,500 runs adrift of sometime West Indies teammate Chris Gayle's decade tally, the towering allrounder is closest to joining the 10,000 run club both for the decade and his career as a whole, having recently overtaken Brendon McCullum for second on the all-time chart.
Pollard has achieved such success more through incessant consistency than the Jamaican's blistering peaks, only once passing three figures in his 427 innings this decade, though he has made at least one half-century in the colours of 14 different teams.
Again, like Russell and several other Caribbean stars of the circuit, such globetrotting has often come at the detriment of the islands' side, though Pollard has not struggled on the IPL stage – Mumbai Indians have handed him 148 caps in the competition since he joined in 2010, second-best of all overseas players in the tournament's history (AB de Villiers, who debuted in 2008, leads by six) and trailing only Virat Kohli among one-franchise men.
And, while lacking the obscene pace of Russell, his ever-canny right-arm medium is sure to perfectly complement the diverse and spin-heavy makeup of our XI whatever the conditions.
Sunil Narine
379 wickets @ 20.36
It is hard to identify a player more emblematic of the last decade in T20 than Sunil Narine. The Trinidadian may have had to wait until 2011 – two years after his first-class entrance – before getting a chance in the format, but he made up swiftly for lost time by being named player of the IPL just one year later for taking Kolkata Knight Riders to a maiden title with his deceptive spin.
That maiden apperance on the global stage brought 24 wickets at under 5.5 per over, and he has since gone on to repeat the gong in 2018 after adding brute force opening to his arsenal, despite the Knight Riders falling at the penultimate stage on that occasion.
Only Dwayne Bravo and Lasith Malinga have more than his 379 wickets in the format – two players who debuted five and seven years before him respectively – and neither come close to touching his 6.02 economy through a vast sample of 331 appearances.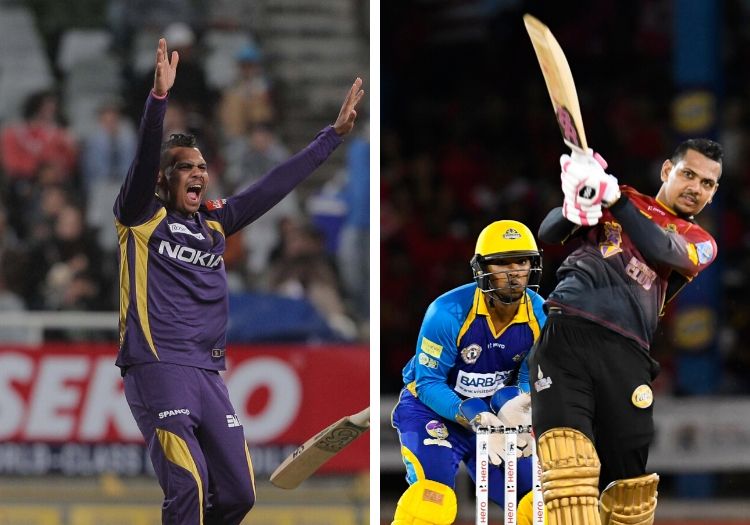 Sunil Narine has blossomed both as a mystery spinner and latterly a rapid opener on the T20 circuit
Rashid Khan
279 wickets @ 17.06
Despite having only just entered his fifth year as an active T20 cricketer, such is Rashid Khan's golden reputation that the 21-year-old Afghan would be a near-certain first name on the teamsheet today for any outfit lucky enough to have him. So much was confirmed in October's draft for The Hundred, where Rashid was the first name snapped up by Trent Rockets.
Only West Indies spinners Samuel Badree and Sunil Narine have better economy rates than Rashid's 6.28 with more than 100 wickets to boot – a figure that lowers still to 6.01 on Afghanistan duty – and he has increasingly begun to follow Narine's lead in taking on electric pinch-hitting duties to further sweeten the deal.
But, despite his reputation as a thoroughly modern globetrotting cricketer, it is on the international stage where his numbers truly exemplify his talents: his decade-leading 84 wickets have come at only 12.52 apiece, with a decade-leading strike rate of 12.2, and he is one of just four bowlers in the men's game to have multiple five-wicket hauls, including a career-best line of 2-1-3-5 against Ireland in 2017.
Lasith Malinga
334 wickets @ 19.24
Rumours of Malinga's demise have on several occasions been greatly exaggerated, and this year's return the short-form front-line has demonstrated just how much life remains in Sri Lanka's veteran yorker slinger – even if he is now more of a dobbly medium than the fearsome pacer of yore.
Only Rashid Khan has pipped his tally of 82 T20 international scalps since the start of 2010, and his 5-6 against a visiting New Zealand in September not only became his finest return from a 14-year career in the format, but also included just the second incident of four wickets in four balls by one bowler in an international cricket match – after himself at the World Cup of 2007, of course.
The haul was Malinga's second hat-trick at the level after one against Bangladesh two years prior, and capped a fairytale 2019 that saw him return to IPL action after a year on the Mumbai Indians coaching staff and seal his third consecutive trophy with the side, by holding Chennai Super Kings one run short of levelling the scores when entrusted with the final over of the series.
Disagree with Xavier's picks? Name your T20 team of the decade in the comments section below.
Subscribe to The Cricketer this Christmas and receive a £20 John Lewis voucher or Alastair Cook's autobiography. Claim your free gift here
Please ensure all fields are completed before submitting your comment!