How Strauss' England found The Edge… and then fell off it
JAMES COYNE: Andrew Strauss and Jonathan Trott open up about Barney Douglas' engrossing new film about their great England team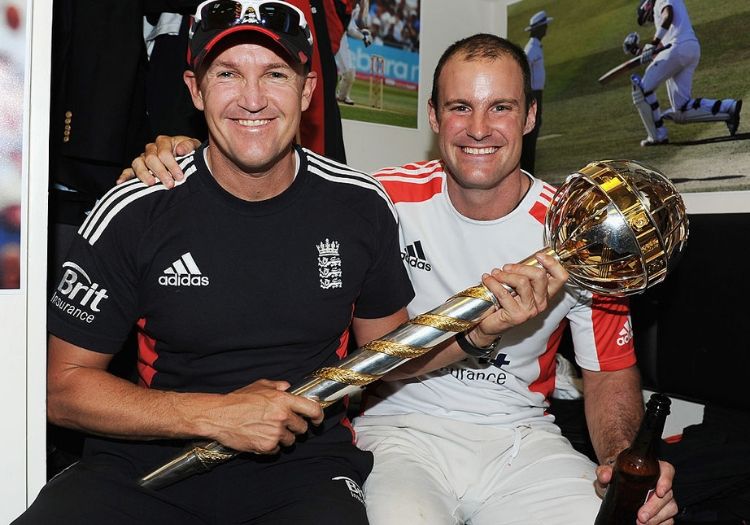 You don't watch a docufilm expecting to be swept along by a star performance. But there's no doubting who the star of The Edge is.
Jonathan Trott played 52 Tests, 68 one-day internationals and seven T20 internationals, which is roughly half the number played by the other top-class batsmen around him – Andrew Strauss, Alastair Cook, Kevin Pietersen and Ian Bell – in the great England Test side overseen with near-military precision by Strauss and Andy Flower.
And yet, in this candid and emotional film about England's rise to the top of the Test rankings and subsequent disintegration, it is Trott's story which sticks with you most vividly.
This is Barney Douglas' second screen work, after Warriors, his 2015 docufilm of the team of Maasai cricketers from Kenya. A change of pace then – from the game's newer frontiers to the world's elite – but still shot through with Douglas' euphoric style.
The biggest giveaway that there's more budget behind for The Edge than Warriors is that Toby Jones narrates it rather than Douglas himself.
Then there are the bespoke shots of an England batsman – we assume it is Trott, though it is deliberately obscured – plunged head to toe in his gear into water. A diving bell allows a diver to breathe, but here it is as if the famous blue England helmet is almost suffocating him. For those who know Trott's struggles with anxiety towards the end of his England career, the inference is fairly clear.
Douglas spoke to The Cricketer about how he conceived the shoot.
"We got this little tank somewhere in Peterborough… we've got a limited budget," he said. "We got there and stuck Trotty in the gear and I said: 'I'm trying to represent your anxious state and what it might have felt like'. And he was like 'yeah, fine', so I just lobbed him in.
"I remember how committed he was to the process. I would say 'this is what I want to get and this is what I want you to look like' and he would switch and on and was committed to it. Which is really fascinating to me. Because Swanny [Graeme Swann] would have been doing the opposite – he would do exactly what you didn't want him to do. But Trotty absolutely delivered."
Equally as evocative are the scenes of Trott scratching his guard in a farmer's field in the Sussex Downs, replicating his "quiet sanctuary" at the crease. Happily, Trott agreed to take time out after a day of Warwickshire's Championship match at Hove last September – the penultimate game of his career – to commit the scenes to camera.
As Trott scratches his guard, what springs to mind is the 2010 Lord's Test against Bangladesh, the winning runs just achieved, and Trott scratching in the dust as if there was another hundred still to get.
"I never told him to do it that way," says Douglas. "I just said 'can you walk out and pretend you're batting?'
"It was my idea to put him in the field. He originally thought I meant a cricket field, and then we turned up on the Sussex Downs and he said 'Where's the cricket field?' and I said 'No, I meant an actual field'.
"He said all right, and climbed over the fence and walked out there and did it. We had to rush to get it done in half an hour as the light was amazing. It would have been the end of the summer, September-time. That was the day that I felt the film was on – he committed to it and he trusted me. Credit to Trotty – he's the heart and soul of it."
Trott was sceptical at first, but he went with Douglas' hunch.
"I said: 'Barney, are you sure this is going to work?' But I knew Barney would make something really special out of it, whatever he did. A nice guy, and you tend to go above and beyond a bit more for nice people."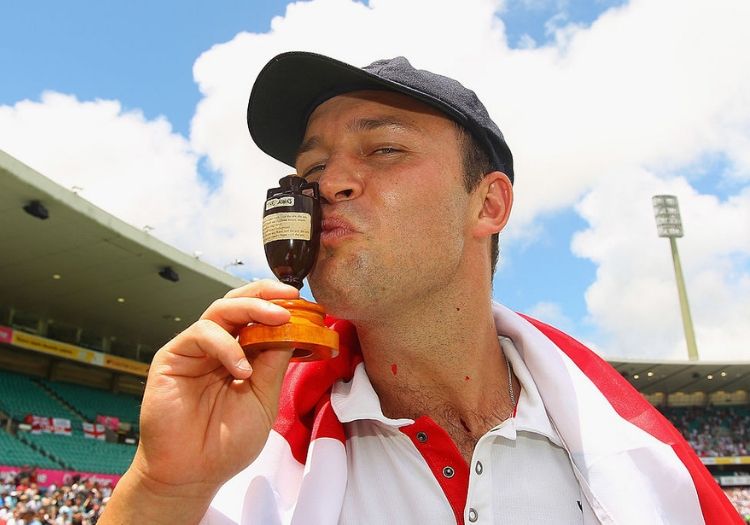 Jonathan Trott is the star of the new The Edge film
For Trott, now working with Kent as their batting coach, it was part of his process of closure from his playing days. His 2016 autobiography written with George Dobell, Unguarded, had already dealt with his six years with England in depth.
"Doing the book gave me a bit of closure on the end of my international career. When I was doing this film I was coming to the end of my county career, so it was cool to do this at the end of my cricket career, to be part of something like this. My final game, against Kent at Edgbaston, is added in to the film and that's all a bit of a bonus."
Douglas' role as the dedicated in-house video reporter for the England team during the period in question allowed him to make friends or acquaintances in and around the team.
So, in many ways, the trump card of The Edge is the home-video footage from the time, most of which Douglas took, and which he must have prudently backed up on The Cloud. There's a bit of everything: KP and Trott dancing in the dressing-room; bungee jumping; David Saker's speech on the outfield at the end of the victorious 2010/11 Ashes.
It gives the film the feeling of going behind the scenes without - as Douglas is no longer employed by the ECB - being an establishment whitewash.
Perhaps the biggest pleasure, for a team which was fairly tightly regulated when it came to discussing their team culture is to hear the figures involved speak so openly ("That match was our massive pile of vomit"; "My first impression of Andy Flower: loose cannon".)
Indeed, in the case of Strauss and others, there is a degree of regret that they might not have let quite enough light in at the time.
He says: "With reflection I actually think we should be less worried about that stuff coming out. It engages people with what you're trying to do. And it also helps trying to understand the personalities and the character rather than just the team performance."
It seems the ECB and players had no issue with Douglas using the footage – perhaps they, like the rest of us, have come to accept the role of digital media. It also helps we are under a different ECB regime to then.
Douglas says: "Because it was 10 years ago people have moved on. When I started the film Straussy was the director of cricket, which did no harm. With him on board, and then Flower, that gave status to it.
"I went to Straussy first and then to Flower. I met him at Lord's and he was brilliant – he really understood it. I knew Andy and respected him and he was really good with me. I also didn't know him that well – I wasn't quite sure how he'd respond to it. But he got it straight away and wanted to be involved.
"Kevin [Pietersen] took the longest because I think he was worried that he was going to be made to look the villain. I think once we explained that there is no real fall guy in this film he came on board."
Douglas bypassed the movie-maker's temptation to set up heroes and villains – though the dastardly Aussies come close to it – and instead puts focus on the harsh glare of international sport.
"Most of it was my footage," says Douglas. "I think time had passed so I don't think it was an issue. Nathan Leamon, who was the analyst, had some clips from an early iPhone. Some of those special bits, like that speech by David Saker, was gold.
"People were ready – they're at a certain age where they're reflecting on things and getting into the next stage of life – it's a cathartic process for a lot of them and so there was no reticence from them. It was just a lot of fun – showing all the insider bits that we weren't able to at the time because it was a very controlled environment."
Douglas is in no doubt that the team environment was more intense than the current set-up overseen by Trevor Bayliss.
"It was creating this bubble and the impenetrable team dressing room like [Sir Alex] Ferguson did at Manchester United a bit. This England team fell in this strange gap where cameraphones and social media were just coming in towards the end, but it was not like it is now. Because they were quite a closed shop there's actually not much footage flying around."
The best of the inside footage is from England's pre-2010/11 Ashes training camp in Bavaria – designed by team director Flower to be as gruelling as possible. Jimmy Anderson cracked a rib in a boxing duel; Chris Tremlett bruised his; Steven Finn's pain is laid bare on camera.
Poor old Finny: when you watch that, and Stuart Broad reflects that no other team in the world would have dropped Finn for the Boxing Day Test after he was the leading wicket-taker in the first three Tests… these are the moments when the gut tells you that Flower and Strauss took their demands a little too far at times.
"The first day I tried to carry some of the bricks," says Douglas, "but after a while I was like 'screw this' – so I just followed them around. I have to say – I loved it. It was tough, horrid, even – mainly because they all had hangovers from the PCA Awards. But there was that strange feeling of euphoria at the end of it so you can see why it worked in bringing the team together, definitely."
The dominant theme arising from The Edge is the question of how to balance the demands of achievement while also looking after your employees. England ascended to No.1 in the world after thrashing India at home the following summer, yet they declined into acrimony fairly quickly with the KP farrago. At the worst point, Flower was on the road for 250 days a year.
Trott reflects: "It might have been because we were quite an old side when we came together. I was 28 when I came into the side, Swanny was 29…"
Douglas says that years on the road had worn him down too: "I was going through a similar process… I didn't have the same scrutiny as the players, sure. But when you're away for that period of time – the first few years are great seeing places you've never seen before but then it drags on and on and I'd come home and I'd be in my flat. In my hotel room I'd I feel a bit more normal, which is really strange.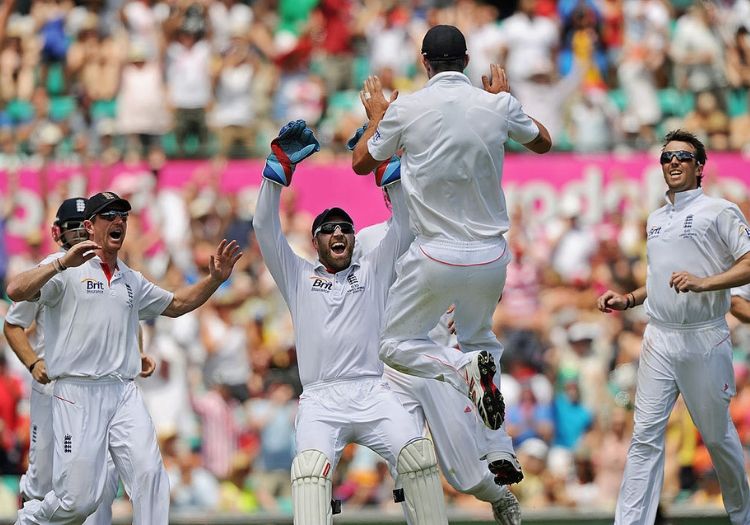 England were a united team who fell apart at the seams
"Obviously I didn't understand playing at the top level and being in the field but I understood the journey they went on and how it felt freer at the beginning and then it was quite suffocating from all perspectives – a coaching perspective, a media perspective, a press perspective – it all changed."
Trott made it his point, he says, to avoid being drawn into cliques and factions. That meant getting on with both the grumpy bowlers and Kevin Pietersen, even when relationships between the two groups were strained.
"My relationship was good with KP, and still is good. I always saw it as my job to get on with everyone I played cricket with – whether you'd played 100 Tests or it was your first, I'd speak to you the same way."
It is to Trott's credit that he doesn't blame the harsh glare of international cricket – either the punishing schedule or the unrelenting standards demanded of him – for his stress-related problems which blew up in the 2013/14 Ashes.
"Nah, I don't think it's that. I think it was the way I was and the way I drove myself. Sometimes you can overdo it and lose perspective. And it's something I've learned from and will hold me in high regard when it comes to my coaching career. It gives me that full spectrum of the highs and lows of international cricket, which can only serve you well in future when it comes to players dealing with things."
Strauss, a naturally empathetic man, acknowledges that the team's support structures may have slipped back a bit due to demands on all fronts. Flower, to his credit, also admits to shortcomings in his own man-management; by all accounts he is now a calmer figure.
Strauss says: "My reflection is that we actually started as a very supportive environment, and over time added in that focus on what it was we wanted to achieve. And then it became a little bit more about what we wanted to achieve, and the support drifted a little bit.
"The strength of togetherness dissipated a touch – that might just be the natural evolution of a team or group of individuals, but I think that possibly sowed the seeds to what happened at the back end."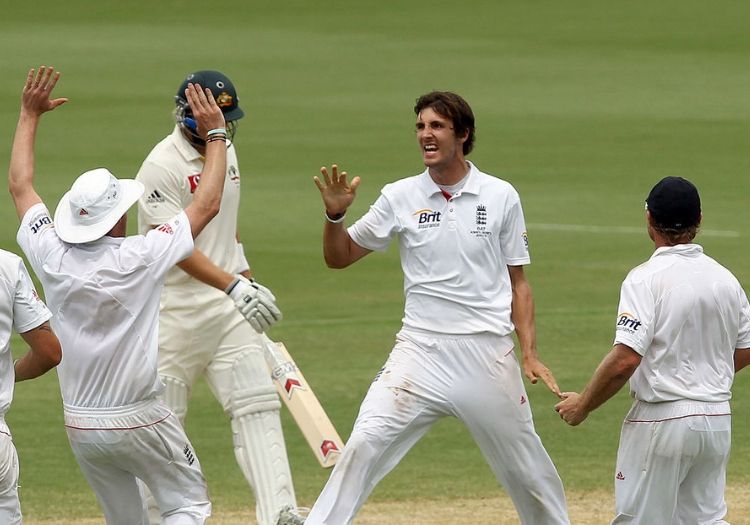 Steven Finn was one of the stars of the 2010-11 Ashes success - but was dropped mid-way through the tour
The ECB learned some lessons by decoupling Ashes and World Cups from the same winter. It's always easier at home, but pastoral support for England's all-format players must remain high on the agenda in this most intense of summers in 2019.
Strauss says: "We were constantly 'on'. We were lucky to have a two or three-week period off. So we just had less gas in the tank. We were becoming more and more vulnerable. You're tired, you're not processing your emotions properly, you become more vulnerable to what we saw at the end of the film, getting yourself in a bad place mentally, without the mechanism to get out of it."
The emotional highpoint of the film comes near the end when Trott crumbles at the thought of never taking to the crease again with the elite batsmen of their day ("When you have a good partnership with the other guy you feel invincible in a way."). More than that, they were his friends and team-mates. As Felix White's atmospheric score soars, it is impossible for a cricketer not to feel a kinship with Trott.
He tells me: "That's why you do all the hours in the gym, to earn the right to be out there with the best players who have played. Those four people – Strauss, Cook, Pietersen, Bell – they all played 100 times for England, and how they played was very special. I played 50 Tests and was immensely proud to be alongside them. I held them in very high regard and still do."
Was this side the last of their kind? A small, close-knit 'Team England', a model which the ECB bust a gut trying to build in the late 1990s, with Test success as the pinnacle? Is that unbreakable togetherness even possible now, in a world where the world's elite players flit in and out of franchise T20 dressing rooms?
"It's changed now," says Douglas. "Certainly from a physical and mental perspective, it's changed for the better. But it's now three pretty separate teams, which is splintering and fragmenting the game – precisely how that will go, who knows?
"But it definitely was a symptom of one team and that's it – creating that unity across 40 players is difficult, I think. That's why it was so unique and so tough."
The Edge was released in selected cinemas from July 19 and across all platforms from July 22, following a special screening featuring a Q&A with the stars broadcast into cinemas across the UK on July 17
Please ensure all fields are completed before submitting your comment!