State of play healthy at Watford Grammar
ED KRARUP finds out what it takes for a state school to run a successful cricket programme
It is a sad truth that many cricketers who emerge from the state school system make it in the game in spite of their school's cricket programme, rather than because of it.
Their success is usually owed to other factors, such as their local club or an enthusiastic and supportive family. However there are institutions in the state sector that are bucking this trend.
For example England off-spinner Mady Villiers recently told The Cricketer that had she not attended Shenfield High School she would never have even played the game, let alone reach the professional level. Furthermore the ECB's 55-man summer training camp included James Bracey. The Gloucestershire wicketekeeper/batsman attended South Gloucestershire and Stroud College who run a superb cricket programme, and there is no doubting the role that the college played in Bracey's rise.
Facilities and investment aside, commitment to cricket in the curriculum and a willingness to get the game on can go a long way to creating a cricket programme that all state schools can aspire to.
Watford Grammar School for Boys is a superb example of this. "We encourage all boys to get involved in sports, especially cricket," Luke Samarasinghe tells The Cricketer. Samarasinghe is the head of cricket at Watford Boys. In the autumn he will take up a role at The British School in Colombo, Sri Lanka, but he looks back on his eight years at the school with immense pride.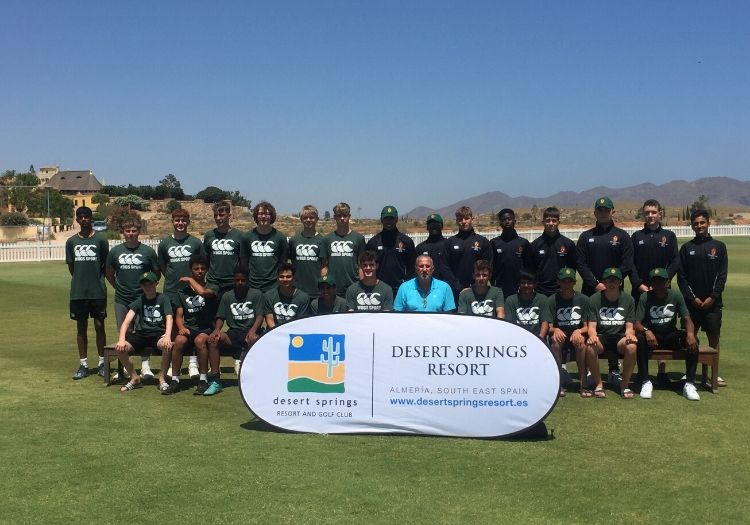 On tour at Desert Springs
Samarasinghe explains that one of his first goals upon arrival was to improve the fixture list. The north London and Hertfordshire region is particularly strong when you consider it is home to Merchant Taylors', Haberdashers' and Berkhamsted, as well as St Albans School, St George's Weybridge, Hitchin Boys' School and Dr Challoner's Grammar.
"Sometimes I worry it is too strong! But we are competitive," Samarasinghe chuckles. The strength of opposition doesn't just apply to results, though. "To play these schools we need to commit to big blocks of fixtures which can have anywhere from four to 10 teams playing."
It can be tough work putting out that many teams a week, especially considering Saturday – when private schools play their fixtures, is not a school day for Watford Boys. But Samarasinghe has no choice. "It's amazing we are playing all these games but the trouble is if I don't commit to these blocks we don't have many schools to play."
This is quite a common problem for state schools. Of course, they want to mix in with their independent contemporaries but this type of opposition will, by the nature of having organised and compulsory sport, have at least half a dozen teams for whom they need to find fixtures.
Watford Boys are able to put out this number of teams but it is not as easy, with players having to commit Saturdays to representing the school. It is not only the pupils who have to commit a day of their weekend, though.
"What sets us apart is our staff. We are so lucky with our facilities but every member of the PE department takes a team and works every Saturday out of goodwill. We work nearly every Saturday throughout the year on a voluntary basis."
The importance of this cannot be overstated when considering why Watford Boys have put together such a successful cricket programme.
Not only does having so many staff members available tick a logistical box, allowing more teams to be run, it also instills a passion for the game, which starts at the very top.
"Even the headmaster, Ian Cooksey, took a team last year. He took the 3rd XI. He loves his sport, cricket especially and is a member at Surrey. There is a schoolwide passion for the game and everyone knows how important it is to the boys. The type of teachers who work here are prepared to commit time on a Saturday to the boys which is quite unique."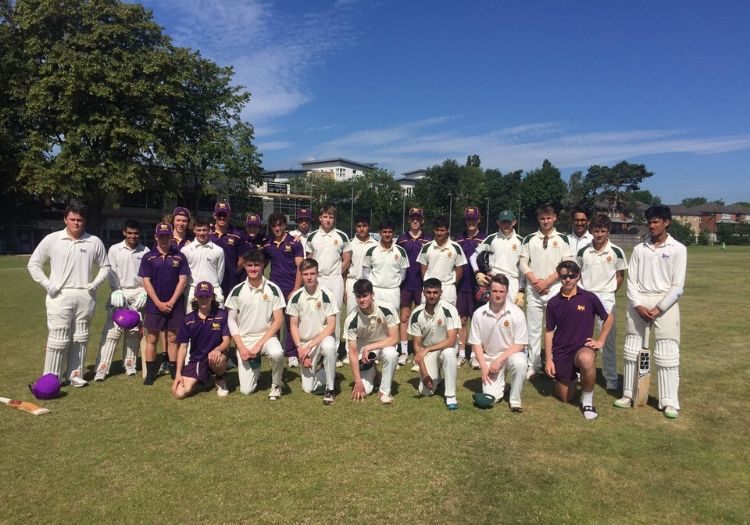 Watford Boys welcomed Wesley College, Melbourne last summer
But it takes more to make cricket happen. The boys may be interested in the game but training sessions and matches have to be organised, while the boys need to be engaged enough to keep coming back for more.
"I think any state school could run a cricket programme," Samarasinghe continues. "You just need someone driving the game."
Samarasinghe does acknowledge how lucky the school is to have four pitches on-site, enabling them to house more teams but he also stresses that the summer term needs to be "as fun and flexible as possible."
"The term is getting shorter and shorter while pupils are sitting more exams. I had one boy sit 29 exams for his GCSEs last summer."
Cricket still serves the same purpose during this lockdown as it would do in a normal summer. Sport can always be used as a release from the stresses of exams and impending times of change, whether that be university or entering the world of work.
At Watford Boys, the cricket programme isn't designed to produce the next generation of England players. There's nothing to say that it can't be done but what makes this a superb cricket institution, and an example to other state schools in the UK, is the passion for the game, right from the very top.
For those looking to grow the game in their school, enthusiasm and commitment are a great place to start.
The Cricketer would like to thank Durant Cricket for their support of our schools cricket coverage. For more on Durant Cricket, including booking a site visit, please click here
Please ensure all fields are completed before submitting your comment!