"O Captain! My Captain": In appreciation of Tom Abell
SAM DALLING AT TAUNTON: It is time to talk about Abell. Since the Bob Willis Trophy began, he has racked up 1,021 first-class runs from first drop at 51.05. Passing fifty eight times, he has converted a trio to centuries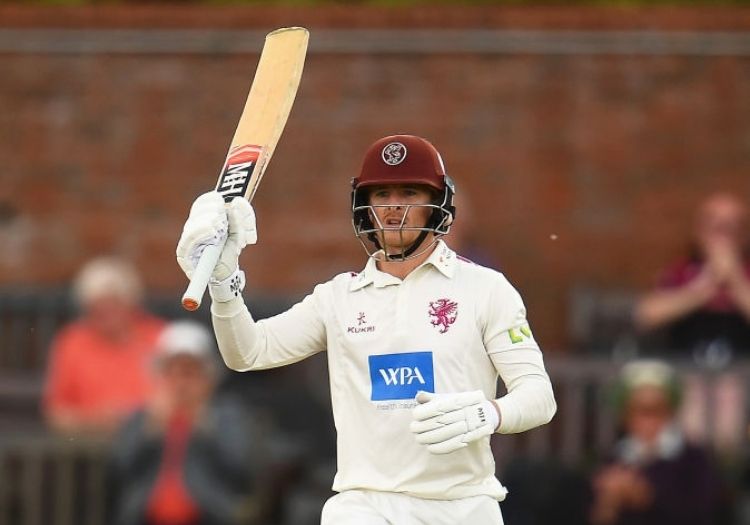 "O Captain! My Captain"" wrote poet Walt Whitman, an American name-checked in company as illustrious as Homer, Virgil, and Shakespeare.

They were words also cried by the 1,900 Somerset members basking in the Taunton sunshine when Tom Abell rocked back to cut away, only for a Felix Organ delivery to keep low. A bottom edge and the stumps were shattered, the skipper two shy of a second hundred in as many games.

It would have been a deserved milestone too, 154 balls of total control yielding fifteen boundaries. He took a liking to Kyle Abbott, off whom he claimed eight fours. He leant into a good handful of drives cuts with balance and grace Rudolf Nureyev would have admired, while he whipped away viciously the one time Abbott strayed onto his pads. The best shot, though, was a glorious on-drive to bring up a team half-century. It was Abell's only scoring shot down the ground, and brought a gasp of appreciation from those present.

And before succumbing, he dictated Organ's tune and tempo, rocking back to punish a short ball, and cutting him away merrily several times. It was slightly surprising Organ bowled as many as 29 overs, what with Liam Dawson in the side. Quite what Mason Crane thinks of it all is anyone's guess, although in fairness Organ did claim three wickets.

Surely now it is time to talk about Abell? Like, seriously talk about him. Since the Bob Willis Trophy began, he has racked up 1,021 first-class runs from first drop at 51.05. Passing fifty eight times, he has converted a trio to centuries.



Abell has led Somerset since 2017, Matt Maynard – then dual head coach and director of cricket - seeing enough character to anoint him Chris Rogers' successor. A "genuine leader of men" was how Maynard described the then 23-year-old, who had played just 32 red-ball games.

There was no fairy-tale start, Abell dropping himself following a torrid run. A pair against Hampshire led to tears on the coach journey home. He returned stronger, and that experience will never leave him. It gives him crucial empathy as a captain.

Since navigating that tricky patch, Abell has thrived, turning himself into a multi-format performer. Initially regarded as a red-ball specialist, his dynamic 360 degree hitting has seen him feature in both the Pakistan Super League and the Abu Dhabi T10. He also had a gig in The Hundred before it was postponed.

Amongst the county game's top fielders, Abell is a deceptively sharp seamer, his stock ball moving away from the right-hander. Many believe well-placed to judge believe he must bowl more. There is an all-rounder in there yearning to break free. He has 10 wickets already this season.

Pre-pandemic, Abell toured Australia with the England Lions. A white-ball pick to start with, he impressed the coaches so much that he was kept on for the red-ball leg. Yet, by his own admission, he did not do himself justice, and, when England's extended 55-man squad was announced last summer, Abell was omitted. While those squads were slightly misleading, if Abell is not in England's best 55 cricketers, well…he just is.
Abell adores playing for Somerset, and he is adored equally. He is a Taunton-lad, living with his younger brother a stone's throw from the ground. who played for Taunton CC growing up, for a time alongside Marcus Harris. An Old Tauntonian, mentored by Hugh Todd, who one expects will grow into an old Tauntonian. That he buys Christmas presents for the media manager's children says it all.
Now 27, Abell is entering his prime. Time then for a more focussed look by those in power?

Steve Davies too played a superb hand, vindicating the decision to promote him to open. To say it has been a problematic position is understating it. Only once in 12 innings have the top-two been together for more than 5.2 overs. Even on that occasion, against Middlesex at home, they lasted just 69 balls.

Tom Lammonby and Tom Banton started up top, the latter making way for Eddie Byrom. Lammonby's lean second season meant it was his turn to step aside. Davies has repaid the move handsomely, returning 129 runs in the match.

After Eddie Byrom had been squared up from around the wicket by Abbott, Davies purred along beautifully. The full array of strokes came out: wristy flicks, the trademark punches and cuts through his personal 'V' betwixt point and cover and a pair of off-drives.

When he slog-swept Organ for a maximum to move to 82 – the highest score by a Somerset opener this summer - three-figures looked a case of when rather than if. He was, as he had been throughout, in total control. The very next ball, he attempted an orthodox sweep and was trapped lbw. For all the talk of raging turners, it was just the sixth wicket to fall to spin in half-a-dozen first class matches here since the start of 2020. He and Abell had put on 139 from just 182 balls, including 93 in just 17.3 overs post lunch to put Somerset in a commanding position.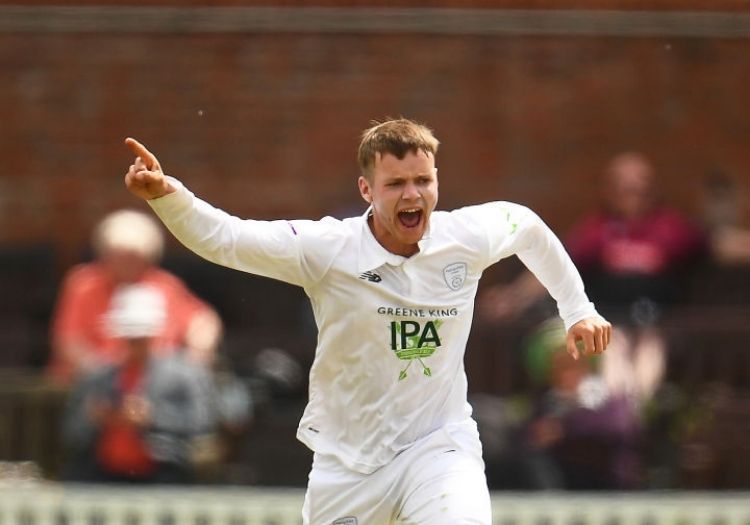 Felix Organ celebrates dismissing Steve Davies

After James Hildreth had come and gone, George Bartlett and Lewis Goldsworthy made hay in the evening sunshine. Bartlett was the aggressor, albeit riding his luck at times. Organ failed to cling on to a drive smashed back at him as bowler, a tough chance went begging at slip and James Vince made good ground at mid-on only to not quite get there after the ball went skyward. But there were plenty of attractive strokes too, including an upper-cut six off a frustrated Abbott and an inside-out maximum over cover from the spinner. Bartlett finished with unbeaten on 74, his partnership with Goldworthy worth 108.

The morning had started as the day went on: in Somerset's favour. With tickets over-subscribed there were many here for the first time. An excitable chap in coffee queue proclaimed it had been 18 months since his outing, enquiries led to an admission he was a Somerset member but of a Hampshire persuasion. For the record, he prefers sausage over bacon but was only interested in condiments if mustard were available.

Lewis McManus nicked the first his first ball of the day to Abell at slip off Josh Davey. He therefore remained on 91: perhaps he should have avoided doing the post-match media duties last night after all. Lewis Gregory's mixed bag first over included one saw off Organ, before Davey wrapped up the innings a few overs later. The Scot finished with 5 for 78. Many plaudits are rightly fired at Jack Leach, Craig Overton and Gregory, but Davey has become un-droppable. Since 2018, he has 107 first-class wickets at 18.5. Between 2010 and 2017, his 25 cost 31-a-piece. A late bloomer indeed.

A little weather in the air tomorrow but Somerset are in a strong position. They will not want to give Hampshire a sniff mind, so may well push the lead to 400 before bowling again.
Please ensure all fields are completed before submitting your comment!