It's not fair to paint us as poster boys of rebellion against The Hundred, we're representing our club
POWER LIST INTERVIEW: Surrey chief executive RICHARD GOULD tells SAM MORSHEAD about his county's relationship with the ECB, his thoughts about the future and how he plans to balance the existing structure at The Oval with the new competition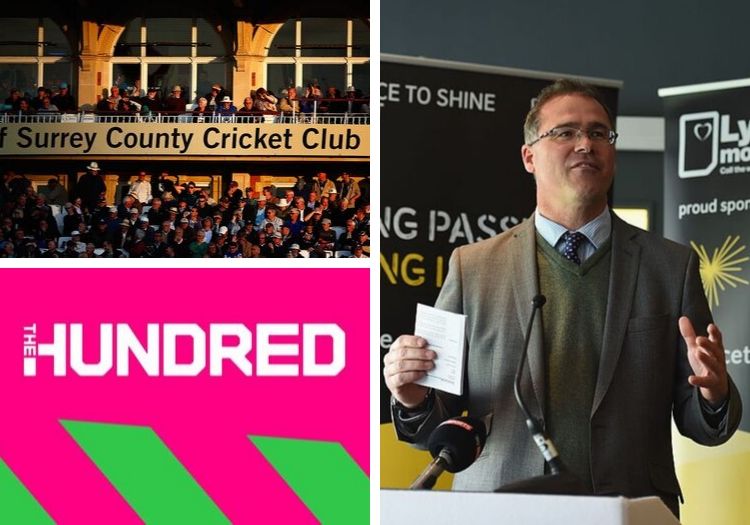 For county administrators, these are curious and turbulent times. And that is certainly true for the man at the helm of the wealthiest club on the circuit.
Over the past 18 months, Surrey chief executive Richard Gould has been at the epicentre of the conversation surrounding The Hundred, the topic which has dominated the sport's domestic news agenda.
A leading figure at perhaps the most influential county of them all, Gould has become a very public face in Surrey's resistance to certain parts of the ECB's plans. 
Gould knows sport administration well. After leaving the army in 2001 he became commercial manager at Bristol City Football Club, swapping that job for the chief exec role at Somerset four years later. In 2011 he arrived at The Oval where, along with chairman Richard Thompson and director of cricket Alec Stewart, he helped form a blueprint for success both on and off the field. The results are common knowledge: booming attendance figures, a County Championship title, a slew of young players emerging through the academy and revenue streams to make the eyes of many a county beancounter water. 
Now, however, he is facing his biggest challenge so far - how to successfully introduce a new competition and hitherto untested format into an already hectic calendar without impacting the general structure of the county game.
"This isn't just the biggest change that has happened to English cricket, this is the biggest change that has happened to British sport," Gould tells The Cricketer, sitting in the Prince of Wales Room in The Oval's stunning pavilion on the second morning of the fifth Ashes Test.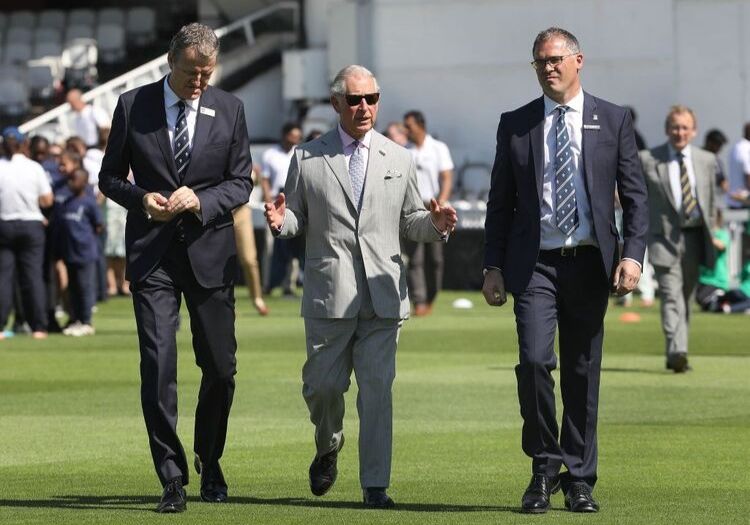 Surrey chief executive Richard Gould, right, with chairman Richard Thompson, left, and Prince Charles
"It's far beyond what the (football) Premier League did. All the Premier League did was take the most successful clubs and just draw a thicker line underneath them.
"Here we are creating new teams and we are creating a new format. It is not disloyal for us to consider the ramifications of that. We must consider the ramifications because it is such a huge change. We are working really hard to understand how we can cope with those elements."
Surrey have sat squarely in the middle of the discussion over The Hundred throughout its 18-month lifespan. 
Representing the views of their 13,000-strong membership, they have regularly voiced concerns about the ECB's ideas and strategy - refusing to vote for the 100-ball playing conditions in February and speaking out against the governing body's interpretation of audience data in May. 
Their opposition has not gone down well on high at the ECB - reports have suggested chairman Colin Graves contemplated stripping The Oval of hosting rights at the height of the stand-off - and it is fairly easy to portray Surrey as the pin-ups of the rebellion against the new competition.
It is not an image that sits favourably with Gould.
"It's not fair to paint us as poster boys; we are representing our club," he says.
"You look at any sport and there is always friction, probably necessary friction between governing bodies and some of their more powerful stakeholders.
"It doesn't matter whether that's Manchester United or Man City in the Premier League or Saracens in Premiership Rugby, both the governing body and the clubs are generally trying to push in the same direction but coming at it from different angles and with different perceptions.
"Cricket clubs are not owned by oligarchs, cricket clubs are owned by the supporters. All sport is owned, effectively, by the supporters.
"If you create something that supporters don't want or won't follow, very quickly thereafter you don't have a sport. We have to be very cognizant of what supporters want.
"Genuinely, we have really good working relationships with (the ECB), and if you look at what we've done this year - hosting the World Cup, Ashes, development programmes, all sorts of agreements and initiatives at grassroots level - we really enjoy playing the most positive and productive role we can.
"It's just that this one issue overshadows other things. This is where I need to reiterate, we will be working hard to make (The Hundred) a success. But we have also explained to the ECB that there is a priority order in which we will be operating."
While Surrey are among the most important strategic partners of the ECB, Gould says the club has "no divine right" to be listened to by the governing body.
Their vote on The Hundred, as with any game-wide decision, is just one among 41 ballot-holding members of the ECB.
"Are we a big club? Well, we haven't won any trophies this year, so you could argue that we're not a big club," Gould says. 
"Derby have got to Finals Day, we haven't. Why should our voice be any louder than theirs?"
Despite that sense of humility, it is impossible to argue against Surrey's stature, and that is why their opposition to certain elements of the ECB's blueprint for English cricket's future has been so significant.
The ECB have regularly stated that their research - a survey of 100,000 people; some with existing links to the game, others without - indicates a need for a new format. They are convinced The Hundred will attract a younger and more diverse crowd.
In Surrey's case, evidence points to the lure of an existing format, namely the T20 Blast.
The Oval was sold out for six of the county's seven short-format matches in 2019, attendance numbers were up 12 per cent overall year on year, more than 10,000 under-16s came to a game and 50 per cent of ticket purchasers were new to the Surrey database. 
ECB executives have attended Blast games in south London this season and will have seen the eclectic demographic mix with their own eyes.
"I get the fact we have to drive new audiences and I applaud the ECB's ambition to deliver that," Gould says.
"When you build in what we've already delivered with the World Cup this year, in terms of new supporters, you can see that the game is capable of bringing new people in.
"It's almost as if the country has fallen back in love with cricket. That's a really wonderful thing and we need to make sure we don't reverse that."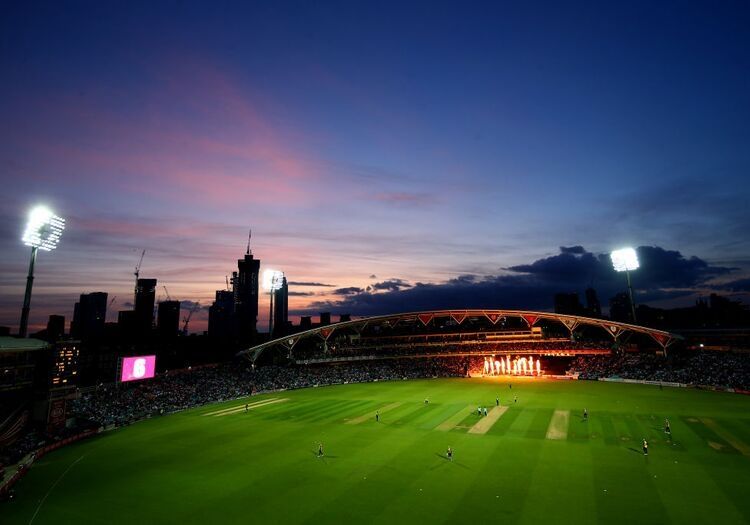 Surrey have had immense success hosting the T20 Blast
Gould is absolutely adamant that Surrey will back the new competition as best they can once it finally arrives next year - "we'll be doing our absolute utmost to support it and make sure it doesn't fail" - but he warns against possible "unintended consequences" of The Hundred.
There are fears over how the tournament might begin a radical overhaul of the county game.
The ECB have given assurances that the 18-team system is safe but several prominent figures within the sport have advocated for a streamlining of the structure - including the recently departed England head coach Trevor Bayliss and BBC Sport cricket correspondent Jonathan Agnew. 
In a Daily Telegraph survey prior to the start of the season, meanwhile, seven of the counties' chief execs indicated that they did not think 18 teams would be playing Championship cricket in 10 years' time. 
A further worry is the potential for The Hundred to undercut the Blast by offering a cheaper alternative. Again, the ECB insist the new tournament is not designed to compete against the established event, and they will take place at different times in the calendar.
And then there are the logistics of the schedule change, with the Championship belted onto the front and back of the season and the 50-over competition downgraded and run alongside The Hundred.
Players not involved in matches for their respective Hundred franchises will not be allowed to rejoin their counties to play in one-off games in the 50-over competition - the idea being that it would be perceived as unfair for some counties to be able to call on their Hundred stars for certain 50-over matches and others not - and there are concerns some cricketers may not get a great deal of competitive action during that a six-week window. 
"We're trying to understand how many players we're going to be left with over that month period," Gould says.
"Although our form in the One-Day competition has not been great as a club we do have a lot of talented players and I hope they are all in high demand for The Hundred.
"If that leaves us eight, nine, 10 players short, I don't at this point know how we're going to be able to field a competitive team. And I'm not sure how we're going to carry our loyal support base with us in a competition where we're denuded of our top players. It's going to be a real challenge and we're going to have to find ways around it."
The Hundred has not been helped by its wretched early PR, and the ECB are still working hard to iron out the issues. 
Player registration for the men's competition opened on Friday evening - around two weeks later than originally planned - though that is considered to still provide plenty of time ahead of the draft on October 20.
The ECB are understood to be happy at the quality and quantity of cricketers signing up for the tournament ahead of the October 20 draft.
And, while none of the contracts with the eight host venues in the men's tournament have been signed, indications are that an announcement is not too far away.
Now all that is left is to see how the public react.
The theory is that potential match-goers will be drawn to games by the players on show, rather than because of any particular affinity to the franchises. 
"The thing I didn't necessarily expect was for the game to promote new start-up teams, potentially at the expense of the existing stakeholders, and that's been at the heart of the discussions we've had," Gould says.
"We all want to have the same aims - to make sure cricket is as popular and as significant as it can be. We have seen at Surrey and, in my time previously at Somerset, how an established county can still drive new audiences and can still drive enthusiasm. Perhaps even more so because it's based on a brand that has heritage but can still appeal to people."
The emotional power of sport is a topic which gets Surrey's CEO going, perhaps unsurprisingly given he grew up in its web, as the son of footballer and manager Bobby. .
"Sport endures," he says. "There's a reason why we (Surrey) will be celebrating our 175th anniversary as a club next year. If you move too much towards the entertainment route then you only have to look at TV and see that in that world a format will only work for four or five years and then it needs a revamp.
"How many talent shows have we had in a variety of forms over the last 20 years? To keep people engaged you need revamping.
"With sport, you don't.
"Every time you build on it, every year you're adding to the depth and quality of what's gone before, of the records."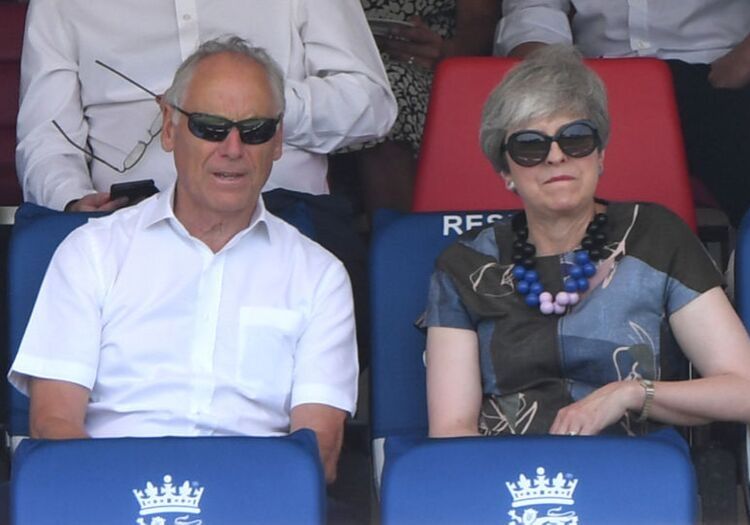 ECB chairman Colin Graves with former Prime Minister Theresa May
The ECB are investing around £180million in The Hundred over its initial cycle, as it seeks to reinvigorate the sport across the UK.
Some on the county circuit would prefer that money to be spent on the Blast instead.
Gould does not want the new competition to fail, but he makes no apologies for trying to prepare for all eventualities.
"I hope it work," he says. "My experience, both from football and cricket, is that we will have as much success in the existing formats, with the existing teams delivering that, than perhaps in the other options.
"I am confident we will continue to drive up attendances and drive up new audiences through Surrey. We're gearing up for the challenge of doing that with a new team in a new format.
"They don't need to be mutually exclusive. I think perhaps a flaw with the ECB argument is that it can only be done with the new method. I've seen with my experience that that's not the case."
Gould was vocal in his criticism of the ECB's use of statistics to highlight the need for The Hundred earlier this year. 
In launching the competition's website, the governing body suggested that UK cricket crowds are overwhelmingly male (82 per cent), white (94 per cent), affluent (65 per cent ABC1) and have an average age of 50.
Surrey's data, to which the ECB had access in compiling their research, tells a different story when it comes to the T20 Blast - which most would consider the closest relation to The Hundred.
In that competition, the average age of a ticket holder at Surrey is 38, just 18 per cent are over 55 and family tickets account for 20 per cent of all sales.
"Data can be used in many different ways. I'm always going to be more supportive of the structures and clubs that are in place because I'm a small C conservative, I work for a cricket club, it's in my nature," says Gould.
"In cricket, we've got powerful brands that affect people's emotions. The big challenge is whether we'll be able to deliver that with new brands. The answer is, if we can it's going to take a long time."
But how long? And can the ECB sustain the competition?
They have already committed to a five-year cycle, as part of the Inspiring Generations plan to grow cricket in this country between 2020 and 2024, and at a recent Sports Industry breakfast managing director of The Hundred, Sanjay Patel, suggested that the tournament's organisers have an initial 10-year plan in mind.
But the fragility of embryonic short-form cricket tournaments has never been so evident. In the past year alone, the T20X was abandoned in the UAE, the Euro T20 Slam and second season of the Afghanistan Premier League were pushed back a year, the Global T20 Canada was wrought with issues over the non-payment of players and the Bangladesh Premier League was downgraded from a franchise tournament to a governing body-run event, with all major funding stripped.
It is not easy to establish a competition with the weight and clout of the Indian Premier League and, to an extent, the Big Bash. The ECB are certainly putting their wallets and resources into ensuring it gets as close as possible.
The Cricketer asks Gould if The Hundred will be as secure as the world's top-ranking T20 tournaments.
"I don't know. The Big Bash had six states and went to eight teams so they increased the number of teams they had, and it was peak audience, free to view every night. 
"It's as if cricket was taking over from Coronation Street and Eastenders every single night for a month.
"The IPL has a billion people following one sport. It's kind of a no-brainer.
"Each geographic region has its own novelty element, its own peculiarities, and the peculiarities of British sport are based on clubs. It doesn't matter if that's East Molesey or Surrey County Cricket Club. The depth of feeling for those clubs runs extremely deeply."
Gould picks out cricket's reappearance from behind the Sky paywall as a major reason why The Hundred will benefit the domestic game - the BBC will screen 10 lives matches from the men's competition and up to eight from the women's - but in practical terms balancing a TV schedule and the need to sell tickets presents its own challenges.
"Why have the other T20 competitions failed? Because nobody turned up. And if nobody turn up there are no broadcast rights. If there are no broadcast rights, there are no sponsorship rights. It all begins with an audience," he says.
"(Former Premier League chief executive) Richard Scudamore's priority was bums on seats and that's what we've been driving at. The ECB have been really good at scheduling the T20 so we get most of them on the good nights.
"With The Hundred we have a bigger challenge. Sky want content every day of the week. To be honest, Monday night here - selling T20 cricket is a challenge, The Hundred will be a bigger challenge.
"If we've got a Hundred match here on a Thursday night, I'm confident we'll sell it out.
"It all starts with an audience. If you don't have an audience, you don't have a professional sport."
Richard Gould is ranked at No.12 on The Cricketer's 2019 Power List: a breakdown of the most influential people in English cricket. The full list is available in the September issue of the magazine, out on Friday. Click here to subscribe
Please ensure all fields are completed before submitting your comment!