Strange sight at Old Trafford as England and Australia forced to play without bails
Play was halted – much to the chagrin of Stuart Broad – as Marnus Labuschagne initially pulled away as a crisp packet blew across the field. Another then followed, before the bails fell from their groove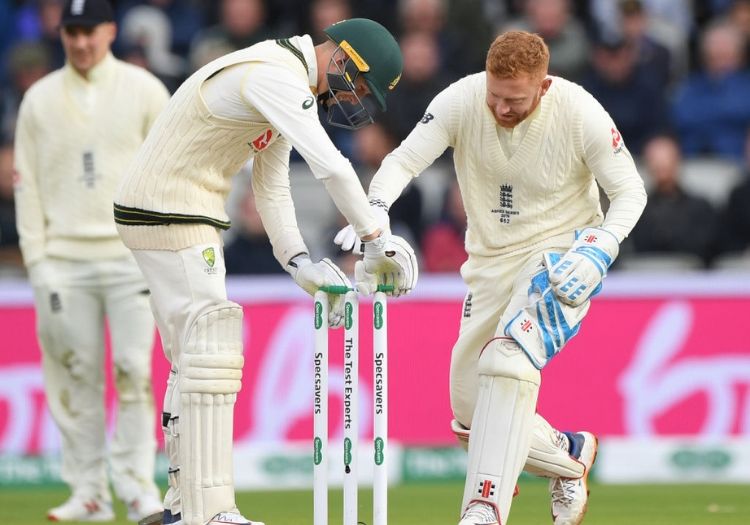 During a surreal spell on the first day of the fourth Ashes Test, the umpires were briefly forced to remove the bails after wind took over at Old Trafford.
Play was halted – much to the chagrin of Stuart Broad – as Marnus Labuschagne initially pulled away as a crisp packet blew across the field. Another then followed, before the bails fell from their groove.
The game was then delayed further as Broad and England captain Joe Root questioned the two umpires, Kumar Dharmasena and Marais Erasmus, as to the game's law around the dispensing of the bails.
According to Law 8.5: "The umpires may agree to dispense with the use of bails, if necessary. If they so agree then no bails shall be used at either end.
"The use of bails shall be resumed as soon as conditions permit."
Law 29.4 then adds: "If the umpires have agreed to dispense with bails in accordance with Law 8.5, it is for the umpire concerned to decide whether or not the wicket has been put down.
"After a decision to play without bails, the wicket has been put down if the umpire concerned is satisfied that the wicket has been struck by the ball, by the striker's bat, person or items of his/her clothing or equipment."
Soon afterwards, fourth umpire Rob Bailey appeared armed with heavy bails to allow the game to continue as normal.
It has been an unusual summer, with the zing bails during the World Cup failing to fall on numerous occasions when struck, while Joe Root was also the beneficiary of similar good fortune in the first Ashes Test when a delivery flicked his off stump without dislodging them.
Please ensure all fields are completed before submitting your comment!