My Favourite: Allan Lamb by Robin Smith
ROBIN SMITH: When I was growing up in South Africa, Lamby was one of my heroes. I used to love watching him from the pickets whenever Western Province came to play against Natal in Durban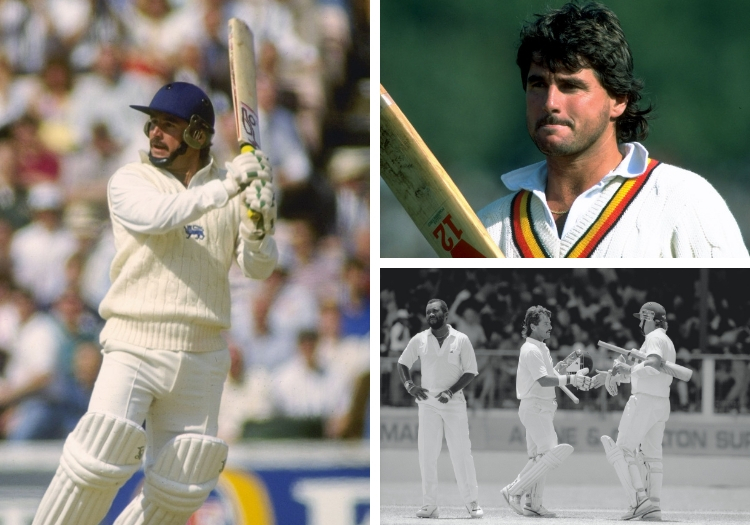 Robin Smith moved from Durban to Southampton in 1982 to pursue an international career when South Africa were in sporting isolation. He soared into the England team six years later and scored nine Test hundreds, and held the highest ODI score by an England player until Alex Hales broke it in 2016. Smith has just released his autobiography, The Judge: More Than Just a Game, with Rob Smyth, published by Yellow Jersey.
As a young tyro in South Africa, Robin Smith was mercilessly sledged by Allan Lamb, but he loved batting with him for England
I never really cared about statistics during my career. The things that mattered to me were the battles on the field and the friendships off it. But there's one statistic that makes me really happy. While I was working on my autobiography, I found out that Allan Lamb and I had an average partnership of Test cricket of 78.78 – the highest of any England pair since the war. I told Lamby and he didn't believe me, but it's true.
There are a couple of reasons that stat makes me happy. One is that more than half the runs we scored together, and three of our five century partnerships, came against a great West Indies bowling attack. But the main reason is that I had the time of my life batting with Lamby, and this reinforces the good feeling I've always had about our partnership.
When I was growing up in South Africa, Lamby was one of my heroes. I used to love watching him from the pickets whenever Western Province came to play against Natal in Durban, and I remember getting his autograph at lunchtime one day. The wickets were bloody lively but he always took the fast bowlers on, and he had such an infectious swagger and personality.
My second meeting with him didn't go so well. When I broke into the Natal team as a teenager there was a lot of talk about the fact I'd broken Barry Richards' South African record for the most runs in a school year. As soon as I walked to the crease, Lamby was into me. "Aaaah, hello! We've got the new f****g Barry Richards here! We'll see how good he is now!" I suffered much worse sledging later in my career but nothing ever unsettled me like that. When you're 18 and your hero lays into you with such aggression and contempt, it gets to you.
I could barely concentrate and I prodded around for a few balls before being caught at bat-pad – by Lamby. His farewell was even more cutting than his greeting: "Piss off, you little p****! Go and have a f*****g shower and have a think, you're playing the big boys' game now, eh?"
Allan Lamb and Robin Smith put on 193 in the fourth Test of 1989/90 at Barbados, much to Malcolm Marshall's annoyance, but they could not prevent a West Indies win
It actually turned into a blessing – Mike Procter, our captain, could see I was tearful and at the end of play he marched me into their dressing room with a six-pack of Castle lager. They were all in awe of Procky, so Lamby was apologetic and said he was just trying to make sure I didn't get an easy ride. After that, honestly, sledging never bothered me because I realised it was never personal. (Well, it might have been with Waqar Younis, but that's another story.)
I got on really well with Lamby after that, especially when I started to bump into him on the county circuit. When I made my England debut, against West Indies at Headingley in 1988, he was at the crease when I walked out to bat. I was so nervous, and after about 15 minutes Lamby walked down the wicket to me.
"Judgie, what's up?"
"What do you mean, what's up?"
"Why aren't you playing with your usual flair? You haven't played an attacking shot!"
"Well, Lamby, this is a Test match."
"Judgie, the reason you were picked to play in a Test match is because of the way you bat for Hampshire. I've played against you for Northants and our bowlers bloody hate having to bowl at you! I know these are better bowlers but they won't enjoy it either once you start expressing yourself. Play your natural game, the game that got you into the team."
That was Lamby. He was the perfect man-manager for me, constantly pumping my tyres up. Team manager Micky Stewart was the same, and it's probably no coincidence that my England career was never quite the same after they departed the scene in 1992.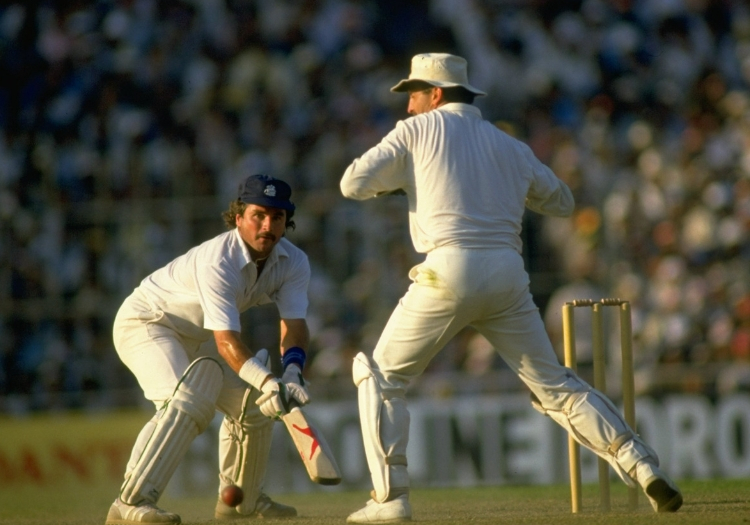 Lamb played 79 Tests for England
I used to have such a laugh with Lamby out in the middle. Between overs we'd talk about almost anything except the cricket. But it wasn't just a case of two mates having fun. We didn't get much credit for how well we ran between the wickets, which was particularly important against West Indies, because we didn't want to get stuck at one end.
We had some long partnerships against the West Indies in 1989/90, when Lamby batted sensationally and I tried to dig in and give him support. It was such hard work and we loved it. Lamby and I got on famously on and off the field. I'd usually spend my evenings with him when we were on tour. He made the dressing room a happy place to be and was constantly up to mischief. There was one time, the night before a Test at Headingley, when he let a load of Egyptian geese run riot in our physio Laurie Brown's room. Laurie came charging down to the bar.
"Lambyyyyy! What the hell have you done?!"
"What did I do, Laurie, eh?"
Laurie was a lovely Scottish bloke who normally wouldn't say boo to a goose, but he was bloody angry that night. And he said a lot more than boo to the geese.
There's one other thing about Lamby. When I had a good start to my Test career, it became clear that – because I was nine years younger – I might eventually take Lamby's position at No.4. And that's exactly what happened. Yet he encouraged me constantly. It takes a good man to do that.
I don't see Lamby much anymore, as he lives in Northants and I'm in Perth, but we chat a lot and he will always be my best mate in cricket. Most of the happiest memories of my career, on and off the field, involve him. When we were at the crease he made me laugh, he made me relax, and most of all he made me believe in myself.
Batting in Test cricket could be such a trial, but Lamby made it fun. I wish I could have batted with him forever.
This article was published in the September edition of The Cricketer - the home of the best cricket analysis and commentary, covering the international, county, women's and amateur game
Save 30% when you subscribe to The Cricketer's print & digital bundle. £35 for 12 issues
Please ensure all fields are completed before submitting your comment!