The winding road of Ian Holland, Hampshire's one-time reality star
SAM DALLING: The USA-born allrounder slips under the radar but currently tops their run charts. Already a pair of centuries to his name, he is the club's leading run-scorer with 520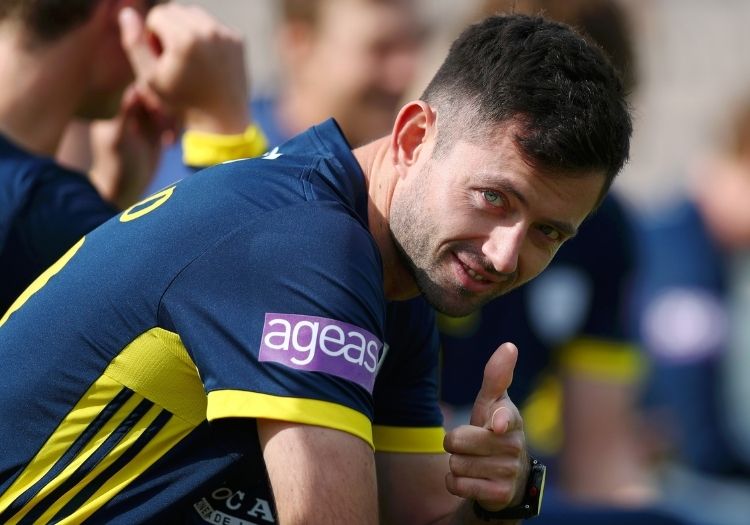 Hampshire are a curious team: the 2021 County Championship's Jekyll and Hyde.
They started with a pair of thumping victories – an innings and 105 runs over Leicestershire and 249 runs against Middlesex – and came within a tailender of making it three. Talk of a first title since 1973 was rife. But the last wicket resistance of Gloucestershire pair Josh Shaw and Dominic Goodman, who stoically blocked out 106 balls, checked Hampshire's momentum, and they were duly thrashed by Surrey and Somerset.
They returned to winning ways against Middlesex and dominated their game with Leicestershire only for rain to intervene and had Somerset on the ropes last week only to let them off the hook and end up grateful for a draw. With two crucial games remaining the initial group stages, they are very much in the hunt for a Division One spot come the second phase. Their future is in their own hands given they take on Gloucestershire and Surrey.
The reasons for Hampshire's success are both multiple and obvious. The side has a generous sprinkling of stardust, their bowling attack peerless in the domestic game. Mohammad Abbas – no longer with them – and Kyle Abbott between them have 62. With Abbas having departed, Keith Barker, claimed 6 for 72, scything through Somerset's top order.
James Vince remains among the county cricket's most aesthetically pleasing run-getters; both Liam Dawson and Mason Crane are full England internationals, while beneath them you have Sam Northeast, Brad Wheal and Joe Weatherley, who have been, or will be, noted in dispatches at various points.
And then there is Ian Holland. The allrounder who slips under the radar but currently tops their run charts. Already a pair of centuries to his name, he is the club's leading run-scorer with 520.
"I'm probably not aware of the spotlight and radar," he replies humbly, questioned as to whether he minds the lack of attention. Immediately it's apparent he prefers the focus to lie elsewhere, his response tangential: "There are a lot of runs being scored and the wickets have been really good. How good is four-day cricket?! Hopefully the wider cricket community still loves it as much as we love playing it."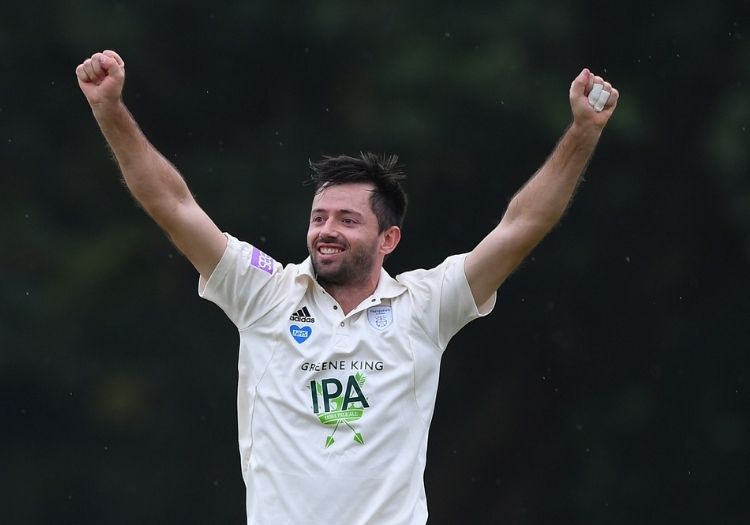 Ian Holland has become an important part of Hampshire's red-ball side with bat and ball
Then his praise turns to his teammates: "The likes of Vincey, Mase, Daws, Abbott and Abbas have all played at the highest level. Having those guys in the changing room makes you walk a bit taller. They're such a big part of our team. Not only are they great players but they are great people. It gives the likes of myself a lot of confidence.
"Our side is really well balanced. We are all clear on our roles and how we all fit in. We've got two quality spinners for when it turns and the fast bowling attack is brilliant. Joe and I faced Abbott and Abbas in pre-season and I'm glad we don't have to in games! But Whealy's (Brad Wheal) is also bowling beautifully.  We are all playing for each other and it's a really nice mix. Hopefully we can keep doing what we are doing."
County cricket is brimming with backstories, and Holland's is amongst the most intriguing. "I've definitely got a unique journey to a professional career," he admits, laughing.
Born in Stevens Point, Wisconsin, Holland moved to Australia as a child. Now 30, he counted Middlesex skipper Peter Handscomb and Travis Dean amongst his contemporaries in Victoria's under-17 and under-19 sides. He missed out initially on a rookie deal - with only six professional sides it can take time for players to earn recognition – but he remained in the system.
And then along came an unlikely opportunity: reality television. After a nudge from his club coach, Holland applied for Australia's inaugural, and thus far only, 'Cricket Superstar'. "I'd seen some adverts but hadn't given it too much thought to be honest," he says. "But Paul Montgomery at Ringwood CC mentioned it. When I looked into it, I realised it had credibility. Allan Border was the chief judge and it was backed by Cricket Australia. I went for it without any expectations but once I was there I was trying my hardest."
A squad of 15 finalists was narrowed down from over 1,000 applicants. For the winner, the promise of State deal for 2012/13. "I'd played one second team game the year before I went on so I'd like to think I was still on the right path. Once you pass under-19 level there is always a decent chunk of player given opportunities over the next few years. Doing well in grade cricket is your way in and I was doing well for Ringwood at that stage. The show definitely fast-tracked the process two or three years though."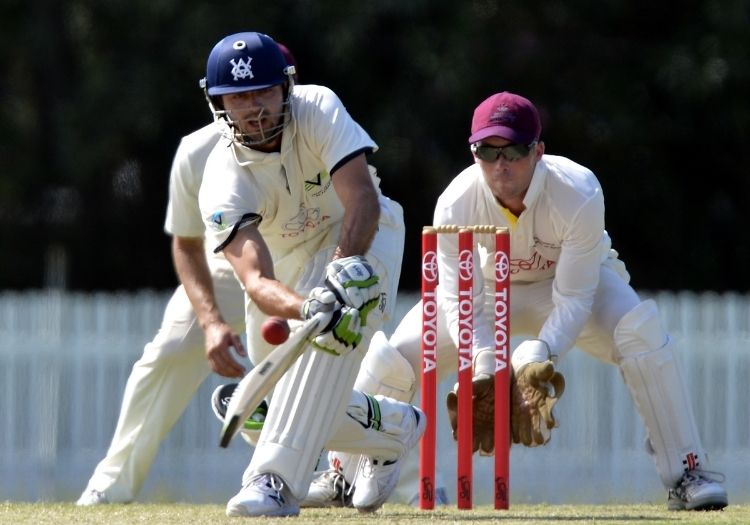 Holland in action for Queensland in the Futures League in 2013
The series, hosted by Lee Furlong, was filmed in Brisbane and broadcast weekly to the nation. At least one of Holland's cohort – among them Netherland's star Ben Cooper, Jake Fawcett who has represented Western Australia, and Justin Avendano, now of the Sydney Sixers – was culled each week. "Every show an Australia player would come on and give a masterclass – we had Ricky Ponting, Brett Lee, Matt Hayden – all guys I'd idolised growing up were giving insights to their game. Punter is Australian cricket royalty. That was the highlight. I was just in awe of the man."
Was there apprehension given reality TV's reputation? "It wasn't Big Brother!" he explains. "Nor was it 24/7 – it was funny challenges, cricket matches and training. I think it presented really well and they took it to AFL, although never did another cricket one which is a shame. It was full of good people too: that's the beauty of cricket. If you're a stinking bloke you get found out pretty quickly!"
Naturally, Holland received some stick on a Saturday playing in Victoria's first grade competition, but it was worth it. "The weekend warriors were all over it but it was a small price to pay. I just thanked them for watching the show and for their support. I'm definitely glad I did it: the pros have outweighed the cons in every department!"
Holland would claim victory, defeating James Moss and David Vernon for the title. And in addition to a Victoria deal, there was another treat on offer: a four-month scholarship at the Cricket Centre of Excellence.  "That was the biggest part of the prize in my eyes," he tells The Cricketer. "As a 20, 21-year-old I was getting to train with I got to train with guys in the current Australia setup in Brisbane.
"The year before I went it was state rookie players who went but they decided to change it to make it the Australia 'A' training squad plus the Australian Under-19 World Cup side. And then I was just thrown in there because I'd won this prize!
"Mitch Marsh, Pat Cummins, Mitch Johnson, Aaron Finch, Ashton Agar – all these household names were there, and I was living and training with them.  Net sessions facing Johnson, Cummins and Pattinson as a 21-year-old grade cricketer: those sorts of things I remember like they were yesterday! That was easily the most influential period of my journey."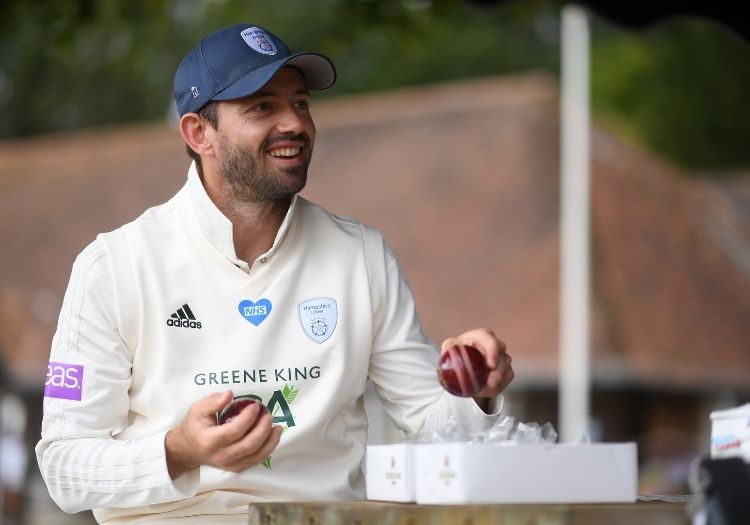 Holland is Hampshire's leading run-scorer in this year's LV= Insurance County Championship
And any scepticism as to whether Holland deserved his place amongst such esteemed company was solely internal. "They were all brilliant. I definitely felt undeserving – as if I shouldn't be there. I was thinking: 'What am I doing here?' But quickly I realised it was up to me to get my head around it and make the most of the opportunity. I still stay in contact with a lot of those boys and catch up with them when they are in England. Cricket is really cool like that."
After two years with Victoria, Holland was de-listed but a stellar grade summer (724 runs at 40.22, 52 wickets at 13.72), topped by becoming only the second man to make a hundred and take five wickets in the Victorian Premier Cricket final, earned him a recall.
But he made just one first team appearance, with John Hastings, Dan Christian and Marcus Stoinis all blocking his path. "Looking back now it was always going to be tough to force my way into that team. But I was training in a really good environment and learned so much seeing those players day-in day -out. I was able to build that resilience."
During that time Holland, like many Australians before him, spent his winters playing club cricket in England. "The conditions were very different to what I grew up in!" he says, recalling two stints with Fleetwood CC in the Northern League. "But they love their cricket up there and it was an chance to grow and play as an overseas professional in an amateur team."
And grow Holland did, 2013 bringing 561 runs at 51 and a league-high 63 victims at 12.5. Two summers later he returned to again pass the 60-wicket mark.  "I was still contracted with Victoria but Dimi Mascarenhas – a Hampshire legend – came back to play a bit of grade cricket in Melbourne and put me in contact with the guys at the Ageas Bowl. I played half a dozen second team games that summer and did quite well. That started the connection. I was still contracted for Victoria for two more years but we remained in touch."
Following the 2017 Australian season Holland was at a crossroads. "The time was right for me to make the most of having a British passport so I moved over here." Initially he was in and out of the Hampshire side in 2017 but showed promise enough (19 red-ball wickets at 21.89 while chipping in with middle-order runs), earning a two-year deal in Southampton.
Then came a setback: a shoulder injury suffered back in Australia during the off-season required reconstructive surgery and meant the 2018 campaign was fragmented.
He started the 2019 out of the first-class side but came in as a concussion sub for Lewis McManus at the end of the second game. Left out again, Holland was forced to wait patiently for his sliding doors moment. Promoted to open against Warwickshire in July, he made his maiden first-class century (143) and has rarely glanced over his shoulder.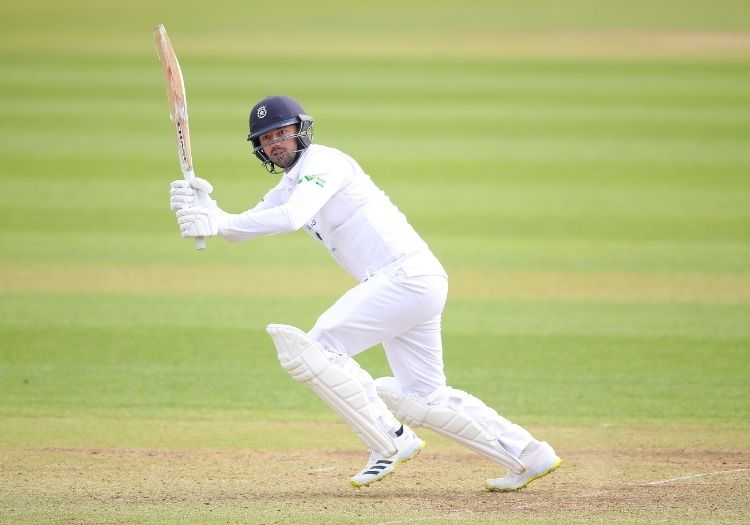 Holland opened the batting with Cameron Steel in Hampshire's last game - a rare case of two USA-born players lining up together in the County Championship
Such was his progress that international cricket came his way. "The USA contacted me out of the blue," Holland says. "I didn't know the status of USA cricket but ended up flying over to LA for a training camp during a break in the county season. I got to know the system, and gained an understanding of the journey the team has been on. They've come up from Division Four in 2016 to Division Two in the few years before I connected with the team."
Hollywood is not a county cricketer's usual playground but there was no time for celebrity limo tours: "It was a pretty full on training camp so none of that. The facilities still need a little bit more work and the LA wickets were a bit tired if I remember rightly! It was a bit of a challenge to play on them. They've got another base in San Francisco and a new one coming in Houston."
Holland made his international bow against the United Arab Emirates in December 2019, and to date has eight caps. Amongst his teammates are former South Africa star Rusty Theron and former West Indies Test batsman Xavier Marshall, and Holland believes the country has unrivalled potential for growth.
"There about 30 million India expats so the cricket community is huge," he explains. "With the Minor League Cricket and Major League Cricket launching next year there is definitely an upward trend. There's so much going on in USA cricket – the ceiling is really high. It's really exciting and I'm looking forward to that part of my cricket journey developing."
By placing T20 at its core, USA Cricket is not trying to spread itself too thinly. And while targeting full ICC membership by 2030, it is also focused on nurturing its own. The first target is qualifying for, and then being competitive at, the 2022 Under-19 World Cup.
A four-team Americas Qualifier takes place in August. "There's some good players in the under-19s so hopefully in the next few years we see that budding homegrown talent coming through with more structure around them. With some strong senior players setting examples that's a good formula. Hopefully some of my experience can bring more consistency. That's probably one of the nice things about playing for the USA: I've become a a senior player and have the opportunity to give back to others.
And maybe even a World Cup of his own? "The would be the dream. It's what draws me to being in the team really. It's a long way off but there are good foundations. I'm keen to go on a journey with them."

Back in England, Holland dropped down the order during the Bob Willis Trophy last year to ensure the side's equilibrium. Versatility is a word that many professionals fear, the connotations being that there is never going to a fixed role. Holland embraces it, finishing last year as Hampshire's leading red-ball wicket-taker (17 wickets at 17.47), including a career best 6 for 60 against Surrey, while also breaking into the T20 side.
"As an allrounder you've got to be able to adapt to roles depending on the balance of the team. Last year was a bit different. Our overseas players weren't playing, Vincey was in the bubble, Daws got injured, and so I ended up taking a lot more of a role with the ball.  The plan had been to bat up top but it started looking like I was going to be bowling a lot more overs so it was decided I'd bat in the middle again."
This season, while he has been limited to just 78.1 overs with the ball, his place at the top of the order has been restored and is bearing fruit. "I think my game is suited to batting up top and I've been really enjoying it. That's where I'm having some success at the moment. The plan was always going to be to bat somewhere in the top three this year, and be a supporting third or fourth seamer."
After treading an unusual path, finally then Holland is settled and able to look to the future. "There have been a few ups and downs but now I think I'm establishing myself in first-class cricket," he reflects. "Hampshire have been really good to me and hopefully I can repay some faith. To get a red ball trophy is the big one. If we could do that it would be amazing.  
"It's not spoken about directly but we are all here because we want to win a championship. We don't say it openly in every conversation but the language is 'championship winning teams do X or Y'. We've got our sights set on it and will give it our best shot."
If they can channel the spirit of Robert Louis Stevenson's famous doctor more often than his alter ego, Hampshire cannot be ruled out.
Please ensure all fields are completed before submitting your comment!