Hundreds come like buses for Sam Evans to ensure Leicestershire enjoy better of opening day
NICK FRIEND: That he clipped innocuously into the hands of short leg shortly afterwards was a rare moment of surprise on an otherwise serene occasion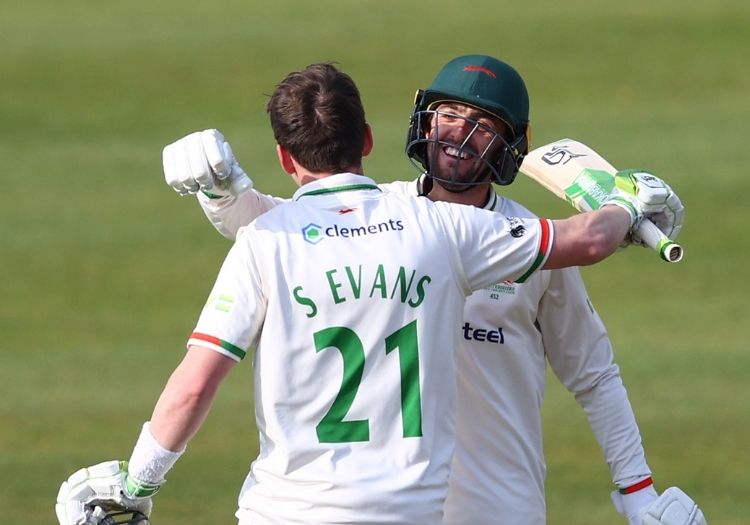 Bristol (first day of four): Leicestershire 264-4, Gloucestershire
For the most part, Bristol was a scene of tranquillity. In the flats overlooking the ground at the Ashley Down Road End, a smattering of spectators rolled open the doors to their balconies, coming as close as current restrictions will allow to County Championship cricket in front of a crowd.
Those who remained on their terraces for the late-afternoon sunshine – when the picture was at its most idyllic – saw Sam Evans at his most assured, unfurling a pair of cover drives as he entered the nineties, before reaching a fine century for the second match in succession. That he clipped innocuously into the hands of short leg shortly afterwards was a rare moment of surprise on an otherwise serene occasion.
That calm was typified midway through the afternoon session as a trio of Leicestershire's travelling party strolled around the outfield's perimeter: Hassan Azad, the opening batsman who fell to the second ball of the match, Chris Wright, the senior player in an otherwise youthful side, and Gavin Griffiths, the seamer not playing in this game but one of a sizeable Lancastrian contingent among the visitors' playing – and coaching – staff. On the field, their teammates were building a healthy platform, with Gloucestershire plugging away manfully.
It was that kind of day, where everything happened at a pleasantly sedate pace. While Hampshire and Warwickshire were being routed in the morning session, Leicestershire ticked along – after being invited to bat first – to 92 for 1. The action came in fits and starts: when Azad was trapped in front by Dan Worrall, impeccable in his durability as much as his line, the home side would have sensed an opening.
That the next breakthrough only came well after 2pm was little reflection on the hosts' unwavering sense of industry on a placid surface, but plenty more about a second-wicket partnership between overseas player Marcus Harris and Leicester-born Evans that offered few chances and, just occasionally, was happy to drive fluently through the off-side.
Harris reached his first half century in the green helmet of the rebranded Running Foxes before falling shortly afterwards to Worrall, followed almost immediately by Rishi Patel – slotting in for regular captain Colin Ackermann who missed out as he recovers from concussion.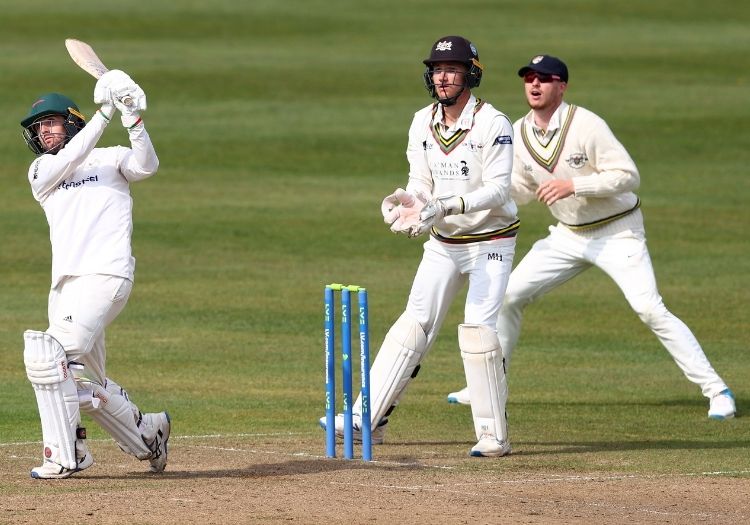 Lewis Hill made an unbeaten 77 in the latter half of the day
Worrall led the way for Gloucestershire's seamers, playing as one of two overseas players alongside Kraigg Brathwaite and taking all four wickets to fall, with Graeme van Buuren once again forced to miss out due to an ongoing paperwork delay that – for the moment – is preventing him from turning out as a non-overseas player.
If Worrall is the established leader of the attack and Ryan Higgins one of the domestic circuit's go-to men, then Dominic Goodman is the new kid on the block.
The 20-year-old, a student at Exeter University and previously a product of Clifton College, made a positive impression in his first two appearances for the county, taking three wickets in a win over Somerset and then stoically defying Hampshire's bowlers with the bat to clinch a hard-earned draw last week. In 105 balls faced as a professional cricketer – all as a No.11 – no one has dismissed him yet. And while he went wicketless today, he was impressively resourceful, giving little away and offering a different shade of threat from an imposing height.
In truth, Gloucestershire appeared to do little wrong; Harris spoke afterwards about the importance of having survived some of the tougher, earlier moments when the ball was still new, while Worrall bemoaned a long day on a pitch that became flatter into the afternoon. Last time the pair faced one another was in the Sheffield Shield, when Harris was involved in a 486-run opening stand, with Worrall once again doing the hard yards – and surely now sick of the sight of his countryman.
On this occasion, though, Evans was the main thorn in Gloucestershire's side, and whatever their modus operandi, he tended to have an answer. There was an enjoyable subplot to his success, with James Bracey behind the stumps and Azad as his opening partner. The trio were part of the same talent pool at Loughborough University – yet another nod to the MCCU scheme that has done so much good for generations of county cricketers and was the subject of a timely piece by Michael Atherton in this morning's edition of The Times.
Bracey tweeted a fortnight ago to congratulate Evans, his old colleague, when he went to a maiden County Championship hundred in Leicestershire's draw against Surrey.
Confidence is a strange beast, and so it was little surprise – in his first match since reaching that milestone – to see a man looking almost entirely at ease, as if a weight had been lifted from his shoulders: he was compact in defence and guided his side along with a level of responsibility that has perhaps increased with a growing sense of self-belief. Until this knock, more than a quarter of his first-class runs for Leicestershire had come in his previous appearance.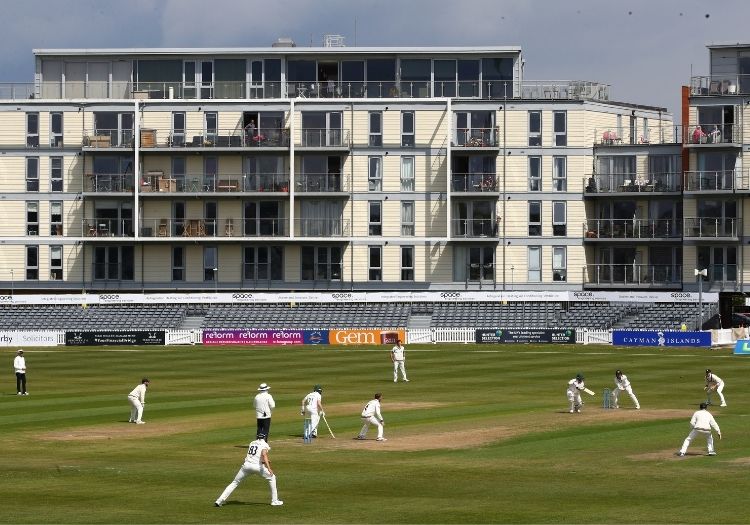 Gloucestershire could have been forgiven for expecting more assistance from conditions after winning the toss and opting to bowl
He was helped by Lewis Hill, whose positivity began as a cameo but gradually became something more substantial, to the point that in the final over before the second new ball was taken, he punched three boundaries through the off-side after reaching a fifth fifty in six innings. He ended the day unbeaten on 77.
All of this meant Callum Parkinson could sit back in the sun – where it was significantly warmer than whenever the shade took over – and smile at a good day's work. The left-arm spinner was appointed as Ackermann's vice-captain ahead of the new season and, owing to the regular captain's concussion, found himself leading Leicestershire for the first time in any format.
As it was, the extent of his work was to call incorrectly at the toss.
Parkinson's is a pleasing story; he is one of the good guys, now at his second county as a professional and his third since beginning life in Lancashire's youth system. Matt, his twin brother, has enjoyed a smoother ride to this point, spending last winter with England in Sri Lanka and India. Callum, on the other hand, has had to tread a less straightforward path, moving on to Derbyshire in search of opportunities and then again to Leicestershire ahead of the 2017 campaign after rejecting a new contract.
Four years on, that gamble has paid off, overseeing his county's finest day so far in this young season, with Sam Evans at its fore.
Subscribe today and receive The Cricketer's centenary issue – six issues for £19.21. Click here
Please ensure all fields are completed before submitting your comment!