Dropped catches, dodgy DRS and the unluckiest dismissal in the world combine to see Gloucestershire sink Hampshire in the Quarantine Cup
Catches were spilled by the home side's fielders, their batsmen were less convincing than Dick van Dyke as a cockney, freak weather caused a remarkable dismissal for Rilee Rossouw, and a malfunctioning Decision Review System resulted in pandemonium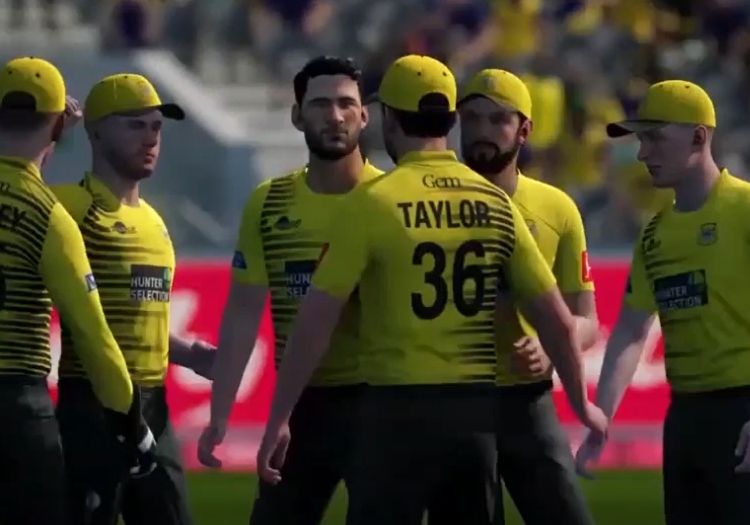 Quarantine Cup: Watch all the matches on demand!
Ageas Bowl: Gloucestershire 66-3, Hampshire 23 - Gloucerstershire won by 43 runs
Hampshire endured some of the worst cricketing misfortune ever witnessed and repeatedly shot themselves in the feet as Mason Crane's honeymoon period in the Quarantine Cup came to an abrupt end at the hands of George Hankins and Gloucestershire.
Crane had won each of his opening two games in the competition to establish himself as an early favourite to lift the title next month, but the England legspinner suffered a nightmarish Sunday evening at the Ageas Bowl.
Catches were spilled by the home side's fielders, their batsmen were less convincing than Dick van Dyke as a cockney, freak weather caused a remarkable dismissal for Rilee Rossouw, and a malfunctioning Decision Review System resulted in further pandemonium as Hankins recorded a crushing 43-run victory which leaves him unbeaten at the top of group one.
The emotional rollercoaster began with a bang when Hankins, having been inserted by Crane, took 16 runs from the first over - bowled by Kyle Abbott. Miles Hammond, the precocious young Gloucestershire batsman, received an early life when he was dropped in the deep and he made the most of the opportunity by racing to 29 inside the first 12 deliveries of the match
He clattered Nathan Lyon - presumably playing for free for Hampshire following the cancellation of his contract - for two sixes and a four in the Australian's solitary over and, after getting a second life when Shaheen Afridi shelled the sort of chance that Kane Williamson's dog could take in its sleep, looked set to record the first half-century in Quarantine Cup history.
Then he got cocky. Abandoning his clean straight striking for a switch-hit slog sweep, he only managed to pick out midwicket. Crane had his man, and a lifeline with Gloucestershire 44 for 1 from 17 balls.
Hampshire rallied. Liam Dawson was invited into the attack and responded by claiming two wickets from his first two deliveries - Che Pujara, not typically the man you'd expect to see at No.3 in a five-over contest, slapped to cover and James Bracey lobbed a catch up to midwicket.
A collapse looked possible, but Gloucestershire were dragged back from the precipice by anchorman Hankins (17 off 10) and Benny Howell (13 from 7). A target of 67 was steep.
It proved to be Himalayan.
Crane, who made 61 in his second match of the tournament, never looked like getting close to the target. His batsmen showed worse timing than Nivens McTwisp, and his morale took a battering at the hand of some outlandish happenstance.
Firstly, the extraordinary decision by the umpires to send James Vince on his way.
Vince had seemingly played and missed at a straight one from David Payne, the ball passing between bat and thighpad on its way through to wicketkeeper Bracey. Yet up went the finger.
The review clearly showed no sound, while the ball obviously missed the inside edge. Yet DRS, presumably having simply watched Vince far too often, placed a hotspot on the outside of his blade. Upstairs, a presumably inebriated third umpire found no reason to disagree. The opener was gone. Crane, back in his living room, was livid.
He was close to boiling over soon after when Rossouw played a good-looking clip off his heels into the legside off Jerome Taylor, only to see the ball get caught in a pop-up hurricane and blown straight back into Bracey's gloves.
The Ageas barely seemed to notice. The commentators did not seem to care. What had just happened was an act of cricketing gods that will be talked about for years; or at least until tomorrow lunchtime.
Hampshire were 16 for 2 and drowning.
Eventually, the hosts were bowled out for just 23, the game finishing it fittingly bizarre circumstances with a top-edged catch being taken by a conveniently placed backstop.
Curious. Crazy. That's why the Quarantine Cup is the best cricket competition in the world right now.
"I feel robbed," Crane said afterwards. "My team dropped three catches, which sadly I'm not in control of and then the way which Rilee got out was the icing on the cake.
"I lost my head from that point on.
"I can only describe it as the wicketkeeper having magnet gloves or something. The ball was well on its way to the boundary, the next thing you know he's standing with it in his hands behind the stumps, 40 yards away.
"Unless he can run very fast I'm going to say he's got magnet gloves."
Asked whether Crane would take his allegation to the authorities, he said: "Maybe not the ECB but the people who made the game, absolutely.
"I'll be writing a very strongly worded letter."
Hankins, however, was in jubilant mood.
"We had a nice start with the bat from Miles Hammond and that gave us a great platform to get a good score," he said.
"Luckily for me I had three opportunities, two with Miles Hammond, and that was a bonus for me. I'm sure Mason will be having a chat with his players about their catching.
"Semi-finals would be lovely but take one step at a time and see what happens."
To remind ourselves of happier times, The Cricketer is offering a £20.19 subscription to celebrate England's World Cup victory. Click here to claim!
Please ensure all fields are completed before submitting your comment!