Glamorgan make Quarantine Cup semis by the barest of margins following victory over Sussex as boundary countback sees Kent knocked out
Glamorgan have joined Sussex in the semi-finals of the Quarantine Cup after beating them comfortably in the final game of the group stages, a result that sees the Welsh county progress ahead of Kent on the boundary countback rule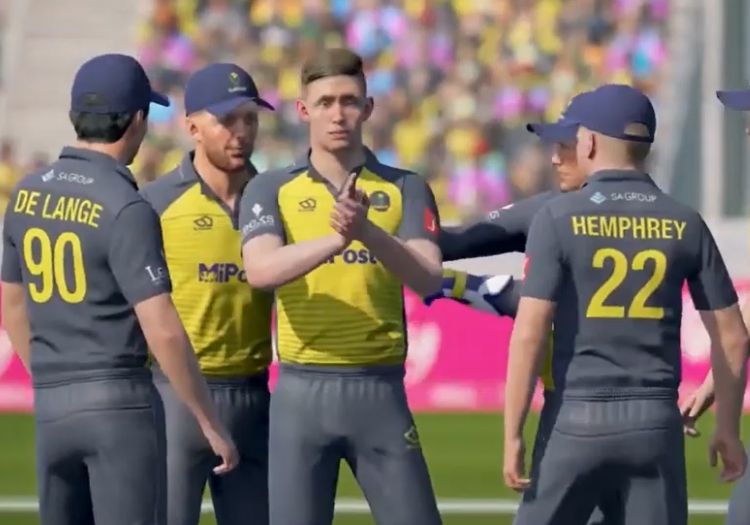 Quarantine Cup: Watch all the matches on demand!
Lancashire Stadium: Glamorgan 45-4, Sussex 22 - Glamorgan won by 23 runs
Scenes. What scenes. Extraordinary scenes at the virtually coined Lancashire Stadium. Glamorgan had to win to even stand a chance of reaching a maiden Quarantine Cup quarter-finaal. Sussex, thumbed by Tymal Mills, were already there.
With Roman Walker at the keypad, the Welsh county had to hit at least five boundaries to squirm above Kent and into the final four. And with three balls remaining of their innings – batting first after Mills elected to bowl, they reached their magic number, a figure that gave them a fighting chance and that kept their competition alive as the run-chase began.
Nothing, and I mean nothing, beats a virtual boundary countback.
Mills, previously unbeaten and mightily impressive after initially downplaying his chances of glory, having struggled in a set of pre-season encounters against his partner, began proceedings with his computerised self, searching for the blockhole to some avail, before the last delivery of the first over brought the first of those five golden boundaries – plonked over square leg for six.
Strife was not far away, though; Chris Cooke chipped Rashid Khan straight to Luke Wright at midwicket. One delivery later, that trick should have been repeated – same bowler, same fielder. Only the virtual hands of Wright had a hole in their midst, and David Lloyd survived. A couple of balls later, he struck the second boundary – each one crucial to the Glammy cause, this time Lloyd clipping behind square.
Lloyd's race was soon run. Danny Briggs – the highest wicket-taker in T20 Blast history, but a somewhat unknown quantity in the eerie world of Virtual Five5 (VFF), struck almost immediately as the batsman picked out Wright.
You wouldn't wish to speak prematurely, but this felt like a final: two competent controllers, few boundaries, rare mishaps, controlled running and decent bowling. It was as hard-fought – for the right reasons – as any game this viewer has seen.
With a game to break open, Mills turned to Jofra Archer. Shock. His first delivery was up at 96.9mph, his second at 97.8mph. It brought the demise of Billy Root without scoring; his clip into the on-side was expertly swooped upon by Phil Salt, bending down with one hand – like vulture unto carcass – to claim a key wicket. Archer continued to crank it up; his third ball topped the 98mph mark, with virtual Marnus Labuschagne just happy to take a single down to the non-striker's end.
Three boundaries still required – eight deliveries left in the innings. Archer to Dan Douthwaite; a flick through midwicket, a forlorn cry of catch – there was no fielder for miles – and four runs. Seven balls remaining, two boundaries still to hit just to keep the Walker campaign alive going into the second innings. Archer's over closed out, Chris Jordan would be entrusted with the responsibility.
Douthwaite, playing an absolute gem of a make-believe innings, whipped the first ball of the over off his pads for six. He repeated the trick with just three balls remaining. Game on. Boundary countback in play. That little tingly feeling everywhere. BAREST OF MARGINS, and all that lark. Not the World Cup this time, but the Quarantine Cup Group B round-robin phase. Douthwaite for BBC Virtual Sports Personality of the Year? Who knows? He was dismissed off the final ball of the innings, giving viewers the chance to sample a close-up of the unusual goatee being sported by virtual Jordan.
Target set, Glamorgan had 45 runs to defend. Win and qualify – the boundary count now in their favour, Imran Qayyum and his Kent side left to watch on in hope.
Mills sent his computer self to open the batting. It did not immediately pay off. His off-stump was soon on the floor. Experiment over, one assumes. He was replaced by Ravi Bopara, one of several players in this competition making their Cricket19 debuts for their new counties before turning out for their real human sides. He was soon into his work, inducing four byes through a worryingly statuesque Chris Cooke.
The plans from Glamorgan, however, were excellent; wide yorkers mixed in with the occasional bouncer, runs were hard to come by. That frustration showed; Wright was run out by Cooke as he attempted an opportunistic – and curious – single to the wicketkeeper. Slightly weirdly, Bopara followed one ball later in identical circumstances. The experienced pair contributing just three runs off ten deliveries, hamstrung and suffocated by a revitalised Walker, well aware of the prize at stake.
By now, the game had settled into a rhythm; if the ball went for four, it went for four. If the Sussex batsmen missed, Cooke would shy at the stumps. All a bit unusual, but eminently watchable nonetheless.
Graham Wagg then bowled an over that cost just a single, essentially ending things as a veritable contest: 26 off six for a Sussex win, anything less sending Glamorgan through. And it was Walker himself who delivered the last rites, bowling Ben Brown and trapping Stiaan van Zyl lbw to end proceedings.
These two could well meet in the final. Mills is a far better gamer than this showing suggested, while Walker was impressive here. A 23-run victory, defending just 45. Could this be Glamorgan's year?
To remind ourselves of happier times, The Cricketer is offering a £20.19 subscription to celebrate England's World Cup victory. Click here to claim!
Please ensure all fields are completed before submitting your comment!