Exosuit: a new generation of cricket equipment
The EXO1 top from Exosuit is more than just a compression top. It is an innovative piece of technology that interacts with the body to support, stabilise and power performance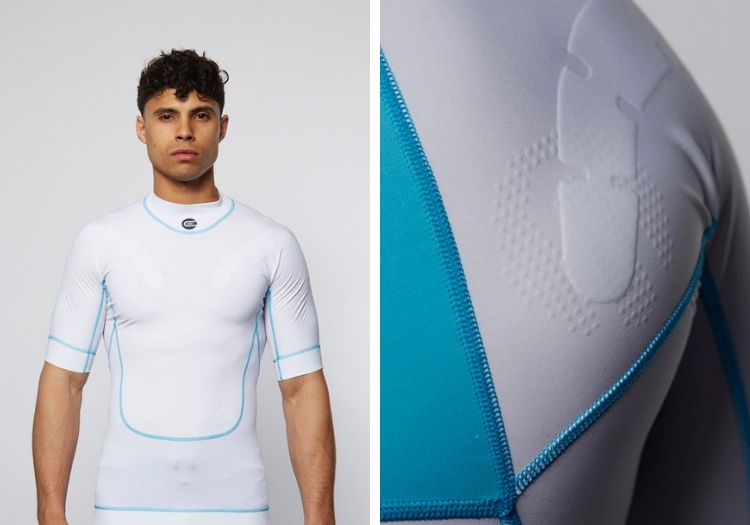 We all want to hit the ground running once the cricket season returns. Without a formal pre-season, self-motivated fitness is key to make sure that when we are back at the crease no quick single is left un-scampered.
Until now, cricket clothing hasn't really been considered to be equipment. But a new type of compression top by Exosuit – the EXO1 – offers so much more than the traditional base-layer or compression top.
The Cricketer were sent a sample of the top and put it through its paces, while also seeing how it would fare in a cricket-playing context. Should this new technology be considered an essential part of your cricketing equipment?
The EXO1 – which has taken seven years to develop, works by having an ingenious series of silicon pads at key points on the inside of the garment. These pads are connected across the chest, shoulder and back on each side by a series of soft, flexible structures integrated into the garment, which the company calls Powerflex Technology™.
As you move, the silicon patches subtly pull on your skin, which sends messages subconsciously reminding your brain where key muscles are and what they're doing. This results in improved proprioception: your body's awareness of its position at all times. The improved proprioception you get from wearing the top even helps to prevent minor injuries.
In short, it's a very clever piece of kit with a lot of science behind it.
The initial impressions were that it felt slightly unusual when first put on. It has to fit quite tightly in order to function and it takes a few minutes for your body to get used to it for the first time. But this quickly eases off as your body becomes accustomed to it, so that you often forget it is even there when using it.
Another smart but simple feature is the adhesive strip along the bottom. This ensures the top does not ride up your torso, as happens with almost every other base-layer out there.
The EXO1 is suited for all conditions: hot, cold, dry or wet. The top works best when the silicon pads are slightly damp and this naturally happens as you sweat.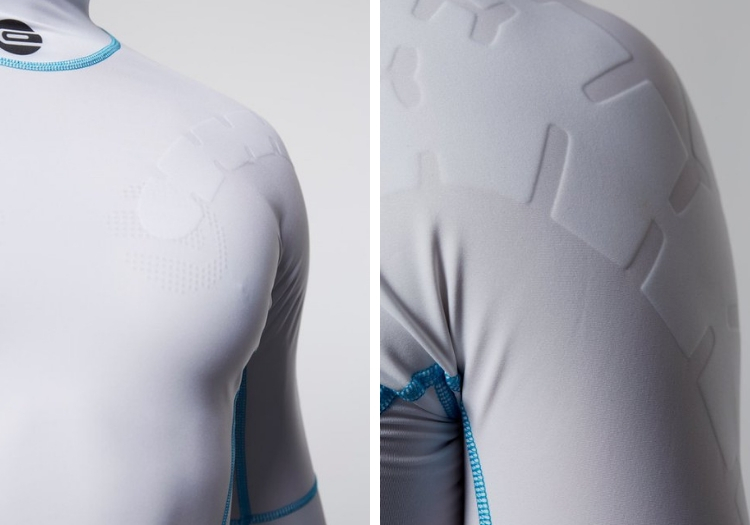 The silicon pads enhance proprioception, the awareness of the position and movements of the body
The top even has good environmental credentials: it uses fabrics made from recycled plastic that has been recovered from the ocean.
But how can the EXO1 benefit cricketers?
Batsmen, bowlers and fielders will all probably benefit from this interesting new technology developed by Exosuit.
All amateur players will know the pain after the first few net sessions. Bowling is an unusual action for our arms to cope with and the next couple of days are stiff and sore. The same with fielding when you have to throw the ball in from the deep.
Any additional support and stability that can be provided to the upper body and the shoulders is to be welcomed. Batting involves confidence and power, which is enhanced wearing the EXO1.
All cricketers have been taught at some point how to bowl, throw and bat. But as fatigue sets in, or even just bad habits, these techniques can start to slip. When wearing the EXO1, cricketers can consciously, or subconsciously, adjust their action, taking unnecessary stress away from their bodies and maintain good technique.
Enhanced proprioception can also be used as a tool. Those with greater proprioceptive abilities are quicker to react, adapt and can do so with more power and confidence in their body's performance.
The EXO1 is much more than a base-layer. It performs in both hot and cold weather with minimal fuss, but its injury prevention functions and technique-improving abilities make this an essential addition to your summer kit-bag.
To find out more about Exosuit and their EXO1 top visit www.exosuit.co.uk