Dav Whatmore's Singapore experience
JAY DANSINGHANI: Singapore's preparation prior to major tournaments is something they can be proud of. It's allowed them to go undefeated in various tournaments, upset higher-ranked nations, and it almost got them to a World Cup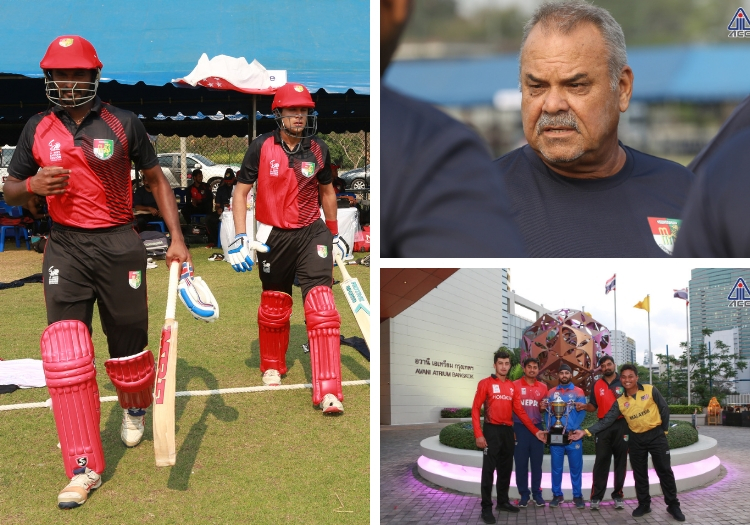 Dav Whatmore and the phrase "relegation" don't quite go together. However, in his third season in charge of Indian state side Kerala, they finished second from last in their Ranji Trophy campaign.
Therefore, it was hardly surprising that he opted against extending his stay with the team when his contract expired in early February this year.
7,500 km away, the Singapore Cricket Association (SCA) sensed an opportunity. They were in the market for a head coach after Bilal Asad left to take charge of neighbours Malaysia. The SCA wasted no time in securing the services of Whatmore, announcing his appointment on an interim basis just a one week after the end of Kerala's season.
Whatmore's appointment was regarded as a major coup for one of the world's fastest-improving cricketing nations.
*****
October 20, 2019: Beads of sweat are falling from the hair of an elated Navin Param and onto Tim David and Singapore skipper Amjad Mahboob. They're carrying Param on their shoulders, parading him off the field. And he deserves it.
Param's unbeaten 72 off just 41 balls, highlighted by an audacious procession of scoops over fine leg – one of which flies beyond the boundary ropes – has just propelled Singapore to a final-over win against a jaded Bermuda.
The world, if it hadn't already, was starting to take notice of Singapore.
"Where'd they come from?"
"I didn't know they played cricket in Singapore."
As Nepal, Canada, Zimbabwe, and Scotland had found out in the preceding 14 weeks, Singapore didn't just play cricket, they won, often beating more fancied opponents from tight positions.
All they needed to do to reach their first-ever World Cup was to win two of their last four group games at the T20 World Cup Qualifier.
All of a sudden, the world and mainstream publications, who'd barely given them a second's thought, were forced to confront something that followers of Singaporean cricket had known all along: Singapore had every chance of making it.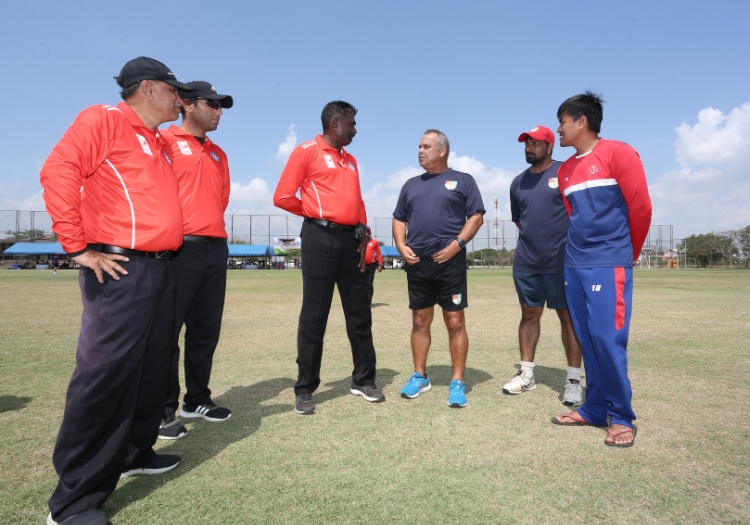 However, six days and four consecutive defeats later, Singapore, in a blink of an eye, were knocked out.
The "Big Dance" was within their grasp, but fate dropped the pen, choosing not to script a fairy-tale ending that would have unlocked greater funding from both the ICC and the Singaporean government.
*****
Sidhant Singh had four months to ponder his 29-run over that swung things in favour of Namibia in Singapore's final group game. He was mowed over cow corner for four consecutive maximums by Namibian skipper Gerhard Erasmus as Singapore's slim hopes of qualifying via net run rate went up in smoke.
Sidhant was forced to put the trauma of that day behind him as his side began their preparations for the ACC Eastern Region T20 Tournament, which was part of the qualifying pathway for the Asia Cup. The top two teams out of Hong Kong, Singapore, Malaysia, Nepal, and hosts Thailand would join Kuwait and the UAE in the final qualifying round of Asia's marquee multi-nation trophy.
As things turned out, Sidhant wouldn't bowl a single ball in the competition. Whatmore, however, saw something special in the 20-year-old.
"People were looking at him as a bowler who bats, but I think he's the other way around… Amjad trusted me in my observation that this kid is hungry, he's got this, and he's got that, and we should try him."
Sidhant was promoted to open and the move paid off handsomely as he made consecutive half centuries against Thailand and Malaysia on his way to topping the tournament run charts.
Despite his short-term assignment, Whatmore wasted no time in making a tournament-defining impact.
Singapore finished the tournament undefeated, during which time they pummeled Southeast Asian neighbours Malaysia by 128 runs. But Whatmore quickly stops short of taking credit for the triumph.
"I only had like eight to ten days before the tournament and so much of the work had been done before I came," he says.
Whatmore is referring to a series of ten warm-up games that Singapore played against a selection of Pakistani first-class and club cricketers, which included former Pakistan U-19 skipper Azeem Ghumman.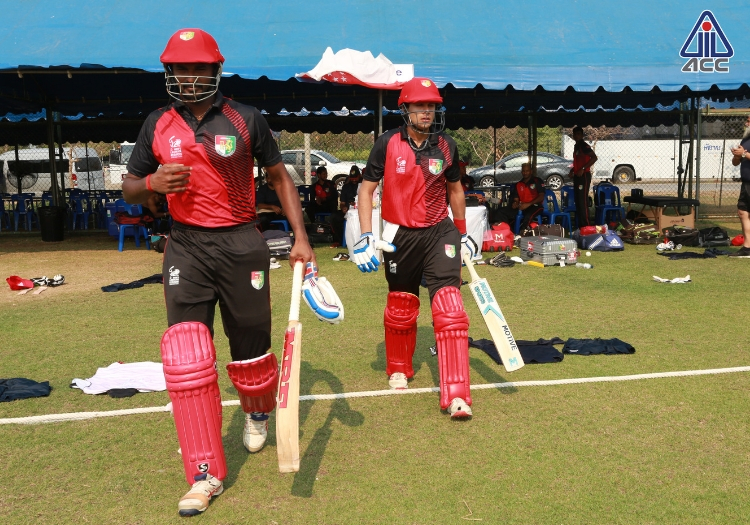 It's not the first time Singapore has done this either. Prior to their table-topping run at the Asia Regional Finals in July 2019, which allowed them to advance to the global qualifiers of the T20 World Cup, they played a similar series of 13 games against a "Pakistan Gladiators" outfit that contained many of the same players as the Peace XI.
This was followed by the Elite Player Series (EPS). Operating within an MOU with the Uganda Cricket Association, the EPS was contested between three teams consisting of current Singaporean senior cricketers, local age group cricketers, and a selection of overseas players such as Ugandan skipper Roger Mukasa, fellow Ugandans Charles and Kenneth Waiswa, and highly-rated Malaysian brothers Virandeep and Pavandeep Singh. Each team played a total of six matches; three against each of the other two teams.
This allowed them to close the gap in quality between domestic cricket and the international arena. Youngsters like opener Rohan Rangarajan, left-arm spinner Aahan Achar, Aryaman Uchil, and Sidhant Singh have benefitted greatly from this exposure, establishing themselves as regular members of the squad.
It is, therefore, not entirely surprising that Singapore ended the Asia regional finals as the only undefeated team. That they deserved to qualify for the T20 World Cup global qualifiers and the Asia Cup qualifiers was a result of extensive and meticulous preparation.
Whatmore heaped praise on the SCA, especially their CEO Saad Janjua, for scouting the Pakistani contingent that have made up the Peace XI and Pakistan Gladiators teams.
"It's a big tick for Saad and SCA for doing that… because the specific preparation that you're able to achieve by playing games…you know the opposition, whereas if you go to another country early and prepare by playing some practice matches, you're not quite sure about the level of competition that you're going to get. And that becomes more costly as well.
"It's more cost-effective when you bring a team like that to Singapore and are able to minimise your expenses to achieve the same sort of goal."
Another key to Singapore's success at the ACC Easterns was a fluid batting line-up: something Whatmore believes is crucial in T20 cricket.
"In this format of the game, it's very volatile and things change very quickly. I need to see at least three people padded up at any one stage and whoever goes in next will purely depend on what the situation is."
The tactic paid dividends in a crucial fixture against Malaysia after a mammoth 96-run opening stand between Surendran Chandramohan and Sidhant. Tim David, who had often batted at four in an effort to lengthen Singapore's batting line-up, walked in at 3 in place of talented youngster Rohan Rangarajan. The Singapore-born Perth Scorchers all-rounder muscled a 32-ball 92* to silence, and totally deflate Malaysia's dugout.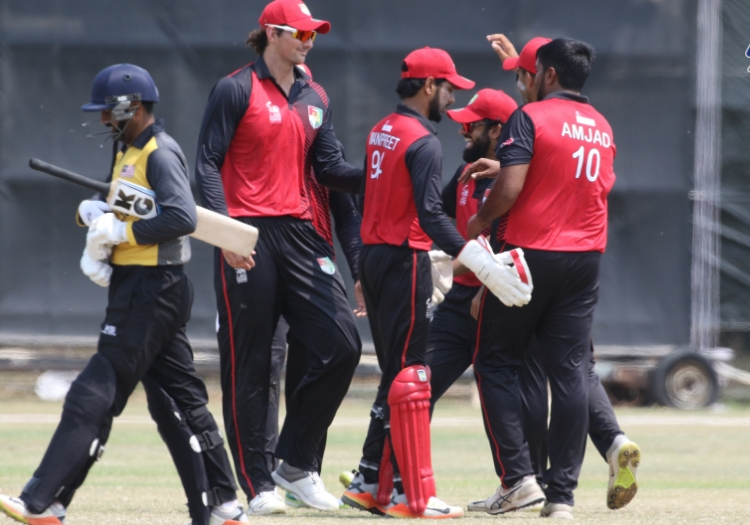 Hard-hitting allrounders Janak Prakash and Aryaman Uchil were also sent in with enough time to make an impact at various stages throughout the tournament.
While Whatmore admits to being pleasantly surprised with the talent and depth in Singapore's squad, he's equally surprised by some of their recent batting collapses, including a game against Qatar, where they lost seven wickets for 15 runs in the space of 31 balls to botch a straightforward chase.
He is quick to point out that he doesn't believe this is a uniquely Singaporean problem and that with all the teams he's coached, he's emphasised the importance of staying in the present moment.
"You can have all the technique and you can work on your technique at training, but once you start a competition, it's played in the head. So it's just a matter of one ball at a time.
"You're thinking one ball at a time. You understand the situation and you arrive at a strategy, but you are still making a decision. Hopefully a correct decision as a batsman."
In past interviews, Whatmore has spoken extensively about how he prefers to focus on youngsters in a squad. When asked about what he talks to them about, he doubles down on the importance of staying present and grounded.
"Keep your head where your body is," he explains. "Often your head just travels so far away in space that it's not relevant to what's happening on the ground."
With the indefinite postponement of Group A of the Challenge League, part of the qualification pathway to the 2023 50-over World Cup, Whatmore's first assignment for Singapore may well turn out to be his last. However, as he discusses his next moves in his coaching career, he reveals that the door may be open for more interim roles like this one.
"I've got more or less five or so months to do a few little other things like this before I hope to take on another Ranji Trophy state team in India in August. I have a manager, who is currently finalising maybe a team that I could be signing with for the next couple of years. So between now and August I'll be doing some things that I've wanted to do for quite a while, but didn't have the time to do it."
If Singapore struggle to fill their vacant head coach role, the door may yet be open for them to rope in the prolific coach for one more stint. Having said that, funding continues to be an issue for the ambitious Southeast Asians and could hinder their recruitment efforts.
Nevertheless, Singapore's preparation prior to major tournaments is something they can be proud of. It's allowed them to go undefeated in various tournaments, upset higher-ranked nations, and it almost got them to a World Cup.
It's also likely to impress their future head coach, just as it has impressed Dav Whatmore.
Photo credits: Asian Cricket Council (ACC)
Please ensure all fields are completed before submitting your comment!