316 off 113 balls: The story behind Chris Holliday's record-breaking day
TEDDIE CASTERTON: His first hundred came from 45 balls, before he ramped up his strike-rate further, scoring the second off 36 and the third off just 29 deliveries. His innings included 288 runs in boundaries alone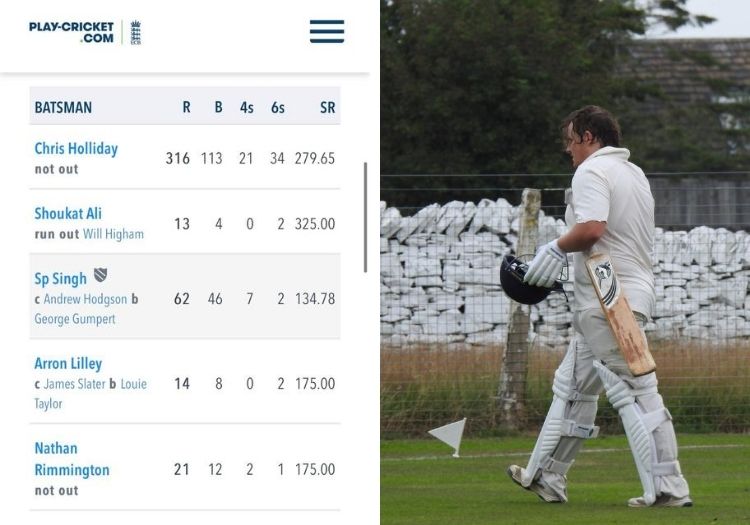 Chris Holliday has become something of a viral figure on the club cricket scene after hitting a remarkable 316 off just 113 balls.
28-year-old Holliday has been the leading run-scorer for his club in the last few years and turned up against Denby Cricket Club full of confidence, having not having much cricket played due to the Covid-19 pandemic.
His first hundred came from 45 balls, before he ramped up his strike-rate further, scoring the second off 36 and the third off just 29 deliveries. His innings consisted of 34 sixes and 21 fours, with 288 runs coming in boundaries alone.
"It is unforeseen times," he told The Cricketer. "It is really nice to be out on the field playing cricket again. At least people are getting outside and getting some fresh air. Obviously I'm buzzing for myself but it was a bit of a freak innings."
Hoylandswaine were facing off against Denby, a team that previously had not been in their league. When coronavirus struck, a makeshift league was introduced for the season, with clubs playing 30-over games. The Huddersfield Cricket League put together seven groups, with six based on 2019 finishing positions and a seventh made up of clubs facing ground issues in this exceptional summer.
Winning the toss, Hoylandswaine elected to bat first, and with Holliday at the forefront, they charged to 456 for 3, with a contribution of 62 from captain SP Singh. Denby were bowled out for just 78 in 19.1 overs in reply.
"I'd call it competitive friendlies," Holliday added. "But if I'm going to turn up, I want to play to the best of my ability. I suppose I got a bit of luck and you've got to ride your chances."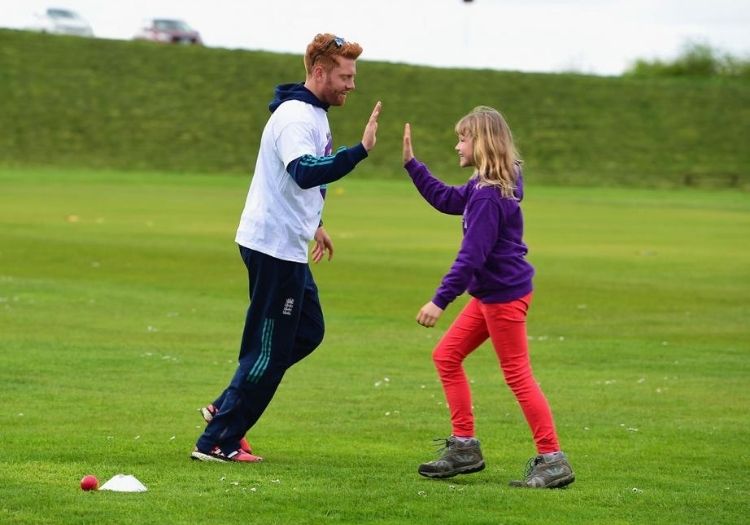 Jonny Bairstow leads a coaching session at Denby CC back in 2017
Holliday was dropped on 110 within the first 10 overs, before carrying on to his mammoth total and achieving the league record, for which he was applauded.
He had nothing but good things to say about his opposition on the day. "Denby is a beautiful ground, the deck was unbelievable; one of the best decks in the Huddersfield League, hats off to them for preparing the wicket," he explained.
Hoylandswaine are one of the strongest teams in the league, featuring current and former professional players, including Durham seamer Nathan Rimmington, one-time Yorkshire spinner Gurman Randhawa and ex-Northamptonshire bowler Muhammad Azharullah.
"I've always had a chip on my shoulder that I should have played at a higher level," Holliday said. "I want to prove to them, and to myself, that I'm good enough to play at that level."
On the back of such a dominating display, Holliday has received some criticism on social media, with some suggesting that his innings went against the spirit of the amateur game.
"I did offer to retire but my team told me to keep going," he added. "When I got past 200 someone from the boundary kept saying just 80 more runs for the record. I had no idea; it wasn't even in my mind."
When asked if Hoylandswaine might have bowled first, Holliday said: "I guess we could have done. But the wicket was so beautiful and flat. Plus, with the bowlers we have, the game could have been over and done with in a couple of hours and no-one wants that.
"I still have aspirations to play county cricket. But with the current climate and commitments to his work, he knows it will be an uphill battle."
For unrivalled coverage of the county season, subscribe to The Cricketer and receive four issues for £15
Please ensure all fields are completed before submitting your comment!