Amar Virdi wants taste of Test action soon as he learns from Moeen
HUW TURBERVILL: The Surrey youngster has learnt from Saqlain Mushtaq and Pat Pocock as his game has developed, and he insists he is deadly serious about playing in the series opener against West Indies on July 8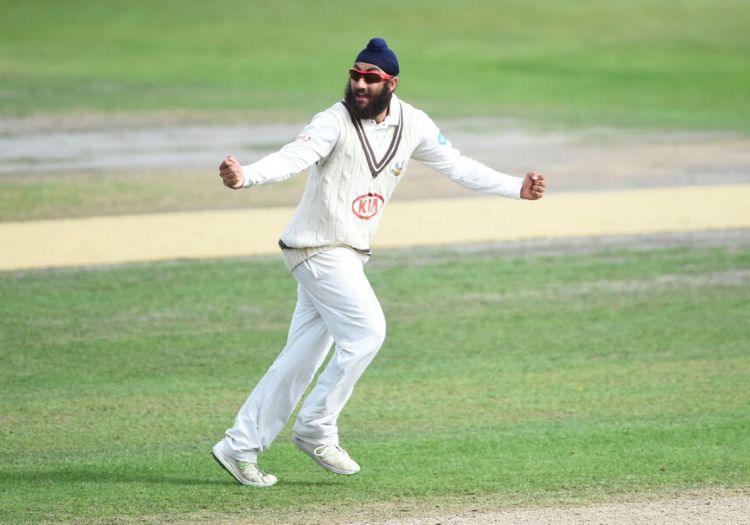 This Covid-struck summer has been deeply frustrating for cricketers, but has afforded England hopefuls like Amar Virdi an incredible opportunity.
Virdi, 21, would have been preparing for what was probably going to be his eighth County Championship match of the summer for Surrey, at Northamptonshire, starting on Sunday. He'd soon be resigning himself to sitting out white-ball cricket that takes up most of July and August. Instead he is in a bio-secure England camp in Southampton, bowling alongside and learning off Moeen Ali. 
"I've been in the Lions programme for the last few years so you feel a lot closer to potentially playing for the main side, but getting picked for the squad of 55 was massive for me because I want to be playing Test cricket," he said on a Zoom call from inside the camp. "Then getting picked for the 30, it's great being around the boys getting a taste of what it's like at this level.
"I really enjoy watching Moeen bowl – he is definitely a seasoned spinner. I like seeing how he goes about his business in the nets and whenever you're with him he's always helpful giving advice."
England's 30 has been divided into two groups, with Moeen, Virdi and Matt Parkinson in one, and the Taunton twirlers Jack Leach and Dom Bess in the other.
Virdi would appear to be behind fellow off-spinners Moeen and Bess in the pecking order, but he insists he is deadly serious about playing in the series opener against West Indies on July 8.
"I definitely want to be playing in the first Test and in the squad. If I didn't want to do that I probably shouldn't be here. I'm proud of myself that I've got to this stage. The next stage is about pushing for a Test place and whenever that does happen I'm going to keep working hard.
"I've introduced myself to everybody and it's been a warm welcome. You have guys who have been playing for a long time and that can be intimidating in any environment but everyone has been nice.
"There's always a spinners' union. I've met them all before or done Lions tours with them. It's a great opportunity to learn from the more experienced guys. It's all very different. When you're having lunch it's two people on a table, almost like you're on a dinner date!"
In 2018 Virdi burst into the Surrey first XI, taking 39 wickets at 30, helping them win the title.
He suffered a stress-related back injury in 2019, and his Damascene moment came when Surrey's director of cricket, Alec Stewart, and strength and conditioning coach, Darren Veness, laid down the law to him. When he came back he took 14 wickets in the match against Nottinghamshire at Trent Bridge.
"I don't think I'd be here if that hadn't happened. Cricket now includes everything that happens all day. I probably didn't put as much focus on my game as I should have. I want to say a big thank you to Stewie and also to Daz Venness, Vikram Solanki and all the other coaches who supported me. If that hadn't have happened I might have struggled progressing to the next level. I'm still trying to make my name at county level but I'm a lot fitter now – I probably wouldn't be here if I wasn't – it's something I've definitely embraced.
"You see how hard the guys here are training, why England are regarded as one of the fittest sides in the world. It's a case of making sure I'm fit enough to play the game and even at the end of a long day's play I'm ready to go the next day, and that's key for me especially wanting to play Test cricket."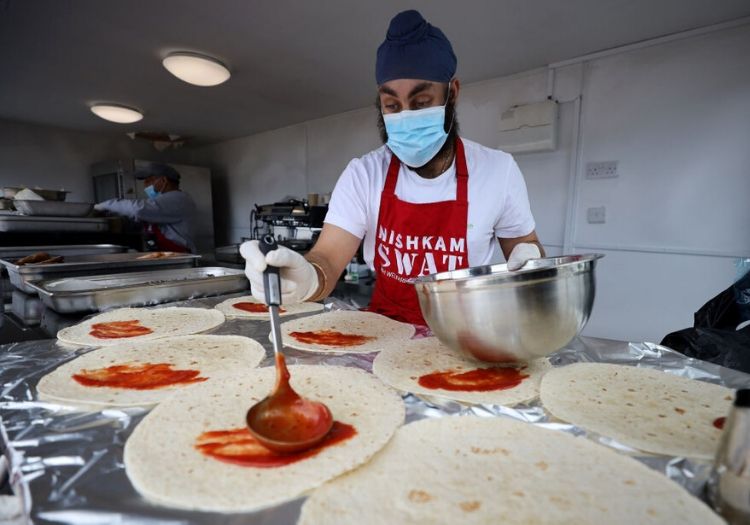 Virdi spent part of his lockdown period volunteering with humanitarian aid charity NishkamSWAT, preparing meals for homeless, vulnerable and elderly people 
He has been coached by former Surrey and England off-spinner Pat Pocock. "He's so enthusiastic and energetic about spin bowling. It's like you're a kid in a sweetshop. I spent about an hour with him and ended up bowling only about five balls as he showed me all these different things. What was really interesting was how he used the lines on the crease, how to change the angle. How to find the line when you are struggling to find it. Just being very loose and rhythmical in your run-up."
Virdi also loved watching Graeme Swann and Monty Panesar as a youngster. "The first thing I did with a cricket ball was bowl spin. Growing up I watched Graeme Swann and Monty bowling and that was inspirational. My fond memories are of Graeme ripping through Australia in the Ashes. And obviously with Monty he looks similar to me, especially being from the Sikh community. We're in a minority in a lot of industries and to see someone progressing and doing well in the field you're in really motivates you and shows you can do it."
Virdi's path took him then to the Guru Nanak Sikh Academy in Hayes, and play for the clubs Indian Gymkhana, in Osterley, and Sunbury, which is now in Surrey.
"Growing up, a lot of people's parents support India for example so you grow up supporting India wherever you're from or where your family background is. What's fundamental is that even from a young age I've always supported England and that's important.
"There also needs to be more education for the minority communities and parents – how the actual county system works. There's so much talent, from so many different communities, it definitely needs to be tapped into."
So what can we expect to see from him if he plays in the Test series? "You have to be aggressive and look to take wickets. I do have variations but I think it's important to ensure your stock ball is in the best possible place before trying all these things. In white-ball cricket it's maybe different but in red ball I do find that it is easy to become distracted with a lot of variations.
"My coach from a young age has been Saqlain Mushtaq, who invented the doosra so I'm lucky to have had a top coach there."
Moeen, Saqlain, Pocock… England's future spinner appears to be in good hands.
Save 30% when you subscribe to The Cricketer's print & digital bundle. £35 for 12 issues
Please ensure all fields are completed before submitting your comment!