Alexia Walker sets out BACA ambition: "I had a huge desire to close the huge gaps that exist in state education"
The work of the Brighton Aldridge Community Academy has been made possible by Sir Rod Aldridge's funding but, led by Walker, there is a determination in the region to introduce cricket to as many youngsters as possible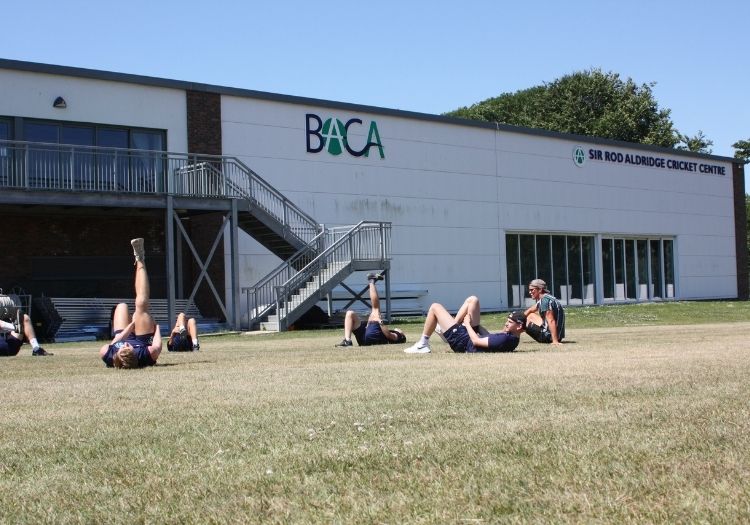 Now in her eighth year at Brighton Aldridge Community Academy, Alexia Walker doesn't often stop to remind herself that being a female director of cricket at a coeducational school makes her something of a rarity.
After all, she carries the experience of a former Sussex captain and three-cap England international.
Her assistant, Georgia Adams, is similarly well-qualified: the leading run-scorer in last summer's Rachael Heyhoe Flint Trophy and Southern Vipers skipper didn't make the national squad for their upcoming series in New Zealand, but she is pushing as hard as anyone could to earn an opportunity at the highest level. Until that moment comes, however, she remains part of a "formidable setup" at one of the most interesting school cricket stories in the country.
Having grown up in club cricket, spending her youth playing in boys' teams, gender has never really come into it for Walker. She was a prodigy of Graham Dilley's tenure at Loughborough University, training with future male pros Monty Panesar, Chris Nash and James Anyon, before becoming the first woman to hold a director of cricket role at a private school when she took on the post at Brighton College in 2010.
Three years later, she left for BACA – a non-selective academy that is part of the Aldridge group of schools founded by Sir Rod Aldridge.
"I just think it's hopefully inspiring," she says of her own position, "not just to the girls, but the boys as well. It doesn't matter who or what you are. If you're good at what you do and you work really hard, you can do whatever you want to do."
That picture is the essence of what the institution has set out to achieve, using cricket as its vehicle. She recalls the response of her pupils to Adams' unbeaten 154 against Western Storm in September, approaching her to offer their congratulations one by one. "They hang on every word Georgia has to say about batting," says Walker.
Several of the teenage boys in her squad had tuned in to watch their coach on the live streams available throughout the competition. "They're hugely respectful of us. We're so lucky to have that. To have the equivalent of a male going out to score a hundred in a domestic one-day game and coming to work the next day, it doesn't happen."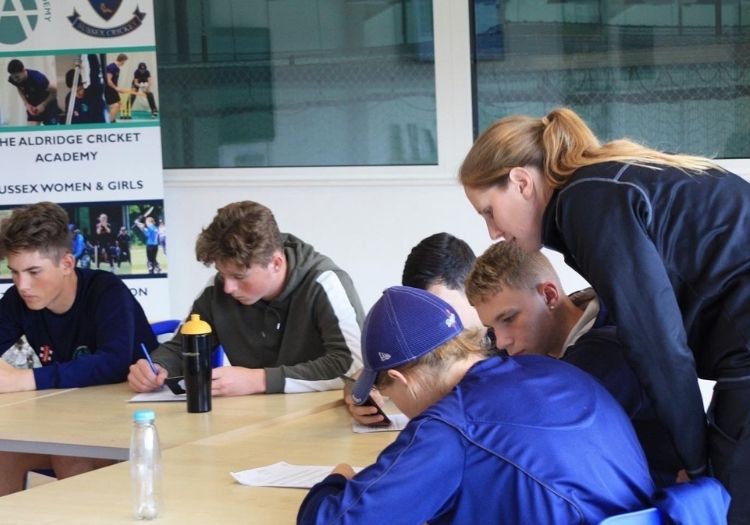 The Brighton Aldridge Community Academy is a non-selective academy that is part of the Aldridge group of schools
The overwhelming dominance of private education within the English game is a story well-told, and it is what differentiates BACA from the majority of the United Kingdom's other schools who pride themselves on their cricket programmes. Needless to say, it has been made possible by Aldridge's funding – and it hardly makes BACA a typical example but, led by Walker, there is a determination in the region to make the most of the opportunity at play.
Sussex are on board as a major partner; chief executive Rob Andrew, academy director Richard Halsall and high-performance head Keith Greenfield are all keen supporters, sending in coaches to provide their assistance and expertise. In return, the county utilise the facilities for training, while the women's side – coached by Walker – play their home games at the school's Falmer base.
"We want to help the talented cricketers that can't afford to or don't want to go to private schools," she says.
"What we offer is free and we believe it's an even better standard because we offer cricket all year round. But also, we'd love to be able to find a child at the estate just down the road who'd never thought about cricket or understood it but started at primary school through one of our coaching projects and then went all the way through to become a professional cricketer or a first-teamer at their local club.
"We want to do both: help facilitate for those who are already on their journey and have already got desires to be the best cricketer they can, but also finding children who've never even thought about it: let's find some talent, help them develop and see how far we can take them."
In a nutshell, that is the premise. The conflation of private schools and club cricket has been a long-held frustration of Walker. She presents the example of Alastair Cook, whose success is often discussed through the lens of his upbringing at Bedford School but rarely in conjunction with the platform handed to him at Maldon, his boyhood club, for whom he was already playing at first-team level in the twentieth century – five years before his record-breaking summer for Bedford.
Rather, Walker firmly believes "that there is a big culture of cricket in state-educated children, but it comes from the club scene". It is why she left Brighton College, the alma mater of Holly Colvin, Freya Davies, Laura Marsh, Clare Connor and Sarah Taylor, for the challenge of proving her point. "I had a huge desire to close the huge gaps that exist in state education," she explains.
"It was Rod's vision to go: 'Why do you have to only play cricket at private schools? It doesn't make sense.' Well, it's costly, you have to maintain a big ground, you need indoor facilities – there are big barriers. But I said if he was willing to knock those barriers down, I was happy to help move them."
Amateur clubs' collective fight for survival through the coronavirus pandemic has merely extended her belief in the system's potential. "And so, I see us as a really important part of getting volume and getting coaching into these children who have already fallen in love with the game, whether it be at their primary school in softball cricket or with All Stars at their local club," she says.
"But when they get to the age of 11 or 12, what is there for them? We need a structure, we need facilities, we need a culture that you play cricket and give it a go, whether you're rubbish and have never done it before or you've got aspirations to become an England player. Whatever you want to do with you cricket journey, we need to find a way to facilitate that because there is a huge following."
And so, this is the strategy. Walker is at pains to avoid describing it as a talent identification process, for that notion contravenes an overarching non-selective ethos. Instead, she is simply committed to introducing the sport to as many children as possible across the circumference of the catchment area.
She asks rhetorically: "What can we do in our corner of the world down here in Brighton and Hove and the surrounding areas?" For one, four of the school's newest intake are from outer-city: one from Eastbourne, two from Worthing and another from East Sussex. For Walker, they represent a success for the wider philosophy of spreading cricket. "There's obviously a huge desire from these children to really engrain the game within their education."
In her playing days, Alexia Walker pictured playing for Sussex with Clare Connor
With cricket the school's central extracurricular focus, those who opt to join are aware of what is at their disposal, even if other sports are encouraged through PE lessons. Former students include Southern Vipers seamer Tara Norris, Liam O'Brien, who represents England's physical disability team, and ex-Sussex seamer Will Sheffield.
Sheffield's sixth form timetable – lessons in the morning, cricket in the afternoon – effectively allowed him and Sussex regular access to one another. Most on BACA's pathway won't opt for the professional game, however.
Despite the elite feel to the programme, which includes training from September through to the summer and strength and conditioning work, the wider focus champions participation – specifically, through outreach work in primary schools to ensure that children have been immersed cricket before they have made up their minds on which sports are for them.
"That's what we do," Walker says. "We do a lot of project work around our feeder primary schools, because cricket is not in the culture or environment of our local area. Alongside Sussex, we help to deliver those projects: if there's anyone there who's got the cricket bug, we'll send them to the local club that works with us, we'll invite the school in for taster sessions, we'll send our PE lead out there. That's all so that when they get here in Year Seven, they know what's expected and what's available.
"Cricket is very technical, so if you don't get kids that early, it can be difficult to catch them up. But I do also feel that if we can get kids understanding the game and loving it in the primary school projects, then we can refine them as they get to us. It's great to expose them before they're 11 or 12 years old – at least they then know the game.
"There are lots of ECB and Sussex Cricket projects, but we've decided to put an extra layer on that and give as many opportunities to experience cricket as we can. When they arrive here, whatever cricket they want to play – whether that's an afterschool club or a junior pathway – there's different routes for them to find their way.
"For us, selfishly, we get them for seven years – that's more than any school gets with a cricketer. If we can give them skills, tools and confidence, then hopefully – whatever they become – at least they've been given a huge opportunity to grow and develop, regardless of what schools they went to, which is really important."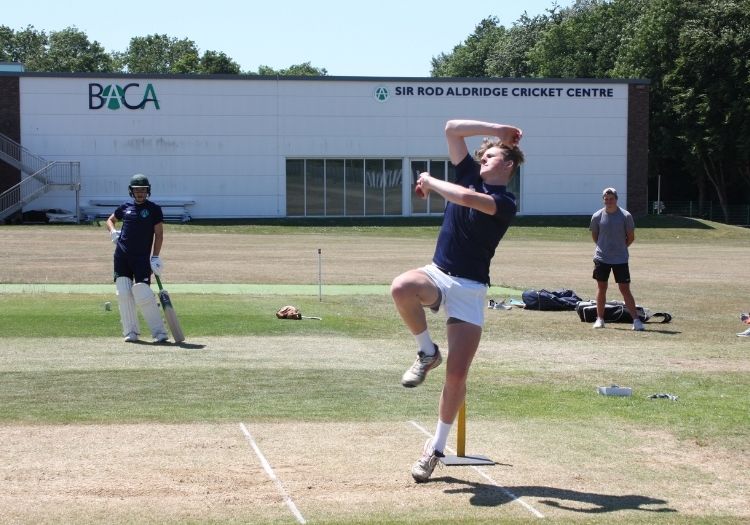 BACA have a formal relationship with St Peters' CC in Brighton
It is one of the reasons for the partnership that exists between BACA and St Peters, a major club in Brighton with five senior Saturday senior teams and more than 200 juniors. They train at the school's state-of-the-art facilities and send in club officials to talk to students; each weekend, their lower teams rotate to use BACA as an outground for league matches.
In return, pupils who become hooked by the game after joining the academy are encouraged to join the club. It is a shrewd relationship – and perhaps surprising that this kind of mutually beneficial move is not more common.
Interestingly, unlike the private school circuit, BACA don't play games on Saturdays. That is Walker's decision, based on her adoration for club cricket and her belief that its benefits are too great for her students to miss out on. "I really believe that they need to be playing club cricket," she stresses.
"That's where you do your learning – as soon as you're 13 or 14 and playing in the men's teams, suddenly it's a very different game. Primary schools and clubs are a huge part of what we're doing; there's no point in kids being good at cricket if they can't continue it.
"That's why I'm so pleased that girls' cricket has become such an important part of the curriculum now. The demise of rounders means there's now a sport for girls that they can play outside of school."
Among Walker's plans, she is looking to improve the standard of the county's women's leagues so that teams can play more locally than feeling the need to travel north towards Essex and London. "We want it to be self-driven within the county, so that's our plan for the coming years."
The heritage is certainly there: Connor, Colvin, Taylor and Marsh are all England legends – indeed, two of them are involved in the running of the women's game on a global scale.
"It's the one thing that we really want to grow: we want to get more girls going to school here," adds Walker. "We do feel that with myself and Georgia, as two Sussex captains, you'd hope there will be more coming."
At county pathway level, Sussex now have 200 girls involved, a huge shift from four years ago when there were just 80. The hope is that the number continues to rise, with Adams on the brink of higher honours and Charlotte Edwards, her Southern Vipers coach, often crossing paths with junior girls' training sessions in BACA's indoor centre.
And for Walker, what matters most is that they keep on enjoying the game – boy or girl, amateur or professional.
"I do enjoy looking at the guys who left us in 2013 or 2014," she laughs. "They're still involved, which is great. Will Sheffield, Tara Norris, Liam O'Brien – it's brilliant, I'm super-proud of them. But to see everyone still playing cricket at their clubs is even more rewarding really."
Please ensure all fields are completed before submitting your comment!