Nathan Sowter: "It would be nice to be known as English-qualified rather than just Australian-born"
NICK FRIEND: The Middlesex leg-spinner has become one of the most reliable white-ball bowlers in county cricket – only one man bowled more balls in last season's T20 Blast. He reflects on England eligibility, identity and playing with AB de Villiers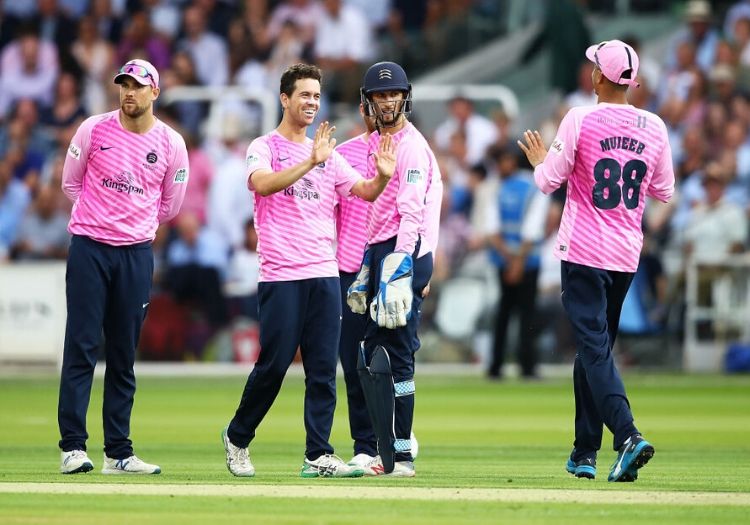 Each summer is a big summer, but this was the most significant in Nathan Sowter's life as a professional cricketer. It has been a comparatively short career at this point, a fledgling combination of white-ball success and occasional flirtations with the four-day game.
There were 25 wickets in the Royal London Cup – a tally bettered only by Saqib Mahmood – and a further 16 in the T20 Blast, making him the fifth-most successful spinner in the competition.
To a substantial degree, it all built up to this point: Sowter is now qualified to play for England.
Of course, this doesn't mean that he will – nor that he is necessarily in the immediate thinking of those with the power to make such decisions. After all, he joins a long list of young spinners performing in county cricket and beyond.
It does, however, mean that he can and, indeed, that he would like to, should the opportunity arise. That, in itself, represents an important step – an arbitrary yardstick perhaps, but a moment in time that highlights his commitment to his county and to English cricket.
Qualification, he is at pains to stress, is a by-product of his priority, which remains playing for Middlesex, who handed him his break. Without them, there is no certainty that the chance would ever have come.
Born and raised in New South Wales, Sowter has completed his eligibility period, four years on from his debut for the club in a Lord's T20 Blast clash with Kent. He got his initial opening as a 22-year-old after impressing in the Surrey Championship with Normandy.
Then, he was permitted to play as a non-overseas player through his family ancestry and a British passport: his mother hails from Northumberland, as do her parents. Now, the 27-year-old – the club's established spinner in white-ball cricket – meets the ECB's revised criteria.
"It would be nice to be known as English-qualified rather than just Australian-born, just to put it out there," Sowter tells The Cricketer.
"You still get taken as Australian – probably in every article that gets written, it's always 'Australian-born leg-spinner'. It's never 'English-qualified'."
The Middlesex man is without ego; he laughs at the thought of a summer spent in the company of AB de Villiers; he chuckles as he recounts the £25 he spent on the wifi at a Mexican hotel to access coverage of the Hundred draft, only to go snorkeling in the reef instead when his iPad failed him. "What you see on the field is what you get with me," he jokes – effervescent, bubbly, relaxed. It would be a stretch to suggest that he is genuinely frustrated by his perception.
"It is what it is – I am Australian-born," he adds, not in any negative sense, but as a straightforward matter of fact.
"But I do have an English heritage; my nan was born there, my grandfather was born there, my mother was born there. I do still have a strong English link. It just happened to be that my mother moved to Australia at a young age. That is just how it went.
"I'm not that known but I would like it to be known that I do have an English heritage. I'm not just Australian-born. You don't just come over here; you do have a link to the country."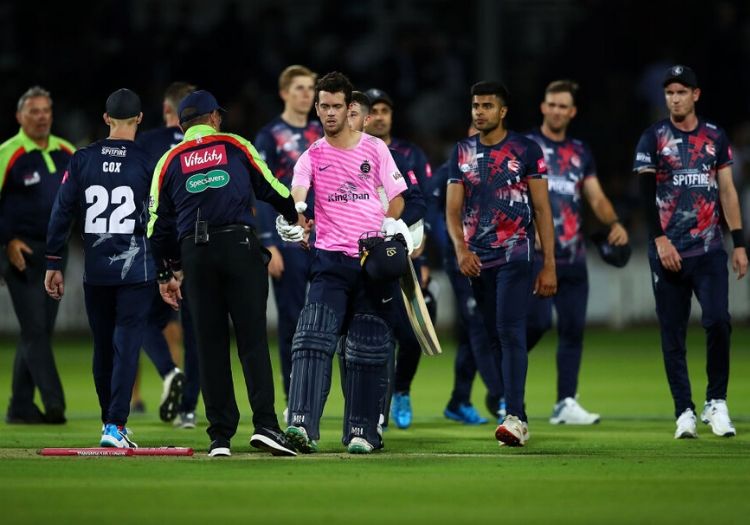 Only Ravi Rampaul bowled more balls in the 2019 T20 Blast than Nathan Sowter
It seems a reasonable request. These are not complaints, but merely thoughts as he reminisces of a long journey. It often gets lost in the debate surrounding homegrown status and qualification periods that the process is a long road – even if it has been shortened by the ECB in recent times to bring it closer to ICC guidelines, which benefited Jofra Archer's cause. It is not so much a split-second decision as a career-shaping pledge.
"At the time, I saw it as an opportunity," he reflects. "Probably, the more that time goes on, I do think that it was actually a pretty big decision in my life.
"Back then, I was like: 'I want to play for Middlesex, I want to play at Lord's. I'll do it.' I kind of knew the consequences and where I'd be at if I signed with Middlesex – I'd stay in England and so on. But you don't realise until three or four years on – like earlier in the year when I qualified – that it was actually quite a big decision.
"It wasn't really a tough decision at the time because I knew I wanted to be a professional cricketer and I had an opportunity sitting in front of me. It's a yes or no."
Sowter admits that crossing the finishing line of qualification – both imaginary concept and physical obstacle – was, therefore, "a bit of a freedom".
As part of the process, he had to spend 210 days each year in England in order for it to count towards his eligibility.
He turned down an invitation from former Middlesex T20 coach Daniel Vettori in 2017 to play for Brisbane Heat in the Big Bash, aware that doing so as a local player in an Australian competition would have contravened the terms of what he was working towards.
"I knew that if I wanted to do something for ten days or if I go on a preseason trip, that takes out 14 days," he recalls of the process' intricacies.
"And then you're thinking about if you need to go and see your family for an emergency, and you start to eke into those days. And then you're like: 'What if I miss one day here or there?' It adds a little bit more stress than it needs. It's nice to get that little bit off your shoulders.
"It was a bit like I was counting down to it," he adds. "It's that realisation. It's always in the back of your mind: 'Oh, I need to make sure I'm in the country'.
"So, it was a nice relief to do my time. It was nice to actually think that I'd done four years and I'd stuck around. It wasn't like I'd just come in and taken a local player's spot.
"I have done my hard work; I've shown people that I'm committed to playing in England and I've committed my life to here. I live here. It's not like I come and go. That's the nice thing."
Sowter speaks of Middlesex with an enormous sense of gratitude – "they gave me the opportunity to live a dream."
He started with a month-long deal during the 2015 T20 campaign, which has sprouted into something more substantial – a long-term contract was announced at the beginning of the year. He is highly thought of by those around him – a malleable, thick-skinned leg-spinner operating in a tough school.
He comes with a point of difference; in his trajectory, at least, he is closer to a Rashid Khan-type figure than a classical alternative – flatter through the air, not so much a defensive mindset as the kind of modern-day wrist-spinner founded on short-form cricket. It wasn't always the case; he began with a higher arm, a more flighted leggie, slower through the air.
He credits Richard Johnson, the one-time England bowler and Middlesex's former bowling coach, as well as Vettori and Eoin Morgan with shaping his white-ball progress. He describes the New Zealander's impact on his own game as "unreal".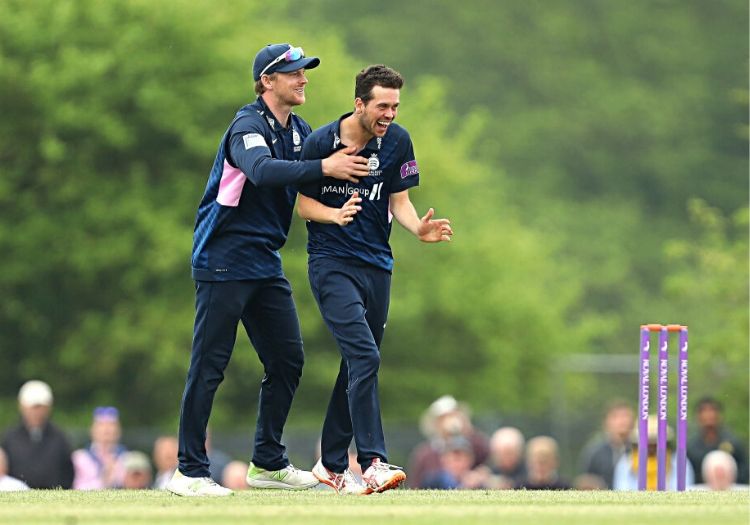 Sowter qualified for England on the ECB's eligibility rules earlier this year
Matt Parkinson, Imran Tahir, Matt Critchley and Simon Harmer were the only spinners to take more wickets in this year's Blast. Three of those have played international cricket; two reached Finals Day. Sowter was the most expensive of the quintet, though that is hardly a surprise given the way in which Middlesex opted to play their cricket under Stuart Law – there was a mixture of reckless abandon and clarity in all that Dawid Malan's side attempted.
Sowter, Toby Roland-Jones, Steven Finn and Tom Helm all took at least 15 wickets in the Blast; his economy rate of 8.43 was the most miserly of the group; Middlesex's games were often high-scoring affairs. In the entire competition, only Ravi Rampaul bowled more balls than the leg-spinner – a show of trust from a demanding captain.
"We just tried to get onto the front foot – trying to get them before they got us kind of thing," Sowter says. "The seamers weren't afraid to change it up – they bowled more bouncers and slower balls early on – rather than letting them whack it and then changing up.
"It paid dividends at the back end of games. Just the way the seamers bowled allowed me to get in the game a little bit more."
They were, of course, ably assisted by de Villiers. There is an appreciative puff of the cheeks even at the mention of the South African great.
He learnt as well from Mujeeb Ur Rahman, the Afghan mystery-spinner who also joined for the T20 Blast. There is a curious paradox to Sowter and Mujeeb – the Afghan is eight years his junior, but one of the game's leading white-ball bowlers. Despite his broken English, the pair got on well. "As a team, we did really well; we made him feel welcome and we really put the effort in," Sowter adds. "He was just a nice man and he made a real difference to our attack."
And then there's de Villiers – pound for pound, perhaps, the finest white-ball player of his generation.
"I'd just let him bat in the nets and then try to figure out what he was trying to do," he explains. "Then I'd debrief quickly afterwards and ask him what he was trying to do in each situation when you'd bowl each ball.
"He was really good at telling you what he thinks, but also saying that not every batter thinks like he does. He might be doing it for this reason, but someone else might be doing it for that reason. If you can work out the reason they're doing it, then you're a step ahead. He was really good at that.
"In games, it was just the belief he gave you," he tails off and pauses, before recalling one episode – a London derby against Surrey at Lord's.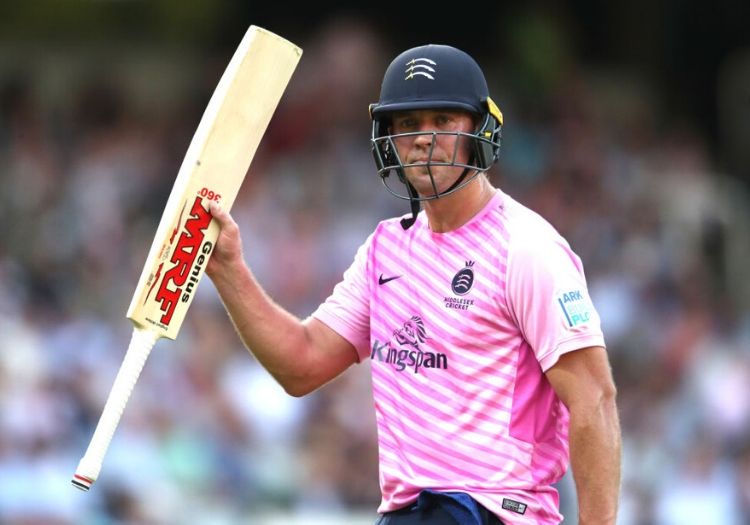 AB de Villiers had a major impact during his time with Middlesex
"I was bowling to Aaron Finch and I was just thinking he was going to smash me everywhere.
"He got me a couple of times and AB just ran past and in his South African way, was just like: 'Show bigger cojones than he does and you'll get him here'."
In Sowter's next over, Finch ran past a leg-break and was stumped.
"It was that belief he gave you – that I could get Finch out, that I could be the bigger person. Just showing a bit more courage. Being a bit more courageous and being brave – he just gave you that belief that you could do really well.
"You can't really explain what it's like to play with someone like AB – it's quite incredible."
De Villiers averaged 69.60 across his eight games for the club; there were four scores above fifty and a strike-rate of 182.19. There remains, you sense, a tinge of awe in Sowter's voice as he recalls his presence.
"I remember standing on the balcony one night watching him bat," he adds, "and just thinking: 'This is fun.'"
The campaign came to an end in brutal, blunt fashion at the hands of Nottinghamshire. Under par with the bat and ruthlessly exposed with the ball, it was the one occasion – a 10-wicket defeat – that saw Middlesex's game plan destroyed as Alex Hales and Chris Nash each made unbeaten half-centuries.
It was a rare – if costly – blip in an improved white-ball showing from the county. Yet, despite his recent success, Sowter is self-critical. Few beyond Middlesex, one suspects, would have him as old as 27.
Perhaps, given his journey and the way in which he has been gradually drip-fed into an experienced team, it is assumed that he set out on his county pathway as a youngster rather than in his early twenties.
By his own admission, he remains a bundle of energy – "I am a bit excitable; maybe the normal 27-year-old doesn't carry on that way," he considers.
"I play with passion and I'll play with my heart on my sleeve, so sometimes people might think I'm a little bit young or a bit raw.
"With a character like that, it's about keeping it level rather than being on a rollercoaster, which sometimes I get a bit mixed up on.
"I can get on the wrong end of the rollercoaster and can then end up at the bottom very quick, so I did well last year and tried to maintain that and keep a bit more level. I still have my bad days and my good days, but that's how it is.
"I give my heart to the team, no matter who I play for. If that's club cricket, I'll play the same way as I do if I'm playing for Middlesex or England."
Subscribe to The Cricketer this Christmas and receive a £20 John Lewis voucher or Alastair Cook's autobiography. Claim your free gift here
Please ensure all fields are completed before submitting your comment!