Namibia's moment, with a sprinkling of David Wiese's stardust
NICK FRIEND: Wiese will rightly be lauded for his callous counterattack, but it was those around him who have done the hardest of yards to earn their right to own this stage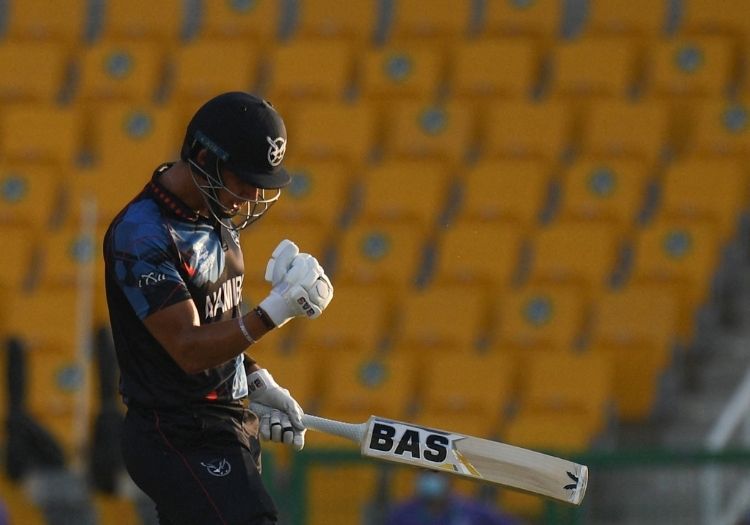 Namibia: winners in a World Cup game for the very first time. JJ Smit clenched his fist, not once but twice – not just after the boundary squeezed away to clinch victory, but after the slash through backward point to bring his country within touching distance of history.
Eighteen years after their only previous appearance at cricket's top table – when they went winless through the 50-over tournament – they have had their moment, with the prospect of another to come when they face Ireland in a game that might now just take on enormous significance.
"It means a hell of a lot," Rudie van Vuuren – Cricket Namibia's president and part of that 2003 team – told The Cricketer after qualifying two winters ago. "It's like the rugby in South Africa: this kind of thing unites us as a country.
"It gives a lot of hope for the players, and it creates great opportunities for them. Our pipeline – our school players and club players – now have aspirations. When people see that our national team is playing on the world stage, they know they can make a career out of cricket because there is hope."
Those words were the latest in a lengthy list of reminders of what can happen when you dare to afford the game the airtime to grow.
"These guys put their hearts on the line," smiled Gerhard Erasmus, Namibia's captain, at the post-match presentation as he discussed the impact of Pierre de Bruyn and Albie Morkel, the coaches tasked with guiding a group who are novices on a stage like this.
"He has got all the qualities that will take him all the way," van Vuuren said of Erasmus. "He's very humble, very focused, a fitness fanatic, totally dedicated. And he's got talent."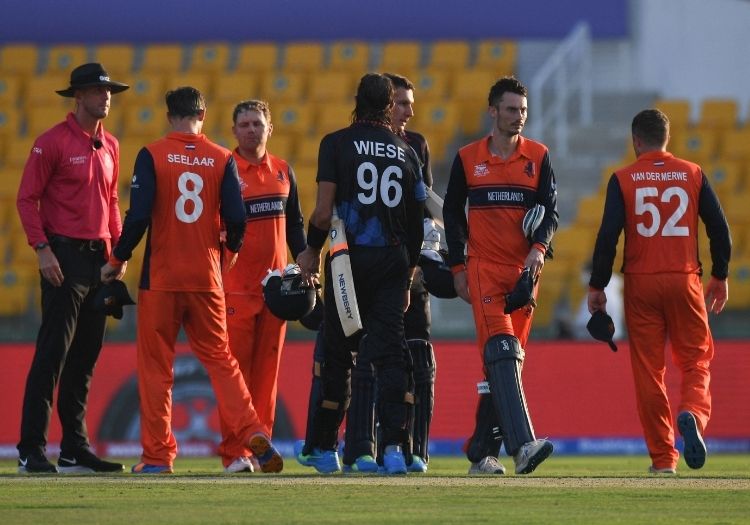 David Wiese ended unbeaten on 66
Boy, does he. David Wiese played the innings of the day and – at this point, at least – the knock of the tournament to beat a Netherlands side that was tactically suspect from the outset. When Namibia were drawing up quite what they'd want from a former South Africa allrounder who was keen to extend his international career with the land of his father's birth, this would have been it: a controlled, calculated, searingly powerful display from the middle order, dragging a game that was drifting out of their reach into a position from which they could not lose.
Even at 36, he is a destructive brute of a cricketer: this was the 269th T20 appearance of his career. He gave himself time, playing back a maiden against Pieter Seelaar when he first came in and sizing up his opportunities. He smelt blood in Colin Ackermann, who came in for particular punishment, with the ground in Abu Dhabi simply not big enough for his levers.
His partner in a 50-ball stand worth 92 runs was Erasmus, a fine player in his own right. Wiese will rightly be lauded for a callous counterattack, but it was those around him who have done the hardest of yards to earn their right to own this stage. Their road to qualification began in 2018 with a ten-wicket win over Eswatini, coming through the African Sub Regional Qualifier in second place behind Botswana. It's not all as glamorous as The Big Dance would have you believe.

Associate cricket is a tough gig, and Wiese would be the first to acknowledge that he has arrived just in time for the fun stuff rather than the pool of hand-to-mouth uncertainty in which these teams are used to living.
Only Paul Stirling scored more runs in the 2019 qualifying tournament than Erasmus. Only Bilal Khan took more wickets than Smit, with Jan Frylinck and Bernard Scholtz one behind. Wiese is the stardust, employed as much for his composure as for the power that convinced coach de Bruyn to christen his middle order "the bomb squad". As the runs required dropped and the sense of anticipated swelled, Wiese was on hand to talk Smit through the final moments, to ensure that their shot at history pinned the bullseye.
Had this tournament gone ahead last year, Wiese would have been eligible, but he wasn't keen to jump into a team he didn't know. Instead, he wanted to meet his teammates, form a bond and do it the right way.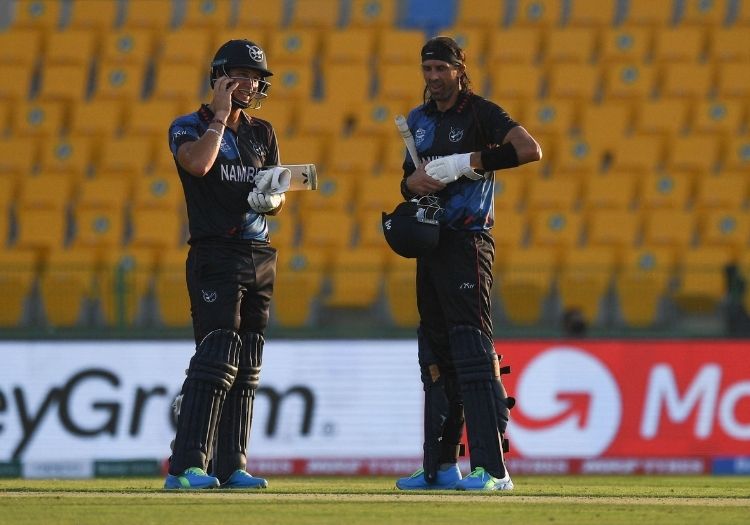 It was Namibia's first win in a World Cup game
"I've been integrated into the squad for a while now," he told The Cricketer last week. "I've been over there a few times recently. I flew over to Namibia before the Pakistan Super League for a few days to train with the guys, I kind of used that as a stepping-stone.
"I've gotten to know a few of the guys, I played against one or two of the elder statesmen back when they still played in the South African domestic set-up also. Even though my first game for Namibia is going to be in the World Cup, I feel like I've already integrated quite well into the squad, and I know most of the people."
That integration is surely now complete.
RELATED STORIES
David Wiese stars as Namibia clinch first World Cup victory
Ten years in the making: David Wiese's Namibian adventure
The T20 World Cup Qualifier: A brilliant festival of global talent and a reminder of a cut-throat existence
Please ensure all fields are completed before submitting your comment!