Men's T20 World Cup 2021 team guide: West Indies
Key players, rising stars, batting and bowling analysis, chances, squad, fixtures and much more in our in-depth look at the Windies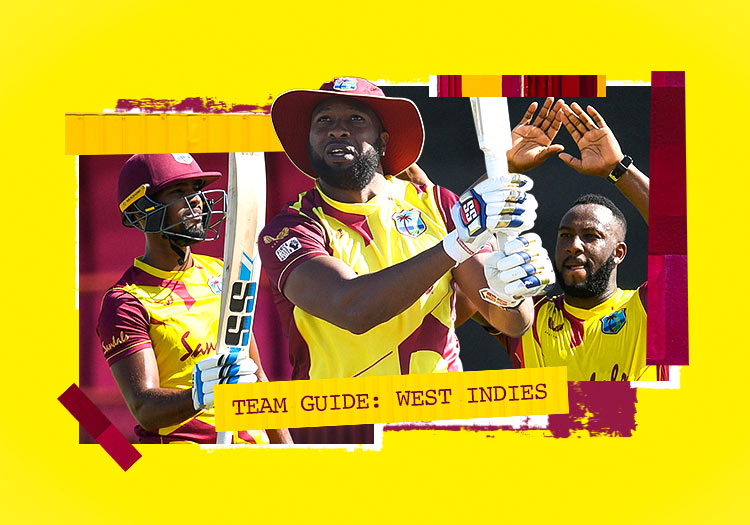 Coach
Phil Simmons: The 58-year-old is back to help Windies men defend the title he helped them win five years ago. That said, he was sacked from his first spell in charge of the team in a decision then captain Daren Sammy described as "the blind leads the blind", so he may be fearing the worst if he pulls off back-to-back titles.
A former allrounder who played 58 Tests and 142 ODIs, Simmons has a wealth of major tournament experience. He coached Ireland to 50-over World Cup wins over Pakistan and Bangladesh in 2007, England in 2011 and West Indies in 2015 and formed some of the foundations the men's team stand on today.
He had another successful spell with Afghanistan, taking them to the World Cup in 2019 and having to deal with more behind-the-scenes issues before returning to the Windies hotseat. Thirteen wins from 26 since the reappointment is a moderate T20 record heading into the ultimate test.
Captain
Kieron Pollard: No accurate recounting of T20 cricket's short history can be considering exhaustive if it doesn't linger and pay homage to the colossus that is Kieron Pollard. A 15-time title winner in this form of the game and a bona fide legend, there is little left for him to achieve.
Possessing a strike-rate of 152 and with 300 wickets in his back pocket, Pollard remains a formidable performer at this level - highlighted in March when he pumped Akhila Dananjaya for an over of sixes in Antigua. Described as a good man-manager but also willing to challenge his teammates, the 34-year-old needs to find the right blend in the XI, for there is more than enough talent at his disposal to blow sides away and clinch a second consecutive title.
Superstars
Chris Gayle: You might have heard of this guy. The highest scorer in T20 history, with 22 centuries and more than 1,000 sixes, and among the most recognisable figures in the sport.
Love or hate the self-proclaimed Universe Boss, he is a box office performer and knows a big stage like the back of his hand. If you're running a franchise league that Gayle hasn't graced, you're doing something wrong. Not the most patriotic (he only played eight T20Is between the World Cup win and the start of 2021) but he knows an opportunity when he sees one and pulling out of the IPL feels like a smart move.
His days as a consistently brilliant performer are behind him, he's only recorded one Windies fifty since hitting 100 not out against England in Mumbai five years ago, but his IPL returns in recent seasons suggests he can still perform at this level. A novelty item in the field which someone has added to his popularity.
Andre Russell: So good he has a nickname too. 'Dre Russ' is cricket's ultimate tornado, able to cause untold destruction with the high likelihood that someone is going to get hurt. And usually, it is him. An explosive figure with bat and ball, Russell is as intimidating an opponent as they'll come in the UAE and Oman.
A bruising hitter with the best T20 strike-rate in history (40 games or more) and a snarly quick with a furious bouncer and the capacity to hit 90mph (maybe). While the fireworks are great, there is plenty of clearing up to do the morning after the night before. Russell is an unstable, reckless cricketer operating on the edge of what is physically possible and not giving a hoot. If the Windies can keep him on the field long enough it'll be some watch.
Dwayne Bravo: Another prolific winner in T20 cricket, with 15 crowns to his name and a winner of two world titles. They don't come much more tried and tested than Bravo. Very much a bowling allrounder these days who is proficient at the death. One of a clutch of players swallowed, chewed up and spat out by the West Indies Cricket Board and whose international returns are a shadow of what they could have been.
He went three entire years without representing his country, jumped in and out of retirement but is now back with some of the old gang. It is testament to Bravo's dedication to his craft that he has found success bowling at the toughest part of the innings, when mistakes count for double, and wickets decrease in value. Not perhaps the most eye-catching performer in this group but certainly one of the most treasured.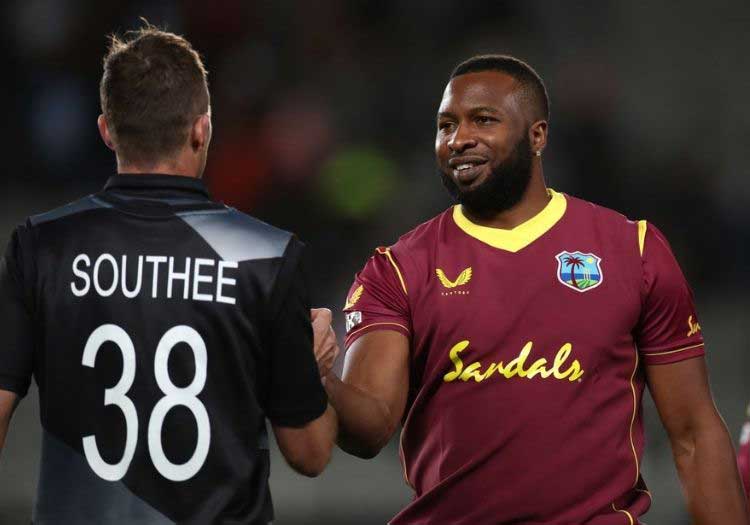 Kieron Pollard leads West Indies
Rising star
Obed McCoy: Sixteen internationals in three years, even with a pandemic in between, isn't necessarily suggestive of a superstar in the making but the West Indies are hoping the World Cup can be McCoy's coming out party.
A left-arm seamer who came to the fore during the summer when he grabbed 18 wickets at an economy rate of 7.04 in seven internationals against South Africa and Australia. He followed that with six scalps in three CPL outings for St Lucia Kings. McCoy is particularly adept on slower pitches when balls out of the back of the hand can grip and perplex batters.
He'll likely be slowly shuffled into the side and outings across the five group matches might be limited but the hope is this will be just the start.
Batting
Power hitters
Evin Lewis: Effective rather than graceful, the Trinidad batter represents the iron fist of this Windies line-up. There is not a lot of subtlety about Lewis' strategy; he is a classic see ball, hit ball character. Such a high-risk tactic and an average in the 30s tells you just how successful he has been. Only three players have more T20I centuries, he's hit more 50-plus scores (11) than AB de Villiers from 31 fewer innings and with the best strike-rate in Windies history (155.03).
Given the talent which lies beneath, Lewis won't soak up deliveries to feed his ego or play his way into form. He'll attack length, pull anything short with reckless abandon and pepper the boundary rope with powerful blows. Good form in the CPL and IPL suggests he is well placed to make the best of another chance to shine.
Nicholas Pooran: Named the rising star by the ICC after the 50-over World Cup in 2019, it felt as though the world was at Pooran's feet. Via a ban for ball-tampering and some underwhelming returns in franchise competitions, he starts the World Cup with a reputation needing to be re-established. For someone who knows what real adversity feels like - Pooran was left fighting for his career in 2015 after suffering a leg injury following a car accident - a recent revival is no surprise.
He's plundered 508 runs across the last two CPL terms and is averaging in the 30s this season for the Windies. A look at Pooran's record on slow pitches, as this season's CPL served up, in Asia (156.25 strike-rate) and away from home (163.39) provides evidence his revival won't be short-lived. And perhaps most importantly the team have found a proper role for him down at No.5 where he can polish off innings, set targets and complete chases without needing to compromise.
Anchor
The Marlon Samuels dilemma has not been properly answered. Batting to the situation does not come naturally to the likes of Lewis, Gayle and Pooran. For the other around them, it might be a case of adapt or die. Prospective opener Andre Fletcher feels like the most natural option. His T20I runs since the start of 2016 have come at a strike-rate of 111.27 and if not for his unbeaten 89 off 49 deliveries for Melbourne Stars his 130 scoring rate in the last Big Bash League would have come in well down. There is also a considered side of Shimron Hetmyer (116.78) but that needs some cultivating.
Lendl Simmons stands out as the ideal candidate, an experienced figured who has enjoyed success at a moderate rate without feeling the need to take on dangerous bowlers. His 2,629 CPL runs have come at a relatively static 119.71 and his international returns have not exactly been quick either. Works as the perfect foil to the rest of the top four but losing him early would be fatal. That said, Simmons is unperturbed by the failure to fill this berth and believes it could be shared across the squad. "Everyone has the ability to do it," he said.
Finisher
Probably the area of the team the West Indies can boast to be the best in the world. Pollard and Russell's positions inside the top four of the men's T20 Player Index has plenty to do with their ability to lay into opponents down the order and their respective strike-rates reflect two players perfectly suited to the situation.
On 18 occasions has Russell finished a Windies T20 innings unbeaten and you only have to trace back a few months against Australia in St Lucia for the last example of the chaos he can cause. Facing just eight deliveries from Mitchell Starc and Dan Christian, he went 0-4-6-1-4-2-1-6 to finish with 24 striking at 300.
Pollard has the knack of hanging around for slightly longer. Though his best T20I score came in defeat to New Zealand, a 63-minute blitz of 75 which including eight sixes, it was in Grenada against South Africa when his runs proved more valuable. A 25-ball 51* made all the difference as his side ran out winners by 21 runs.
Problem areas
Across the South Africa, Australia and the rain-affected Pakistan series, 22 wickets fell to spin with Tabraiz Shamsi (seven wickets, economy rate 4.00), George Linde and Adam Zampa all enjoying success. Meanwhile, Mohammad Hafeez's seven overs went at 5.85 an over while Shadab Khan's kept it down to a run-a-ball. This a major area of concern for the Windies, with pace-off likely to be the primary mode of attack for most sides in the UAE.
There will be a degree of concern over the form of Hetmyer, who averaged 22.85 during the summer. Andre Fletcher (18.14) didn't fare much better. Gayle has one half-century in his last 25 T20 innings but a break from the IPL will hopefully have done him some good. His selection baffled many and if that run of form continues the questions over why Sherfane Rutherford was left behind will be deafening.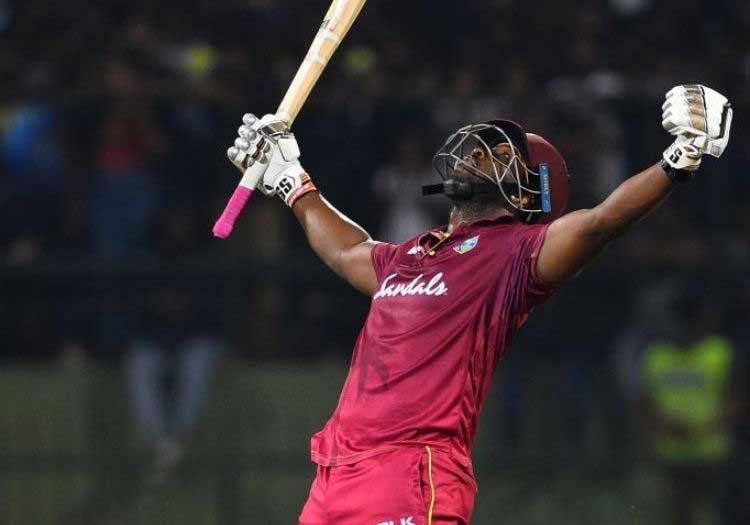 Andre Russell is one of several matchwinners in the Windies ranks
Bowling
Speed merchants
Oshane Thomas: A selection that could go one of two ways. On paper at least, the right-arm quick has all the components to make him one of the best quicks in the world. He can clock eye-watering speeds, create good angles, swing the ball and intimidate batters with his extra bounce. The reality is slightly different, however.
In T20Is he goes at more than nine an over, taking wickets at 26.52, while 17 outings since his debut in 2018 tells the story of an individual who has struggled for form and fitness. And yet, six wickets at 23 in the CPL and one scalp in his two Windies outings in 2021 was deemed enough to be included in this squad, to the consternation of many. Called up as a replacement for Jofra Archer by Rajasthan Royals, he's spent the last month on the side-lines.
Ravi Rampaul: "It feels like having a second dream come true." Eighteen years on from his West Indies debut, six since his last international outing, Rampaul is back underneath the global spotlight. There is no doubting his recent form. He finished the CPL as the highest wicket-taker (19 at 16.21), adding to the 14 he took in the Super-50 Cup.
It was his success on slower pitches which probably swung the pendulum in his favour over Odean Smith or Romario Shepherd, who only took one fewer wicket in the CPL. That tournament included the first T20s Rampaul, now 37, had played since Blast Finals Day 2019. Pollard is confident such experience will prove vital as high-pressure moments but the reality is Rampaul hasn't had regular exposure to those kinds of junctures for many years.

Variation
Hayden Walsh Jr is the only front-line spinner selected in the squad, which perhaps says more about the West Indies strategy with the ball than any selection.
The 29-year-old has a decent box of tricks, with the wrong'un, the slider and an ability to make the ball drift giving him plenty to work with. That said, outings might be rare with the ball not expected to turn quickly in the UAE. Roston Chase attempts to not give batters much pace to hit with. Akeal Hosein, a late replacement for the injured Fabian Allen, is something of an unknown quantity at this level.
At the death, Bravo is going to be a fascinating watch. He possesses as many as four variations, with two versions of a slower ball. And while of the Windies' veterans are struggling to live up to their reputations, Bravo continues to produce with his accuracy in the later overs having come to the fore during the IPL. In context, his economy rate of below seven runs-an-over is staggering.
Problem areas
There is a lack of talent and options in the spin department. Allen and Chase can bolster the batting, but they are gentle bowlers and won't provide a clear threat. The same goes for Gayle if he is given a go. That Sunil Narine - apparently unavailable for selection due to fitness issues - continues to be overlooked is another case of the selection panel shooting itself in the foot.
Narine has more wickets than any off spinner in T20 history, a career economy rate of 6.04 and has played in franchise competitions in three different countries between July and September.
The seam attack also feels weak. Bravo gives them bite at the back end but they'll need a firing Thomas, quick-learning McCoy, Rampaul to roll back the years and Russell to remain injury-free to trouble opponents on a regular basis. It's asking a lot.
Obed McCoy is an exciting talent
Fielding
Gun fielder
Certainly, a category the Windies can look at favourably. Allen, Bravo and Pooran are three of the best around, combining athleticism and commitment in equal measure. Pooran briefly transformed into Superman in the last IPL with a dive over the boundary to prevent the ball going for six, breaking the internet in the process.
Allen is a master of the one-handed grab, whether it be at backward point or on the boundary. He also has a vicious and accuracy throw via his slingshot left arm. Bravo and Simmons have combined for the most dismissals in T20Is, with 11, making them a duo to watch out for again.
Who takes the gloves?
Pooran will start the competition with the gloves having done so for much of the last two years since Dinesh Ramdin lost his place. Fletcher is the natural reserve but hasn't kept for the Windies for five years. Simmons is the de facto third choice but that won't be a button the coach or captain will be keen on pressing.
Squad: Kieron Pollard (c), Nicholas Pooran, Akeal Hosein, Dwayne Bravo, Roston Chase, Andre Fletcher, Chris Gayle, Shimron Hetmyer, Evin Lewis, Obed McCoy, Lendl Simmons, Ravi Rampaul, Andre Russell, Oshane Thomas, Hayden Walsh Jr
Fixtures: Oct 23 – England, Oct 26 – South Africa, Oct 29 - B2, Nov 4 - A1, Nov 6 - Australia
Possible starting XI: Evin Lewis, Chris Gayle, Shimron Hetmyer, Nicholas Pooran, Andre Russell, Kieran Pollard, Dwayne Bravo, Hayden Walsh Jnr, Ravi Rampaul, Oshane Thomas, Obed McCoy
Our coverage of the T20 World Cup is brought to you in association with Dafabet India. For more on Dafabet and to place a bet, click here
Please ensure all fields are completed before submitting your comment!