Men's T20 World Cup 2021 team guide: Oman
Key players, rising stars, batting and bowling analysis, chances, squad, fixtures and much more in our in-depth look at Oman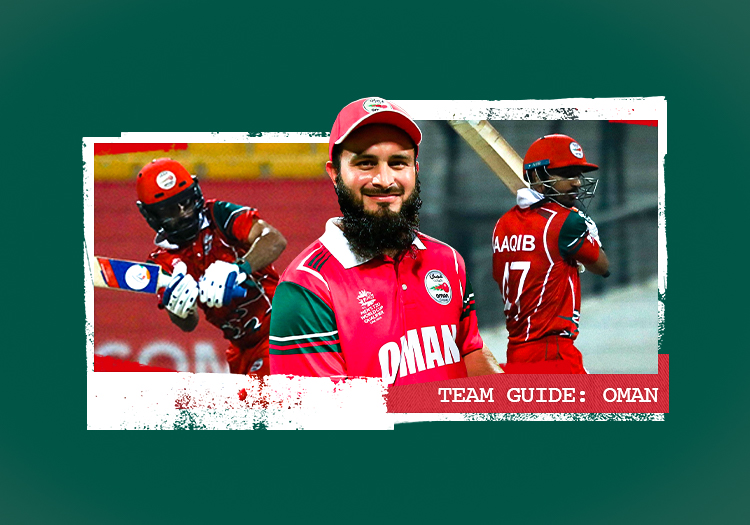 Coach
Duleep Mendis: The unmistakeable 69-year-old Sri Lankan, who famously tore into Ian Botham at Lord's in 1984, is the longest-serving and oldest head coach at the T20 World Cup, in charge of Oman for almost 10 years – so long ago that the country didn't even have a turf ground when he first arrived.
Oman Cricket chairman Pankaj Khimji told The Cricketer: "He is my henchman. What would I do without the man? I have no words to express how grateful I am. He's old school. He promotes a very clean, unadulterated atmosphere. Cricket's all about that, for me." Ruwan Kalpage has been appointed his assistant, but there are no specialist coaches in the mainly amateur Oman Cricket set-up.
Captain
Zeeshan Maqsood: The Pakistani expat has been in charge of Oman for almost three years, and is a veteran of their rise to prominence. He is a typically pugnacious left-handed batsman who also bowls useful left-arm spin.
He once lost six balls in the river at Stirling in whacking Canada for 86 in the 2015 T20 World Cup Qualifier in an assault which earned comparisons to Chris Gayle from Oman's then-consultant, Derek Pringle.
Superstars
Bilal Khan is the closest this team of subcontinent expats comes to a superstar. Bilal began his first-class career with Peshawar and you can easily see how he could have forged a respectable career in Pakistani domestic cricket, and maybe even higher, were it not for the presence of Shaheen Shah Afridi and so many other left-arm quicks inspired by Wasim Akram.
He is the only Oman bowler with 50 T20I wickets, though of course that status came to this country quite late. If he fires, they have a chance of the upset that will get them through to the Super 12s.
Rising star
Not really a category which applies too neatly to Oman, since they are a Gulf nation drawing in men from the Indian subcontinent in their late 20s and early 30s who haven't made a professional career, but are able to play decent cricket through landing jobs in the Muscat corporate economy.
Kashyap Prajapati is a relatively recent arrival, an organised opener originally from Gujarat who struck 146, including nine sixes, in a 50-over match against a touring Mumbai side.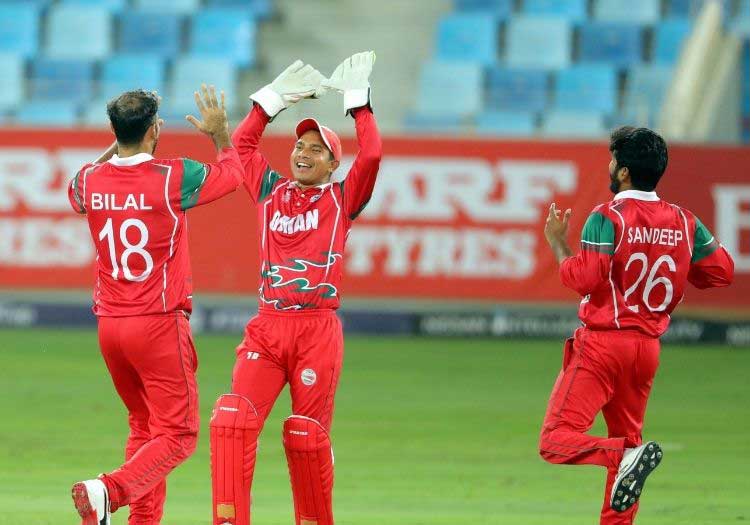 How will Oman get on at the World Cup? Picture: ICC
Batting
Power hitters
Few of Oman's batsmen are exactly shrinking violets, but neither are they romping along at stratospheric strike-rates, as they play their cricket on dusty turners.
You can expect to see Zeeshan Maqsood (T20 strike-rate 118), their most polished player, picking up anything short through the legside – though he has dropped down from opening of late. Khawar Ali (T20 strike-rate 99) is a bit of a slogger.
Anchor
Aqib Ilyas has very strong wrists and isn't exactly a blocker – as his sweeping Canada's pacemen off the stumps in his 60 in the T20 World Cup Qualifier showed – and bats from the key position of No.3.
Oman's leading T20I run-scorer Jatinder Singh (strike-rate 114) has tended to take his time a bit more, though he has expanded his oeuvre considerably in recent years and has a particular penchant for the Dilscoop.
Finisher
Sandeep Goud will be hoping to enliven the middle to late overs with some powerful striking, as he did with 54 not out against Scotland in CWC League 2, albeit in a doomed cause. Naseem Khushi (T20I strike-rate 145, though a small sample size) will come in around No.8, and has form whacking at more than 250 in matches against Hong Kong (a key match) and Netherlands in the not-too-distant past.
Problem areas
In a relatively aged and amateur squad, Oman's fitness won't quite stack up against the leading teams, and they don't quite have the rounded class of the top batsmen. But in T20 cricket on home soil, they might well have the power and nous to overcome that in relatively low-scoring games.
They will be brave against all types of bowling, but could get found out by the canniest spinners, as recent travails against Sandeep Lamichhane in Oman have shown. Their running isn't always the best, either.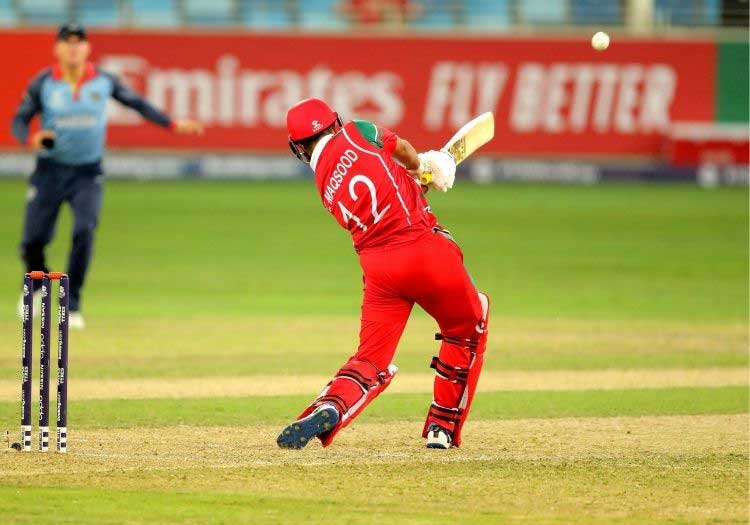 Captain Zeeshan Maqsood in action - picture: ICC
Bowling
Speed merchants
Bilal Khan is the real standout, and his mode of attack – hitting the stumps with yorkers tipping 90mph – seems ideally suited to home wickets. He has a decent average of 16.25 in T20Is – almost all played in Asia – and a strike-rate of 14.3 ranks in the top 12 in history.
He swings the new ball at almost 90mph and bowls searing yorkers with the old. You do wonder, at 33 years of age, how long he can keep that up. Then again the slender and skiddier Mohammad Nadeem is still sending it down pretty quickly at 39 years of age. Fayyaz Butt had recent success against Sri Lanka, but they all have fairly small sample sizes.
Variation
Oman's bowling is all about unorthodoxy, though it is a little more orthodox than five years ago. It would make sense in these conditions to stock their attack full of spinners.
Khawar Ali – the highest-ranked of Oman's players on the T20 Player Index, at 332 – bowls slightly floatier leg-spin than you see in international cricket, but his T20I strike-rate of 15.6 and economy-rate of 6.48 is beaten among leggies by only the seasoned franchise players.
He will be accompanied by the orthodox left-arm spin of Ayaan Khan and Zeeshan Maqsood, as well as Aqib Ilyas's liquorice allsorts. They too have respectable economy-rates, but of course they don't face the top Full Member players too often.
Problem areas
Gone is the Fidel Edwards-lite slinginess of Munis Ansari – now 37 and last seen in the Abu Dhabi T10 – and the steady left-arm spin of Ajay Lalcheta and Aamir Kaleem.
They need to trade on their unorthodoxy, but Scotland will have had a close look at Oman's bowling in CWC League 2 and their analysts will be poring over the footage ahead of the key game in the group. T20I economy-rates of 7.19 for Fayyaz and 7.39 for Kaleemullah, operating at a generally lower standard than this, don't augur too well.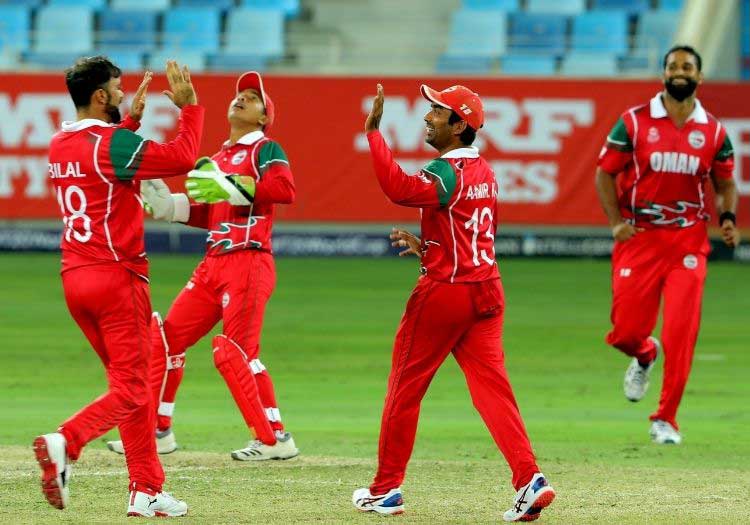 Oman host the first stage of the competition - picture: ICC
Fielding
Gun fielder
Maqsood will be forever remembered for the stunning diving catch at extra cover to dismiss Paul Stirling and go a long way to beating Ireland in the preliminary round of the last World T20 – still the result of Oman's short cricketing history.
Oman are a team of thirty-somethings and absolutely don't have specialist fielding coaches, so don't expect them to be up among the sprightliest fielding sides in the competition.
Who takes the gloves?
Thirty-nine-year-old Naseem Khushi won the spot back from Suraj Kumar in the 50-over Cricket World Cup League 2 tournament on home soil just before the World Cup. Don't be surprised by that kind of age profile in the Oman team.
Squad: Aqib Ilyas, Ayaan Khan, Bilal Khan, Fayyaz Butt, Jatinder Singh, Kaleemullah, Khawar Ali, Khurram Khan, Mohammad Nadeem, Naseem Khushi (wk), Nestor Dhamba, Sandeep Goud, Sufyan Mehmood, Suraj Kumar (wk), Zeeshan Maqsood (c)
Fixtures: Oct 17 – Papua New Guinea, Oct 19 – Bangladesh, Oct 21 – Scotland
Possible starting XI: Jatinder Singh, Khawar Ali, Aqib Ilyas, Zeeshan Maqsood (captain), Suraj Kumar, Sandeep Goud, Naseem Khushi (wkt), Ayaan Khan, Fayyaz Butt, Kaleemullah, Bilal Khan
Please ensure all fields are completed before submitting your comment!