Men's T20 World Cup 2021 team guide: Netherlands
Key players, rising stars, batting and bowling analysis, chances, squad, fixtures and much more in our in-depth look at the Dutch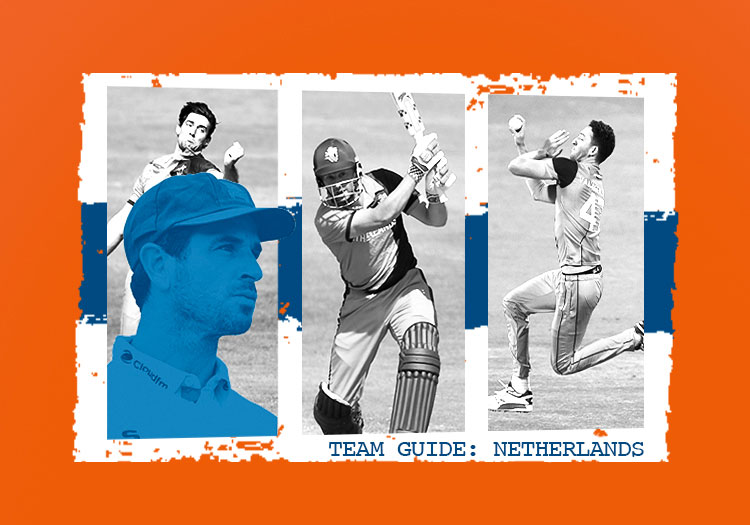 Coach
Ryan Campbell: The 49-year-old is in his fifth year as Netherlands head coach, having first taken charge in 2017, a year after his final match as an international cricketer. Campbell, who was born in Perth and spent his entire domestic career with Western Australia, was hindered as a wicketkeeper by the presence of Adam Gilchrist, restricting him to just two ODI appearances in 2002.
As fate would have it, however, after meeting residency qualifications in 2016, he represented Hong Kong three times, becoming the oldest man to make his T20I debut in the process and adding his name to a short list of players to have turned out for two different nations.
Captain
Pieter Seelaar: One of several experienced faces in Campbell's squad, allrounder Seelaar replaced former captain Peter Borren as the man in charge, following his retirement in 2018. While some of the Netherlands side has come to represent the country through meeting ancestry and residency criteria, the 34-year-old skipper has been involved in the national setup since under-15 level.
He made his full international debut as an 18-year-old against Sri Lanka and was part of the team that famously beat England at Lord's in 2009. Two years later, he dismissed both Kevin Pietersen and Sachin Tendulkar at the 2011 World Cup in India with his left-arm spin. Seelaar has captained in 35 successive T20Is – the third-longest such streak of all time, behind just William Porterfield and Asghar Afghan.
Superstars
Brandon Glover: The Johannesburg-born fast bowler took 16 wickets in eight games at the qualifying event two winters ago, with a remarkable strike rate of just 10.8. Only Oman's Bilal Khan – 18 , wickets in nine games – was more prolific.
He only made occasional appearances for Northamptonshire in county cricket this summer and was an unused member of Oval Invincibles' squad in The Hundred, but he was picked up by both teams on account of his raw pace. "I wouldn't say I'm where I even want to be yet," he told The Cricketer in April. "I want to be able to get up to 150kph – the 94mph mark – consistently."
Fred Klaassen: Another seamer honing his game in county cricket, Kent's left-armer was born in Sussex and raised in New Zealand before moving to Australia. He played club cricket in East Anglia and Scotland but qualified for the Netherlands on account of his grandfather.
This has been something of a breakthrough campaign: he was handed Manchester Originals' wildcard pick ahead of The Hundred, where he took five wickets in four games, picking up 19 in total as part of Kent's Blast-winning bowling attack. He claimed seven victims in the 2019 qualifier and goes into the World Cup with his stock higher than ever before.
Ryan ten Doeschate: The last dance for, in Campbell's words, "the greatest associate cricketer that's ever played the game". The allrounder has announced that this competition will be his swansong as he retires at the end of 2021.
Few players have earned such widespread respect as the 41-year-old, who took the wicket of Mahela Jayawardene on his international debut – the ODI in which Sri Lanka posted a then-record score of 443 for 9 – 15 years ago. His retirement coincided with a difficult year with the bat in county cricket for Essex but also a renewal of his bowling form that had taken a backseat: he claimed 15 wickets in 59.2 overs in the Royal London Cup. In the qualifying tournament for this competition, he averaged 46.6 in nine innings.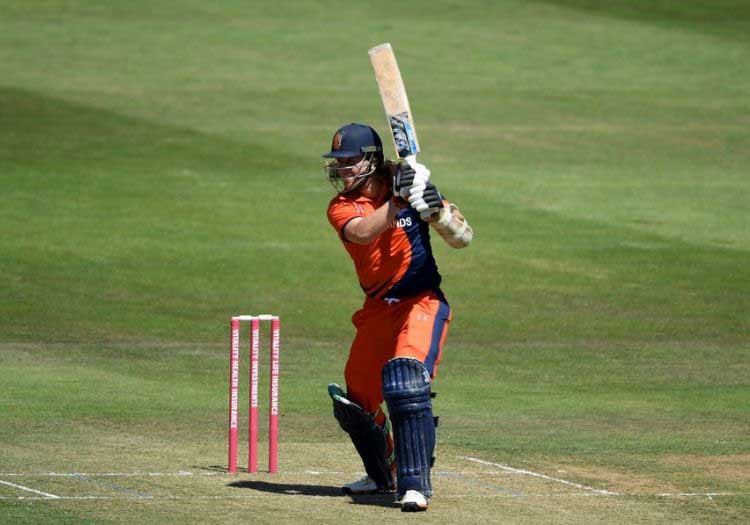 Max O'Dowd offers power with the bat
Rising star
Philippe Boissevain: Much is hoped for the 20-year-old leg-spinner who hadn't even turned 19 when he was first named in the Netherlands' squad for the 2019 qualifying event in the United Arab Emirates.
To date, he has only taken seven international wickets in eight games – one in his solitary ODI against Scotland in May. Seelaar's men are hardly short on slow options – given the finger-spin of Roelof van der Merwe, Colin Ackermann and Seelaar – but Boissevain's point of difference might just open the door for the youngster.
Batting
Power hitters
Scott Edwards: Born in Tonga and brought up in Australia, the batter went viral in 2019 after breaking the record for the highest score in a T10 game: playing for V.O.V. Rotterdam in the final of the inaugural European Cricket League final, he smashed 137 off just 39 balls against German side SG Findorff.
Unsurprisingly, he has found the going tougher in the international game, with just a single half century in 42 matches for the Netherlands so far. Against Nepal in his most recent T20I, he kept wicket and batted at No.6.
Max O'Dowd: At the other end for Edwards' ECL demolition was O'Dowd, New Zealand-born but Netherlands raised, even if his father turned out for Northern Districts and Auckland. He whacked 74 off 25 balls.
He was more circumspect in the qualifying event, scoring 218 runs in nine games at a strike rate of 103.8: only nine players churned out more runs. He has enjoyed a consistent year in Oranje, making a T20 century against Malaysia and 82 in an ODI against Scotland.
Anchor
Colin Ackermann: The 30-year-old holds the world record for the best bowling figures in men's T20 history – a quirk of statistics that even the Leicestershire captain would struggle to legislate for. His seven-wicket haul during the 2019 Blast came against Warwickshire.
It is with the bat, though, where he will be most important for the Netherlands over the next few weeks. He scored 263 runs in this year's Blast across 14 games, without reaching fifty. He did, though, make a half century for Manchester Originals against London Spirit in The Hundred.
Finisher
Ryan ten Doeschate: Not out at the end when the Netherlands won at Lord's all those years ago, the Essex legend remains as ice-cool as ever at the death. In the 2019 qualifier, he smashed 43 off 25 from No.5 to take his country to victory over Ireland, before mopping up in the final with 34 off 23 deliveries to win the competition by beating Papua New Guinea. He was unbeaten on both occasions.
Roelof van der Merwe: The 36-year-old is best known for being a canny operator with the ball, but his bullish, unorthodox hitting has made him a valuable, malleable option with the bat. Even if it didn't work, he found himself at No.3 on T20 Finals Day for Somerset, having made occasional, chaotic contributions for London Spirit in The Hundred, including 20 off 10 balls against Oval Invincibles.
Problem areas
The Netherlands' reliance with the bat on a few faces could be exposed once the tournament gets underway: neither Edwards nor O'Dowd have proven themselves yet against major opposition, although that statistic needs severe caveating with the simple fact that they have hardly been given the chance to face those nations.
Only seven of Edwards' 33 T20Is have come against full-member nations (five against Ireland, two versus Zimbabwe). The same is true of O'Dowd, who has played 40 T20Is, but 31 against fellow associate nations. The challenge of taking on Sri Lanka, therefore – albeit a shadow of their former selves – might be an acid test for a country unproven – through no fault of their own – against that calibre of opposition in T20 cricket.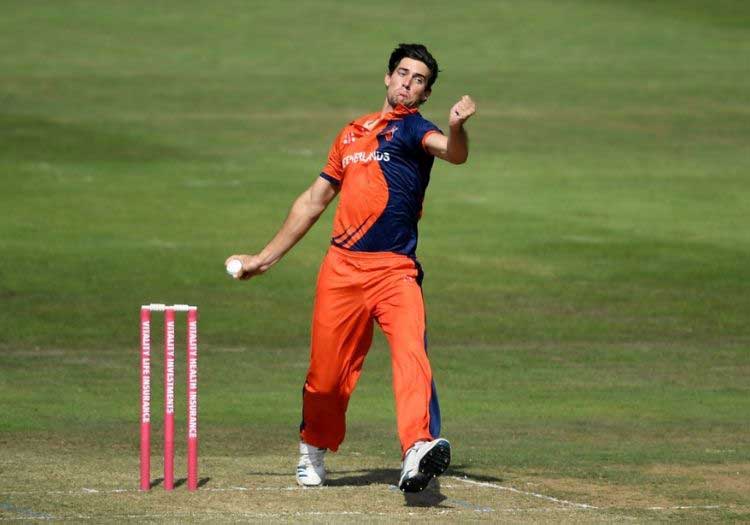 Brandon Glover is a key player for the Netherlands
Bowling
Speed merchants
Paul van Meekeren was sufficiently impressive during a stint with Durham this summer to earn himself a Caribbean Premier League deal with St Kitts and Nevis Patriots – something of a surprise, given he spent last winter working as an Uber Eats driver after the pandemic ruined his initial plans of playing in this World Cup, which was originally scheduled to take place in Australia a year ago.
Logan van Beek has done two separate stints as an overseas player with Derbyshire, while Timm van der Gugten has been a fine bowler for Glamorgan for some time.
As highlighted earlier, Glover adds genuine pace, while Klaassen ensures the left-arm angle is covered, with ten Doeschate in good bowling form. Bas de Leede – son of former Netherlands international Tim – is another seam option, though he was hammered for 54 in four overs in his last T20I appearance, against Nepal in April.
Variation
Theoretically, the Netherlands have spinners to turn the ball into and away from the batters, given the left-arm spin of Seelaar and van der Merwe and the leg-breaks of Boissevain, as well as the part-time off spin of Ackermann and O'Dowd.
On pitches that are likely to assist the slower bowlers, they will be crucial, as perhaps will the cutters of ten Doeschate. In the qualifying competition, van der Merwe took 12 wickets with an economy rate of just 5.23. He drives the ball into the surface at an excellent pace for a left-arm spinner.
Problem areas
Apart from a seam attack that may well have thrived in Australia last winter, the Netherlands will be reliant on plenty of part-timers and allrounders to get through enough overs of spin in conditions that are likely to favour them over a battery of right-arm pacers.
Klaassen will offer an important distinction, given his left-handedness and any footmarks he is able to create inside a four-over spell – unlikely though that is – to give his spinners something to work with.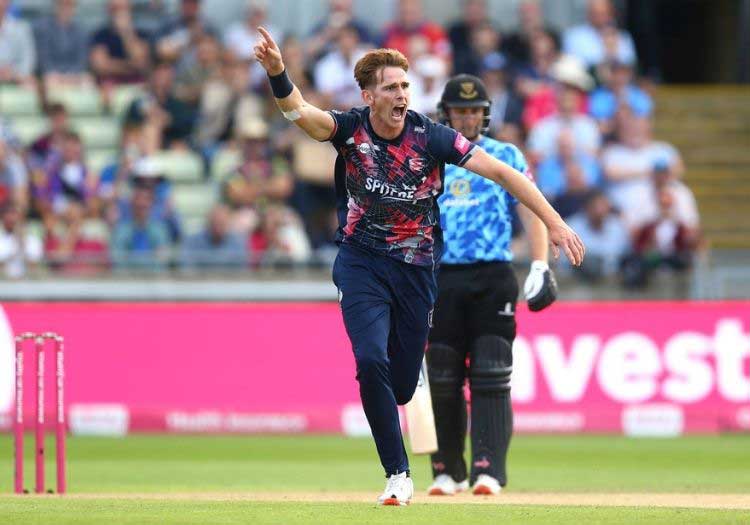 Fred Klaassen has enjoyed a good year with Kent
Fielding
Gun fielder
Ten Doeschate remains a fabulous athlete, having grown up with Jonty Rhodes as his cricketing idol. "He was certainly someone that I've always looked to emulate – someone who gave everything all the time," he told The Cricketer of his admiration for the South African. The retiring allrounder has taken 134 catches across his T20 career – only 22 players worldwide have contributed more.
Who takes the gloves?
Edwards is the wicketkeeper and will likely reprise his role in the lower-middle order, with plenty of batting options – including veteran Stephan Myburgh and fellow left-hander Ben Cooper – to be squeezed into the Netherlands' top six.
Squad: Pieter Seelaar, Colin Ackermann, Philippe Boissevain, Bas de Leede, Paul van Meekeren, Ben Cooper, Max O'Dowd, Scott Edwards, Ryan ten Doeschate, Timm van der Gugten, Roelof van der Merwe, Brandon Glover, Fred Klaassen, Logan van Beek, Stephan Myburgh
Reserves: Tobias Visee, Shane Snater
Fixtures: Oct 18 – Ireland, Oct 20 – Namibia, Oct 22 – Sri Lanka
Possible starting XI: Max O'Dowd, Ben Cooper, Colin Ackermann, Ryan ten Doeschate, Scott Edwards, Pieter Seelaar, Roelof van der Merwe, Fred Klaassen, Timm van der Gugten, Brandon Glover, Paul van Meekeren
Please ensure all fields are completed before submitting your comment!