Men's T20 World Cup 2021 team guide: Bangladesh
Key players, rising stars, batting and bowling analysis, chances, squad, fixtures and much more in our in-depth look at the Tigers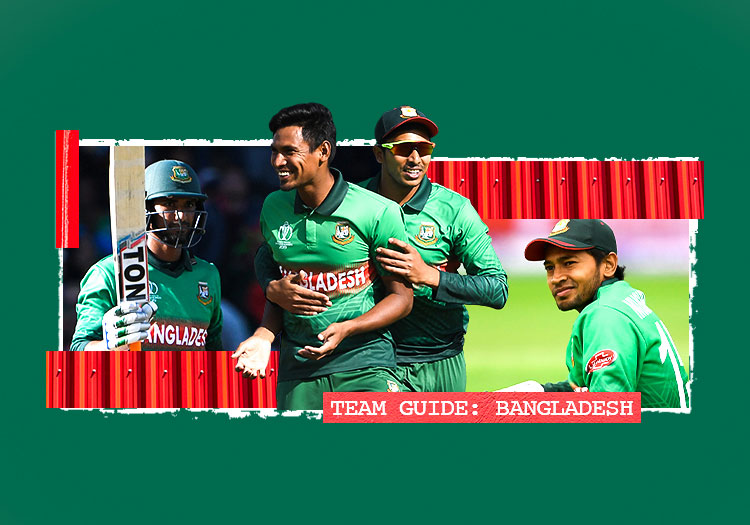 Coach
Russell Domingo: Inherited a berth in the qualifying round but under his charge the Tigers have clawed their way into the top six in the ICC rankings, with a record of 14 wins and a dozen defeats in that time.
Domingo abandoned his pursuit of a professional playing career and turned his attention fully to coaching aged 22. He took the South Africa domestic system by storm, guiding Warriors to successive editions of the Champions League in 2010 and 2011. After a spell as assistant to Gary Kirsten, he took over as Proteas coach in 2014 and led his homeland in two World Cups.
In 2019, he was enlisted by Bangladesh on a two-year deal after giving a hugely impressive interview but initially had to cope without star man Shakib Al Hasan. A thumping 4-1 series win over Australia in August secured him an extension until after the 2022 World Cup.
Captain
Mahmudullah: The leader of this side since Shakib was banned on anti-corruption offences and rightly leads the team into their seventh T20 World Cup. Has steadied the ship and united the crew during his tenure which he deserves credit for. Central to that was simply ensuring they trusted his leadership, giving them the freedom to perform.
He still might not be the main man in this team, but he is the one the players look to. Likes to deploy part-timers during the powerplay overs and is content with placing faith in his entire XI. Mahmudullah is a realistic skipper and doesn't place unrealistic expectations on the squad, which given the tricky passage to the Super 12 that lays ahead is a shrewd tactic.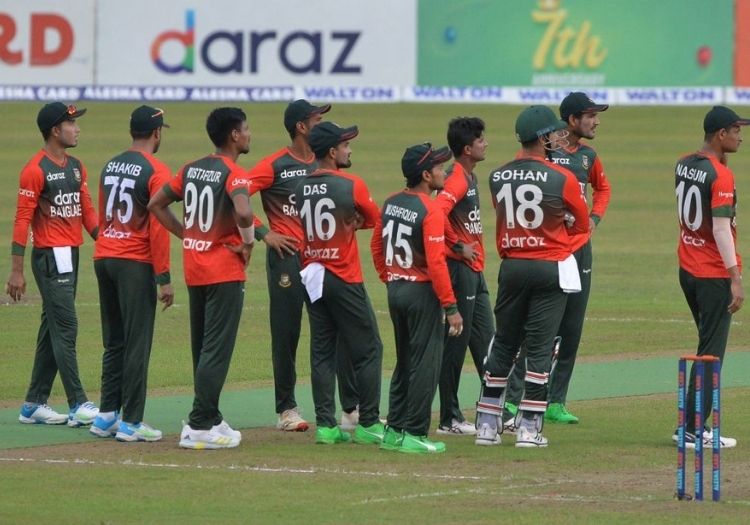 How far can Bangladesh go at the World Cup?
Superstars
Shakib Al Hasan: Can the gloss ever be reapplied? Despite what has gone before, Shakib remains the outstanding superstar of Bangladesh cricket, its most visible son, leading light on the world stage and highest ranked player in the men's T20 Player Index at No.23.
In 2019, he had the sport in his grasp as perhaps the best allrounder on the planet after a staggering 50-over World Cup. Months later his reputation, if not his career, lay broken on the floor courtesy of a two-year ban, one suspended, after being hit with three charges of breaching the ICC's anti-corruption code.
The pandemic meant the suspension paled into insignificance and ensures he is available for this T20 showcase. His international returns have been reasonable since the comeback, averaging 27.20 with the bat and 20.52 with the ball across the formats. As one of only two Bangladesh players at the IPL, he hopes the tournament will act as a fact-finding mission, which is an interestingly selfless act from a man banned for not reporting approaches from bookies and who is making a share of £313,933 from appearing for Kolkata Knight Riders.
The New Zealand rugby union team have infamous selection policy which might have done for Shakib under another regime.
Mushfiqur Rahim: It is perhaps reflective of Bangladesh's batting tribulations that Rahim remains in this squad as a specialist despite some substandard form in recent years. The 34-year-old has given up the gloves permanently in T20s after pressure mounted over his position (10 dropped chances in three years of white-ball cricket), which included the dreaded vote of confidence from ODI skipper Tamim Iqbal.
The most experienced Bangladesh cricketer on the international stage across 16 years. Some decent returns in the Dhaka T20 and the last Bangladesh Premier League (491 runs at 70.14) means he remains impossible to ignore and leaves the selectors' hands somewhat tied. In Rahim they trust, but don't necessarily expect anymore.
Mustafizur Rahman: This tournament may well be the acid test of whether the Fizz can ever return to the technical and skilled operator that broke through six years ago.
A World T20 five-for, an IPL title, the emerging player award, an ICC accolade and the expectation he would be the long-term successor to Mashrafe Mortaza; Rahman had the world at his feet. But a succession of injuries, most importantly a shoulder issue suffered while in England, has stalled his progress. There have been glimpses, decent showings at the Asia Cup and 50-over World Cup, but no consistency to convince onlookers his best days are not firmly in the past.
Central to his issues are that shoulder problem, that the BCB believe he has unhelpfully downplayed, which prevents him from bowling the off cutter which propelled him to stardom. The hope is that linking up with bowling coach Ottis Gibson will trigger a revival and 18 wickets at 9.94 in 10 T20s this season is a formidable start.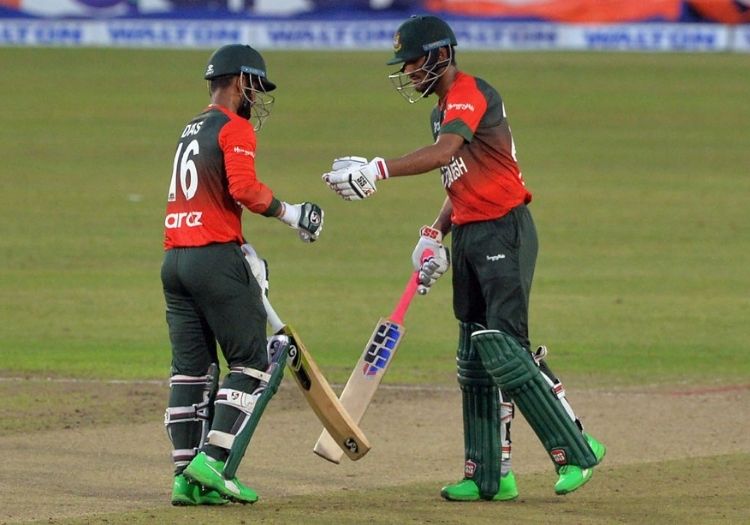 Liton Das, left, and Mohammad Naim
Rising star
Shoriful Islam: One of the two graduates from the Under-19 World Cup winning team from last year included in this squad (Shamim Hossain being the other). During that momentous run to the title, he claimed nine wickets at 15.77 via his snarly left-arm seam. Islam's is a technique developed over many years, streamlined to ensure he could maximise his 6ft 3ins frame.
Further success followed on the domestic stage before the call came for the Sri Lanka Test series, starting the second game and dismissing Dimuth Karunaratne. Tellingly, since being drafted in to freshen up the T20 side he's been heavily entrusted, taking 17 wickets in 11 games. Already targeting the wicket of Virat Kohli if Bangladesh make it beyond the preliminary stage, this is a star in the making not lacking in confidence.
Batting
Power hitters
Liton Das: Statistically at least, the opener is Bangladesh's most consistently fast-scoring batter, even if his position in the top two isn't cemented. Three of his four fifties have come at a strike-rate of 151 or better and having seen off Tamim he will hope to lead the Bangladesh assault in the powerplay. Averaging just 9.37 in eight matches against New Zealand this year, Das has endured a tough recent run.
While conditions at home were torrid, his failures away to the Black Caps were a more worrying sign. Batting consultant Ashwell Prince believes he can be one of the best 10 batters in world cricket and wants to see more self-belief. Pitches will certainly be more favourable but with Mohammad Naim among the squad there will be little room for further mistakes.
Nurul Hasan: Yet to find a defined role in the T20 batting line-up since taking over wicket-keeper duties. But his returns in the DPL suggest a batter who needs more prominent position than merely as an auxiliary finisher. Often coming in with Sheikh Jamal Dhanmondi Club in a degree of peril, he struck 389 runs at a strike-rate of 149.61.
That followed him crashing 524 runs at 43.66 during the 2018-19 edition. The hope is that after just 28 international appearances across five years that those domestic successes can finally be translated onto the biggest stage. "I strongly believe I will get what I deserve; I cannot fight to get more but can work hard," he said of the changes he's made upon his latest run in the Bangladesh team. It remains to be seen if it pays off.
Soumya Sarkar: Probably the most natural striker of a cricket ball in the squad. Able to set the tone with a flashing blade, but his recent results have been mixed. The last 14 innings have produced four fifties (three of them against Zimbabwe) and seven single-figure scores. He hasn't passed 16 since July. That said, if Bangladesh are looking to qualify for the Super 12 and see what unfolds, then Soumya has more than enough ability to get them there.
Only three other players have played more T20s for the side and he certainly showed major tournament pedigree in 2019 when he opened the batting effectively in the 50-over showcase.
Anchor
Mohammad Naim: The third candidate to open the batting for Bangladesh and certainly the most level-headed. The only batter to be averaging in the 20s and to have played in all 16 of the team's T20s in 2021. Naim enjoyed a decent summer, reaching at least 23 on eight occasions and is probably the man in possession at this stage.
His strike-rates are unerringly consistent, and he averages facing 24 balls from his 22 innings. Doesn't tend to over-hit the ball or go looking for boundaries (he's only struck 11 T20 sixes). Most encouragingly, at 22 he represents a new era for Bangladesh cricket at international level and is a white-ball batter for the future.
Finisher
Afif Hossain showed against Australia his capacity to add runs down the order and Shamim Hossain is partial to whacking it too, having scored his 72 T20 runs at 144.
But this is a position made for the skipper. Mahmudullah will hope that coming at No.5 or 6 will not be to finish off an innings rather than rebuild one, but he can perform either role while remaining until the end. He's been unbeaten at the end of the Bangladesh innings in more than a third of his outings, striking at 140.
He provided two reminders of this ability in the New Zealand series in Dhaka, as batters on both sides struggled in the conditions. A score of 37* played a major role in securing a four-run victory in the second T20 before he helped complete the chase of 94 in the fourth game after Ajaz Patel had started to make progress.
Problem areas
There is a real lack of heavyweight batters able to make big, quick scores and take on attacks. There is perhaps an unhealthy onus on Shakib to produced things for his country that he hasn't done since his suspension. With Tamim, who selflessly withdrew himself from contention, there is a severe lack of confidence in the top-order, not least who will form it.
Series wins over Australia and New Zealand look good on paper, but many of this line-up are not regularly exposed to high-level opponents on a regular basis on the franchise circuit. That isn't to say they can't flourish, but that the evidence that they can is small.
Conditions in Dhaka for both series were heavily criticised, but those experiences might prove valuable by the time Bangladesh get to the UAE, where surfaces will have been sufficiently worn by matches in the IPL.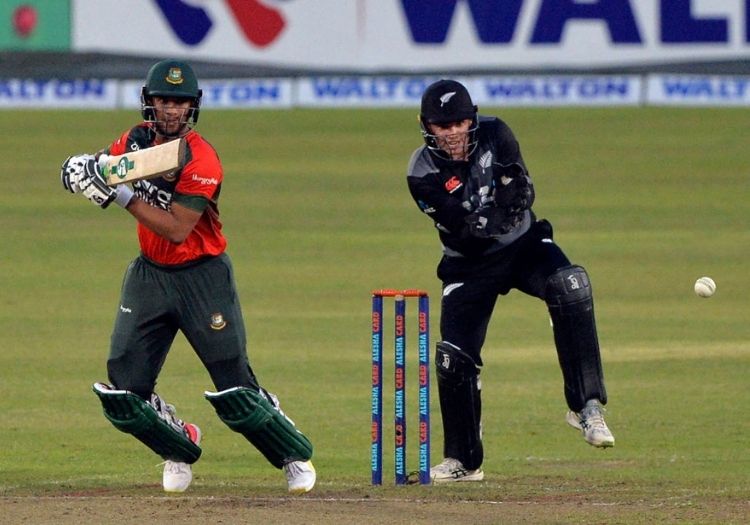 Shakib al Hasan is back in the Bangladesh ranks
Bowling
Speed merchants
Mustafizur and Shoriful are the primary pace threats, having shared 33 wickets across the Zimbabwe, Australia and New Zealand series. Mohammad Saifuddin, a player Bangladesh have always hoped could fill the fast-bowling allrounder berth, is the third wheel. Twenty-six wickets in 25 games and an economy rate of 8.48 is anything but impressive but having finished as the leading wicket-taker in the DPL with 26 for Abahani Limited he was impossible to ignore. Having been slammed for faking injury in the last World Cup, he'll be keen to set the record straight. Soumya and Taskin Ahmed are likely to pick up some overs.
Variation
There is nothing substandard about Bangladesh's spin attack - who have been nurtured by Rangana Herath ahead of the tournament - which has genuine depth and possesses plenty of threat. Nasum Ahmed is only 14 matches into his international career, but he already looks at home. His 16 wickets came at 12.25 in 11 matches over the 2021 season. Matches in Dhaka were an exercise in putting the ball in the right places and Ahmed set numerous traps which batters walked into. Colin de Grandhomme (four times) Finn Allen and Martin Guptill were among his victims.
Shakib's fingerspin is likely to open the bowling alongside one of the quicks. Of his two suits, his bowling has been much more impressive having rediscovered flight and alternative deliveries such as the wide yorker, and he'll be a threat to batters looking to stamp their mark in the powerplay. Mahedi Hasan will keep things tight (economy rate 7.17) having enjoyed a good DPL (18 wickets at 17). Mahmudullah and Afif Hossain might be used to vary things up.
Problem areas: There is a severe lack of depth in the seam department, and it'll rely on Mustafizur and Shoriful to remain grounded and fit to see them through. There is a feeling the Bangladesh Premier League hasn't properly prepared bowlers for the demands and pressure of the death overs, with overseas players having taken on that responsibility, so that is a particular area of concern. And while the spin group have talent in abundance, are there enough tricks to confuse the best batters in the world?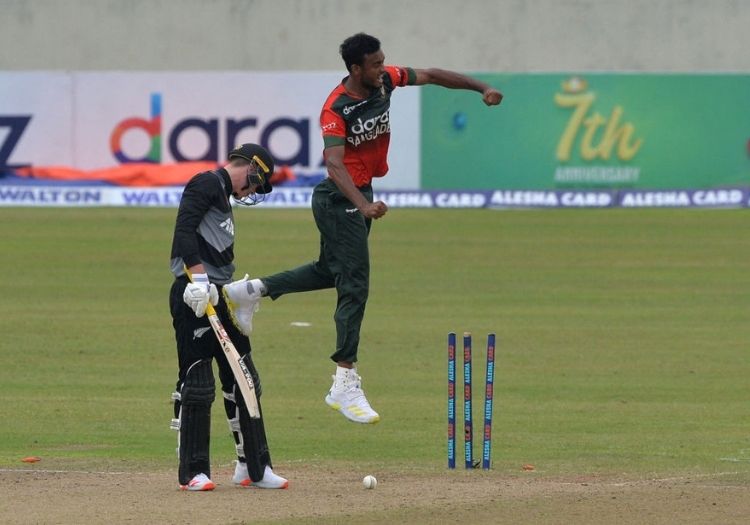 Shoriful Islam in action
Fielding
Gun fielder
Like most records, you can't look past Mahmudullah for the most catches in the field with 39 grabs in 102 matches. Soumya (30) is next in the list ahead of Shakib (21) and Liton (16).
Consistent with his realistic outlook, Domingo is unwilling to focus too heavily on the negatives from Bangladesh's previous issues in the field. Ryan Cook has worked with the team since 2018.
"A lot of the guys have got great attitudes now," Cook said at the start of the year. "They're trying hard on their fielding; they're asking for extra work and putting some extra effort in and a lot of energy. A lot of work has to be done on their technique, catching especially, and some ground fielding but generally their arms are pretty good. Hopefully the enthusiasm they've got towards improving is going to help a lot in the next couple of years."
Who takes the gloves?
Nurul has stood behind the stumps in all of 22 T20Is and is ahead of Das, who took the gloves in New Zealand but was replaced for the recent matches at home. As previously mentioned, Mushfiqur Rahim has given up the responsibility and has no plans to return to the berth.
Squad: Mahmudullah (c), Shakib al Hasan, Mushfiqur Rahim, Soumya Sarkar, Liton Das, Afif Hossain, Mohammad Naim, Nurul Hasan (wk), Shamim Hossain, Mustafizur Rahman, Mahedi Hasan, Nasum Ahmed, Mohammad Saifuddin, Shariful Islam, Taskin Ahmed
Fixtures: Oct 17 – Scotland, Oct 19 – Oman, Oct 21 - Papua New Guinea
Possible starting XI: Mohammad Naim, Liton Das, Shakib al Hasan, Mushfiqur Rahim, Mahmudullah, Afif Hossain, Nurul Hasan, Mahedi Hasan, Mohammad Saifuddin, Nasum Ahmed, Mustafizur Rahman
Please ensure all fields are completed before submitting your comment!