Men's T20 World Cup 2021 team guide: Australia
Key players, rising stars, batting and bowling analysis, chances, squad, fixtures and much more in our in-depth look at the Aussies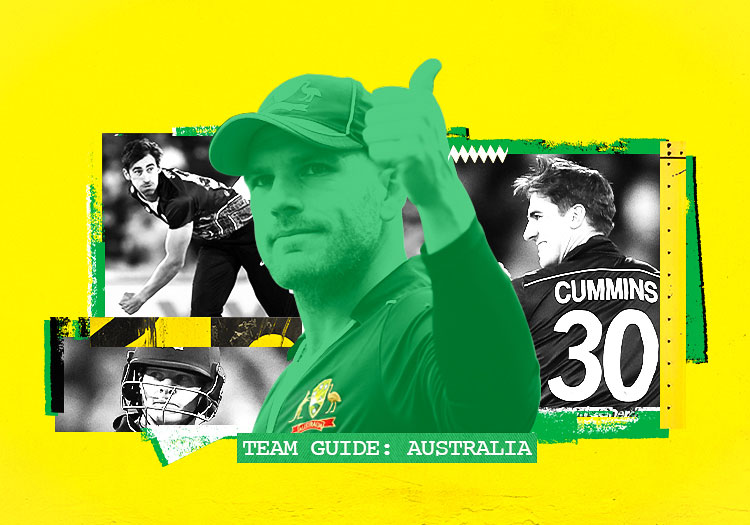 Coach
Justin Langer: Intense doesn't do the man justice. Great batsman of course, but his abrasive style of coaching has rubbed senior players up the wrong way. His job appears safe for now. If they don't win this tournament for the first time this year, they will be under pressure to triumph as hosts next year. He famously kicked the bin over at Headingley at 2019 of course, and in St Lucia in July he gave sub fielder Nathan Ellis a hard time for wearing a watch on the field, even though he'd just taken a brilliant catch.
Captain
Aaron Finch: I really liked the cut of this man's gib here in the 2019 World Cup. The left-hander smashed a wonderful 153 against Sri Lanka at The Oval, then was wonderfully self-deprecating in the press conference. "Australia have a history of larger-than-life characters," observed a Sri Lankan reporter… "Makes me sound pretty boring," Finch deadpanned back.
Superstars
In his 76 T20Is Finch has scored heavily (2,473 at 37.46), quickly (strike-rate 150.24), and has shown he is capable of making hundreds (three). His record is excellent… except in Asia, where it isn't (373 at 23.31, SR 124.33). He can come good, though.
Glenn Maxwell provides fireworks with the bat (1,780 runs at 31.78, a strike-rate of 159.92); and actually his record in Asia is better than anywhere else (812 at 40.60, SR 165.37, with two of his three centuries). His off-spin is relatively tight (7.50 per over) although his wickets are a little expensive (26.16 apiece).
Even though the UAE might not quite suit Pat Cummins' pace, his record is mighty fine (37 wickets at 20.62, 6.93 an over) and he is wondrous to watch.
Rising star
The quest for the new Shane Warne seems to have assessed more candidates than there's been Watford managers in recent years, but have they found him at last?
Mitchell Swepson is a leg-spinner from Queensland, and has reportedly impressed the big man himself. No spring chicken at 28 (although that is no age for a spinner), we actually saw him in England in 2018 (yes the white-ball matches can blur into one a bit). He removed Jos Buttler and Eoin Morgan during a 28-run defeat for his side.
Only six caps have followed, but he took five wickets in three matches against India last winter, and he has 11 in total at 15.72 apiece; his economy is also decent – 7.52. His red and white-ball form was good for his state last season, and he also shone in the Big Bash with Brisbane Heat.
He has now recovered from a stress fracture in his neck. Warne has worked with him in the nets, telling him to slow down and not appear so flustered. "Bowled Warnie."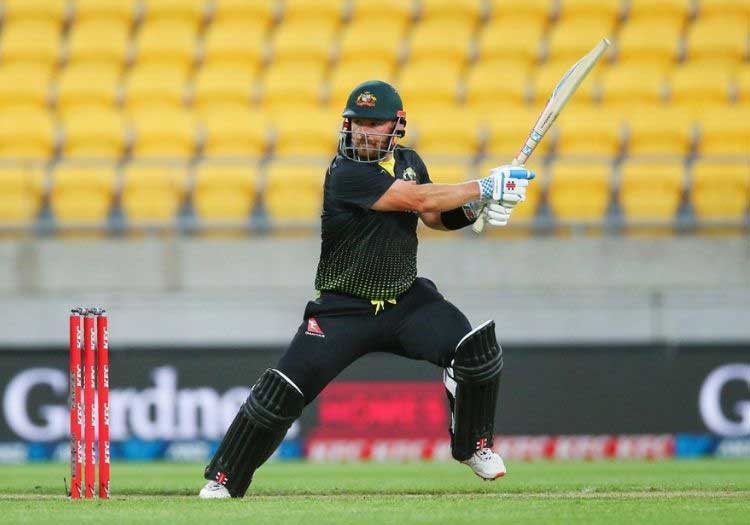 Australia captain Aaron Finch
Batting
Power hitters
Finch as discussed (although he clearly needs to work on his methods on the subcontinent).
David Warner's overall record isn't as good as Finch's (2,265 runs at 31.45, a strike-rate of 139.72, 1 100). And his form for Sunrisers Hyderabad has been poor. You can't write him off, though. Maxwell has been excellent for Royal Challengers Bangalore, scoring at more than 9.25 an over (making Virat Kohli appear a bit pedestrian at times).
He's the perfect man to take the sluggish surfaces out of the equation and hit big and long.
Anchor
Steve Smith is back in the squad after an elbow injury, and he has made a few handy innings for Delhi Capitals in the second half of the IPL to suggest he could finally be getting to grips with the format. In fact, since returning from his ban, he's averaged 40.33 and upped his strike-rate from the 120s to the 140s in T20Is.
Finisher
Marcus Stoinis is nursing a hamstring injury. On his day he can be destructive (like when he made 146 not out off 117 balls against New Zealand at Auckland in an ODI in 2017).
There just haven't been enough good days. Matthew Wade's record is fairly moderate in T20Is (48 matches, 655 runs at 19.26, SR 123.81), but he's seen off the threat of Alex Carey, who has one even worse.
Problem areas
Warner's desperate form. Smith's desperation to succeed in this format. Australia's desperation to win a world T20 tournament. Langer kicking the bin over again. Their Test bowlers getting injured ahead of the Ashes.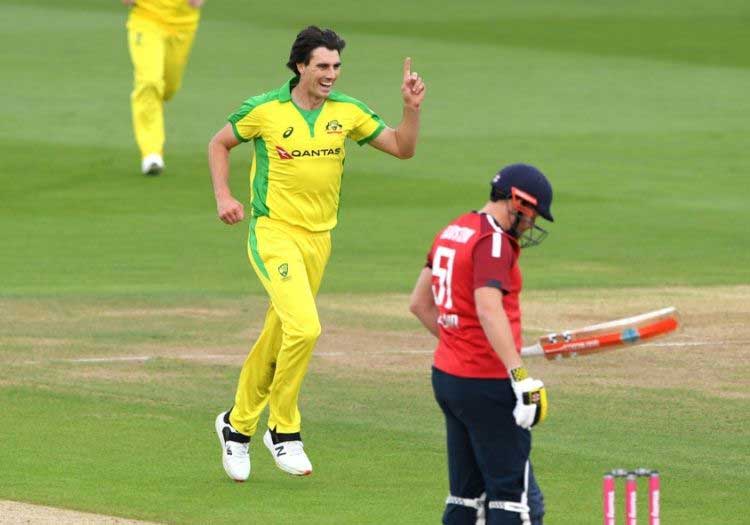 Pat Cummins is a big asset for the Aussies
Bowling
Speed merchants
Pat Cummins is an ace of course, brilliant at the death. Josh Hazlewood has also worked hard to improve in T20. Mitchell Starc's career T20 record of 148 wickets at 18.66 (strike-rate 7.25) is sensational. I've always liked Kane Richardson's action, and feel he is a tad under-rated. He has a good mix of inswingers, cutters and slower balls.
Variation
With the tournament in the UAE, the squads are packed with spin (all except England, oddly), and Swepson joins Maxwell (off), Adam Zampa (leg) and Ashton Agar (slow left arm). Agar is a super spinner at this level, good for a wicket or two, and he only goes at 6.74. He should enjoy this tournament.
Problem areas
The lack of a world-class seam-bowling allrounder. Mitchell Stoinis' bowling (10 wickets at 35.90, economy 8.48) doesn't cut it for me, although Mitchell Marsh's is actually quite decent (15 at 17.86, 7.65) but his batting can be a bit sluggish (strike-rate of only 120.27).
Mitch Swepson in action for Brisbane Heat
Fielding
Gun fielder
Maxwell appears to be in several places at once, such is his brilliance. He runs like a bullet and takes brilliant catches. He has taken 35 in 95 IPL matches.
Who takes the gloves?
Wade could be considered to have pipped Carey, as discussed, but watch out for Josh Inglis is the reserve. He was sensational this summer. He made two centuries and averaged 48.27 in the Blast for Leicestershire, then two half-centuries for London Spirit in The Hundred. Make sure there are some Yorkshire puddings in the UAE and he could burst through.
Squad: Aaron Finch (c), Ashton Agar, Pat Cummins (vc), Josh Hazlewood, Josh Inglis, Mitchell Marsh, Glenn Maxwell, Kane Richardson, Steve Smith, Mitchell Starc, Marcus Stoinis, Mitchell Swepson, Matthew Wade, David Warner, Adam Zampa.
Fixtures: Oct 23 – South Africa, Oct 28 – v A1, Oct 30 – England, Nov 4 – B2, Nov 6 – West Indies
Possible starting XI: Aaron Finch (c), David Warner, Steve Smith, Glenn Maxwell, Marcus Stoinis, Matthew Wade, Ashton Agar, Mitchell Starc, Pat Cummins (vc), Mitchell Swepson, Josh Hazlewood
Please ensure all fields are completed before submitting your comment!